VF06: Ho Chi Minh City - Cu Chi Tunnels Joining Tour 1 Day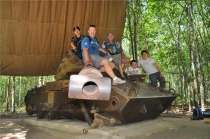 Detail Itinerary for Ho Chi Minh City - Cu Chi Tunnels Joining Tour 1 Day
In The Morning: Ho Chi Minh City
In the morning, we will go exploring 3 famous sites in Ho Chi Minh City:
08.30am - 09.00am

: the first site we visit is

War Remnants Museum

. This museum is currently one of the most popular and attractive museums in Vietnam. It is famous for the stories of the Vietnam War from the Vietnamese's aspect. The museum comprises a series of themed rooms which displays a wide range of exhibits such as photographs, machinery as well as weapons reflecting the harsh realities of The Vietnam war. Moreover, there is one building reproducing the "tiger case" in which the South Vietnamese government kept political prisoners.
Leaving the

museum

, we will visit

Thien Hau, Taoist Temple

, which is a Chinese style temple located in the Chinatown of Ho Chi Minh City. This magnificent temple is called "Chua Ba Thien Hau" in Vietnamese, which is determined to Thien Hau, the Goddess of the Sea who protects the sailors. She is said to stand on a mat and fly to everywhere on the oceans to save fisherman and sailors. If you visit temple on Lunar New Year, you'll be able to witness traditional performances such as lion dance and dragon dance.
The final destination is

China Town

, which is "Cho Lon" in Vietnamese. This market was built in the late 18th century and has become a bustling section of Ho Chi Minh City with many restaurants, temples, exotic stores, and markets. The central market in China Town is

Binh Tay market

which is suitable for wholesale trades. However, remember to bargain for discounts when buying merchandise in the market. Let's explore the bustle of this indispensable area from the daily business in the city!
Afterward, we have a lunch at restaurant.
In The Afternoon: Visit Cu Chi Tunnels
01.10am - 01.30am

: departing from Ho Chi Minh City to Cu Chi Tunnels.
On the way to Cu Chi, we stop by a lacquer art workshop in which many handicapped people are working.  
After arriving at Cu Chi, we access to Ben Dinh Tunnels – a part of Cu Chi Tunnels which is modified to suit the tourists. At Ben Dinh, we will watch propaganda films showing how Vietnamese guerilla soldiers took advantage of these unique tunnels to fight against American as well as a short introductory video showing how the tunnels were constructed.
Afterward, we'll be exploring other amazing tunnels in Cu Chi where you can see various mantraps as well as some remaining traces of the past war such as American tanks and plenty of bomb craters made by the 500-pound bombs.
Additionally, you can try shooting a real gun if you want to. There are some well-known guns that you can try such as AK-47, AR-15, M16. The price is around 2 dollar per bullet.
06:00pm – 06.30pm

, we arrive in Ho Chi Minh City and finish the tour. It's time to say goodbye. Finish Ho Chi Minh city - Cu Chi Tunnels 1 day
Included:
Standard Type

: Air con tourist bus, English speaking tour guide, entrance fee and 01 Aquafina water bottle/pax.

Deluxe Type

: Air con tourist bus, English speaking tour guide, 

01 lunch

, entrance fee and 01 Aquafina water bottle/pax.
Excluded:
Gun shooting, tips, drinks, travel insurance and personal expenses.
Drop-off fee: (Price for per person)

Ho Chi Minh city at hotel in District 1: Drop off hotel in Dist 1 at address mentioned in "meeting point"
Additional Information
Print your voucher; locate the voucher in your travel confirmation e-mail or in "show ticket" link on the site and show voucher to guide.

Please provide name of hotel and hotel address in Dist 1, HCMC, Vietnam where we can be free pick-up.
Meeting point
If your hotel's location is on these streets such as 

De Tham St, Bui Vien St, Pham Ngu Lao St, Le Lai St, Le Thanh Ton St, Bui Thi Xuan St, Pham Hong Thai St, Thu Khoa Huan, Nguyen An Ninh St, Cong Quynh St, Ly Tu Trong St…Dist 1, HCMC

, Vietnam, we will 

free pick-up 

from your hotel at 

08.10am - 08.30am 

(please provide 

your hotel address and the name of hotel where you will stay 

at).
Mentioned addresses exclusion, please come to 

Viet Fun Travel Office 

(28/13 Bui Vien St, Pham Ngu Lao Ward, District 1, HCMC) 

at 

08.15am - 08.20am.
| | | | |
| --- | --- | --- | --- |
| | | | |
Detail price for tour
| | | | |
| --- | --- | --- | --- |
| | | | |
Write for Ho Chi Minh City - Cu Chi Tunnels Joining Tour 1 Day
Write a review
For customers who have registered to use our services, please
Login
to post your comments.
If you are new customer, please
Sign-up
or
Click here
and post comments by following the form below
Your Name:
E-Mail:
Address:
Country:
Your Review:
Note:

HTML is not translated!
Rating:
Terrible:
Bad:
Average:
Good:
Excellent:
Enter the code in the box below: