Best places to stay in Mekong Delta
Thu, 15/05/2014
18823 viewed
0 commented
Mekong Delta, also called as Nine Dragon river delta, is the region in the South West of Vietnam where Mekong River reaches its end-point and approaches the sea. Most of the area in Mekong Delta is covered with many small rivers which are the distributaries of Mekong River. Therefore, the life in this region is very unique and different from other places in Vietnam. In Mekong Delta, the local people sell and exchange merchandises directly on water, which was usually called as floating market. Besides, this delta is also famous for its delicious tropical fruits, beautiful nature as well as rich culture.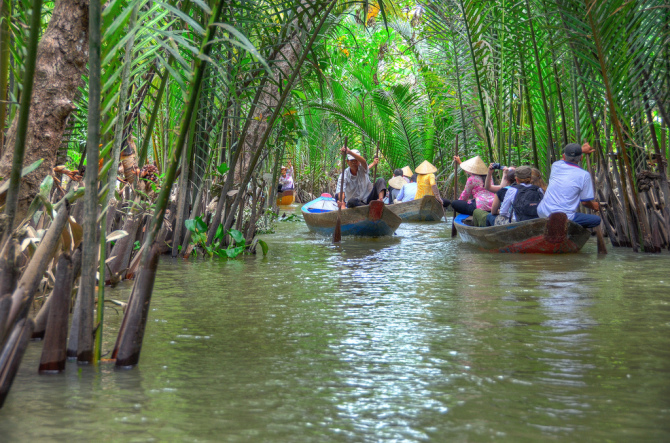 There is a wide range of hotels available in Mekong Delta, form the very local homestay to the modern hotels, from budget to luxury accommodation with high quality and services for good access to this unique place. However, you should be cautious since the quality is not always good and the standards are also inconsistent. Moreover, the prices are unpredictable and there are some places with ugly architectural styles as well. Here are our picks for the best places to stay in Mekong Delta to help you make the right decision.
Address: 2G Hung Vuong, Vinh Long City, Mekong Delta Vietnam
Located just 5 minute walk from inner bus station, the hotel offers cable TV, fridge, air-conditioner, phone, free internet. The price starts at 5$.
Nam Mon Budget Design Hotel
Address: C223/4 Nguyen Van Linh Street, Can Tho City, Mekong Delta Vietnam
Located in the central of the city, the hotel is quite, clean and friendly. The hotel also organizes its own tours such as the floating market tours, biking tours to the countryside, Food & City tours. Bike rental is available. Price is around 15$.
Address: 93 Mau Than Street, Can Tho City, Mekong Delta Vietnam
It is the top ranked value mini-hotel with roof terrace since 2012. The hotel offers young and friendly atmosphere. There are budget, superior, deluxe rooms with good facilities. All rooms have windows. Guests can relax on the roof terrace. The staff is friendly and helpful. Price is around 15$.
Address: 138 Nguyen An Ninh, Can Tho City, Mekong Delta Vietnam
The hotel staff is friendly and helpful, but some rooms don't have windows. The front door faces the street and might be a bit noisy for some. However, they offer good breakfast on the top floor with a nice view over the city. Price is around 10$.
Other news