Tan Dinh Church in Ho Chi Minh City
Thu, 30/03/2017
11314 viewed
1 commented
Listed as one of the most beautiful and gorgeous
churches in Ho Chi Minh City
to visit in Christmas Eve,
Tan Dinh Church
with its dazzling architecture and sculptured patterns does win visitors' heart from the first sight. Together with
Notre Dame Cathedral
, these are considered the largest and most impressive churches in Saigon, which should be added to your list on a travel to Vietnam.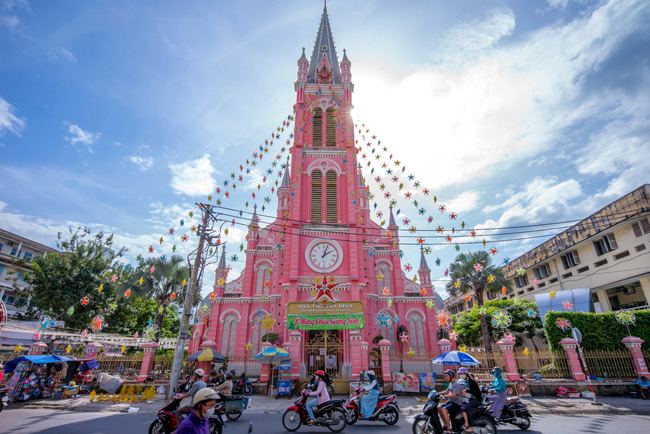 Situated on the Hai Ba Trung bustling street, it mesmerizes every visitor by the white elegant motifs, pink hue setting, curved arches and finely carved details. In addition, the tranquil atmosphere and the gentle bells inside harmoniously create a unique splendor and peace from the treadmill of the life.  
In fact
, Tan Dinh Church was expanded in several stages and it took 6 years to complete this masterpiece (1870 to 1876). On the whole, the beauty of this building can be clearly seen by its Roman, Gothic, and Baroque architectural style. In 1929, the area of the church was expanded in which a tower with more than 50 meters in height was added.  
It was also upgraded on December, 1976 to celebrate the 100
th
anniversary of the cathedral's inauguration. At that time, the bell tower was beautifully repainted while the holy temple was gently heightened. Its distinctive pink color theme and white decorative designs make Tan Dinh Church outstanding and prominent against the blue sky.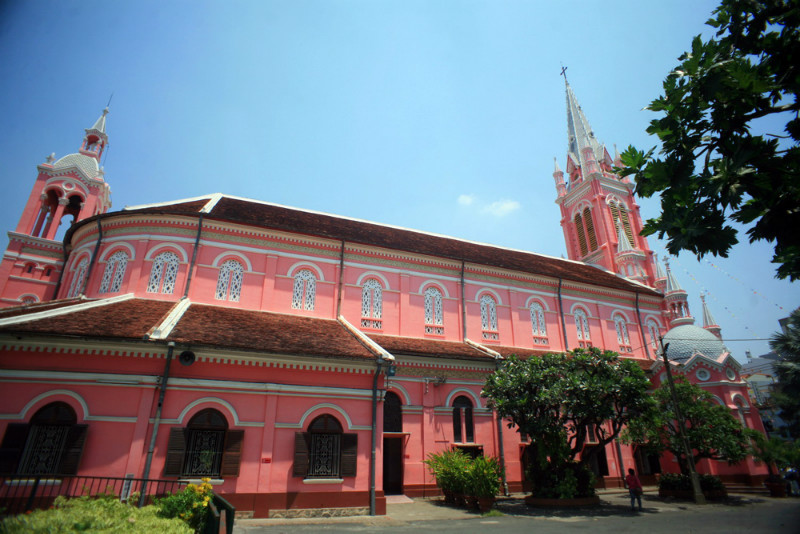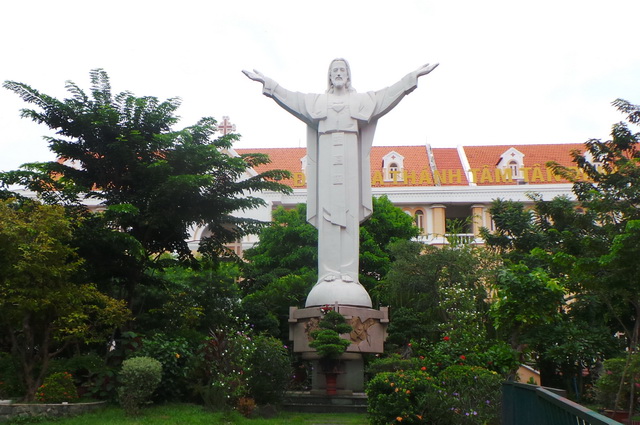 Other features that catch much your interest are 1 main tower and 2 other small fine structures at the front of the cathedral. On the summit of the main tower, there is a bronze Cross with 3 meters in height. Moreover, five large bells stand inside the tower also weight 5.5 tons. The 2 other small structures are also decorated with lamp towers, air holes and patterns, which all bring a sense of firmness but gracefulness.  
The chancel in the
Tan Dinh Church
is quite large with 2 rows of Gothic styled pillars leading to the main altar, which was made of valuable Italian marble. While the statues of female saints are on the left side, the statues of male saints are obviously on the right side.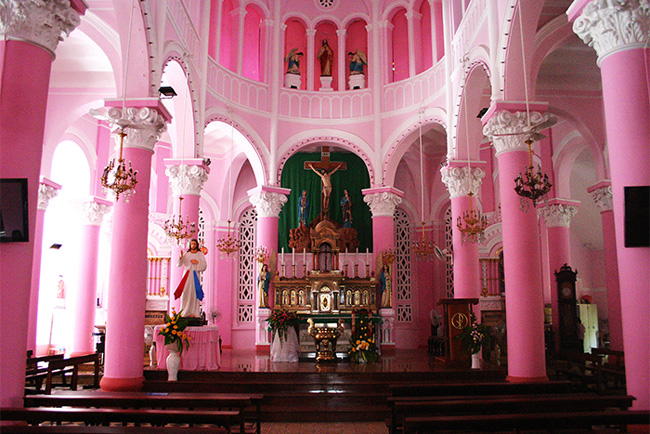 Although the cathedral underwent many periods of restoration and repair, its architecture and construction still remain its origin. In general, you can visit here any time as it is open every day. The mass times per week are different.
From
Monday to Saturday
, the mass is often divided into two time schedules, including 5 AM to 6.15 AM and 5.30 PM to 7 PM.
Sunday Mass is more special
since it will be held at several time schedules, including 5 AM to 6.15 AM, 7.30 AM to 9 AM, 4.00 PM and 5.30 PM to 7 PM.  
In summary, Tan Dinh Church becomes not only a stunning architectural work that is listed as one of the historical, cultural and tourist addresses in Saigon, but also the sacred place for parishioners to display their belief and join in a lot of charity activities. Don't forget to stop by the church if you have a chance to
visit Ho Chi Minh City
, Vietnam.
Other news