Spectacular Sceneries in Kong: Skull Island | Where & How to travel?
Sat, 18/03/2017
2870 viewed
0 commented
Kong: Skull Island
is the first Hollywood movie to be filmed in Vietnam. Almost the film's scenes show the spectacular beauty of the natural landscape in Vietnam. The scenery of Halong Bay, Quang Binh, Ninh Binh are all successfully expressed in the film. The director of Kong: Skull Island has said that "Vietnam's landscape is perfect for the film.
The moviemakers started to film Kong: Skull Island on 19
th
, October 2015 in Hawaii. In 2016, Vietnam was chosen to be one of the main sceneries of the Skull Island. Appeared in the film is a valley, of which total area is 2 ha, at Trang An Scenic Landscape Complex (Ninh Binh). Five sceneries of three northern provinces, which appear on the screen, are
Trang An, Van Long, Tam Coc
(Ninh Binh province),
Halong Bay
(Quang Ninh province) and
Phong Nha
(Quang Binh province).
Now, let's have a detailed look at those sites to know why Leann Emmett decided to choose them for the film.

Charming Ninh Binh with spectacular limestone structure
Leann Emmett used to share that "We immediately choose Ninh Binh when coming here to survey because the limestone structure here is so beautiful, so unique. We cannot find any place as wonderful as this in the world.

Trang An Scenic Landscape Complex (Ninh Binh)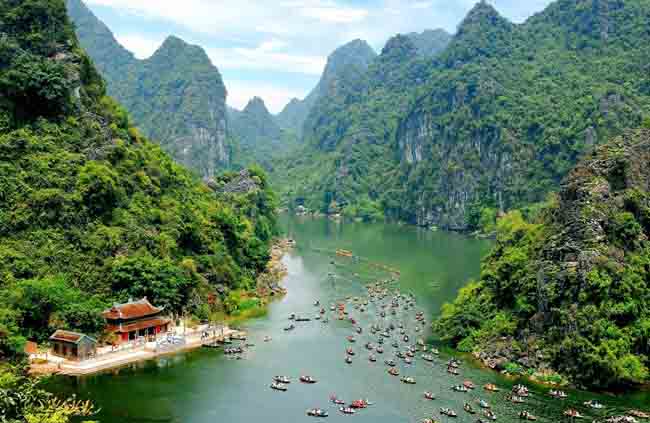 Trang An Scenic Landscape Complex is a scenic area with cultural and natural heritage. It was listed by UNESCO as the first Scenic Landscape Complex of Vietnam in 2014.
In the film, we can see the magnificent landscape with spectacular mountains, gentle rivers, mysterious caves and holy temples and pagodas.
The harmony of stone, river, forest and sky of Trang An have created such a charming and lively beauty on the screen.

Van Long (Ninh Binh)
Thanks to the wilderness, picturesque beauty and biology diversity, Van Long has brought about fantastic scenes for the movie Kong: Skull Island.
Van Long is also known as the bay without waves, its water surface is as pure and clear as a large mirror. The reed field in the middle of the swamp makes the scenery much wilder. It is also the home of many species of birds. When the sunset, the birds will fly back to their nests and create a fantastic view in the sky.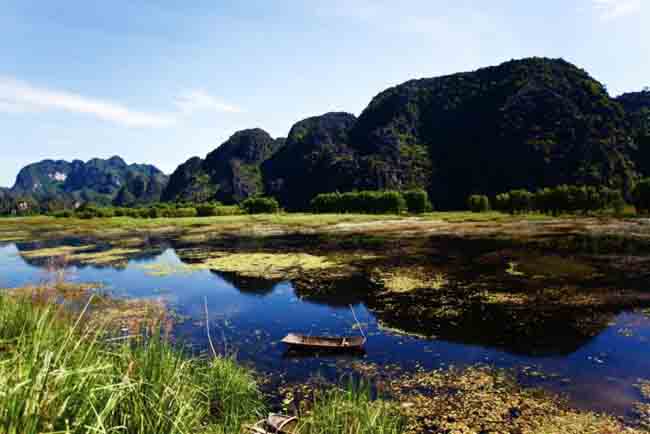 Van Long

Tam Coc (Ninh Binh)
Tam Coc – Bich Dong is also known as Halong Bay on land. It is an important
tourist attraction of Vietnam
. The scenic area includes caves system on limestone mountain and historical relics.
Those limestone mountains, due to the weathering and denudation, have such strange and interesting shapes, which will surely attract tourists at the first sight.
See our
tours to Ninh Binh here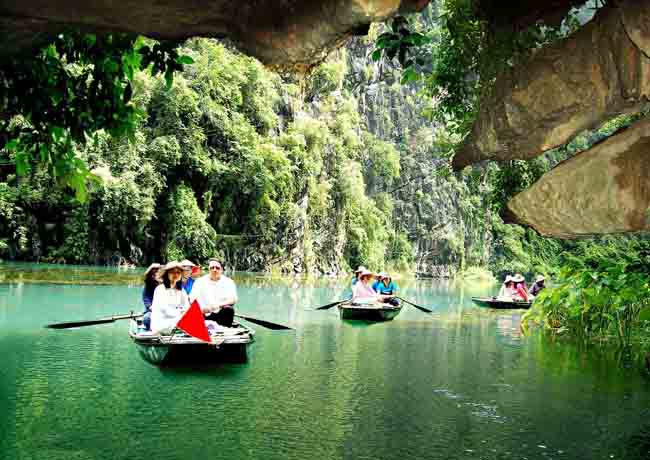 Tam Coc - Bich Dong

Rat Cave (Tan Hoa – Minh Hoa – Quang Binh)
Chuot Cave is situated at Tan Hoa, Minh Hoa town. This location was chosen to be Kong's cave in Kong: Skull Island. The cave's entrance is quite large; its total depth is 500 meters with many stalactites and stalagmites.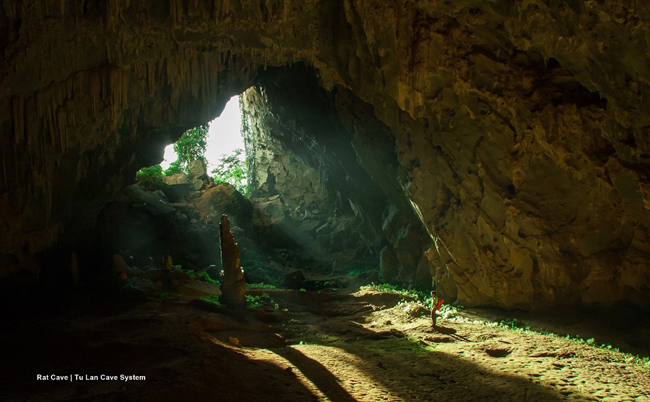 Rat Cave

Yen Phu Lake (Quang Binh)
This is the most noticeable site of the crews when filming at Quang Binh, Yen Phu Village. The director used to say that: "The Lake is so surrealist".
Yen Phu Village, which is also called as Raising Stone Village, possesses a unique beauty with the harmonious combination of stalagmite, landscape and little houses of the locals.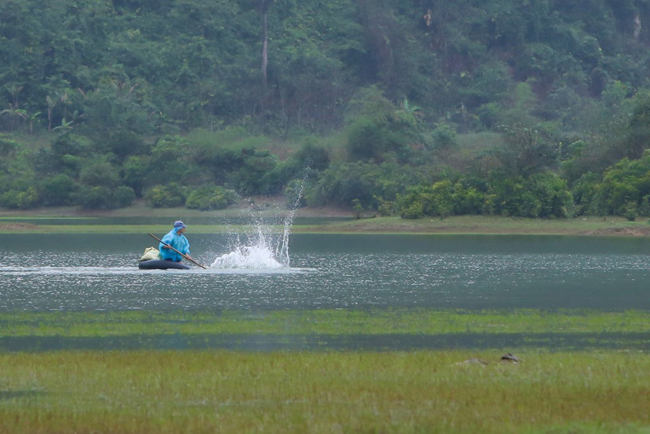 Yen Phu Lake

Cha Noi Valley (Quang Binh)
Looked from the view of Da Deo Hill, Cha Noi Valley is so fantastic and spectacular. This is also the ideal place for many imposing scenes of the movie.
Da Deo Hill is located in Phong Nha Ke Bang Scenic Area. It is 17 kilometers long and is situated on Ho Chi Minh Street, Thuong Hoa town, Minh Hoa district, Quang Binh Province. The landscape here is very magnificent, spectacular and mysterious as well.
See our
tours to Phong Nha Ke Bang here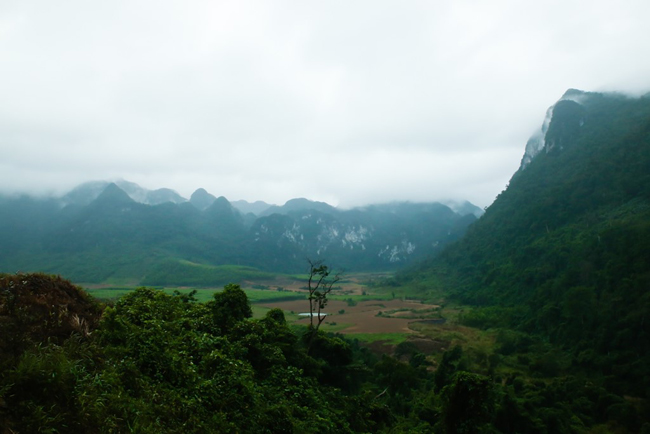 Cha Noi Valley

Halong Bay (Quang Ninh)
Quang Binh was chosen to be the first location to be filmed and Halong Bay was the last one. Especially, Halong Bay (Quang Ninh) is a concrete site chosen by the crews to film important scenes.
Halong Bay is the most famous sight-seeing of Vietnam that is listed by UNESCO as a World Heritage of aesthetic and geographic value.
In the movie, Halong Bay is so attractive, imposing with potential charm. The bay has thousands of natural islands with various shapes. Thanks to this, the scenery in the movie is so truthful and lively.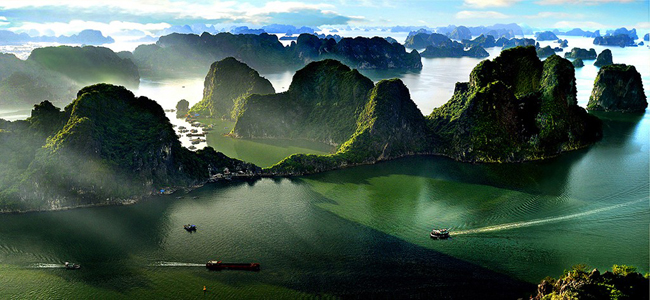 Halong Bay
Tom Hiddleston – the main actor of Kong: Skull Island shared his very first feeling when contemplating the perfect beauty at Halong Bay at the first time: "I think Vietnam is the most beautiful country, especially Halong Bay. There are many blue holes, and imposing mountain rising out of the ocean as skyscrapers. I have never seen it before. Not only me, but my fellows as John Goodman and Jason Mitchell also agree with me. My unforgettable moment is the sailing scene on the blue water of the Halong Bay."
See our
tours to Halong Bay here
Other news