​Mui Ne Sand Dunes - The great place to experience
Mon, 13/05/2019
2353 viewed
0 commented
"Mui Ne Sand Dunes"
, also known as "Red Sand Dunes", are located in Quarter 5 of Mui Ne Ward, Phan Thiet City. This is one of the giant sandy beaches that have no fixed location because the whole sand hill is always moving. The name "Red sand dunes" originates from the unique color of sand here. In addition to the common white and golden sand found elsewhere, the red sand here is born from a combination of fine sand and iron ore (previously, this area had an age-old iron mine).
The sand dunes here are also called the Flying Sand Dunes because their shape changes every day and every hour. That is the magic of the sand hill, appealing Mui Ne tourists to discovering that beauty without feeling bored.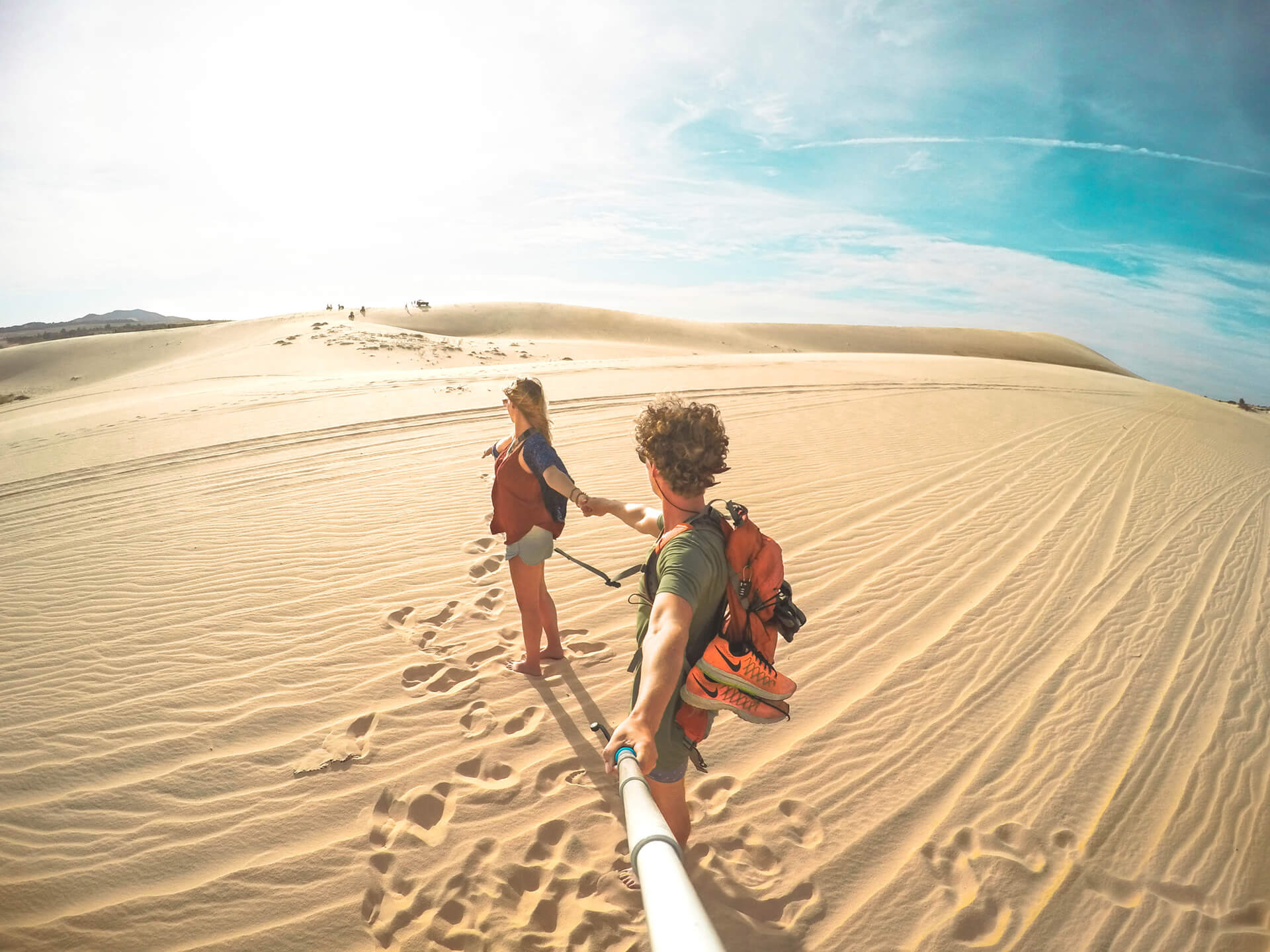 If we travel to Mui Ne to visit the sand hill in the wind season, the sand dunes change their shapes through every whirlwind. These changes take place every hour and it is difficult to see those images being reconstructed. The cause of this special phenomenon is because the sand hill is influenced by natural factors such as monsoon, climate, weather ... , especially the monsoon. The two Northeast and Southwest monsoon mechanisms directly affect this region, which causes the phenomenon of constant changes in the appearance and shape of the sand hill, thereby creating stunning unique landscapes.
May be you like 
Mui Ne sunset tour

Things to do at Mui Ne sand dunes
Sand Surfing: this is a very interesting activity at the sand hill, which gives you a wow feeling. Sand surfing attracts many visitors, especially young people. Sand surfing is definitely worth trying but you should expect to feel tired of foot fatigue, as you need to walk quite far to climb up the top of the hill. Yet, the higher you climb, the more interesting sand surfing is, for sure!Tips for renting surfing boards: One thing easy to notice is that this sand surfing service is mainly guided by women and children. The price is also not fixed, ranging from 10,000 to 50,000 VND. It is not difficult to catch the sight of coastal children with dark-skinned faces because of the burning sun. These children are very proficient in instructing visitors how to sit on the board, to select the right surfing lines, and let visitors play till bored!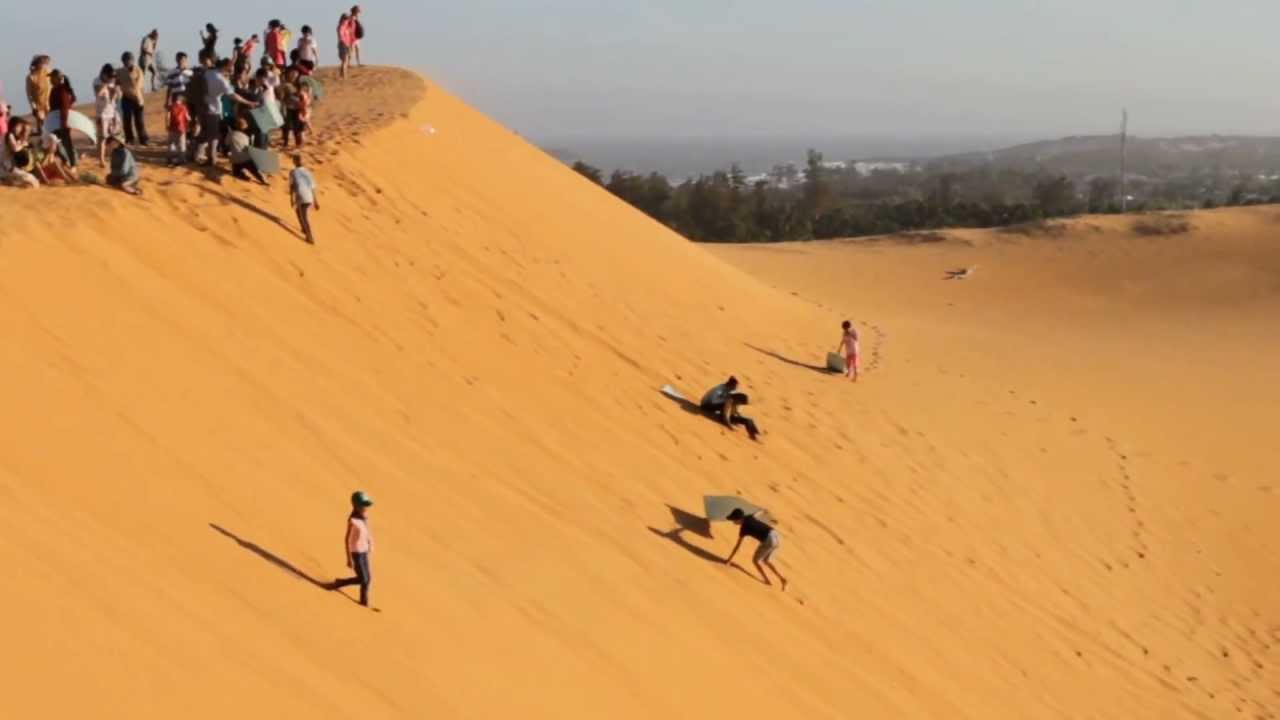 Motorbike riding on the sand: rent a 4-wheel terrain vehicle here, drive it on the sand hills and take wonderful pictures! The feeling of riding a motorbike on the sand is very thrilling and interesting. But the terrain motorbike is only available for rent in the White sand hill, there is no rental service in the Red sand hill since it will deform the sand hill.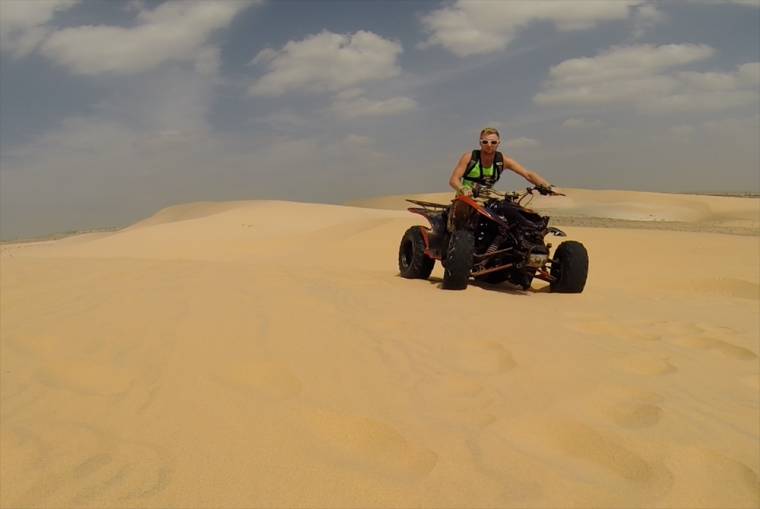 Taking photos: this is the ideal place for you to become a photographer. The place where Sunlight, Sand, Wind, Sea gather is a great inspiration for photographers.

What to eat in Mui Ne sand dunes?
Here sells only street food such as Vermicelli With Fried Tofu & Shrimp Paste, Phan Thiet specialty cakes, dried squid and dried seafood, etc. at the foot of the hill. Once feeling tired of sand surfing, you can have a cup of hot tofu and a quenching coconut right at hand!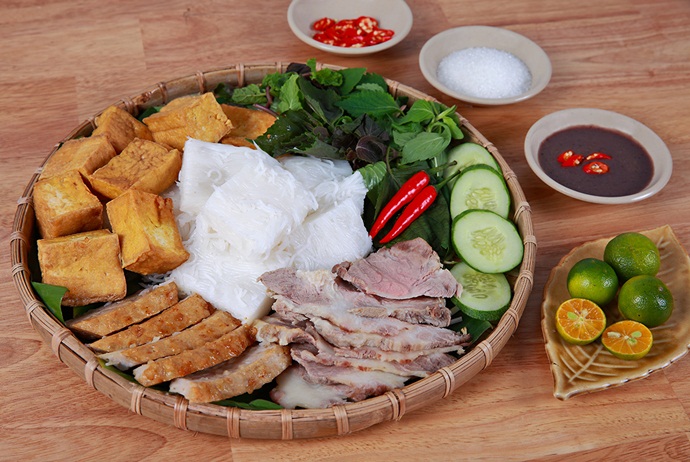 What is the best time to visit Mui Ne sand dunes?
Every year, on the 4
th
day of the Lunar New Year, often takes place the sand-surfing competition of young people in Binh Thuan. Crowded with people just like in a festival, this is the most fun time at Golden Sand Hill if you like bustling.
Tourists traveling to Mui Ne flying sand dunes in
the rainy season
will have the opportunity to witness the beautiful sand hill scenery: Look likes they are putting on a charming colorful coat, different from the "traditional" orange color in the sandy dust. Because of these interesting features, Mui Ne sand dunes become an attractive destination for domestic and foreign tourists.
The
buses to Mui Ne often from Ho Chi Minh city
!

Mui ne sand dunes are artistic inspiration
The sand here once fascinated sand artisans, who were diligently searching for materials to create unique colorful sand paintings. Besides, Mui Ne sand dunes are also an inspiration for photographers and artists. After every big wind or one day and night time, the appearance of the sand dunes turns into something brand new, different from any other previous shapes.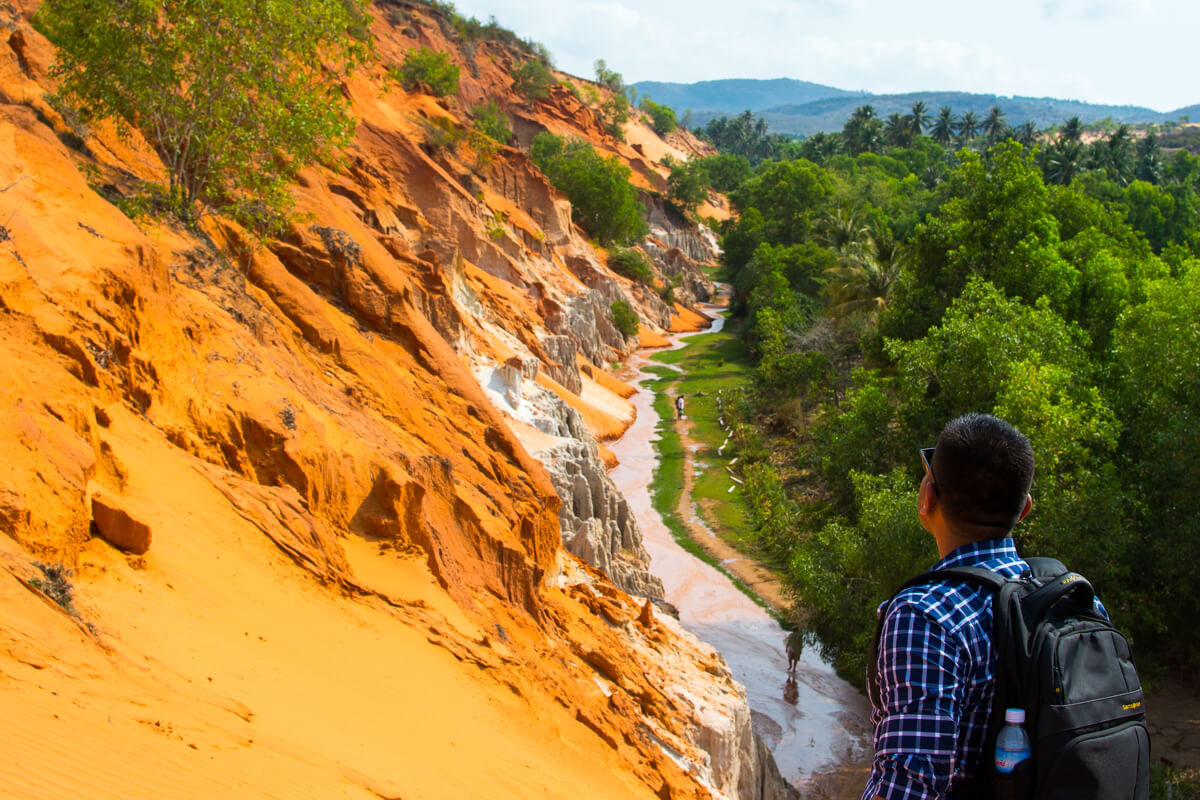 In short,
traveling to Mui Ne sand dunes, visitors will have a chance to experience many interesting activities, from walking barefoot on the warm sand, trying the thrilling sand surfing from a steep hill, to taking fantastic photo shoots with the fantastic sand dunes, or simply mingling with the seemingly endless space of sun, wind and sand.
Other news