Tips For Renting a Motorbike When Traveling in Sapa
Mon, 03/07/2017
24607 viewed
0 commented
Well-known for its beautiful scenery, fresh air, friendly people and terraced fields, Sapa has become the favorite destination for many backpackers across the country. If it is inconvenient for you to go to Sapa by motorbikes because of distance, motorbike rental is a right thing to do. However, there are quite a lot of people having difficulty looking for places to rent a motorbike. Some experience of renting a motorbike in Sapa below may be useful to you.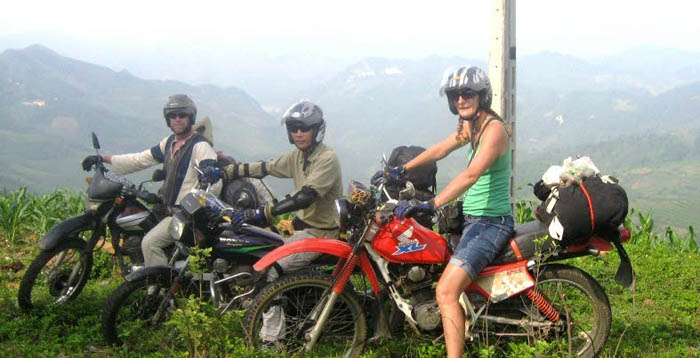 Tips for renting a motorbike in Sapa
If you want to rent motorbikes during the peak period like the weekend or holidays, you should
contact a few days before your departure
to avoid running out of motorbikes or paying highly. It is advised that renting motorbikes after coming to Sapa is a bad option because there isn't probably motorbikes available for rental.
When you reach an agreement on rental and price, one thing you need to do is asking how far you are allowed to go and whether you can go overnight or not because of different prices. Generally, motorbike rental in a day starts from 8 a.m. to 17 p.m. and renters have to pay fee for petrol and other incurring fees by themselves.
The price of renting a motorbike in Sapa is
from VND 80,000 to VND 240,000 per day
(depending on the type of motorbike and when it is rented). Therefore, give a reasonable price based on the above price.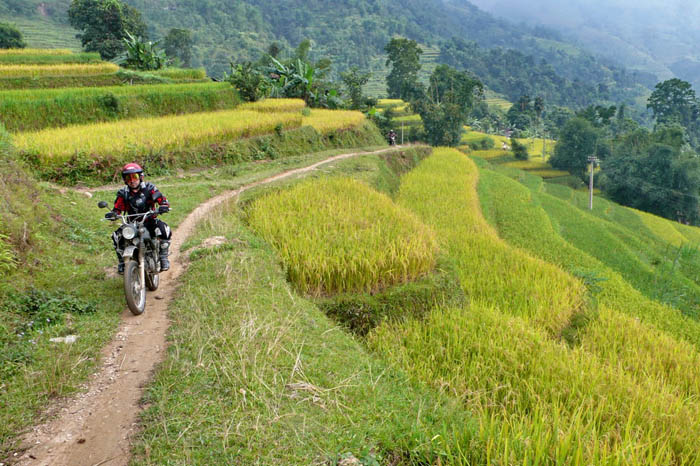 How to rent a motorbike in Sapa economically?
Remember to check every detail thoroughly before you receive motorbikes from the owner to avoid paying wrongfully. The best way is to get the owner's telephone number and get him to pick up the motorbike without giving it back directly.
You will feel better when choosing some types of motorbikes like Wave RS because of its popularity and user-friendliness.
After renting motorbikes, you should search for where the nearest gas station is because gas stations in Sapa usually open after 7 a.m. and are away from each other.
Besides, you can rent bicycles to explore mountain villages, which is both inexpensive and interesting.

Where to rent a motorbike in Sapa?
There are many options for
motorbike rental in Sapa
, but not all are cheap and prestigious. Below are some best places to rent motorbikes in Sapa.
•
Ms. Ly:
Motorbikes available for rental to SaPa, Y Ty, Bac Ha, Lai Chau ... Motorbikes are delivered in Lao Cai, but you will have to pay another fee equal to the bus fare from Lao Cai to Sapa. Contact: 0915 190874.
•
Lao Cai Tourism Information Center
– No. 02 Fansipan, Sapa District, Lao Cai province. Tel: 020 3871975. Contact: 043 994 2811 or +84 935 999 886.
•
Mr. Tuan
: Tel: 0983 644588.
•
Mr. Trang
: Tel: 0935 999886.
•
Hoang Ha Hotel for rental (Sapa):
Address: No. 08B, Thac Bac Street, Sapa Town, Sapa District, Lao Cai Province. Tel: 0203 872 535; Hotline: 0918 324 535; Fax: 0203 873 466.
•
Thanh Dat Hotel
- Address: Thach Sơn Street - Ham Rong Street - Sapa Town: Tel: 01234346668. Call: 0973865292.
• Mr. Nghia
- Contact: 0973865292. Or rent motorbikes at address: 21 Thach Son. Sapa District, Lao Cai province. Tel: 0983 644588.

What to see in Sapa?
Ham Rong Mount: Located right in the center of Sapa town, Ham Rong Mount is popular among visitors. Standing on the top of the mountain, you can see Sapa emerging with Muong Hoa valley, Ta Phin village hidden in mist. You will feel lost into the fairyland with cloud surrounding and flowers blossoming on the ground.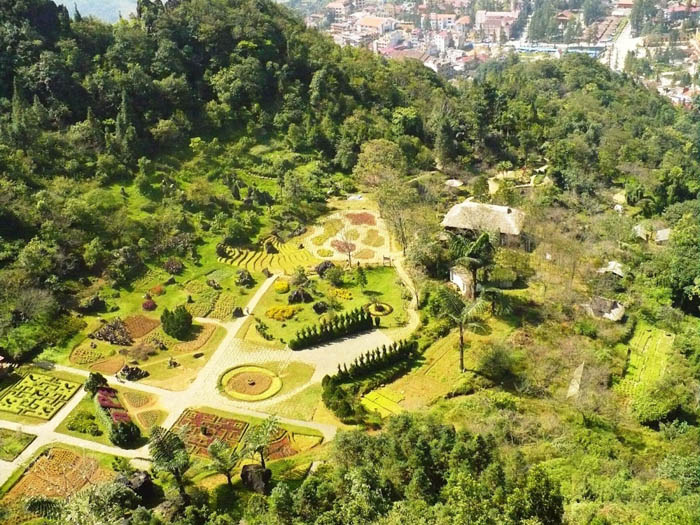 Sapa Rock Church: Situated right in front of Ham Rong Mount, Sapa Rock Church which is an architecture built in the French-ruled period remains so far. Coming to this place at the time when there is snow in winter (link tới bài , Travel tips about weather in Sapa), you may feel so romantic as if you were in a western country.
Cat Cat village: It is age-old of H'Mong ethnic group where traditional handicrafts such as planting cotton and weaving fabric have being well-kept. If you are interested in cultural features of ethnic minorities in Sapa, you should go to Sapa at least once and you surely won't feel disappointed.  
Muong Hoa Valley: It consists of ancient stones with interestingly weird shapes lying between terraced fields. Origin of strange shapes and characters carved on hundreds of stones is still a mystery. This site is recognized as a national monument - a unique product of the ancient Vietnamese.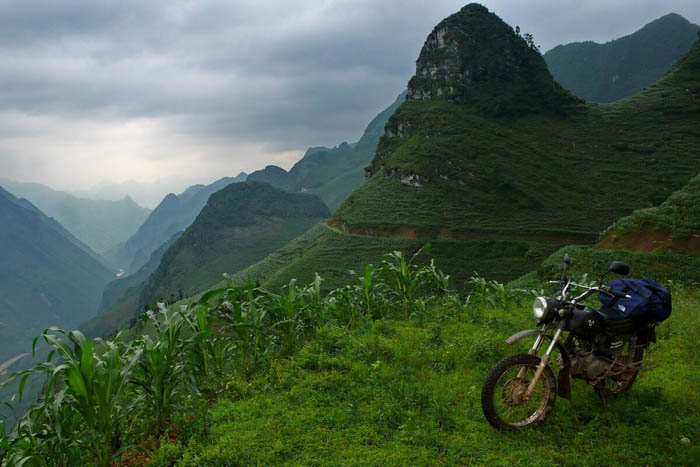 Conquering Fansipan: Fansipan is the highest mountain in the Indochinese peninsula. You can go on tour, organize yourself or take a cable car. You can see many kinds of interesting animal along the way, which may make you feel excited if you are fond of nature.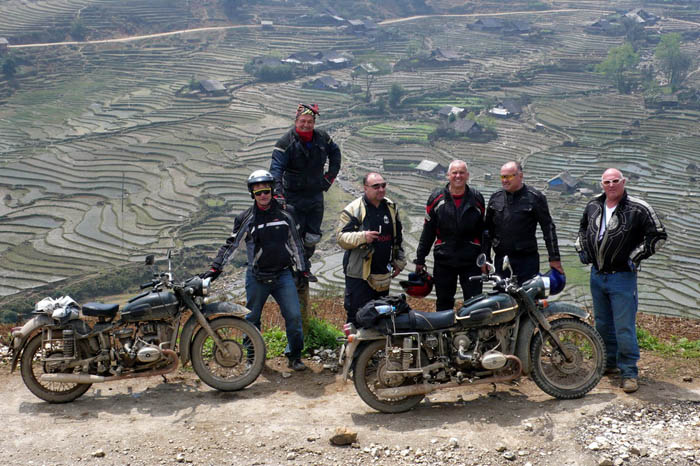 Silver Waterfall: Silver Waterfall is far about 10 km from Sapa towards Lai Châu province in the west. The waterfall falls down from the height of more than 100 meters into the stream in the O Quy Ho valley, creating a breathtaking scenery. However, going to the Silver Waterfall in the dry season isn't suggested because the waterfall will run dry at that time.
Love Market in Sapa is held every Saturday and there are also music performances at the main square (near the Rock Church). In addition, there are many ethnic groups of Mông and Dao selling brocade every night, which becomes a cultural feature of Sapa. However, one thing you should take notice of is that you may pay for taking photos. And remember not to give children money because they may think the only purpose of studying is earning money. Instead, you can buy goods from them or their parents.
See more the places in our post here: things to do in Sapa.
In short
, through above experience of motorbike rental and attractive destinations in Sapa, it is expected that you will obtain necessary information to be able to rent a good motorbike to fully enjoy your
trip to Sapa
. We wish you have a safe and memorable trip!
Other news