Tips for Traveling in Halong Bay: Weather, Preparation and Sight Seeing
Fri, 19/05/2017
3418 viewed
0 commented
Halong Bay is a famous tourist attraction of Vietnam thanks to its spectacular natural beauty. If you have the chance to travel to Vietnam, then, you should not miss this picturesque bay. In order to experience the full beauty of this New Natural Wonder, you must carefully pay attention to the weather in Halong bay. In this post, we will share you some useful tips when traveling to this destination.

The best weather in Halong bay
Halong Bay is a part of the Gulf of Tonkin, where the weather has 4 separated seasons. Especially, in the winter (from November to March), the weather is very cold, while in the summer (from April to October), the weather is extremely hot.
Thanks to the separated weather of each season, Halong Bay is always an ideal destination for tourists all over the year.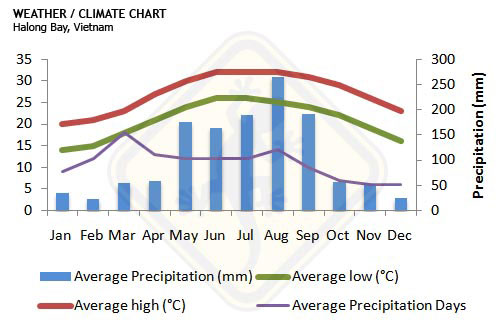 Halong Bay weather climate chart
A perfect time for Vietnamese tourists to visit Halong Bay is in the summer (from April to October) every year. On the other hand, the winter is an ideal time for foreign tourists.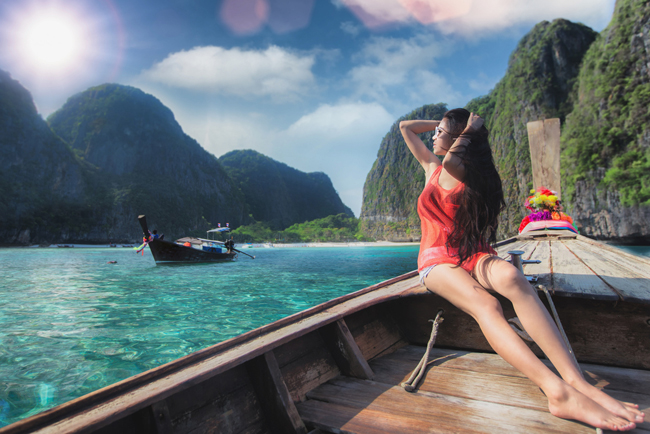 The summer is the main tourist season of Halong Bay. Therefore, you should travel to this tourist attraction from March to May or from August to October. However, you should not pay a visit to Halong Bay from June to July because of these reasons:
At weekends in June and July, the beaches are full of tourists, therefore, you may feel unpleasant on these days. In addition, the service fees are also higher than usual days.
Moreover, the natural climate of Vietnam in June and July usually experiences a lot of storms, of which final destinations are the Gulf of Tonkin and Halong Bay. Therefore, you must be careful when traveling to Halong in June and July. The best solution for you is to visit this wonderful tourist attraction from March to May or from August to October.
If due to some reasons, you have no choice in traveling to Halong in June and July, then, you can resort to the travel agencies. They will help you have a good tour and lower the risks caused by the bad weather.

What should you prepare for a trip to Halong bay?
In the summer, just as other beaches, Halong is filled with the sunshine and the weather is quite hot, thus, you should not forget to bring the sun cream along. You should choose suitable kind of sun cream, of which SPF is 30 and beyond.
If you love the nature and want to contemplate the beauty of Halong Bay without dealing with the heat of summer, then, bringing a sunglasses and a beach hat may help you.
You had better prepare a pair of comfortable slippers because a common visit to Halong Bay usually includes both swimming in the blue sea and exploring the limestone caves.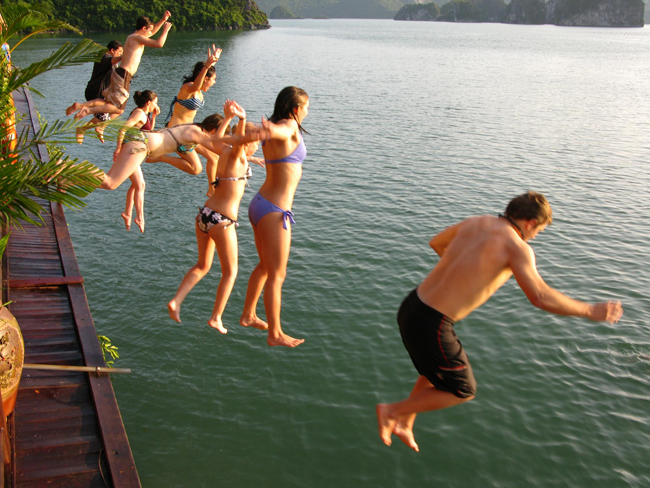 Swimming on Cruise Ship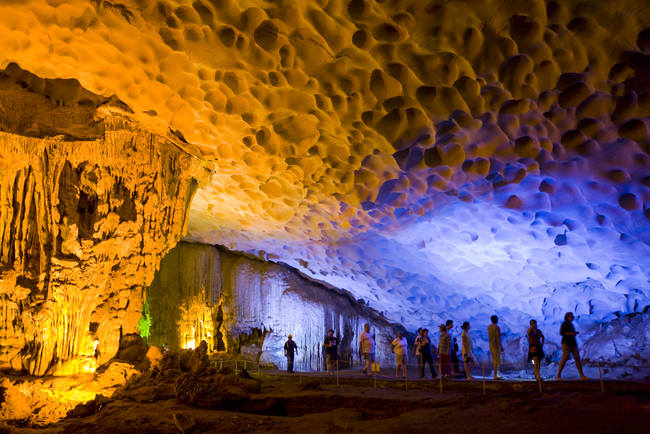 Sung Sot cave in Halong Bay
The swimsuits are always an indispensable thing when going to the beaches. They will decide your confident level as well. Therefore, you had better prepare them before starting your trip. However, you can hire swimsuit with affordable price, which is about 25 000 VND to 50 000 VND.
In case you love taking photos, then bringing the camera is very necessary. You will not regret when taking photos of this picturesque landscape.

Best places to visit in Halong Bay

Co To Island
In order to contemplate the beautiful coral reefs of Co To Island, you can travel by boat to the island and enjoy the beach here. The pristine beauty of Co To Island is still well-preserved, which you can hardly find in the business of Halong Bay.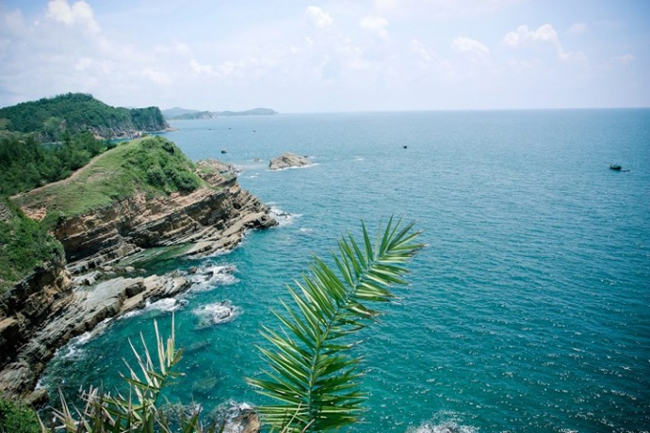 Tuan Chau Island
Tuan Chau Island is one of the most beautiful islands among 1969 islands of Halong Bay and the sole island that have residents inhabiting. This island also possesses the largest man-made beach in Vietnam. In addition, Tra Co beach is so beautiful with the white sandy beach that it is always an ideal place for those who love water games and interesting summer activities.

Luon Cave
Halong Bay has such a great cave system; each cave has its own unique beauty and story. One of the most famous caves of Halong Bay is Luon Cave located on Bo Hon Island, which is about 14 kilometers from Bai Chay. You can observe the beauty of stalactites and stalagmites, which are millions of years old, in various shapes and sizes. In front of Luon Cave is Con Rua Islet and at the right side of the cave is Cong Troi.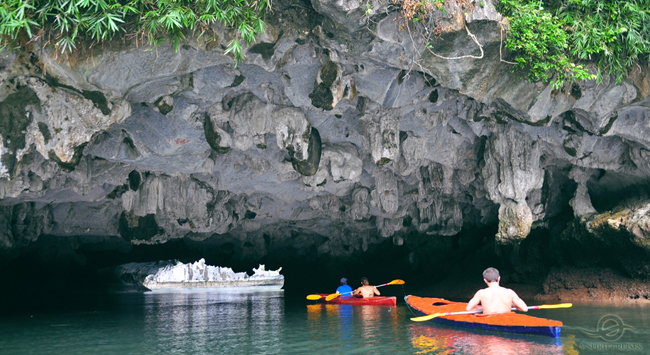 Yen Tu Tourist Site
Halong is not only famous for its oceans and caves but also for the mountains. If you want to pay a visit to a pagoda, then, you should not forget to travel to Yen Tu Tourist Site. It includes a great system of pagodas, shrines and banyan trees with the beautiful natural landscape.

Cua Van Fish Village
Cua Van Fish Village is one of the most attractive destinations of Halong Bay. You will not only have the opportunity to enjoy the relaxed and peaceful atmosphere but also learn about the culture, the life of the fishermen as well as how to catch fishes with the locals.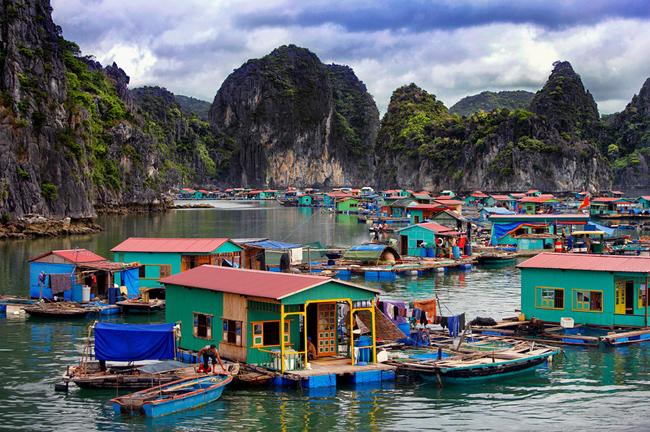 Historical relics at Halong Bay
Quang Ninh Museum, Tran Quoc Nghia Temple, or Bai Tho Mountain are all interesting sight-seeing of Halong Bay that you should not miss when traveling here.
In conclusion, we hope that through this post of weather in Halong bay and useful tips when visiting this destination, you will have a wonderful vacation here. We wish you a memorable and happy trip!
Other news