Enrich Your Spiritual Belief By A Look At Top Churches In Vietnam
Tue, 13/06/2017
4671 viewed
0 commented
With the number of more than 6 million Catholics across the S-shaped country, Vietnam has more Christian believers than other Southeast Asian countries. In fact, Christianity has played an important role in the lives of the followers for centuries. Many of the most significant historic buildings in the country are churches. These have become the centre of worship for the Christian community as well as offered both followers and visitors a great opportunity to experience spectacular architecture, join in community activities, or just sit very quietly in contemplation!
There are lots of
famous and imposing churches in Vietnam
. They have a wide range of architectural styles (like Neo-Gothic, France, or Asian-European fusion), which win visitors' heart from the first sight. The following are 10 typical examples from north to center to south that highly reflect the outstanding diversity of Vietnam's Christian architecture. Let's check!  
1. Phat Diem Cathedral (Ninh Binh Province)
Also called Stone Church, Phat Diem Cathedral in Kim Son District, Ninh Binh wins an award for its traditional Vietnamese and Western architecture. In general, the primary campus consists of a main cathedral, 5 minor chapels, Phuong Dinh (bell house), along with 3 man-made grottos. Covering 22 hectares, the whole complex was mainly made from stone and wood over 30 years. So, that's why its name is known as Stone Church.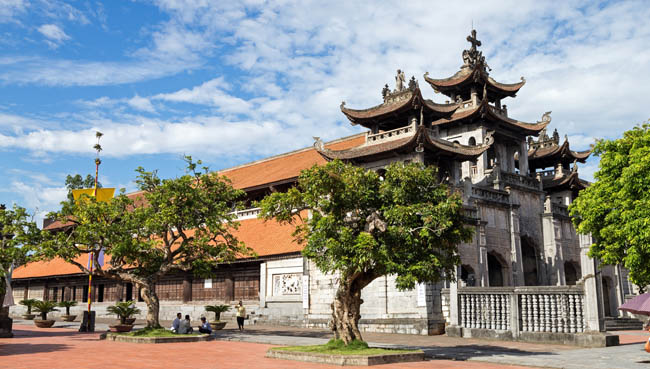 What leaves tourists enthralled about Phat Diem is its unique architecture. Although it is widely seen as a Christian church, it was usually designed by Buddhist architecture style, with many Vietnamese features dating back in the 19th century.
Opening Hours: 9 AM to 5 PM, from Monday to Sunday
Address: Phat Diem, Kim Son, Ninh Binh Province, Vietnam
2. Phu Nhai Church (Nam Dinh Province)
Nam Dinh gets its name reputable for dozens of gorgeous churches. Among them, Phu Nhai Church stands out with amazing Gothic architecture. Originally built in 1866, it was strongly influenced by Spanish style. Then, the church was renovated and expanded with French architecture. Wonder why Phu Nhai is listed as one of the top churches? In fact, it is the largest church of Gothic architecture in the country that is 30 meters in height, 28 meters in width as well as 80 meters in length. Furthermore, it is also flanked by two 40-meter bell towers, along with containing about four imported French bells.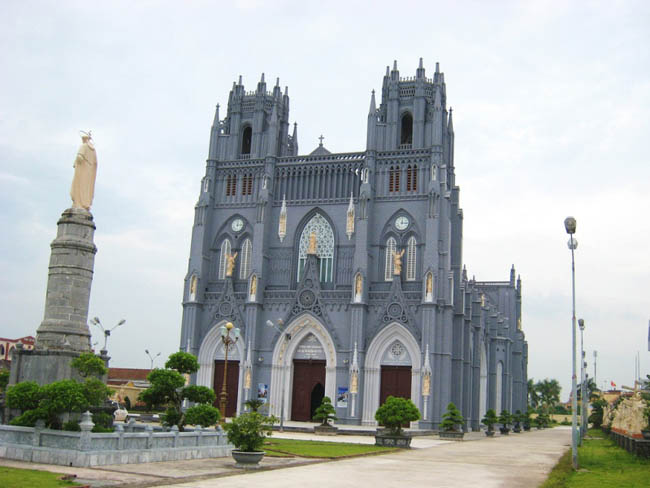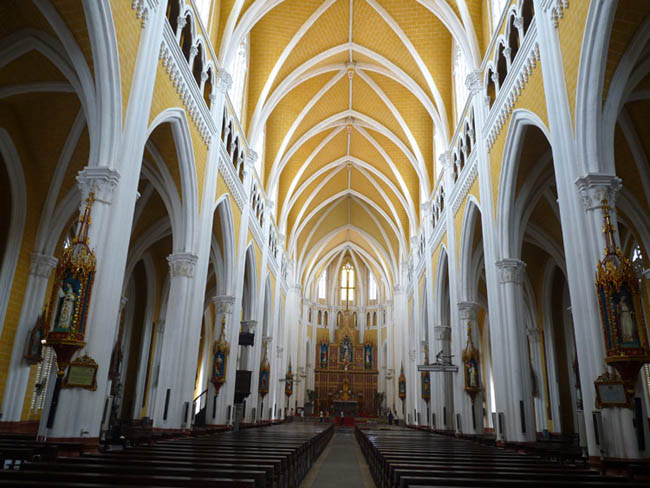 Visitors are able to stand in the high tower of the church to spread their eyes over the whole scene of Xuan Truong district.
Opening Hours: Daily
Address: Xuan Phuong Commune, Xuan Truong District, Nam Dinh Province, Vietnam
3. Big Church (Hanoi City)
Also named Nhà Thờ Lớn, such Big Church is the biggest Catholic building in the capital. Located in Hoan Kiem District, the gothic structure was firstly built in 1884 and then finished in 1888 (3 years). On the whole, it is 64.5 meters in length and 20.5 meters in width. There are 2 giant bell towers which are 31.5 meters in height each. Stepping inside, you will be allured be the interior with its stained glass windows, spiritual pictures and gilt sanctuary. In the middle, you can easily catch the image of Saint Joseph statue that is 2 meters in height.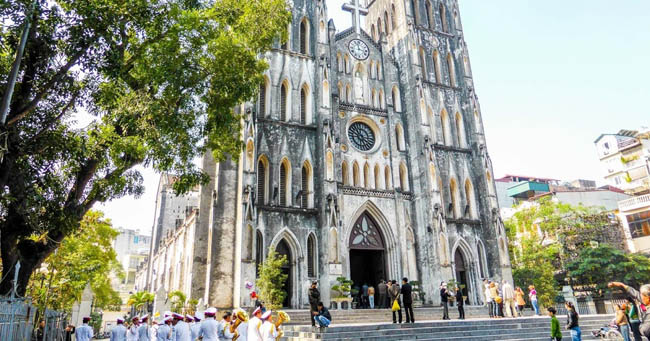 In fact, Big Church is one of the most impressive tourist destinations in Hanoi. It becomes busier and more vivid on Christmas when people tend to gather here to celebrate the holiday.
Opening Hours: Every day
Address: Hoan Kiem District, Ha Noi City, Vietnam

4. Phu Cam Main Cathedral (Hue city)
Located in Phuoc Vinh Ward, Hue City, Phu Cam Church impressed viewers by a bizarre combination of styles. There are 2 main moulding statues in front of the cathedral. While the left is the presence of the Saint Paulo, the right side is the presence of the Saint Phero. In general, Phu Cam with its top perpendicularly leading to the sky looks breathtaking, artistic and religious. The interior is spacious enough for 2,500 followers to participate in the Mass.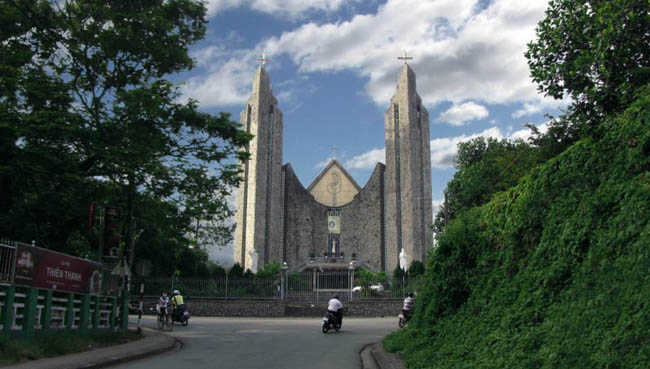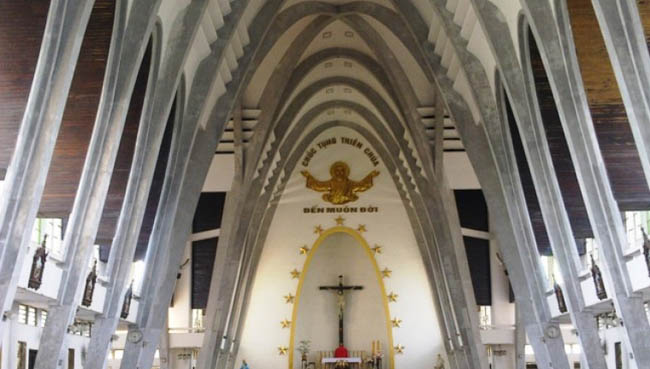 Especially, the cathedral was designed by Ngo Viet Thu, who was also greatly responsible for the former Presidential Palace in Saigon.
Opening Hours: From Monday To Sunday
Address: Nguyen Truong To Street, Phuoc Vinh Ward, Hue City, Vietnam

5. Mang Lang Church (Phu Yen Province)
Established in 1892, Mang Lang is considered one of the oldest churches in Vietnam. Its appearance and glamour help to make the surroundings more prominent. Inside, you can notice brownish yellow walls. In addition, stained glass windows, ancient lanterns and wood-paneled ceilings also contribute to its spacious setting. It is interesting to know that guests can find the first book which was printed in the modern Vietnamese script inside. This book was written by a French Jesuit missionary and lexicographer, namely Alexandre de Rhodes. Actually, he has played a vital role in the creation of the Latin and Vietnamese script (Quốc Ngữ).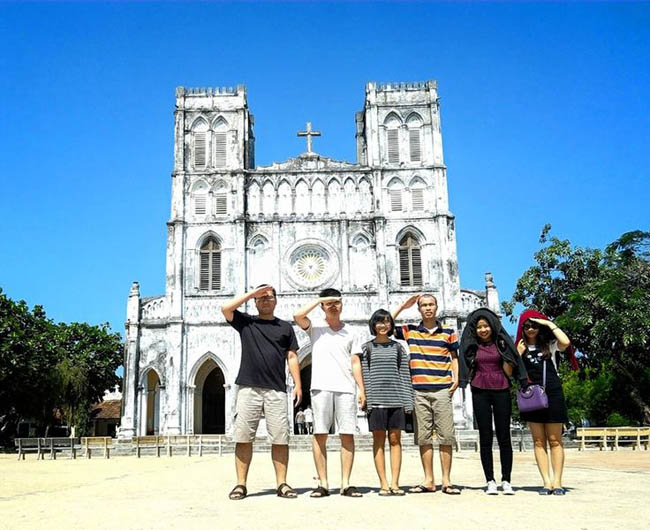 Setting foot in here brings you a chance to learn more about Vietnamese history as well as practice your belief in God.
Opening Hours: Daily
Address: Tuy An District, Phu Yen Province, Vietnam
6. Kon Tum Wooden Church (Gia Lai Province)
Thanks to a remarkable architecture, such church is really prominent and attractive on a highland for a century. Amazingly, it is known as the largest wooden church in Vietnam, which includes a basilica, a showroom of ethnic and religious items, a guesthouse, as well as a communal house. Though its specific features come with the Romanesque style of Europe, in fact, it is still highly influenced by the local ethnic cultural presence that can be found in decorative details.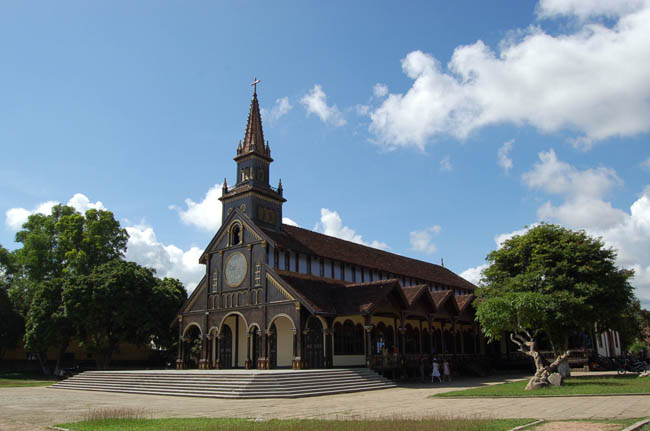 Besides, the biggest magnet of the church is that its elevated floor is 1 meter higher than the surrounding corridor. Of course, this image surely reminds tourists of Ba Na ethnic community's traditional stilt house.
Opening Hours: Every day
Address: Nguyen Hue Road, Kon tum City, Vietnam
7. Buon Ho Church (Dak Lak Province)
Set on a slope of the hill, Buon Ho Church strikingly stands with Neo-Gothic architecture style as well as pastel orange hue. Originally built in 1970 and then hugely renovated in 2008, the church has been totally maintained by the local Christian community. From a distance, it indeed catches much your attention by its impressive and beautiful architecture. Visitors are allowed to take photos from the outside.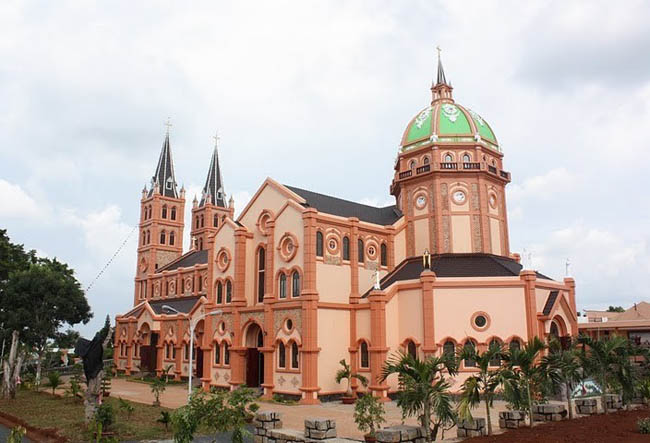 Buon Ho Church is seen as one of the biggest churches in the Central Highland, due to a total area of about 1260 square meters.
Opening Hours: From Monday to Sunday
Address: 155 Nguyen Trai Street, Buon Ho, Daklak Province, Vietnam
8. Cock Church (Da Lat city)
It is not called Cock Church or Rooster Church for no reason. Visitors can be dazzled by a vista of a big man-made cock statue on the top of the tower which is 47 meters in height. As a result, you can see such symbol almost everywhere in the town. Firstly built in 1931 and completed 11 years later (1942), here is one of the oldest colonial structures in Da Lat.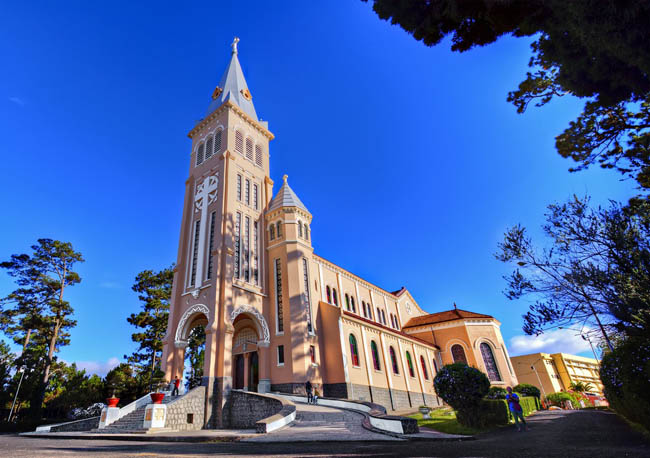 From the church, the whole view of the poetic city seems to be really romantic and lively in front of your eyes. Especially, the bell tower is also another landmark for travelers to look for where the city center is.
Opening Hours: Every day
Address: 15 Tran Phu Street, Da Lat City, Lam Dong Province, Vietnam
9. Mountain Church (Nha Trang Beach Town)
Located at an altitude of 12 meters in Nha Trang city, Mountain Church becomes an imposing destination to many visitors, particularly both domestic and international photographers and cinematographers. At first, it was constructed with cement and a special kind of brick. Because the church is mostly unpainted, lots of the tourists wrongly assumed that it was made out of stone. That's why it is also widely called the Stone Church.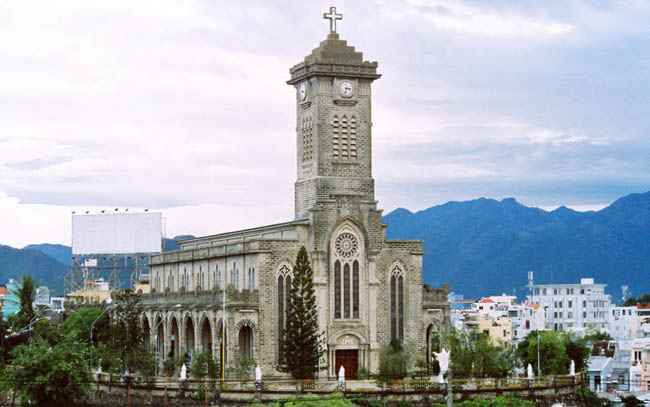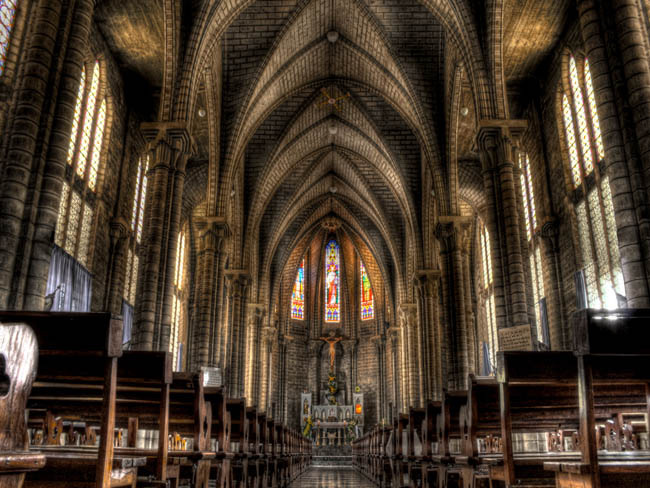 In general, couples also choose the church to take imposing photos for their wedding. Every day, it is open from 8 AM and closed in the evening.
Opening Hours: Daily
Address: 19 Nguyen Trai Street, Phuoc Tien, Nha Trang City, Vietnam
10. Saigon Notre-Dame Basilica (Ho Chi Minh City)
Situated at the Vietnam's busiest city – Ho Chi Minh City, the ancient appearance and gorgeous architecture of Notre Dame Cathedral do create an incredible contrast to its modern surroundings. For most tourists, a trip to Saigon is never complete without a visit to this church. Even if you do not have much time to contemplate the interior and join in the Mass, the Basilica is still worth your time. To be sure, the exterior truly offers excellent photo opportunities.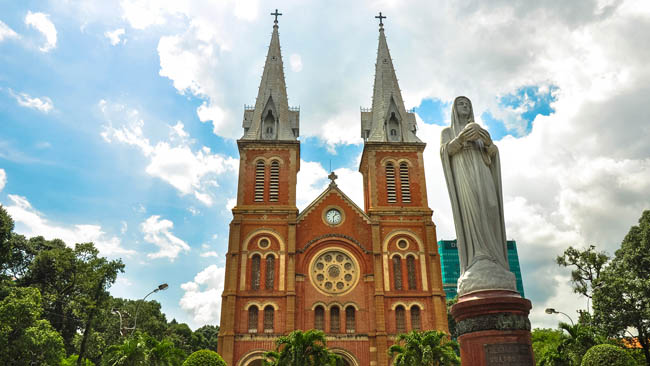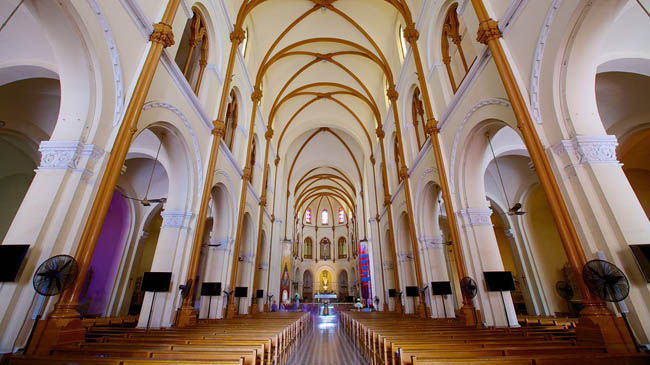 Built within 3 years (from 1877 and 1880), the building is 93 meters in length, 35 meters in width, as well as 75 meters in height. It is surprising to know that every brick here was actually imported from France.
Opening Hours: 5.30 AM to 5 PM, Every day
Address: 1 Cong Xa Paris, Ben Nghe, District 1, Ho Chi Minh City, Vietnam
Other news