​Must-Try Dishes And Drinks You Should Not Miss In Halong Bay
Mon, 29/05/2017
3700 viewed
0 commented
Halong Bay charms a number of visitors every year, thanks to not only its spectacular landscapes, imposing grottos and caves, as well as vibrant floating market, but also its culinary art. From fresh and savory seafood to unique wine, the bay's gastronomy is sure to keep you all satisfied and happy! Enjoying the local specialties is also a great way to understand more about the culture of Vietnamese.
Not only seafood here is worth savoring, but lots of Vietnamese traditional dishes and international cooking styles from luxury restaurants here can even also please the pickiest tourists. The following are
best dishes and drinks
you should try during a trip to
Halong Bay
!  
1. Grilled Chopped Squid (Chả Mực)
To be sure, Grilled Chopped Squid is the most famous dish in the bay. So, it seems a big pity to skip this food! True to its name, the major ingredient is squid. Thanks to its own color, taste, and making process, you cannot find any dish with the same flavor from other places. To do Grilled Chopped Squid, it needs both experience and manual dexterity. At that time, squid is manually and deftly ground. Then, it is fried in the moderate heat until the squid piece becomes crispy and golden brown.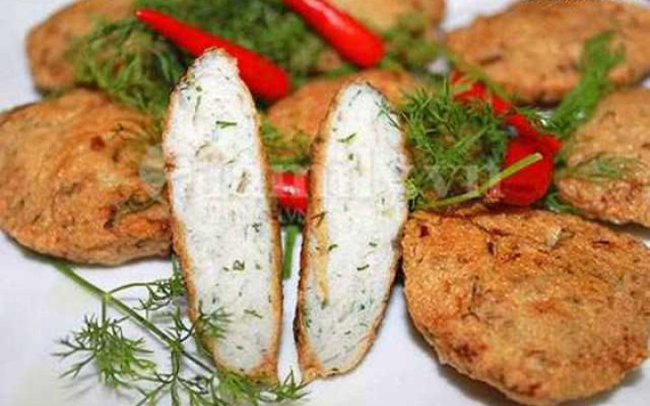 The best way to feel the irresistible taste of the dish is to relish it with pure fish sauce and peppercorn. Most restaurants often combine Grilled Chopped Squid with Steamed Rice Rolls (Bánh Cuốn) or Steamed Glutinous Rice (Xôi).  
2. Ngán dish (Món Ngán)
Ngán has the shape that is similar to clam but bigger. Furthermore, its shells are also rougher than claim. There are many dishes which are made from the food. Some visitors like eating grilled Ngán, while others fall in love with Ngán sushi or Ngán soup. Moreover, the locals also use Ngán to make wine. Don't forget to sample this dish that may be found in all restaurants of Halong. In case you wish to buy wine, then head towards Cai Ram market as well as Vuon Dao area.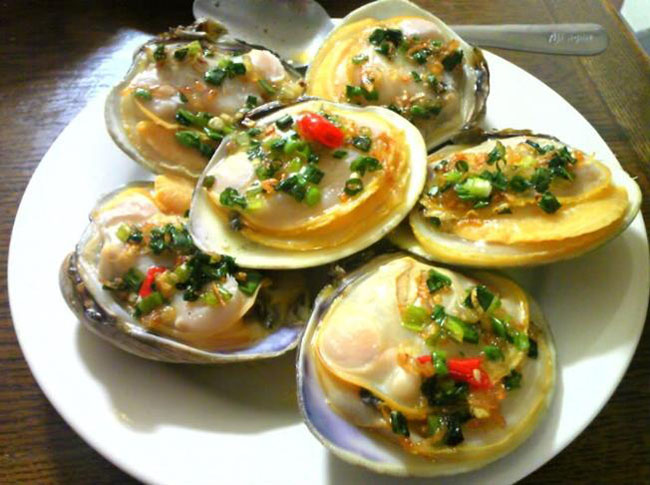 3. Sipunculus (Sá sùng)
Sipunculus, or also called Sá Sùng, can leave foreign visitors obsessed and scared at the first sight. In fact, it is simply a kind of sand worm that exists in Halong Bay only. In the olden days, Sá Sùng is a valuable tribute to the King or upper-class people. Hence, rich people could only afford it. The food can be processed in various ways, like Sa Sung fried with garlic or lemongrass, Sa Sung boiled, deep fried Sa Sung, and so on! The taste of Sipunculus becomes exotic and different with ketchup and beer. Sá Sùng is very rare! So, they often come with the high price: About 3 to 4 million VND for 1 kilogram.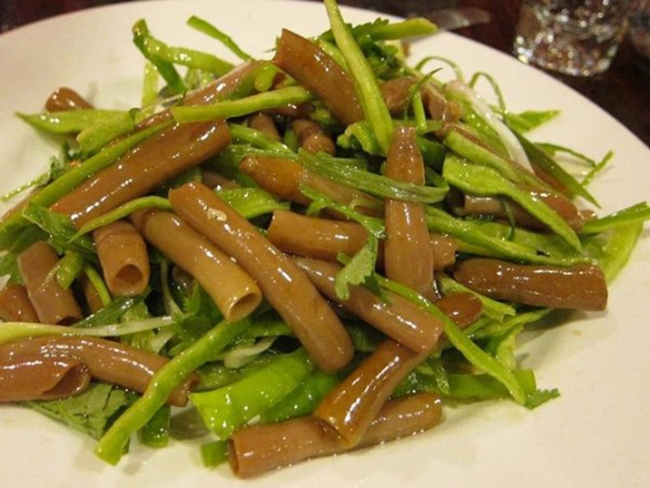 4. Horseshoe crab (Sam Biển)
As one of the attractive specialties in
Halong Bay
, horseshoe crab is greatly favored by both domestic and international tourists. In general, the meat of Sam may be used to make many different dishes, such as crab salad, pudding crab, crab sauté with lemongrass and peppers, sweet and sour crab legs, fried crab, steamed crabs, fried eggs and crab, stir-fried crab and glass noodle, and so forth. The list still goes on. Ensure to savor this food right after you set foot in the bay as it is always fresher and more wonderful than anywhere else!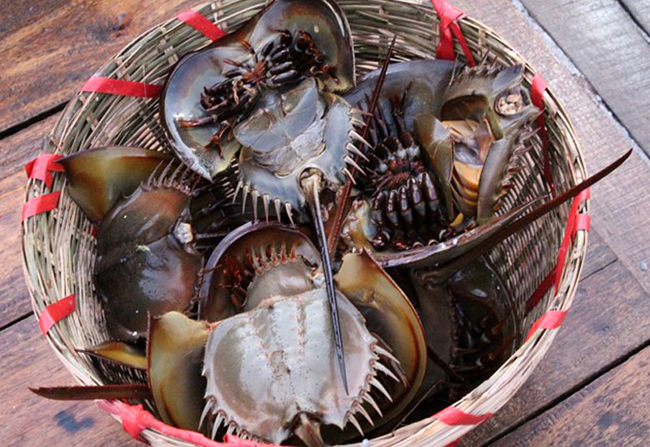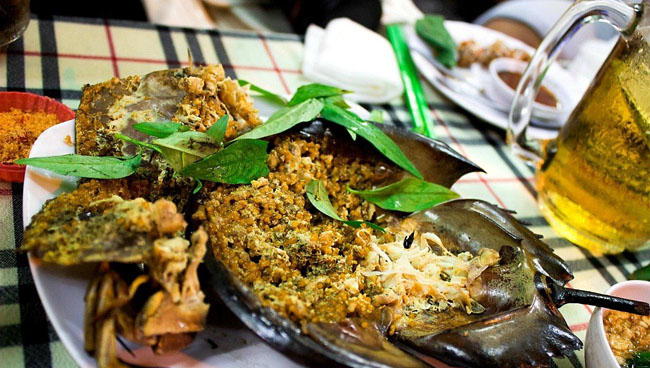 5. Lobsters (Tôm Hùm)
Lobsters have long been considered King of richly nutritious seafood, thanks to their sweet meat. It is hard to forget their flavor once you have tried them. Many dishes may be processed from lobsters, i.e. rice gruel with lobsters, fried lobsters with salt, steamed lobsters, lobster salad and more. Among them, steamed lobster gains its widespread fame because it remains the original flavor and natural taste of lobsters.  
The best quality lobsters are often served in the top cruises. Let's have yourself indulged in one of the luxury cruises, like Paradise Peak Cruise, Signature Cruise, Orchid Cruise, etc. and then relish high-class lobster dishes. For sure, it is always a great way to enjoy these dishes and marvel at magnificent scenes around the bay at the same time.
6. Oysters (Hàu)
Another popular kind of seafood here is oyster that is highly nutritious along with providing a plethora of energy for your body. Guests are fond of sampling grilled oysters with the mixed sauce from salt, pepper, and lemon. A few glasses of beer make the dish more irresistible!
But, the dish usually comes with expensive costs: about 200,000 VND for a 2-people table with grilled oysters and beers. You can find oysters in both large restaurants and small food stalls in Halong Bay.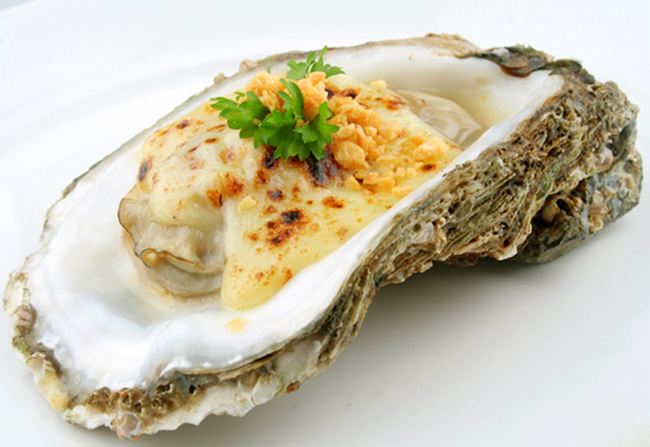 7. Hoanh Bo soaked wine rice (Rượu nếp ngâm Hoành Bồ)
When it comes to drinks, Hoanh Bo soaked wine rice has been titled as a local culinary delight. Made from glutinous rice – the local specialty, the wine impresses drinkers with sweet and sour taste. Producing this wine requires gentleness and experience. Without being ground, rice is usually cooked and then incubated naturally. After the fermentation, the locals will soak fermented wine into special leaves of Hoanh Bo forest in the large jars. In general, the wine is said to be good for your digestion! Don't miss purchasing a few jars as gifts for your beloved!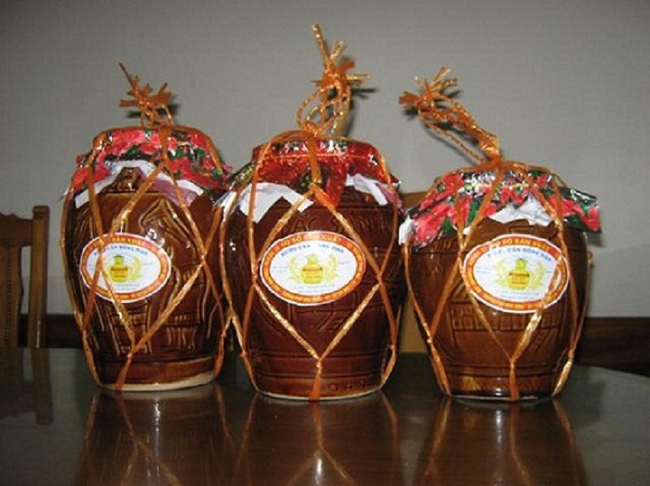 Other news