Discover Nha Trang Holy Places (Pagoda, Church)
Thu, 13/04/2017
2473 viewed
0 commented
Besides famous sight-seeing with long coastal beach, crystal-like water, soft and white sand, and wild islands as Hon Tre, Hon Tam, Vinperland Nha Trang Resort… Nha Trang is also famous for having holy temples, pagodas, and churches to serve the religious demand of the locals. If you are a fan of discovering religious sites, then you should not miss those holy places when
traveling to Nha Trang
.

Long Son Pagoda
Long Son Pagoda is located on Trai Thuy Mountain. It is surrounded by the spectacular natural landscape with such a peaceful and holy atmosphere.
This pagoda has a unique tiled roof design. The uniqueness of this tourist attraction is that the tiled roof at the front is created and molded by the abbot.
In addition, the pagoda' roof also has many dragons with the lissome and lively figure. In front of the terrace lie giant pillars, which are skillfully sculptured with dragon and clouds.
The structure of Long Son Pagoda is very special. Almost of its pillars and doors are carefully sculptured and lively described unique patterns and mascots of the Vietnamese. Those may be the reasons why this holy pagoda is visited by many tourists every year.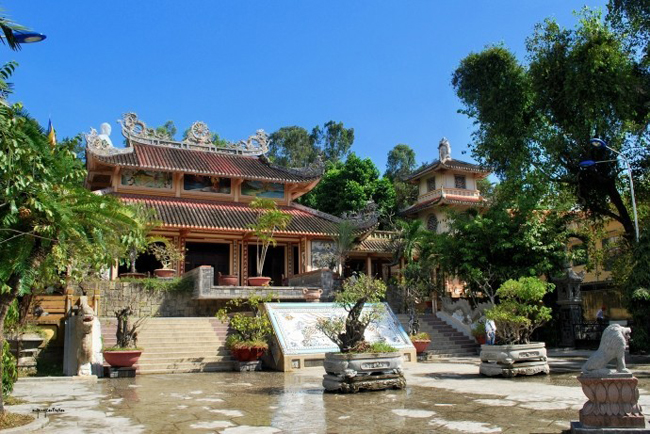 Suoi Do Pagoda Nha Trang
Suoi Do Pagoda is located on a mountain, which is over 200 meters height. On the top of this mountain lies a stream with pure and fresh water. The water from this stream is so holy and pure that it is rumored that it can be used to treat many diseases. Because of these rumors, when paying a visit to this pagoda, tourists even bring bottles to bring the holy water along with them.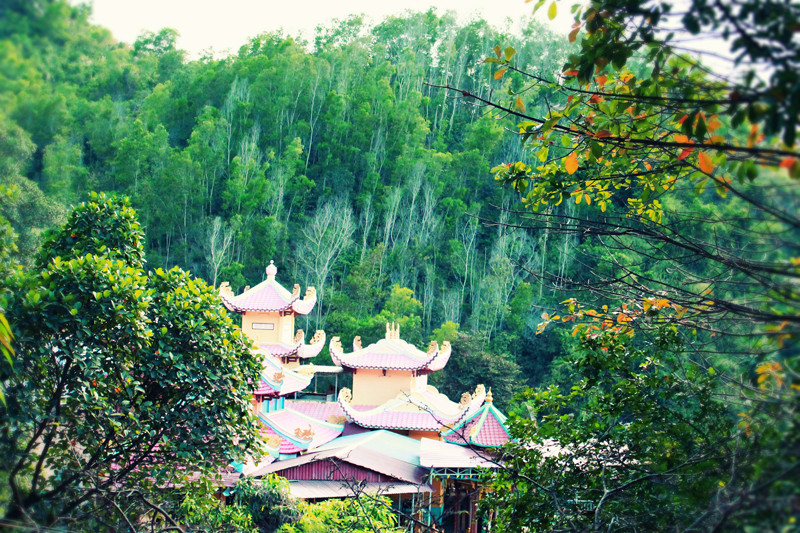 Anyway, only the magnificent and spectacular natural landscape of this pagoda will attract you at first sight and you will not hesitate to visit it once.
In order to come to
Suoi Do Pagoda
, you can start from Nha Trang and go straight on 1A National highway about 10 kilometers, then turn left to a street of Dien Toan town, Dien Khanh district. From here, you will continue to go until you reach the foot of the mountain.
You have to climb to the top of the mountain to visit this pagoda. Although it is a long distance, you will not feel tired thanks to the strong cement staircases and cool, peaceful natural scenery. You can contemplate the beauty of the stream and the picturesque forests surrounding the pagoda.
Especially, vegetarian food is served free for visitors. On the 8
th
January of the Lunar year,
Suoi Do Pagoda
always serves meals for thousands of visitors in such an orderly atmosphere. Tourists want to come here to enjoy healthy vegetarian meals as a way to receive good luck for the New Year.
Nha Trang Stone Church
With the location at the heart of the city and 12 meters height from the ground,
Nha Trang Stone Church
is a famous tourist attraction for tourists, photographers, and cameramen. The church is a unique architecture with French style. It was built from 1928 to 1935 by cement bricks. As the times go by, the church still remains its color and beauty. Stone Church has become a famous holy destination in Nha Trang.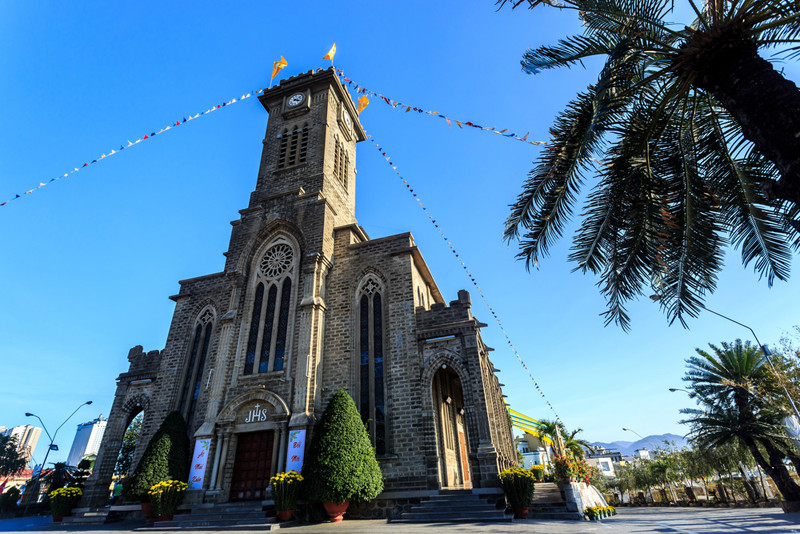 Nha Trang Stone Church was built by Father Louis Vallet in 1928 on the top of a small mountain called Bong Mountain, of which height is 12 meters. About 500 bombs were used to flatten the mountain's top. After his death, Vallet's grave was located at the foot of the mountain.
The church is completely built with Western Catholic architecture. This style of architecture is similar to Sa Pa Church as well as some other churches of Vietnam. A high bell tower in the middle with three bells is a typical style of Catholic Church and so as Nha Trang Stone Church.
The church is a beautiful place loved by photographers and cameramen. Lovers also choose this destination to take their wedding photos.
This church opens daily from 8:00 AM and remains lectures in the morning and afternoon.
See more
things to do in Nha Trang here
!
Other news