Special Foods You Can't Miss When Visiting Hue
Tue, 11/04/2017
2579 viewed
0 commented
Hue always attracts numerous tourists due to its peaceful and ancient beauty of this imperial city. Visiting Hue, you can see it as the land of tombs, temples which contains a special and unique cuisine. This article shows some special dishes you should not miss when traveling to Hue.
1. Hue Mussel Rice
The best mussel rice is only found in Hue. Although locals consider that mussel rice is a simple dish in the countryside, it still contains a lot of ingredients and special flavor. People combine mussels with some spices, fried greaves, and white rice. They also add Hue shrimp paste into mussel rice. It makes these dishes taste buttery, acrid, and spicy. Used with some vegetables such as green vegetables, banana flowers, bean sprouts and a few sliced taros. In addition to, you can add the fried beans to make the mussel rice dishes more colorful.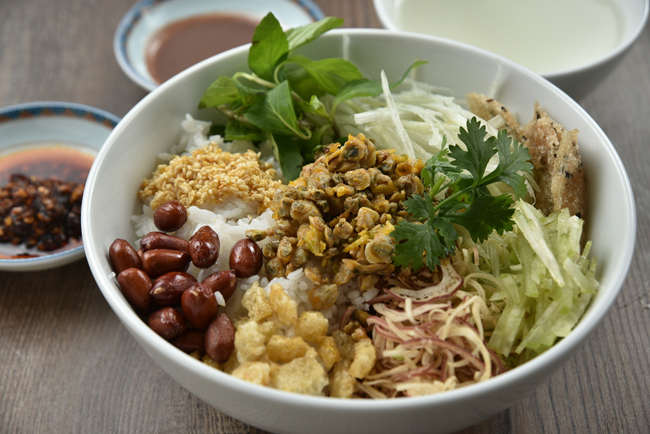 Some Famous Places Selling Mussel Rice:
Nho Sister mussel rice, at the intersection of Pham Hong Thai St. and Truong Dinh St. It only opens in the morning.
The food store located at 2, Truong Dinh St. It offers the affordable dishes just around VND10.000 (0.5USD).
2. Ba Doi Vietnamese Noodle Soup
Located on the Dao Duy Anh St
., there is a small restaurant selling Vietnamese Noodle Soup located at the end of a small valley. A whole family opens this store, so it contains just a few waiters. Therefore, locals here call it Ba Doi Restaurant that means you have to wait quite long to be served.
Made of shrimp, the soup offers the charming and naturally odor taste.
After booking Vietnamese noodle soup, you will enjoy the clear soup combined with grilled chopped fish and fresh shrimp. You can add some spices like pepper, salt, lemon, chutney, and onion. Although the initial soup is delicious enough, using those available ingredients can make this food more delicate.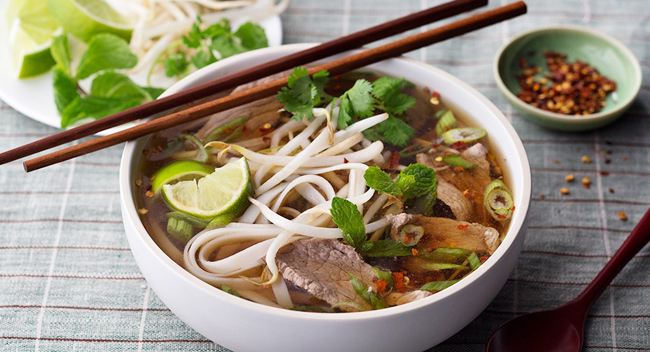 3. Sweetened Porridge
Former people usually said that if Hanoi contained 36 ancient streets, then Hue also kept for its own 36 kinds of sweetened porridge.
Each one has the special and unique taste. It also keeps the healthy, delicate and complicated like people in this imperial city.
There is a strange sweetened porridge called cassava and rice flour dumplings with grilled pork. This food is only available in Hue. Cooked complicatedly, people wrap the sliced grilled pork inside the rice flour dumplings. They add sugar to make it become the sweetened porridge. This food brings the special taste which is both sweet and salty. It is extremely hard to explain by words.
The place offering the best-sweetened porridge lies in 17, Hung Vuong St.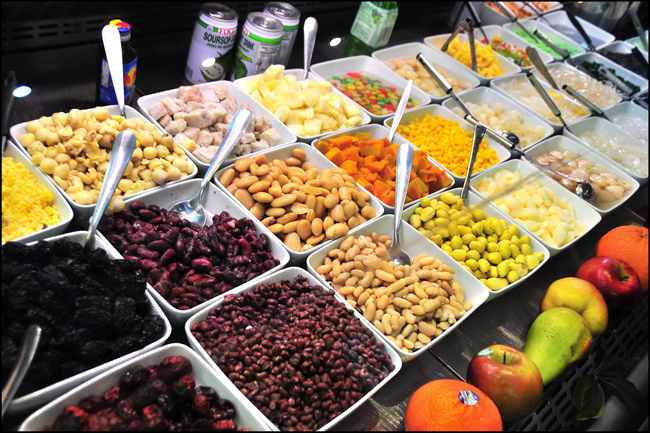 4. Hue Vegetarian Meal
If you desire to have a spare and healthy dishes, the vegetarian meal in Hue is the one you should take into consideration. There are various vegetarian dishes made of vegetables, mushrooms, beans, etc. in this city. Just from the simple ingredients, you can have a great and perfect meal.
There is a restaurant called
Lien Hoa vegetarian meal restaurant in Le Quy Don St
. All dishes in this place has the pretty affordable price.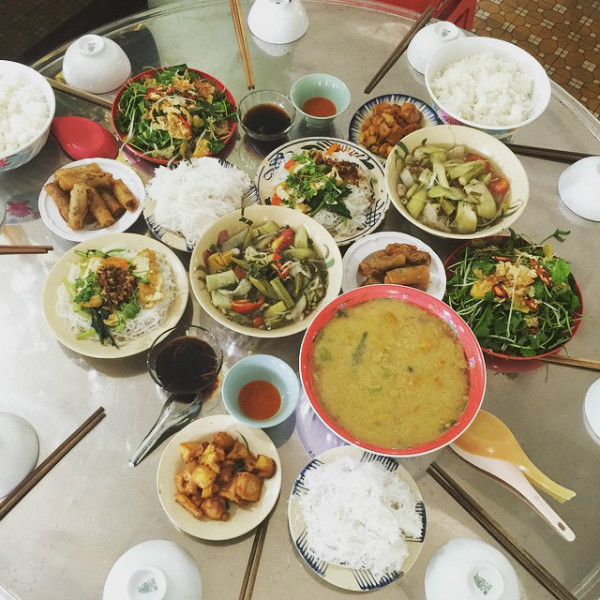 5. Hue Beef Rice Noodle
Beef Rice Noodle is the soul of Hue cuisine. There is definitely no argument about the wonderful taste and popularity of this food. Beef rice noodle contains beef shank with cartilage, pigs feet, and some sliced beef. You can deep them with fresh vegetables.
The most famous restaurant offering this food is
13, Ly Thuong Kiet St
. In addition, you can easily find a place offering great bowls with the price around VND13.000(0.6USD) on this street.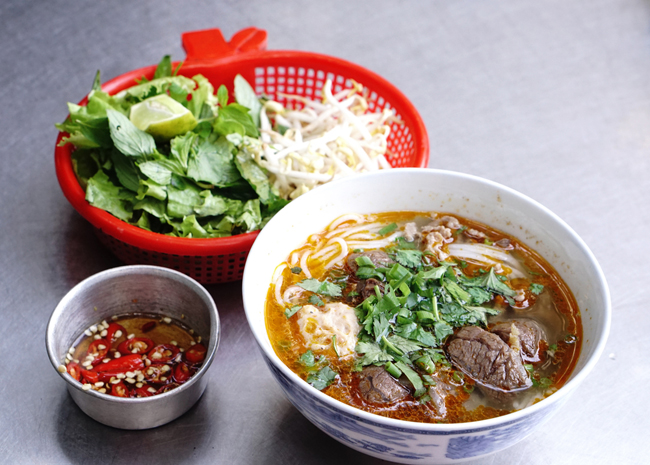 6. Grilled Pork Noodle and Steamed Thin Rice Pancake
The specialty of both dishes is grilled meat. The kitchener delicately adds ingredients and spices inside. It is soft and still contains the grilled meat smell. The dishes in Hue bring their unique taste which is definitely different from those in other places. You can use it with the delicious sauce and fresh vegetables.
Some great vendors selling these food lies on
Kim Long Street
which leads to Thien Mu Pagoda.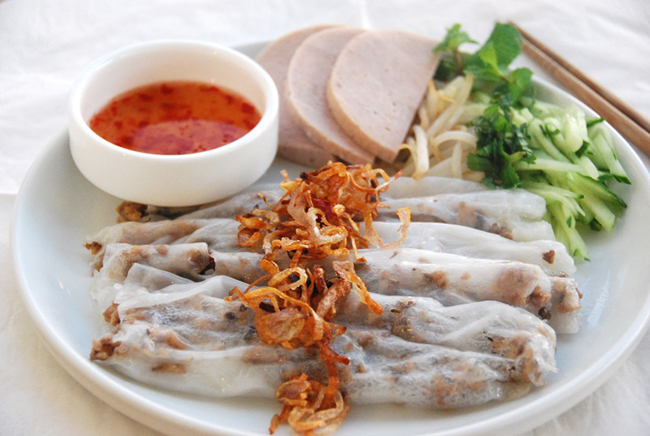 7. Some Traditional Hue Cake: Water Fern Cake (Banh Beo), Steamed Clear Tapioca Cake (Banh Bot Loc), Stuffed Omelette (Banh Khoai)
If you have a chance to visit Hue, you can see how the water fern cake closely sticks to the life of the local people. From 3 to 5 p.m., there are many vendors on the alleys and small streets selling the water fern cakes or steamed clear tapioca cakes. Hue local people consider these cakes as the favorable and familiar food which contains the traditionally rural features.
Steamed Clear Tapioca Cake
You can travel to such streets as
An Dinh Cung, Ngu Binh, Nguyen Binh Khiem
, etc to totally enjoy the great dishes of Hue traditional cake.
The main ingredient to make stuffed omelette is rice flour mixed with yolk and water. Then, add some materials like peppers, spring onion, fish sauce, salt, shelled shrimp, grilled beef, fresh bean sprouts. The special taste of this cake partly comes from soup and the special sauce which is made complicatedly. It keeps the secret and special recipe which creates stuffed omelette's taste and quality.
8. Nhat Le Square Glutinous Rice Cake
This is a special food originated from Nhat Le Street in Hue city. This place contains a lot of places making this cake. Square glutinous rice cake is very odor and soft because of a perfect combination of bean, meat, and glutinous rice. Also, there are some spices like pepper and green onion to make this cake more delicious. It is definitely an addictive food.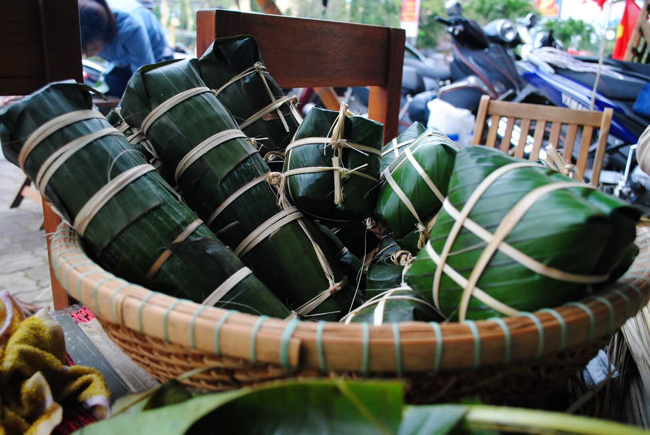 It is best to eat the hot Nhat Le square glutinous rice cake, rather than the cool one. The glutinous rice cake wrapped in green large leaves is very tasty and attractive. You can definitely enjoy a delicious and greasy taste.
Address: 117 Nhat Le St., Hue
If you like this place, do not forget references
top things to do in here
.
Other news