Chill Sky Bar Ho Chi Minh for a Lively Nightlife
Mon, 20/02/2017
17286 viewed
0 commented
If you are a person who loves the chaotic atmosphere and modern ambience of the city at night, then no place can beat bars and clubs.
Located on the 26th floor, AB Tower, 76A Le Lai Street, District 1
, Chill Sky is notably listed as the first and original
Saigon rooftop bar
. Although there are a few new luxurious players these days, Chill is still holding its own charm and glamour.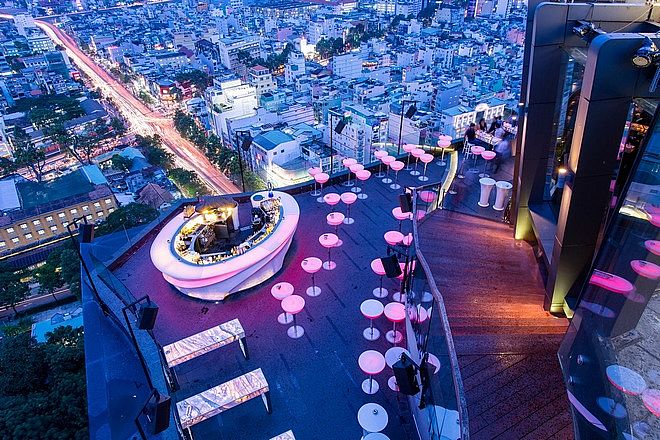 The circular open-air platform offers visitors stunning views across to many high-rise buildings in the city.
Saigon
can not be a beautiful city, but there is one thing for sure that it will look wonderful by night from this high position.
Try imagining how wonderful it is when you watch the sunset as well as enjoy delicious cocktails from a world-class menu of drinks here! Further, it is also a perfect place to organize a raving party, where famous domestic and international performances of DJ will surely leave participants enthralled. Thanks to the first-class setting and attentive staffs, Chill Sky Bar is usually frequented every night.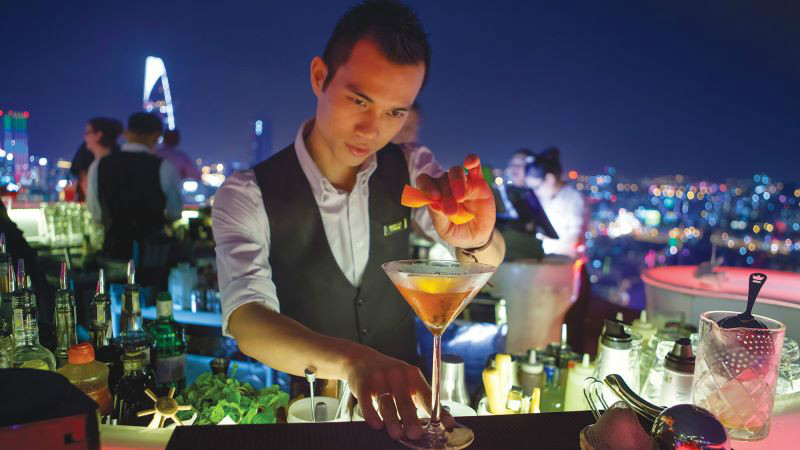 The bar menu comes with a wide range of cocktails. As expected,
prices are not excessive for this kind of venue
. You have an opportunity to not only savor cool cocktails, but also stand around the circular bar and watch waiters making the drinks. Sometimes, it may become a sweet place to find your partner who shares the same interest in dances and drinks. According to a few security guards close to the bar, a lot of friendly local girls come here from 9.30 PM.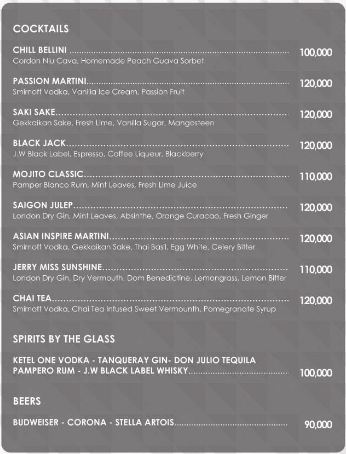 (Menu refer in 2015)
Chill Sky Bar & Lounge opens daily from
5.30 PM to 2 AM
. Don't miss an incredible "
Chill Sky Bar Happy Hour
" promotion which runs between
5.30 PM to 8.30 PM
every day when all cocktails, some wines, long drinks and beers, as well as snacks are half price. Of course, this is considered a peak time which draws a number of tourists and locals for sunset and evening libations. Thus, the best way to avoid waiting in the queue is to go early.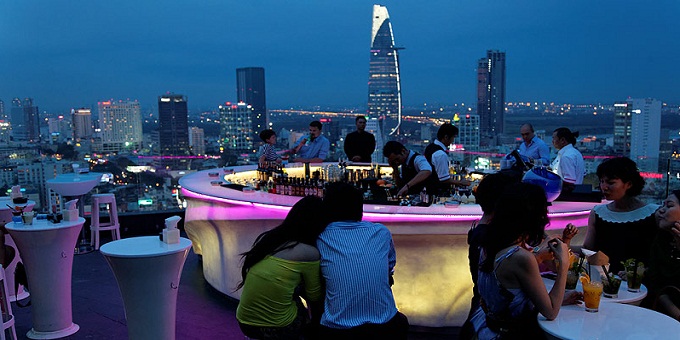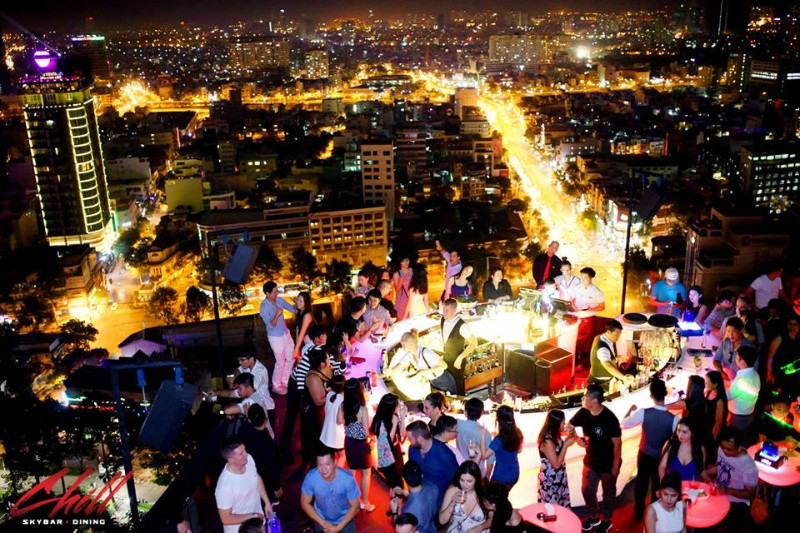 There is also a strictly "dress code" here. That means no shorts and flip flops are acceptable in the bar. As a result, make sure that you wear polite outfits and closed toed shoes.
Due to its fame and popularity,
you are highly advised to phone ahead
and make a reservation if you want to take a seat and enjoy an ideal view. Otherwise, you are just arranged to a standing room at the bar or a seat inside the club. Don't forget to ask the staffs whether or not you have permission to take photographs.
From
Chill Sky Bar
, you should spend a short walk to
Bui Vien Street where the backpacker
nightlife area is lively and great. This street gets its name famous for cheap food and hotels for backpackers to experience (by the way, you can visit
Viet Fun Travel
office at 28/13 Bui Vien).
Other news