Saigon Opera House in The Eyes of Foreigners
Mon, 20/02/2017
5280 viewed
0 commented
Ho Chi Minh City pleases both domestic and foreign visitors with a number of magnificent buildings to explore, shopping outlets to drop by, fascinating cultural trips to book, wellness and spa options to indulge, and so on. However, if you are simply fond of a visual, aural and unforgettable journey where your senses are inspired, then booking a ticket to watch a show in
the Saigon Opera House
, which is outstandingly situated at the heart of the city, is a nice idea.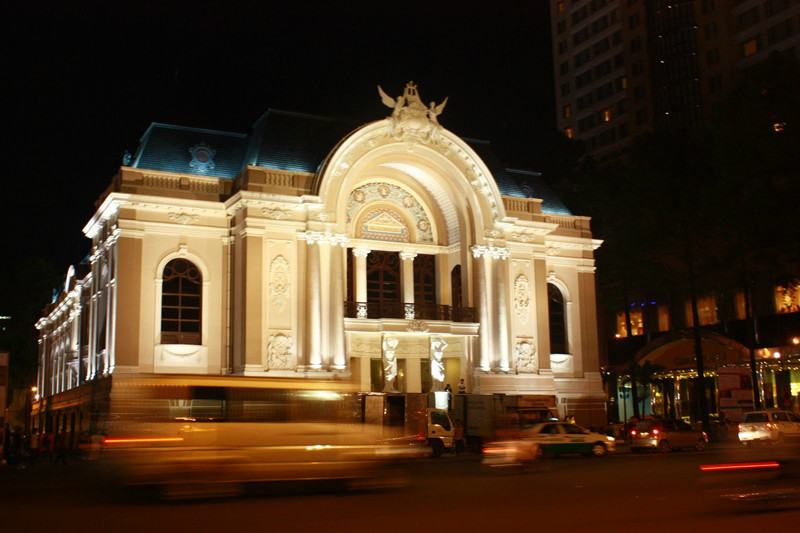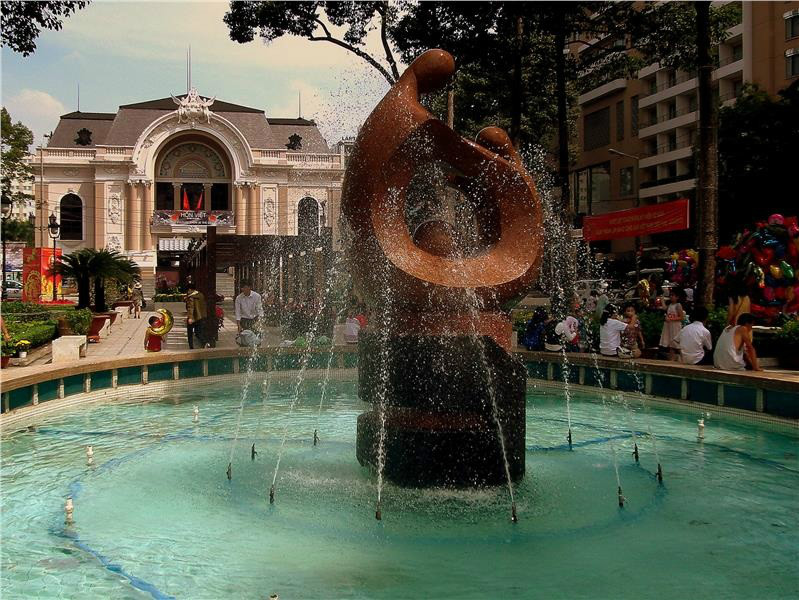 Constructed in 1898 by Eugene Ferret – a famous French architect, the grand building was set to be 2 meters higher than the street surface. And 2 door layers play an important role in preventing traffic noise. Thanks to its convenient location that is in the vicinity of
Ho Chi Minh Museum
, Notre Dame Cathedral and Reunification Palace, the theatre may be combined to a city tour. From a distance, it just looks like a breathtaking colossal city gate.
The architecture leaves a strong impression on viewers by its stone-carved statues and ornaments at the entrance, in addition to clean granite floor and crystal chandeliers at the lobby area. Thus, make sure to bring a high-quality camera to fulfill your photography favorite. Just posting a picture on Facebook, some of your friends can mistakenly think that you are now checking in Paris.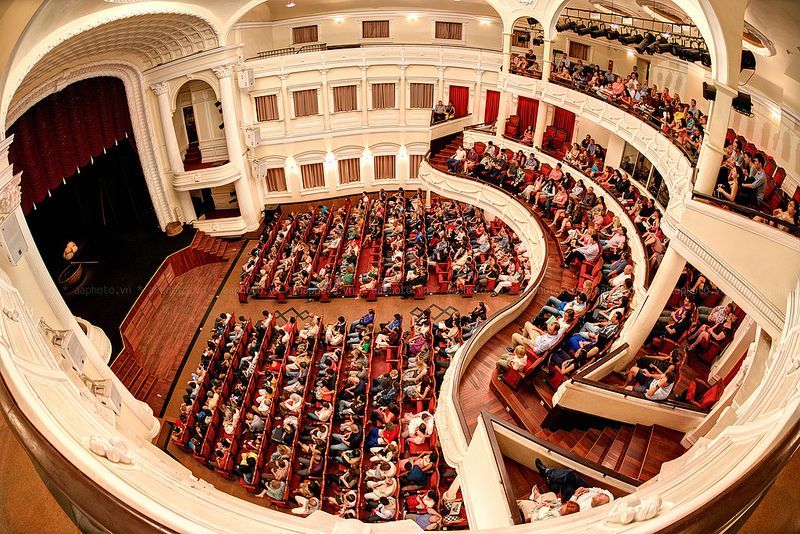 The best way to get a full experience about this legendary monument is to spread your eyes over one of the spectacular shows here. Currently, the most well-known show you should not miss in Saigon Opera House is
the A O Show
that combines elements of traditional Vietnamese music, dance, as well as Cirque du Soleil.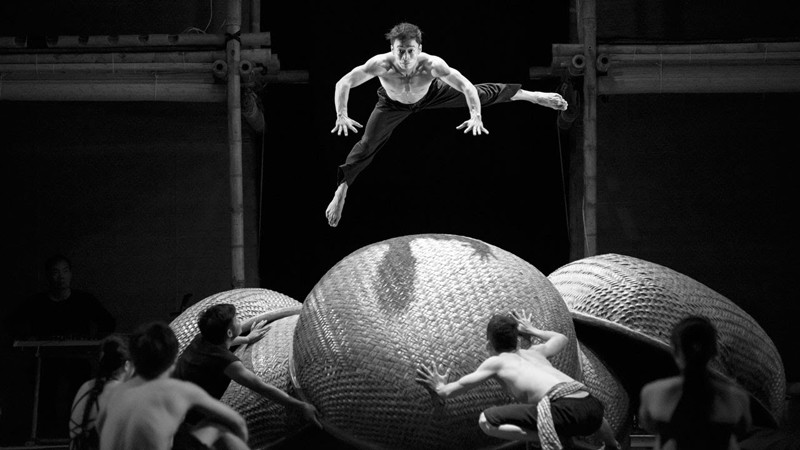 The A O Show
Besides,
My Village show
and
The Mist Dance show
are also worth a witness. Each of them gives different chills and thrills, with high-quality entertainment that interests locals, expatriates and tourists. Incredibly, every seat promises to offer guests good view.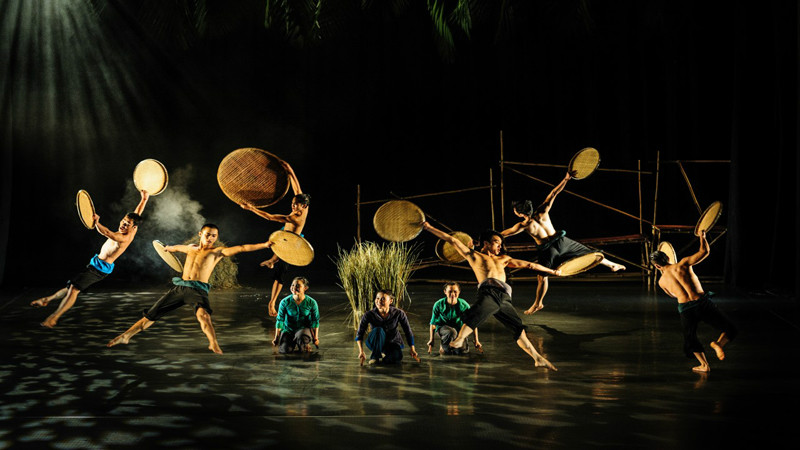 The Village Show
There are 3 ways to buy tickets for a show at the theatre.
First of all
, you are directly able to purchase one in the venue, District 1.
Secondly
, access
http://www.luneproduction.com/
and book a ticket online just by clicking on any show of favorite.
Thirdly
, consider book at some travel agency in the city.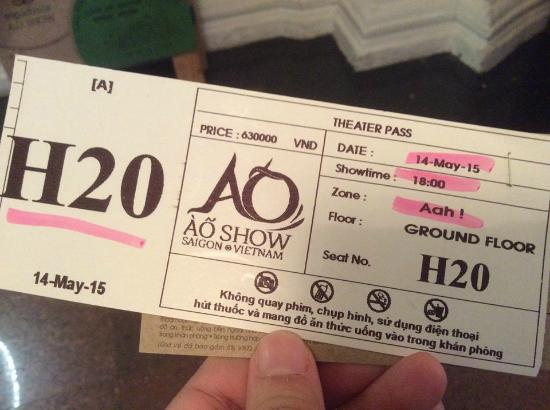 Ticket and Fee to r
efer
How about the entrance fee?
In fact, the Saigon Opera House is only reachable to the public during major events and performances. So, there is no actual entrance fee. And the price varies, depending on seat, event and time. For sure, it is not a cheap deal.
Due to a variety of traditional and classical performances, like concerts, plays, ballet, opera, and traditional dance, the site becomes frequented by those who love shows and performances. The central position of the theatre makes it quite easy to be found.
You can visit it by
a Grab Taxi, a bus or simply a motorbike. Moreover, the Opera House is also surrounded by luxurious shopping plazas and deluxe hotels, which allow you to go shopping and relax after a long hour of watching.
Other news