Top things to do in Can Tho City | Can Tho Top Attractions
Fri, 24/02/2017
8242 viewed
0 commented
Set in
the Mekong Delta
, Can Tho is luckily endowed with favorable conditions, such as tropical climate, fertile soil, and a large system of canals and rivers. With the population of over 1.2 million and a total area of about 1,400 square kilometers, it is considered the 5
th
biggest city in Vietnam. If Hanoi capital lures visitors by its traditional beauty,
Ho Chi Minh City wins tourists' heart by its lively and chaotic nightlife
, Can Tho surely leaves a strong impression on any traveler by its idyllic landscapes, Buddhist pagodas, floating markets, tropical fresh fruits, delicious food, and Mekong friendly locals. Spend much time consulting
Can Tho travel guide on top things to do
below!  
Best time to visit
In Mekong region, there are 2 main seasons. While the rainy season lasts from May to November, the dry season is between December and April. For a meaningful vacation, you are advised to visit this city in the dry season. In addition, Can Tho is livelier and more vivid before Tet holiday when the orchards are diverse and floating markets are colorful with flowers, goods, fruits.  
Best things to do in Can Tho
Stop by Cai Rang floating market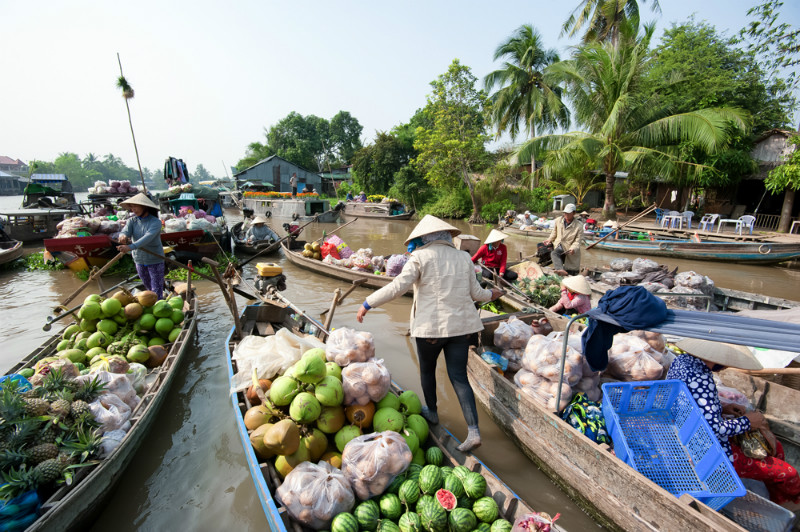 About 6 kilometers from the city's center, Cai Rang is one of
the most bustling and vibrant floating markets in the Southwest of Vietnam
. Goods for sale here are various and diverse, especially tropical fruits and agricultural products within the area. Locals gather on sampans and boats on the river to sell their own specialties. What they advertise products here is so special. The traders will hang samples of the goods they sell on a long bamboo tree so that buyers can see from a far distance. The marker tends to begin at 4 AM or 5 AM before dawn and end at the midday. But, the most crowded time is from 7 AM to 8 AM.
Hopping on a boat to
discover Cai Rang floating market
, you will have an opportunity to enjoy fresh air, have a relaxing mind, as well as learn more about this unique business. Of course, don't forget to contribute to the locals' income by ordering some traditional foods and purchasing some fresh fruits from smiley sellers on the river. If you stay in Can Tho city longer and still desire to see another floating market for more hands-on experiences, then
Phung Hiep
should be listed to your bucket list.
Arrive at Bang Lang Stork Sanctuary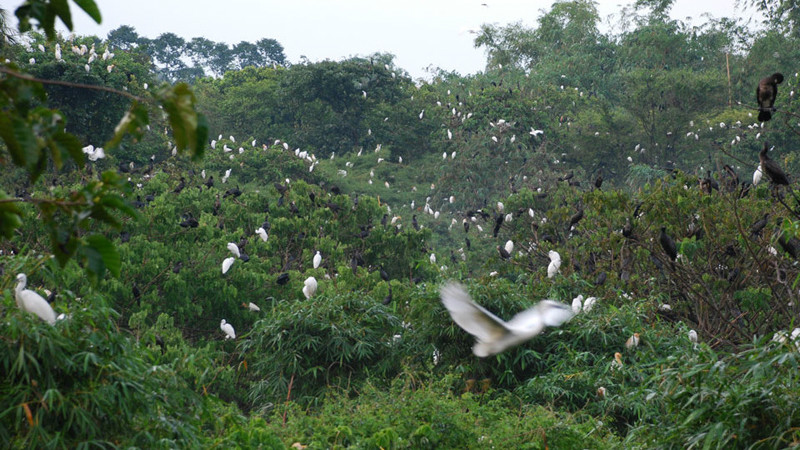 As one of the largest bird sanctuaries in Cuu Long Delta, Bang Lang stork sanctuary might be accessed by taking a cruise on Hau River, or even cycling past the orchards, green fields, and craft villages. As its name suggests, this 15-hectra garden is home to a number of storks. In spring, 2 sides of the rivers here are gorgeously beautified with purple rose of India. Going for a stroll under the shades of trees and nearby fields in the early morning and sunset, visitors are able to watch different species of storks flying out to find foods and returning to their nests. Starting to hover on the sky, they will then perch on trees and twitter together. For sure, it will be an unforgettable sight in life.  
Enjoy a homestay experience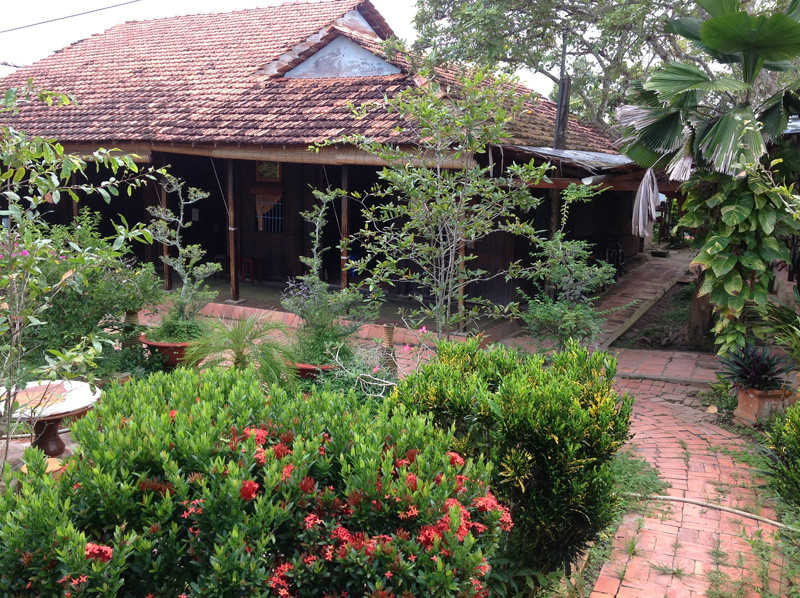 Needless to say, staying at a pleasant and comforting hotel often the first choice for most tourists. But, if you simply want to mingle with the locals' lifestyle, customs and habits, there is nothing better than
spending a homestay
. Mekong Delta is well-known as the country's rice basket where lush rice paddies, abundant fruits and intricate canals are always available. So, experience a homestay in one village in Can Tho can bring you fun and great memories. You will know how the locals spend their lives, participate in their farming activities, enjoy unique and unforgettable Vietnamese dishes, and simply cycle around peaceful villages along the coconut trees.  
Take nice photos in Ninh Kieu Wharf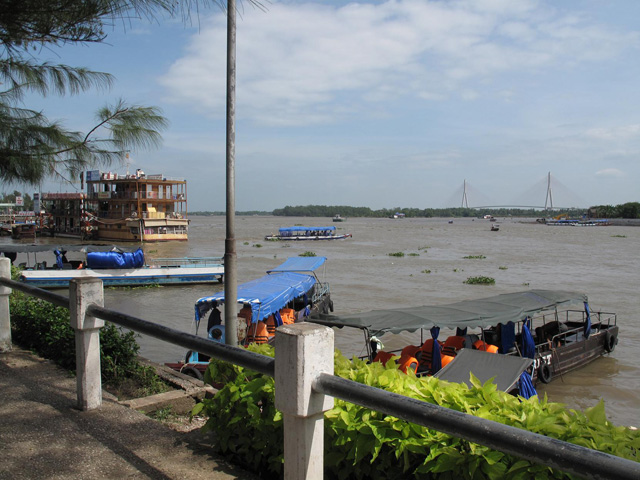 Ninh Kieu Wharf seduces visitors, thanks to its picturesque scenery and favorable position to overlook the Hau River. The old Ninh Kieu port was very crowded and busy during the war period. However, it now becomes a more romantic and peaceful place where both domestic and international tourists can come to relax or savor exotic dishes at a floating restaurant – a giant floating ship that is equipped with a spacious balcony for the purpose of sightseeing.  
Don't forget to eat Cai Rang Grilled Rolls, or also called Nem Nướng Cái Răng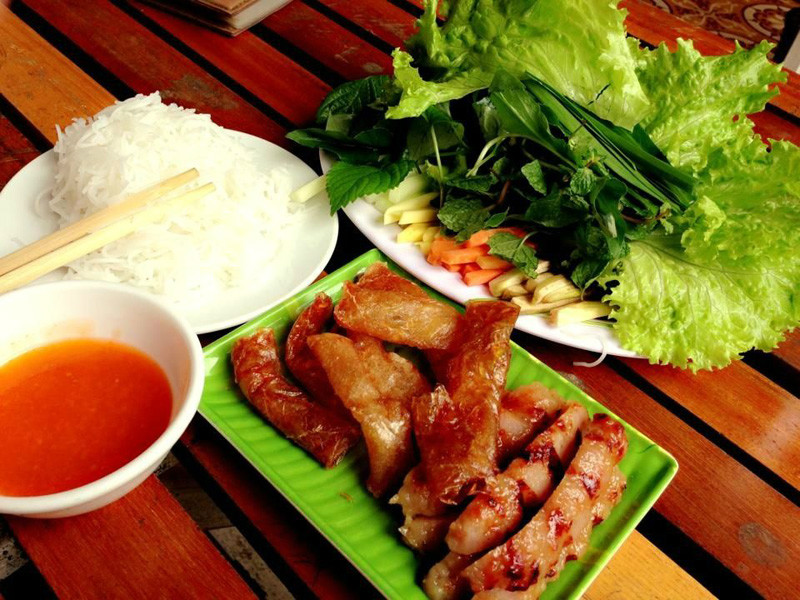 The Cai Rang grilled rolls are usually made from the fresh pork, not fat pork. To make a perfect mixing roll, what you must prepare include pineapple, cucumber, bitter banana, star fruit, and thin rice paper. Firstly, put the herbs onto the rice paper. Then, the meat roll should be placed into the middle of the rice paper. After the paper is rolled, the combination will be dipped into a special and amazing sauce – an integral part of the dish. The rolls become nothing without the sauce.
Check some
Mekong Delta tours have this city
.  
Along with these above activities, there are still many other
interesting things in Can Tho city
which are waiting for your discovery and footprints. But, let's take the priority to those ones. Wish that you'll have a memorable trip!
Other news