Dalat Tours
+84 (0)28 7300 6749 - +84 (0) 909 759 479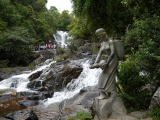 Location:

Dalat



Operating Hour:

8.30am

At 8.30am our driver and tour guide will pick you up from hotel to take Dalat City Tour 1 Day.   This morning, we will visit Truc Lam Zen Meditation Center, Tuyen Lam lake – so beautiful landscapes, Natural Datanla waterfalls.  We have a lunch at the restaurant. This afternoon, ..

View Details >>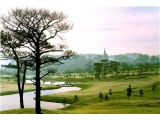 Location:

Da Lat



Operating Hour:

8.30 am

Dalat Countryside Tour 1 day Enjoy driving through Mountain view. Visit local typical flower. Visit local vegetable and flower farms. Visit coffee plantations, enjoy coffee Special Silkworm farm and its factory. The biggest Elephant waterfalls in Dalat. Then see pagoda with ..

View Details >>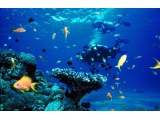 Location:

HCMC



Operating Hour:

7:30am

DAY 1 : HO CHI MINH (SAIGON) - DEPARTURE TO DALAT Transfer at 7:30am from Ho Chi Minh (Saigon) and start Saigon - Dalat - Nha Trang Tour by open bus for 308km in 7 hours. Hotel check-in upon arrival. Overnight in Da Lat. Included: Open bus Saigon - Dalat and accommodation in Dalat. Ex..

View Details >>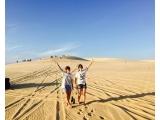 Location:

Dalat




DAY 1: SAI GON TO DA LAT Transfer at 7:30am from Ho Chi Minh - Sai Gon and start to Da Lat from Sai Gon by sleepeing bus with air con for 308km in 7 hours without guide. Hotel check-in upon arrival. Stay overnight in Da Lat. DAY 2: DA LAT CITY TOUR (B/L) Have a breakfast a..

View Details >>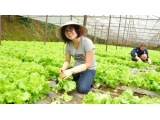 Location:

Muine




DAY 1: SAI GON TO DA LAT Transfer at 7:30am from Ho Chi Minh - Sai Gon and start to Da Lat from Sai Gon by sleepeing bus with air con for 308km in 7 hours without guide. Hotel check-in upon arrival. Stay overnight in Da Lat. DAY 2: DA LAT CITY TOUR (B/L) Have a breakfast a..

View Details >>
Showing 1 to 5 of 5 (1 Pages)

Dalat Tours – Travel to Da Lat City Vietnam
 
Located in the south of Vietnam, Da Lat is the capital city of Lam Dong province. When talking about its name, the locals will instantly think about a honeymoon or family trip. The climate is chilly and the ambiance is peaceful, making Da Lat a welcome getaway to the southern Vietnamese and even foreigners. Luckily, the city is not too far. With just a six-hour drive from Saigon, you will reach there hassle-free!
 
Along with spreading your eyes over the spectacular French colonial style architecture all over the town, you also have a chance to stay close to nature at best, with flower gardens, lush forests, gorgeous lakes, and quaint hill towns. As a result, going trekking in these terrains is always a perfect idea.
 
A Glance at Da Lat City
 
"No hassle" is the first impression while you get yourself truly soaked in the slow living pace of Da Lat. No noisy traffics, no life stresses, no crowds at all. Just take time to enjoy life and find your own peace in this flower city.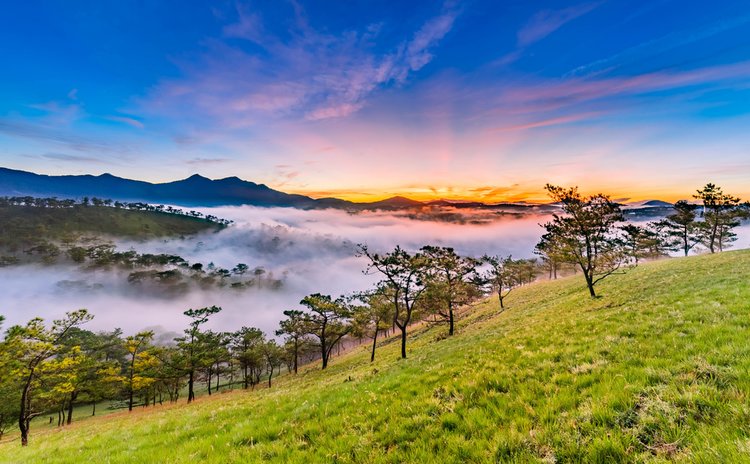 The cool climate is what mainly wins visitors' heart, making it an ideal escape from the hotness of the South. Don't be surprised because the weather of Da lat is changing within just a day: breezy spring in the morning, light summer in the noon, comfortable autumn in the afternoon, and chilly winter in the evening. With this wonderful weather, whether you choose being lazy in a personal homestay or having a BBQ party, both are excellently.
 
Walking along the endless pine forests as well as viewing stunning lakes and streams give you a feel that you are now in Europe.
 
Of course, it a big pity to skip a paradise of flowers. You can see colorful flowers growing everywhere, from the quiet sidewalks to the curved tracks around the mountains. Famous beauties are the Mimosa Flower, the Mexican Sunflower, the Cherry Blossom, etc. So, Da Lat is named the City of Flowers for no reason.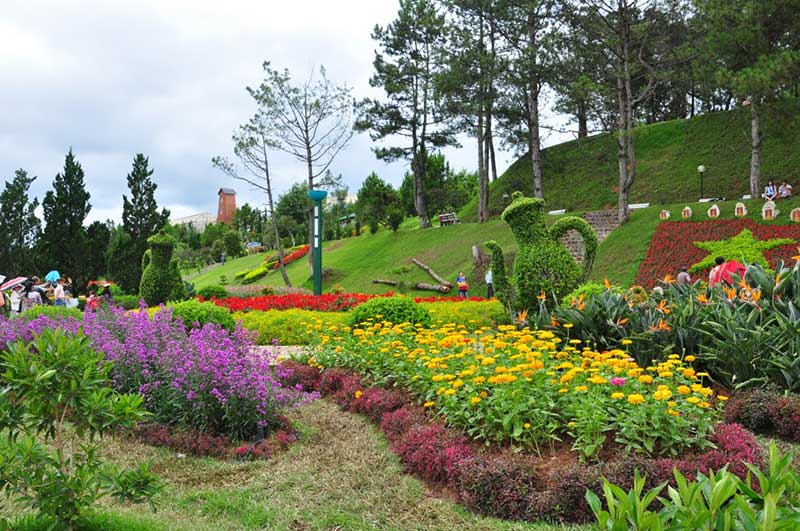 Flowers City Garden Dalat
 
Along with flowers, you are also freely able to enjoy the fresh and delicious vegetables and fruits planted in the country's biggest organic farms. Strawberry and cauliflower are what you should not miss for sure!
 
Weather in Dalat
 
If you have never visited Da Lat before, the city's weather is said to go beyond your expectation: fresh, cool and comfortable all year round. In general, the temperature rises slightly during the summer time (from May to August) and even drops to a chilly point at night.
 
With such the stable weather, you can book a trip to the peaceful city any time. However, it is better to avoid months from June to August, because this is considered the peak season for domestic tourism. During this period, locals in the large cities come in flock to get away from the heat and household chores. In addition, these months are also when you can experience the rainfall.
 
What interesting to do in Da Lat
 
Feel really excited with the Da Lat tour now? Then let us cheer your inspiration by the best experiences you should try below:
 
Go hiking
If you are a nature lover, then hiking is one of the recommendations we want to give you. The best part is that you can go hiking around Da Lat, thanks to its convenient terrains and wonderful weather. Leisurely wander along the forest trail where you have an opportunity to discover eye-catching natural sights, such as waterfalls, lakes, caves, volcanic peaks, minority villages, suspension bridges, and even farmlands.  
For us, one of the popular destinations for a half- or full-day of hiking is Langbiang Mountain, which having 5 magnificent peaks. Other flawless places for hiking are Ba Be Lake, the Lake of Sighs, National Park, and Pongour Falls.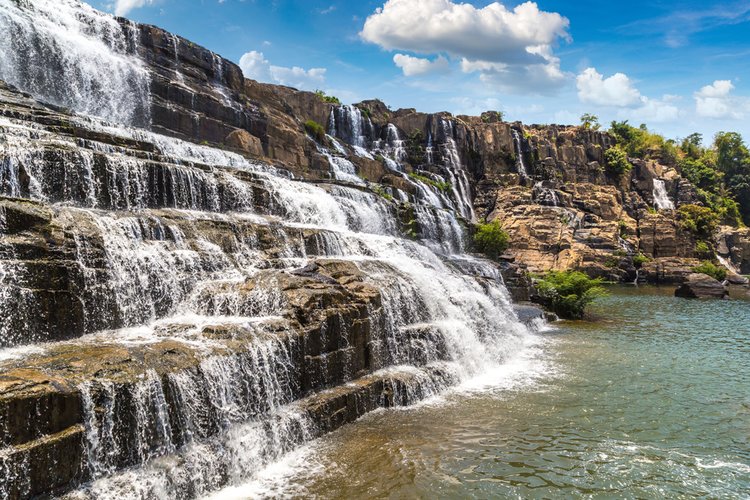 Pongour Falls
Actually, there is no need to book a formal tour enterprise for your hiking trip. You can start the hiking plan on your own by making use of the local map. Necessary objects during the                  trip include sunscreen creams, warm clothing, mosquito repellent, a raincoat, etc.  
Ride Horseback
According to our opinion, this activity is suited to those who love enjoying
the countryside of Da Lat in a romantic way
. Riding horseback is one of the must-do activity you should try while in here. Make sure you are proficient in riding horses or at least know how to ride them. Hiring horses can be cost by hour. Travelers can start their exciting ride around the Lake of Sighs or Da Lat Flower Garden.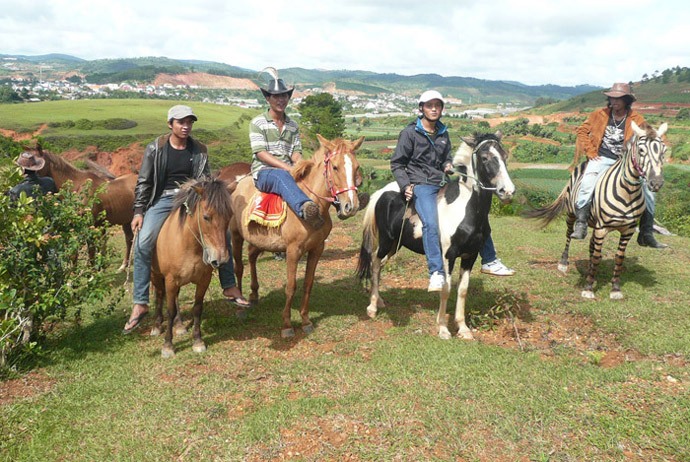 Paddle Boats
We believe that your beloved kids find hard to hide their happy faces if you offer them a boat trip around
Da Lat
lakes, such as the lake inside Valley of Love, Xuan Huong Lake, and the Lake of Sigh. Renting a big swan paddle boat can easily be done. Such the boat trip is very perfect for the family with children or honeymooners. It could be very fun and enjoyable for several hours at least. How great it is when you are on the colorful boat slowly floating on water.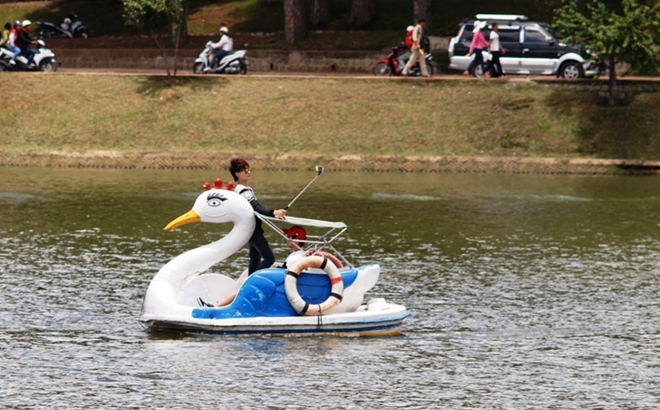 Xuan Huong Lake

Visit Pagodas
Pagodas seem to be the symbols in Da Lat. When it comes to the spiritual activity, visiting pagodas should be added to the list. One of our top choices is Truc Lam Monastery. The wonderful thing is that you can reach here through the cable car – a unique experience. From the first sight, your soul will be dropped by the picturesquely panoramic views of the mountain and valleys from above.
 
Visiting Truc Lam Monastery, you can put aside the noisy daily life to immerse yourself to the harmony of flowers, trees, religion, etc. It is possible to come here every time, but avoid the 1st, 15st, and 30th in the lunar calendar if you don't want to get lost in crowds at those days.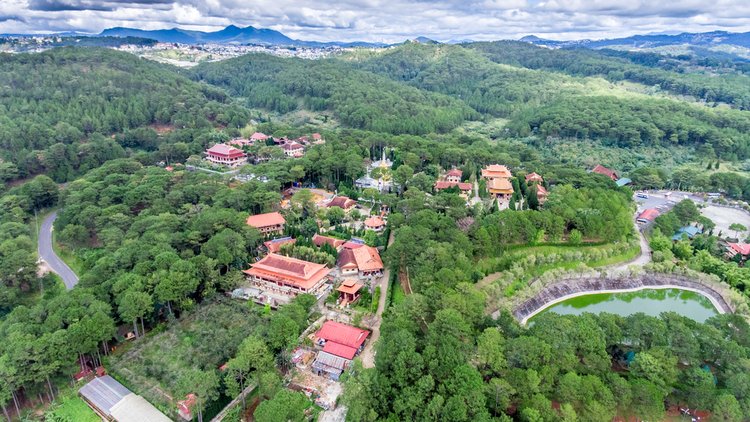 Truc Lam Monastery

Don't forget to note what you want to see and do, and then keep it in your pocket. Are you ready? Da Lat always welcomes your feet. Along with the list above, there are also other attractions, keeping you yourself engaged and excited all time, like Tuyen Lam Lake, Natural Datanla waterfall, Flowers City Garden, Dried flower showroom and Bao Dai Summer Palace.

After the trip, you not only broaden your knowledge about the city, but also have new friends. What is greater than that! So, why don't you start your travel to Da Lat right away?