​A List of Top Pagodas and Temples in Dong Thap
Wed, 24/07/2019
4258 viewed
0 commented
Dong Thap is one of the popular provinces in the
Mekong Delta
. When it comes to Dong Thap, the place gets its name widely notable with the lotus fields. Especially, there is a huge lotus species in which you may even stand on the lotus leaf. With this big magnet, Dong Thap often attracts a number of tourists to visit every year.  
Along with eco-tourism sites,
pagodas and temples in Dong Thap
also win people' heart for sure. These are not only historical monuments, but also the places where Vietnamese find balance in mind by praying, receiving blessings, or even holding the charity events.  
This article will give you some ideas on the most well-known spiritual sites in Dong Thap while in here.  
Kien An Cung Pagoda
Also called Ong Quach Pagoda, Kien An Cung is now located in the center of Sa Dec City. The truth is that this pagoda was constructed from 1924 to 1927 by Huynh Thuan, Huynh Thuy Le's father, and Chinese people from Fujian living in Sa Dec Town at that time. That's why your eyebrows will be raised by its prominent Chinese architecture.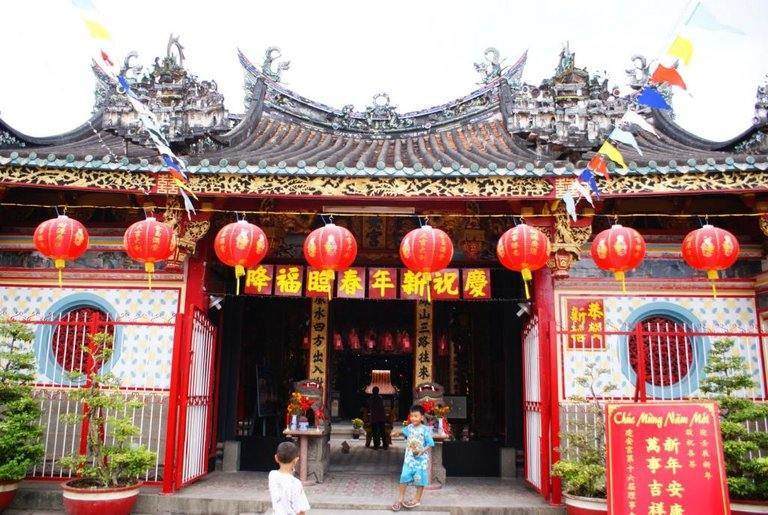 In the past, the pagoda was used as a place for worshipping ancestors and educating other late generations. Go to inside, it is easy to see an altar aimed to worship Huynh Thuy Le and his wife. Kien An Cung Pagoda was recognized as a national cultural and historical relic in April, 1990. On February 22 and August 22 of the lunar calendar every year, there are interesting and meaningful rituals celebrated inside the temple. Furthermore, every 3 years, Kien An Cung Pagoda also sets up altars to celebrate requiems for those who passed away as well as praying for peace of the country.  
Address: 35A, Phan Boi Chau Street, Ward 2, Sa Dec Town, Dong Thap Province.
Phuoc Kien Pagoda (Lotus Pagoda)
Located deep in Chau Thanh District, this is just a small pagoda, which conceals itself under a tree canopy. However, the way to this place is not hard at all. Just ask the locals how to reach the Lotus Pagoda, and you will be surely carefully guided. Wonder why it is called the Lotus Pagoda? Here is the convincing answer: There is many giant lotuses in the ponds of the pagoda.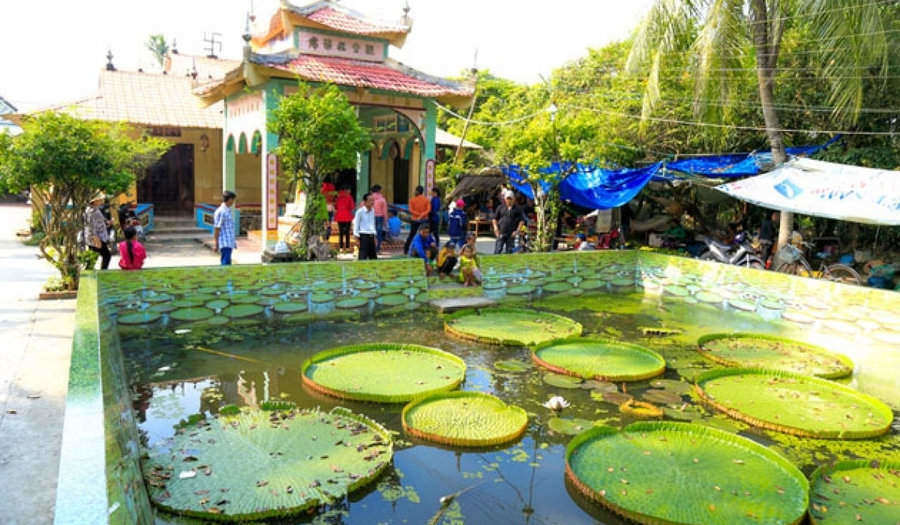 Although lotuses can be found everywhere in
Dong Thap
, the kind of lotus in Phuoc Kien can be the most special and awesome one. Growing in the ancient pagoda of Phuoc Kien, these huge lotuses are about 3 meters in width and can eventually carry an adult weighing up to 80 kilogram. How amazing it is, right? Their big size also gives them a new name: King of Lotus.  
Phuoc Kien Pagoda was built in the 18th century as the revolutionary base in the two main wars. Besides offering fruits to Buddha and monks, the villagers also brought food to soldiers who stayed at the pagoda during the battles. It was mostly demolished in 1966, and then nicely rebuilt by the locals.  
Address: Hoa Binh Hamlet, Hoa Tan Commune, Chau Thanh District, Dong  Thap Province
Dinh Yen Temple Festival
The Dinh Yen Temple was established in 1909 to commemorate Pham Van An who firstly discovered this wonderful land. From afar, the temple's traditional roof leaves you a strong impression with the red bricks. Right from the entrance, it is easy to spread your eyes over a lot of parallel sentences, altars sculpted with gold and red paint, bronze drums, lotus statues, and horizontal paintings.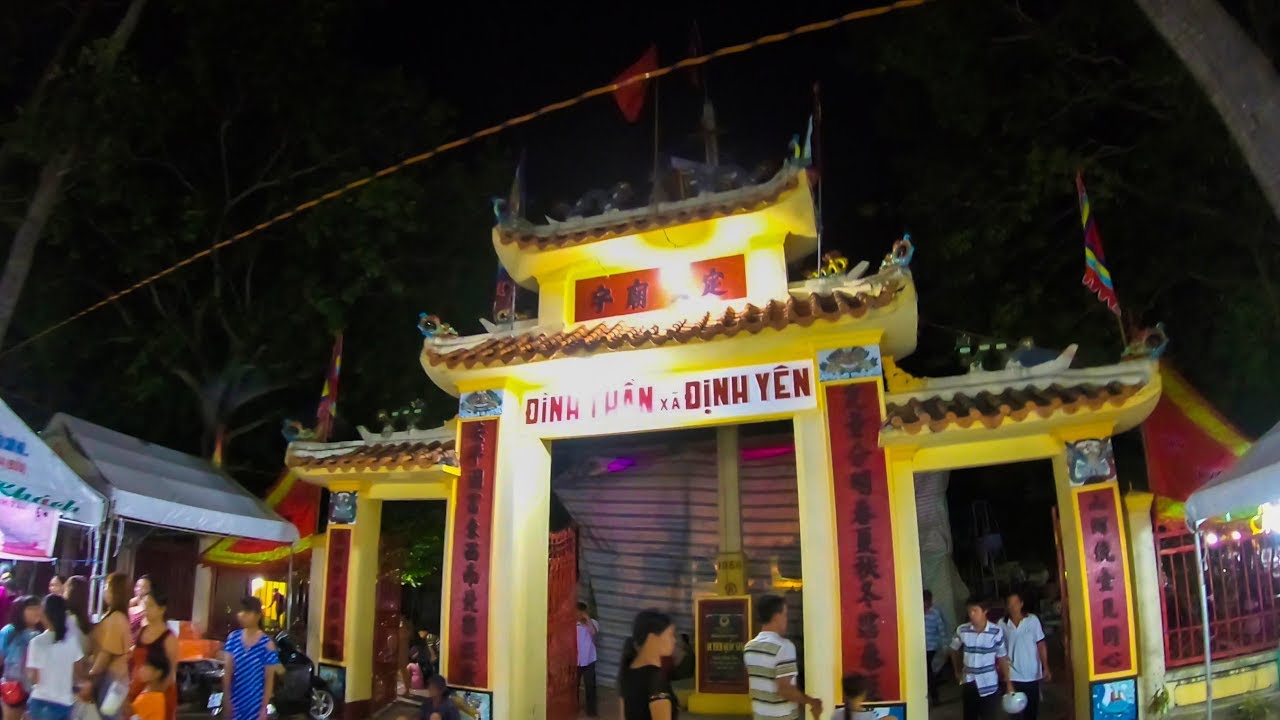 But, what mostly attracts visitors to come is the Dinh Yen Temple Festival! Celebrated on the 16
th
and 17
th
days of the 4
th
month as well as the 15
th
and 16
th
days of the 11
th
month of the lunar year, the festival becomes a memorable experience for all participants. Landing on the temple at this time, your knowledge about Vietnamese intangible heritages will be broadened with many traditional ceremonies and customs. Just mingle with the wonderful vibe of the festival and learn exciting things from the locals. They are not hesitant to share for sure!  
Address: An Loi A Village, Dinh Yen Commune, Lap Vo District, Dong Thap Province
Phuoc Hung Pagoda
The list of pagodas and temples in Dong Thap is incomplete without mentioning Phuoc Hung Pagoda, or also called Huong Pagoda. It was built in 1838 by Most Venerable Thich Minh Phuoc, and then repaired after years later. Interestingly, this is one of the most ancient pagodas in the province (about 180 years of existence). A century ago, the Chinese inhabitants living here constructed it to worship Buddha Amitabha made from the unbaked clay while its architecture is still in harmony with the surrounding scenery.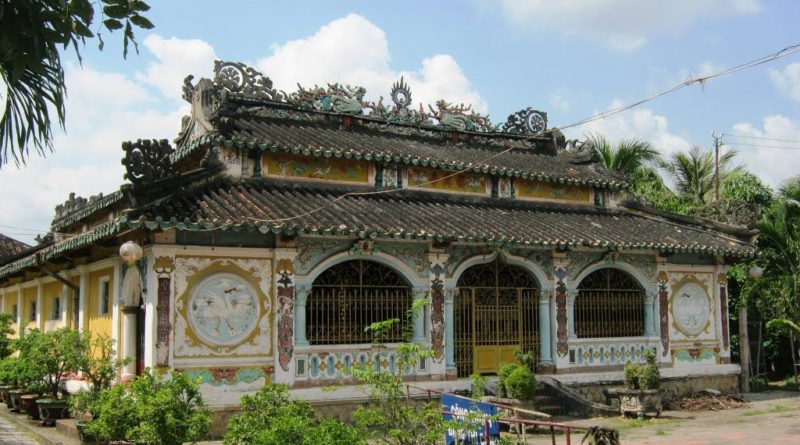 At the first sight, you can recognize that Buddha's room is solemnly decorated and placed with a lot of Buddha statues. Every year on July 19
th
of the lunar calendar, monks in the pagoda will celebrate the death anniversary of Venerable Thich Minh Phuoc. At that time, locals and visitors can come here to offer fruits and incenses, along with joining in the prayer with the monks.  
The tranquility and spirituality of Phuoc Hung Pagoda becomes an ideal destination for those who are looking for a place to stay quiet and peaceful and dispel all the fatigue and worries of life.  
Address: 461 Hung Vuong Street, Ward 1, Sa Dec Town, Dong Thap Province
See a few Mekong Delta tours here: 
vietfuntravel.com/mekong-delta-tours
Above we have just introduced to you the famous
pagodas and temples in Dong Thap
. Please don't miss one of these places if you travel to this beautiful province. These will bring to you not only interesting and unforgettable experiences, but also spiritual balance in mind. Wishing you a happy and satisfying trip!
Other news