Saigon Central Mosque - How to visit here?
Fri, 14/04/2017
2708 viewed
0 commented
Saigon Central Mosque
stands out as one of the most spacious and beautiful mosques in Ho Chi Minh City.
Built in 1935
, its initial purpose was to serve worshipers from Southern India who lived in Saigon. However, Muslims from all over the world today has permission to get there to worship and practice their belief.  
Situated at
66 Dong Du Street, Ben Nghe Ward, District 1, Ho Chi Minh City
, the mosque shares its favorable location with other nearby places, such as in front of Saigon hotel, behind Caravelle hotel, and next to Sheraton hotel. Come and feast your eyes on the grand building that boasts almost flawless symmetry in design, in which numerous subtle details are nicely shown on the windows and walls.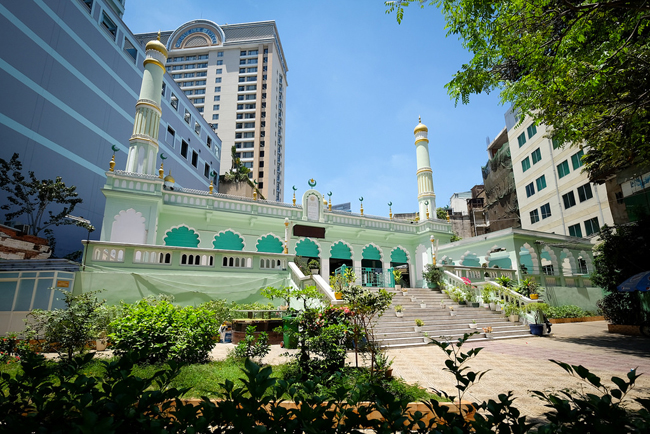 From the first time, its stunning white and blue structure will leave you from admiration to admiration. Once inside, you will also be flabbergasted by its corridor which is so large that may accommodate a number of believers and worshipers. Further, there is also a 1-piece floor with breathtaking floral tiles, covered by rugs where people can sit to meditate or kneel to pray.  
In the main hall
, there is also a pool for male followers to experience the ritual ablution before prayers.  Close to Ngan Gate, the 4 cannons represent the 4 seasons (spring, summer, autumn, and winter), while the 5 cannons near Quang Duc Gate symbolize the 5 elements (wood, metal, water, fire and earth).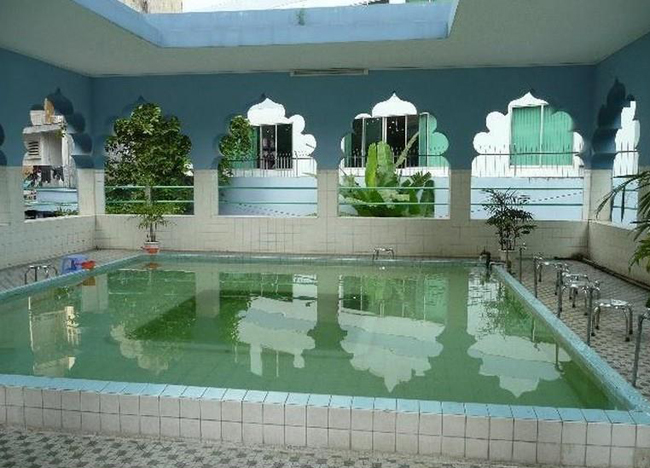 Outside of the building
, visitors are quite able to see lots of food stalls and vendors who sell many different items. It seems a pity to overlook a chance to sample Halal food – one of the distinctive meals of Muslim.  
Just like other sacred places, tourists are highly advised to take their shoes off before entering the building as well as dress decently and politely. That means no tank tops and hats are allowed. Ask for permission before taking any photographs. The best way to get there is by taxi, grab bike, or even bus. It takes about 30 minutes by car to the mosque from Tan Son Nhat International Airport and about 17 minutes from Saigon Railway Station.
Viet Fun Travel recommend some
Ho Chi Minh city tours in the center here
.  
Saigon Central Mosque is open every day, from 8 AM to 8 PM
. However, Fridays are considered the most crowded times. Thus, you should arrange a plan to visit here as early as possible! Along the way to the mosque, you can spend time discover other spiritual landmarks in the city, such as
Giac Lam Pagoda, Notre Dame Cathedral Saigon, Thien Hau Temple
, etc. so as to enrich your knowledge and get hands-on experience. Have a nice trip!
Other news