Hue Tours
+84 (0)28 7300 6749 - +84 (0) 909 759 479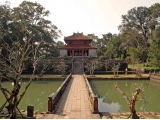 Location:

Hue



Operating Hour:

07.40am - 08.00am

Depart at 08.30am (Pick up at your hotel 8.00 am by tourist bus or private transport). Start Hue City Tour. Morning: 1. Minh Mang Tomb (60 minutes). 2. Khai Dinh Tomb (40 minutes). 3. Tu Duc Tomb (40 minutes). 4. Conical Hat Making Factory (private tour only) and Incense Making Village (20m..

View Details >>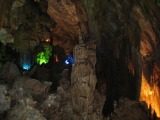 Location:

Hue



Operating Hour:

6.30am

MORNING: HUE - PHONG NHA CAVE. 06.30am start Hue - Phong Nha Cave 1 Day Tour: Tourist bus or private transport and guide pick you up at your hotel, take you to go to Phong Nha – Ke Bang National Park. On the way, tourist will be introduced Hien Luong Bridge and Ben Hai River where Viet Nam c..

View Details >>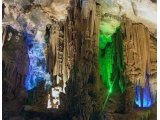 Location:

Hue



Operating Hour:

06.00 am

MORNING: HUE– PARADISE CAVE 6.00 am start Paradise Cave Tour From Hue 1 Day. Pick up guest at Hue City. Depart for Paradise Cave, stop at La Vang Holyland and pass DMZ of  Quang Trị: The Mcnamara Line, 17 Parallel, Ben Hai River, Hien Luong Bridge … Have luch at the restaurant ..

View Details >>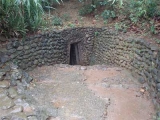 Location:

Hue




We begin DMZ - Vinh Moc Tunnels 1 Day Tour at 06:00am we will pick you up at your hotel and transfer to Dong Ha Town - Quang Tri. Then you will have free breakfast there about 30 minutes. Then we head out to the Khe Sanh Marine Base. We will visit "a big rock" the Rock pile. Our guide..

View Details >>
Showing 1 to 4 of 4 (1 Pages)

Hue Tours in Vietnam, Hue City Day Trips

Located in Central Vietnam, Hue is a romantic city known for its slow living pace.
Talking about Hue, people usually think about the Old Citadel and ancient tombs of emperors of Nguyen Dynasty. The truth is: Still more things in this gorgeous place are waiting for your self-discovery. Find out more with Viet Fun Travel!
 
A brief view at Hue City
 
Those who've never been in Hue before claim that there's not much to see and do in there. It is such a big mistake! Actually, Hue City has more than just the Imperial City and tombs to offer – from sacred & spiritual temples to beautiful sandy beaches and romantic lagoons. Though it is often described as a peaceful town, you'll find something to explore.
 
People who plan to make a trip to Vietnam tend to choose Hue as their most-preferred destination because 1/ it is a historical city and 2/ it has a peaceful atmosphere hardly found in Ho Chi Minh and Hanoi. The moment you set your foot to this city, you will immediately feel the friendliness through the way the local talks to you; all of them have a soft voice and always give you a big smile.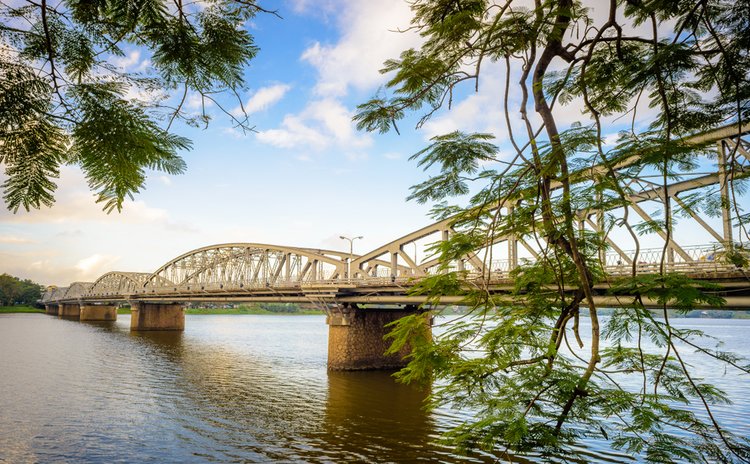 Huong river in Hue city
 
If all you want is to learn a long history and culture of this city, Hue welcomes you.
 
When should you visit Hue?
 
The most ideal time to take a trip to Hue starts from January to April – the rains are not heavy and the weather is also gracious. Not too hot, too cold or humid, the temperature is perfect for traveling around the city during the day.
 
If tourists visit Hue on Lunar New Year (around January and February), there are many traditional festivals to participate in. Feel free to enjoy spring markets, royal ceremonies, cultural shows, Hue royal court music performances, and seasonal local dishes. Make sure that you don't skip the Hue Festival annually hold in April as well.
 
 
How to spend your trip in Hue city?
#1: The Imperial City of Hue
Also known as the Old Citadel, this is undoubted the most attractive site you shouldn't miss once traveling to Hue. Built in 1804, the Citadel was the place where the royal family of the last imperial dynasty of Vietnam (Nguyen Dynasty) lived and managed administrative work; however, it was no longer used since 1945 due to the end of the monarchy in Vietnam.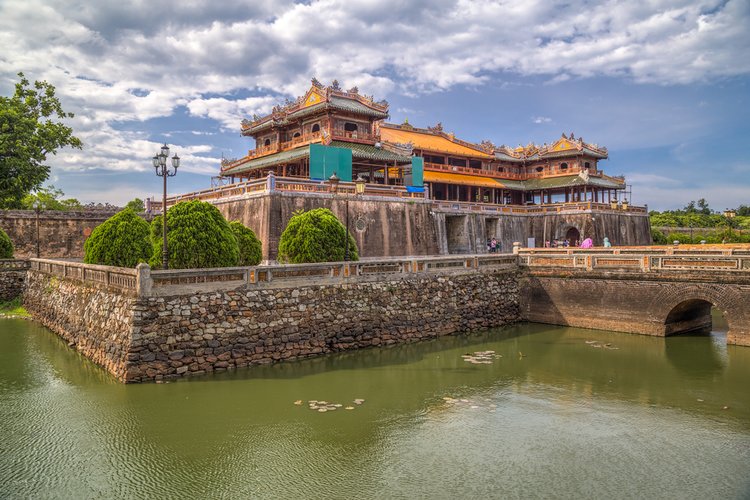 After two excruciating wars, this Imperial City was virtually destroyed – most of the buildings you see nowadays have been rebuilt for tourism. It generally takes you approximately 3 hours to explore every corner of the whole maze, such as Thai Hoa Palace, Ngo Mon, Dai Trieu Nghi Yard, etc.
 
What can be better than walking around the Citadel and gaining knowledge about the rich history of Hue City?
 
#2: Tu Duc Royal Temple + Khai Dinh Tomb + Minh Mang Tomb
After departing from the Citadel, a Hue City 1-Day Tour will take you to the next stop: The Royal Temple of Tu Duc – a peaceful & colorful site designed by Emperor Tu Duc to use before and after his death. At this site, you'll find a large elegant lily-pad pond full of Koi Carps.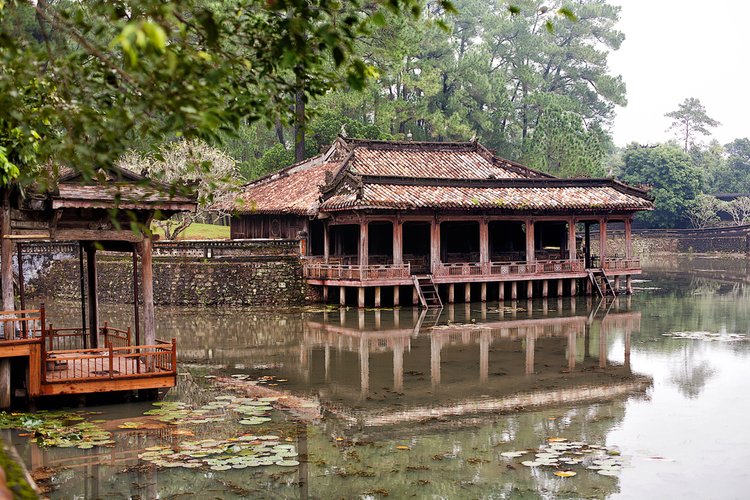 Tu Duc Royal Temple
 
Then you will move to Khai Dinh Tomb (under 100 years old)!
 
As the name says it all, this is the tomb of Khai Dinh – the 12th Emperor of Nguyen Dynasty. What's interesting there? The stone soldiers and elephants from the outside grounds are first things captivating your eyesight. Additionally, you can view the whole green land and mountains when standing from the top. Once moving inside, you'll surely get surprised because everything is colorful and detailed.
 
From Khai Dinh Tomb, it takes you just a few minutes to Tu Duc Tomb – another impressive site. This 40-acre walled ground is the final resting place of Emperor Minh Mang, where you can find over 44 structures dedicated to him.
 
#3: Thien Mu Pagoda
 If you come to Hue without visiting Thien Mu Pagoda, then your journey will never complete.
 
Not only the Citadel, but Thien Mu Pagoda is also the soul and symbol of this poetic city. The construction was located on the top of Ha Khe Hill (1961) and also known as the Pagoda of Celestial Lady. Many young women often come here to pray for their love life as they believe this temple is very spiritual.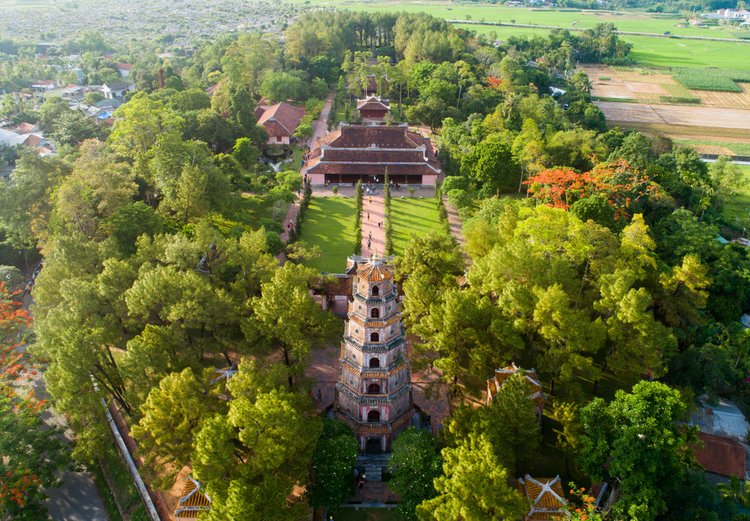 Thien Mu Pagoda has incredible architecture that certainly impresses you from the first glance; not yet, you will get stunning views of the Perfume River from there.
 
#4: Lang Co Beach
Considered as one of the most picturesque beaches in Vietnam, Lang Co Beach is a sandy beach that's 67 kilometers away from Hue City. After spending long hours at historical sites, it's time to relax both your mind and body on the beach. This is an ideal place for tourists who prefer quiet, peaceful atmosphere as it's always empty.




 
Don't hesitate to taste some delicious seafood dishes there – most are served reasonably.
 
If you are more into discovery, Viet Fun Travel recommends you to take the Paradise Cave Tour from Hue in one day. The journey will inform you a masterpiece of Mother Nature – the largest and most appealing cave of Vietnam.
 
#5: Tam Giang Lagoon
It is a great idea to catch the sunset in Tam Giang Lagoon.
 
This place with its stunning views has become the inspiration for artists to create many poems and songs. Therefore, you shouldn't miss such a romantic moment. If starting from the Citadel, then you need to drive about 30 kilometers to reach the lagoon.
 
Despite the long distance, we ensure you will satisfy with the amazing scenery there. If you have more time, ask a local for a slow-boat tour so that you can have an experience with net-fishing.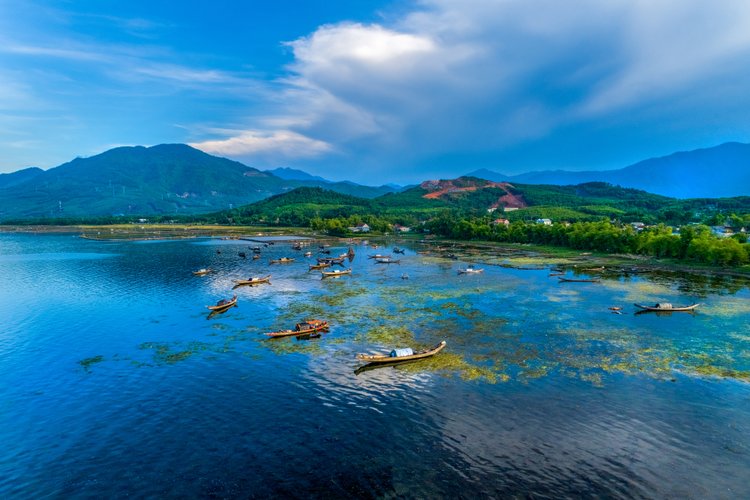 Back to Hue City, our night food tour will present you different special dishes, like Bun Bo, Bun thit nuong, Hue pancakes, and so on.
 
Hope that you will have a wonderful time in Hue with all the recommended things above.