Best Street Food You Should Not Miss When Visiting Hoi An
Sat, 15/04/2017
3095 viewed
0 commented
Hoi An is voted as one of the ideal and favorite cities in the world by a number of travelers, thanks to not only its peaceful nights mysteriously lightened up by colorful lanterns, but also its tasty cuisine. In fact, dishes here are very delicious and inexpensive, ranging from 5-star luxurious feast to even mouthwatering street foods. So, if you are now looking for an authentic gastronomy in Viet Nam, then the city is certainly a perfect heaven for all gourmets. Make sure to start your food tour at around 3 PM, when street food stalls begin tickling every passer-by's taste bud. Of course, don't forget to add the food suggestions below to your list.
1. Cao Lau
Although this is just a bowl of rice noodle, it is said that no
trip to Hoi An
is complete without enjoying Cao Lau. The dish is made with pork, noodles, and a lot of vegetables and herbs, which wonderfully enhance its unique flavor. Believe it or not, the chefs must take water from an ancient well, namely Ba Le, to make the broth. So, enjoying this dish is definitely worth a try.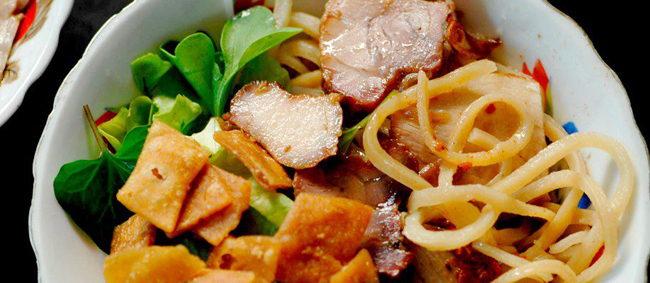 Some best places to savor a bowl of Cao Lau in Hoi An are:
Trung Bac Restaurant, 87 Tran Phu Street
Thanh Cao Lầu, 26 Thai Phien Street
Ms. Ha Cao Lầu, Stall E035, Hoi An Central Market
2. Quang Noodle (Mì Quảng)
Quang Noodle gets its name famous around the city, among not only the domestic visitors but also the international tourists. The noodle made from rice flour has yellow or white color. It is mainly mixed with pork, shrimp, and vegetables, as well as topped with prawn crackers, peanuts and spices. However, the dish has recently become diversified with more variations of toppings, such as fish, squid, chicken, snails, etc. Unlike other noodle soups, Quang Noodle is served with a little bit of broth. You can feel like that you are eating a dry noodle dish.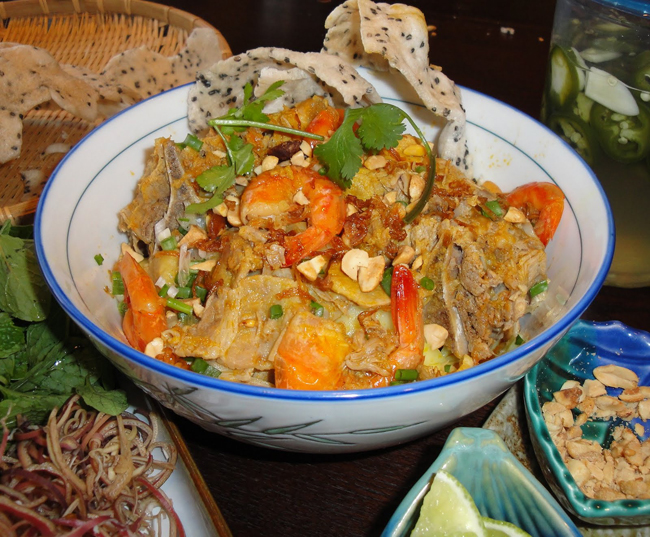 Some trustworthy addresses for foodies to savor this dish are:
Mr. Hai, a Stall at 6A Truong Minh Luong Street.
Mr. Hat, a Stall at 2 Tran Phu Street.
Go around Thai Phien Street.
3. Chicken Rice (Cơm Gà)
Although you can find chicken rice everywhere in this S-shaped country, this dish in Hoi An has been successfully improved and creative, making it one of the notable signature dishes in the city. Of course, the popular Com Ga is made of chicken and rice of top quality. You can find it hard to say No to a mouthwatering plate that is highlighted by pleasantly yellow-color rice, topped with chicken torn into pieces as well as mixed with herbs and sliced onions. The dipping fish sauce and a small bowl of soup that contains chicken liver and heart together bring you an unforgettable sensation and flavor in your mouth.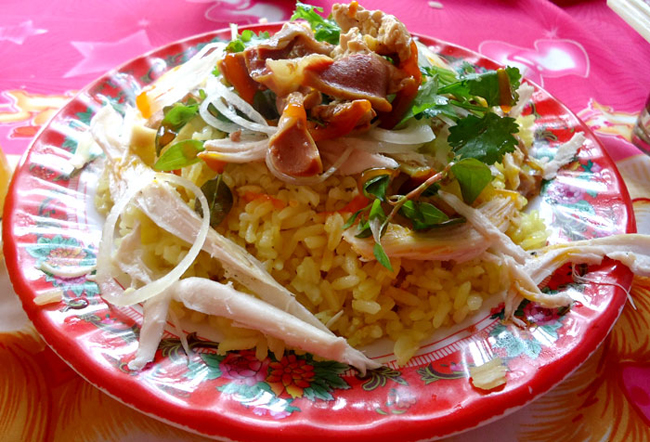 The following are some of the most highly recommended eateries famous for this dish:
Ms. Ba Buoi, an Eatery at 22 Phan Chu Trinh Street
Ms Huong, a Street Stall at Le Loi Street
4. Black Sesame Sweet Soup (Chè Mè Đen)
Also called Xí Mà Phủ, black sesame sweet soup is simply a kind of dessert which had its origin from Fujian Province, China. This dish was imported to the city when Chinese sellers came and lived in Hoi An for a long time ago. Made from black sesame, pennywort, and sugar, it is not only exotic, but also just like a magical medicine. Though you may not be attracted by its weird color – black – from the first sight, this black sesame is warm, smooth, and nutty that is totally different from its look. Try enjoying a bowl of Chè Mè Đen, and your mind and first impression will be immediately changed. Where to go for a delicious black sesame sweet soup?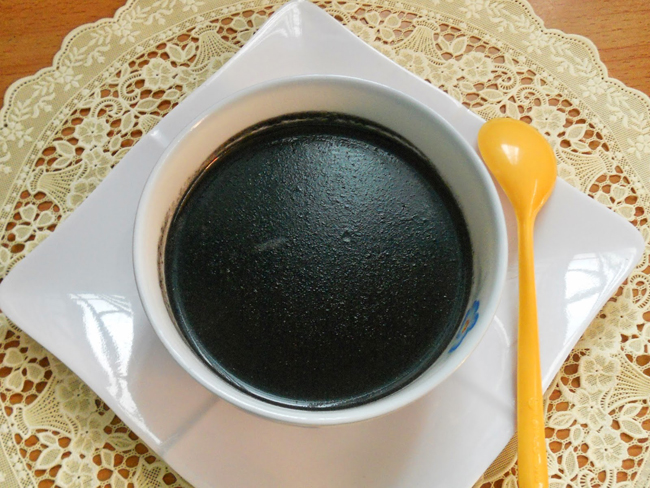 Follow our suggestion below:
Go around Nguyen Truong To Street, close to Hoi An Centre for Orphans and Disabled Children.
See more interesting activities in Hoi An
.
Other news