Things to do in An Giang Province - Top Attractions
Fri, 14/04/2017
4586 viewed
0 commented
Situated in the West of the Mekong Delta, An Giang Province wins tourists' heart by many famous landscapes, meaningful festivals and important religious sites. While traditional handicraft, like Tan Chau silk, helps visitors to learn more about a long-standing weaving industry of the Cham group, Tra Su Cajuput forest leaves them enthralled by its green and natural beauty. Whatever destination you would like to visit, make sure to find out much information before departure. The following is
An Giang travel guide on top things to do
you should take into consideration!
Enjoy the tallest mountain in the Mekong Delta – Sam Mountain
Sam Mountain is not only where you can spread your eyes over stunning landscapes, but it is also where a lot of historic and well-known sites gather together, such as Thoai Ngoc Hau Tomb, Tay An Pagoda, Ba Chua Xu Temple, Bach Van Hill, and Tao Ngo Garden. On the peak, there is a sacred shrine that offers an ideal view of the surrounding countryside.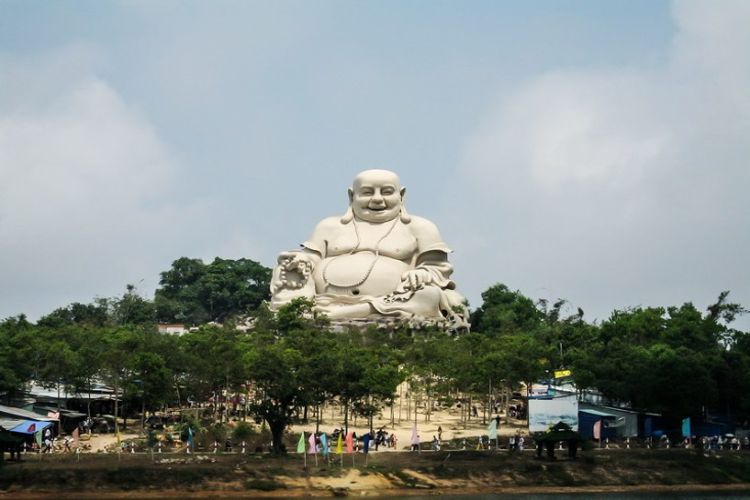 A visit to Sam Mountain will be more meaningful with a climb to its top. Needless to say, the views from the top are really alluring if weather is fine. On the way to the mountain, your vision will be widely opened by the spectacular sights of rice fields along the road, along with a stop to a Khmer village. The locals' daily lives on Sam Mountain may be clearly seen through a short walk up on the mountain side. In the rainy season, the sight is especially interesting with enormous rice paddies and waterways. However, try to be careful since the mountain's slopes can be slippy.
Visit Ba Chua Xu Temple
Located at the foot of Sam Mountain, the temple is a sacred place where Holy Mother of the Realm (or called Bà Chúa Xứ) is worshiped. Legend has it that in the early 1800s, a female statue made of marble, dating to the 6
th
century, was found in the forest. After that, villagers started to build a temple in her honor, with the hope that she would bring them good health, successful business, favorable crops and wealthy lives.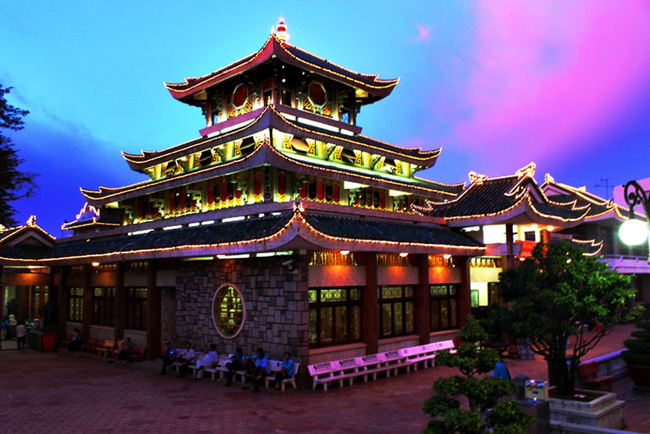 Ba Chua Xu Temple Festival is annually held from the 23
rd
to 27
th
of the fourth lunar month. Worshippers tend to touch her statue as well as raise their wish of her benediction and protection. Offerings, which are placed on the table in front of her statue, often include a white pig, sticky rice, pig's blood and hair, fruits, rice and salt, areca and betel, and incense sticks.
Marvel at the glamorous beauty of Tra Su Cajuput Forest
Setting foot in Tra Su cajuput forest, you will have an opportunity to enjoy memorable moments when animals, nature, and the wholesome atmosphere live in harmony. About 23 kilometers away from Chau Doc City, the forest blows your mind with a number of cajuput trees, wild animals, and more than 70 species of birds (like egrets, water cocks, cormorants, peafowl, storks, so on). The best time to check in Tra Su is between September till the end of the year (the rainy season), when water is likely to flood the whole area of the forest, creating unforgettable scenes. During the dry season, visitors are only able to access a few sites of the forest.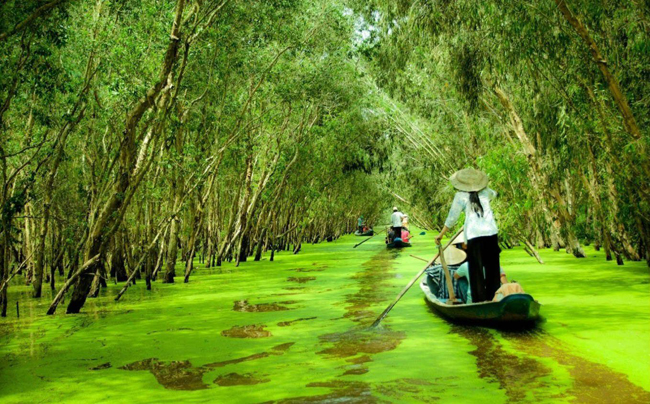 For a meaningful experience, make sure to travel through the forest by motor boat or small rowboat. From the boat, tourists may pause for a while to contemplate bees' nests packed with honey at the top of the trees. Moreover, there are also many delicious local specialties in the flood season, like fried fish or shoots-stewed chicken.
Shop around Chau Doc Floating Market
If
floating markets in Mekong Delta
is one of your must-do things, then Chau Doc floating market is worth a try. It is a perfect spot to learn more about the locals' business and lifestyles on rivers. The market is where you can find almost everything, from commodities to fruits and vegetables. In addition, silk products, local embroidery, and antiques are also on display, such as bags, clothes, etc.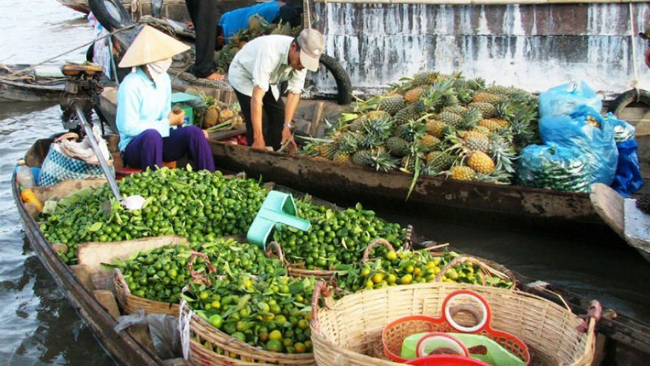 Like
Cai Rang
or
Cai Be floating market
, each store here has a long pole that hangs a sample of the seller's goods. This helps buyers to see products from a far distance. Although the market has been recently established, its fame has still come to light by the public.
Savor Vịt Quay (roast duck) and Xôi Phồng
No visit to An Giang is completed without enjoying these special dishes, namely vịt quay (roast duck) and xôi phồng. Although the roast duck here cannot be the best dish in Vietnam, it is quite fascinating when combining with Xôi Phồng. For many travelers, they are a flawless match. How wonderful it is to enjoy the greasy duck mixed with the brittle Xôi Phồng. Don't miss it!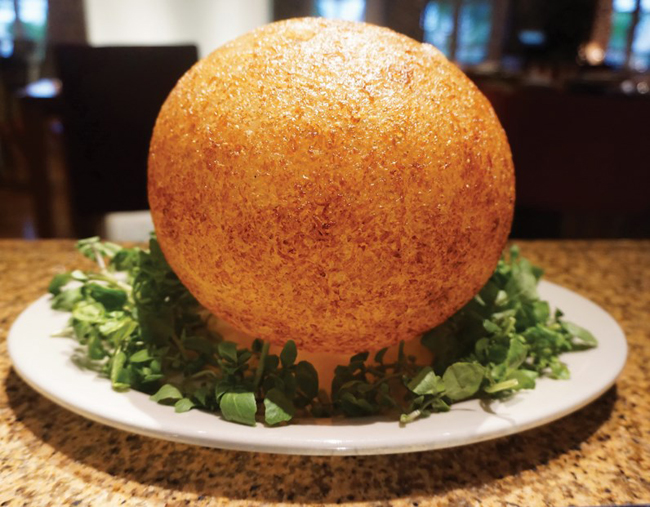 Other news