Top 5 Floating Markets in Mekong Delta
Thu, 17/11/2016
31143 viewed
0 commented
Mekong Delta
leaves a strong impression on tourists by its green/yellow rice paddies, fruits orchards, Southern folk songs, and delicious regional dishes. What make its unique are dense rivers, canals system, house stilts, and lifestyle of locals on river. Thus, it is quite exceptional and awesome to surround yourself with hectic and vibrant floating markets – one of the noticeable highlights of the Mekong Delta.  
Such the markets become gathering places where the locals can buy goods while tourists can spread their eyes over the lively panorama around. To help buyers see and realize what are sold from far away, traders tend to hang their products on the top of long poles. Along with goods and items, some small sampans also serve as café shops or food stores. It is quite possible to stop by one and then enjoy an iced cup of coffee, soft drinks or a noodle soup for breakfast.  
In general, sunrise as early as possible is the best time to visit any of the floating markets, since this is the moment when everything is very colorful and vigorous. Of course, they are best discovered on small sampans with a local guide. Today, we are out there to introduce to you the
top 5 floating markets in Mekong Delta
you should not miss at all cost! See the
list of Mekong Delta tours have floating market
here.  
Cai Rang Floating Market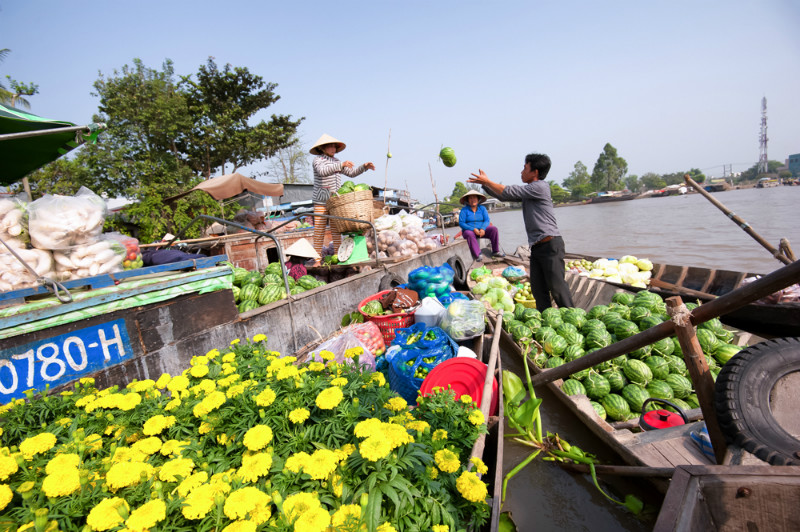 As the largest floating market in
the Mekong Delta
, Cai Rang often starts 5 AM and lasts until midday. But, it is better to arrive in it before 9 AM. The main goods here include wholesale fruits, agricultural products and specialties from Chau Thanh District and other neighboring areas. Of course, there is no need for sellers to cry out about their products. As mentioned above, each boat has a long upright pole where the samples of the goods are hung on the top for sale. So, if you want to buy bananas, for instance, just find which boat has bananas on the pole.  
During the early morning, the waterway does become a maze of many different boats packed with papaya, mango, bananas, pineapple, and even cigarettes. To meet the demands of both domestic and foreign visitors, different services are also available on the floating market. Apart from fresh fruits, they are quite able to enjoy Vietnamese breakfast dishes, like Pho, Hu Tieu or coffee. Try imagining that how unforgettable it is when tasting a delicious Pho bowl while paddling along the river, right? Of course, don't try to search for which boat has a bowl of noodle hanging on pole since it is impossible. Instead, locals around will help you to find the suitable shop and store.
read more...
Cai Be Floating Market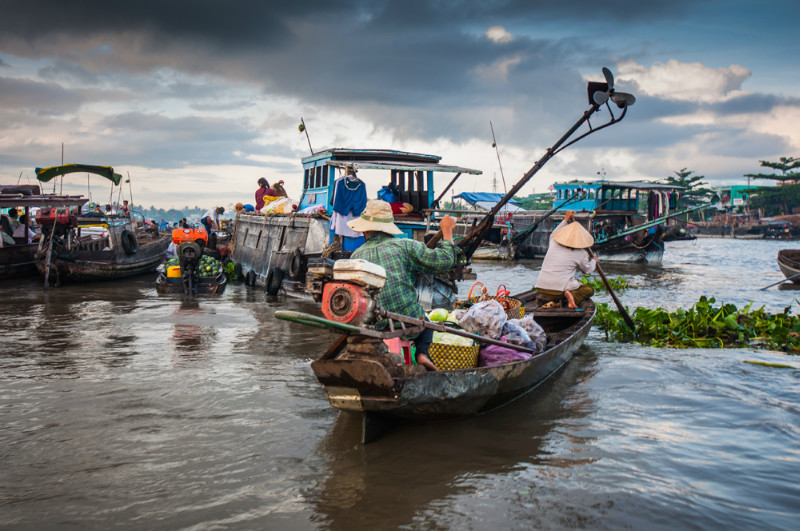 Another prominent floating market in Mekong Delta is Cai Be, which is located at Tien Rive in the intersection of Vinh Long, Tien Giang and Ben Tre Provinces. This market is busy from the early morning (around 3 AM) to late afternoon. The goods exhibited here are abundant and multiform, ranging from fruits, seafood, animals, chicken, materials and commodities to sweet mandarin, coconut soap and candy. About 400 to 500 rafts and boats packed with vegetables, fruits and other regional products will be anchored along the 2 sides of the river. Just like Cai Rang Floating Market, the samples of products in each boat here will also be hung on a pole to attract customers.  
Along with many different kinds of boats,
Cai Be Floating Market
also leaves tourists from admiration to admiration by the magnetic sights along the river, such as lines of coconut trees and stilt houses on 2 banks. At that time, boats and sampans can serve as "water taxis" which help traveler to sightsee and visit somewhere more conveniently and easily. The best way to immerse in the essence and uniqueness of Cai Be Floating Market is to let us become your travel partner. Just booking our in-depth tour, you will not only have unforgettable memories with eye-catching scenery, enthusiastic locals, and hustling daily life, but also ease your mind from all everyday troubles! Click here to see more
Cai Be floating market tour.
See detail about Cai Be Floating Market
Tra On Floating Market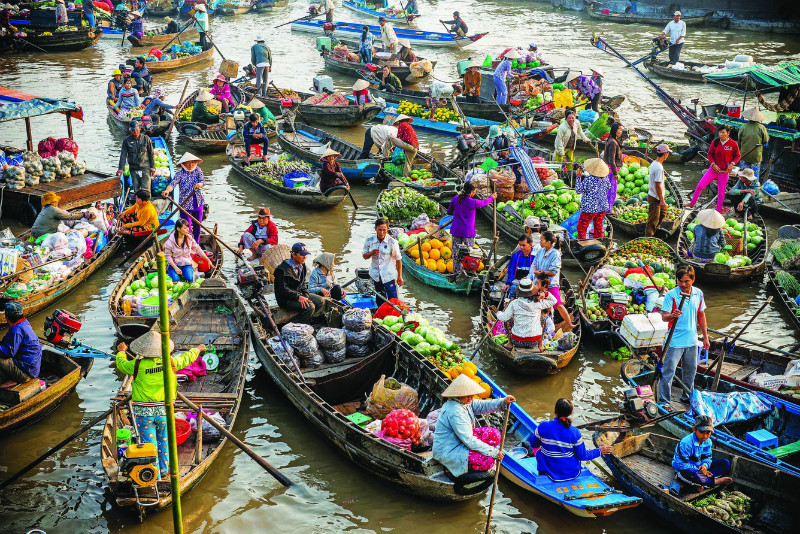 Tra On Floating Market will surely give you a feeling for the rhythm of how the daily life there is. Situated at the intersection of the Hau River and Mang Thit River, adjacent to Tra On Town, this is known as the final floating market on the Hau River. The market often starts a new day at the very early morning, about 2 AM to 3 AM. But, you can arrive in it around 5 AM to 6 AM as this is the busiest moment. At that time, various boats full of products will gather here.  
Like other large floating markets in Mekong Delta, the main goods are fruits and seasonal agricultural products. Your eyes and tastes will be feasted with a wide range of mangoes, longan, rambutan, etc. In addition, there are also many other agricultural products, like gourds, potatoes, okra, cabbage, radishes, melon, and more etc. The whole scene is more exciting and lively with small boats served as coffee shops and food stores. The laugh of people and the sound of engines do create an unforgettable remix.  
Nga Nam Floating Market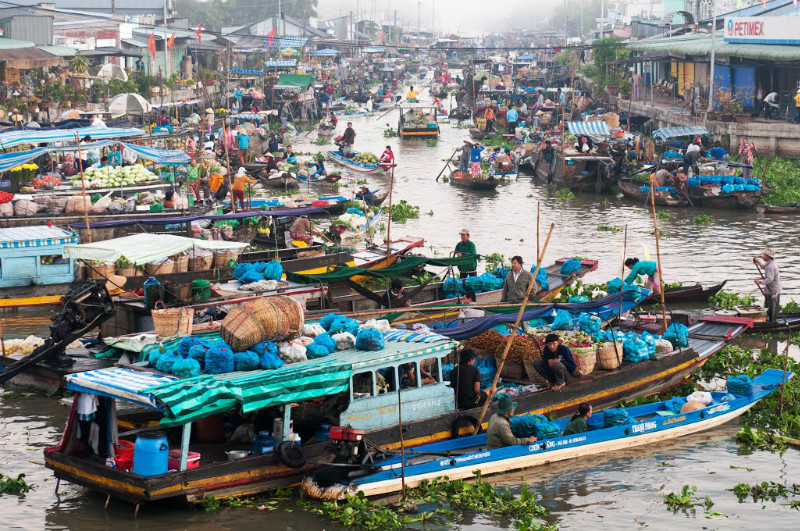 Located in Soc Trang Province, what make
Nga Nam Floating Market
stand out from others is that it lies on the convergent point of 5 rivers flowing into 5 directions: My Long (Hau Giang), Vinh Quoi (Soc Trang), Phung Hiep (Hau Giang), Phuoc Long (Bac Lieu) and Phu Loc (Soc Trang). That's why it is also called Nga Nam Market.  
Both business and life activities mostly take place on the boat. Thus, boats become the means for the locals to transport and do transactions on the river. Of course, fruits, vegetables and seasonal goods are not only diverse, but also rich in both volume and quality. The best time to set foot on Nga Nam floating market is at dawn, when the sun starts rising and people are ready for trading. It is quite possible to find nearly anything here, from meat, rice and fruits to even TV and other electronic goods. Mingle with the residents' lives by chatting with them.  
Nga Bay Floating Market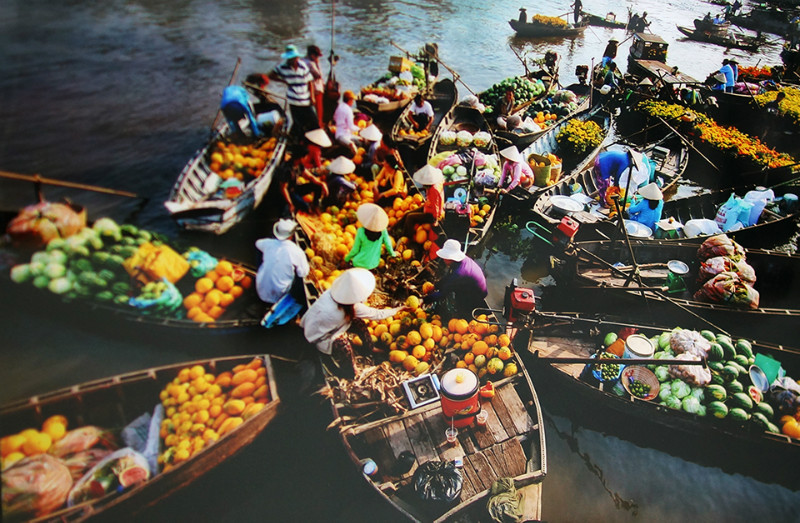 Also called
Phung Hiep Floating Market
, Nga Bay is known as the remarkable market in the Mekong Delta. In fact, it is just a general market on river, where people may purchase wholesale and retail. But, when arriving in here, visitors can be overwhelmed by inspirational colors of fruits, vegetables, seafood, poultry products, handicraft goods, domestic utensils as well as aquatic products of the waterway region. Goods come with various and abundant categories. Along with fruits, what make you amazed is the supply of snakes, birds, tortoises, iguanas and all year around.  
Like other floating markets, several sampans and tiny junks also sell Pho, Banh Xeo, Banh Cuon and many kinds of drinks, which bring the distinguishing cuisine of the South.  Don't look at anywhere else because the market is great and imposing enough to satisfy you with its greenness and rural characteristics.
Other news