Mekong Delta Tours
+84 (0)28 22406474 - +84 (0) 909 759 479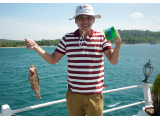 Location:

Phu Quoc



Operating Hour:

07.40am - 08.00am

DAY 1: HANOI - MY THO - BEN TRE - CAN THO (LUNCH/DINNER)  08.00am, this morning we will start Mekong Delta - Phu Quoc  Tour, travel by bus to My Tho. 9:30am - 10.00am, arrive in My Tho. Board a wooden motor boat (20 minutes) to Unicorn Island. On this boat along the river's ..

View Details >>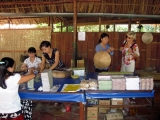 Location:

HCMC



Operating Hour:

08.00am

DAY 1: SAI GON - MY THO - BEN TRE - CAN THO In the morning:private car/Van pick you up at your hotel and travel to My Tho, start Mekong Delta Island 1 Day Tour ( My Tho - Ben Tre). 9:30am: board a private wooden motor boat to Unicorn Island. On this boat along the river's bank, you..

View Details >>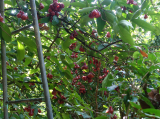 Location:

HCMC



Operating Hour:

07.30am - 07.40am

DAY 1: SAI GON - CAI BE - VINH LONG - CHAU DOC In the morning:Private Car/van picks you up at hotel and travel to Cai Be Floating market  around 3 hours driving, Start Mekong Delta - Cai Be Floating Market 1 Day Tour. On our dedicated private car/van you can see the green paddy fields stretch..

View Details >>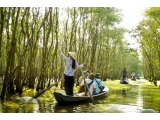 Location:

Mekong Delta




DAY 1: CHAU DOC – TRA SU FOREST Pick-up from boat station and transfer to hotel.   Have a lunch   Visit Tra su forest: Seasonal flooding is the most appropriate time to come with melaleuca forest, between July through December 11. The vast forests of green ultramarine dott..

View Details >>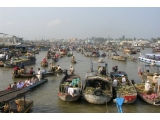 Location:

Mekong Delta




DAY 1 :  SAIGON TO BEN TRE – CAN THO (LUNCH) Morning: Pick up at Hotel and transfer to Ben Tre river pier. Take a boat trip along the Ben Tre river for sightseeing the local people's activities: fishing - net. Stop over to visit the local coconut work shop, finding out how to proc..

View Details >>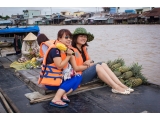 Location:

Phu Quoc



Operating Hour:

07.40am - 08.00am

DAY 1: DANANG - MY THO - BEN TRE - CAN THO (LUNCH/DINNER)  08.00am, this morning we will start Mekong Delta - Phu Quoc  Tour, travel by bus to My Tho. 9:30am - 10.00am, arrive in My Tho. Board a wooden motor boat (20 minutes) to Unicorn Island. On this boat along the river's..

View Details >>

Mekong Delta Tours - remarkable tourist attractions
Mekong Delta, also known as the Southwest region of Vietnam, includes 13 provinces: Can Tho, An Giang, Ben Tre, Ca Mau, Tien Giang, Hau Giang, Kien Giang, Vinh Long, Tra Vinh, Dong Thap, Long An, Bac Lieu, Soc Trang and is well-known for the image of deep green rivers, open space, clear water, ports, rows of green trees, and luxuriant orchards.
Given their peaceful beauty, Mekong Delta tours are becoming more popular, especially eco-tourism. Mekong Delta eco-tourism has started to develop with typical activities such as traveling on the river, gardening, exploring the isle and other activities. Now, let Viet Fun Travel show you outstanding but amazing, interesting features of this lovely land.
In life, there are very ordinary things to people in this region that are attractive and interesting for people in other regions. 63 provinces and cities of Vietnam, whichever place all has good and unique things that we would like to have the opportunity to learn and explore. Mekong Delta such a land, plain but attractive, simple but wonderful. Because of this, many tourists have come to the beautiful Mekong Delta to visit and travel.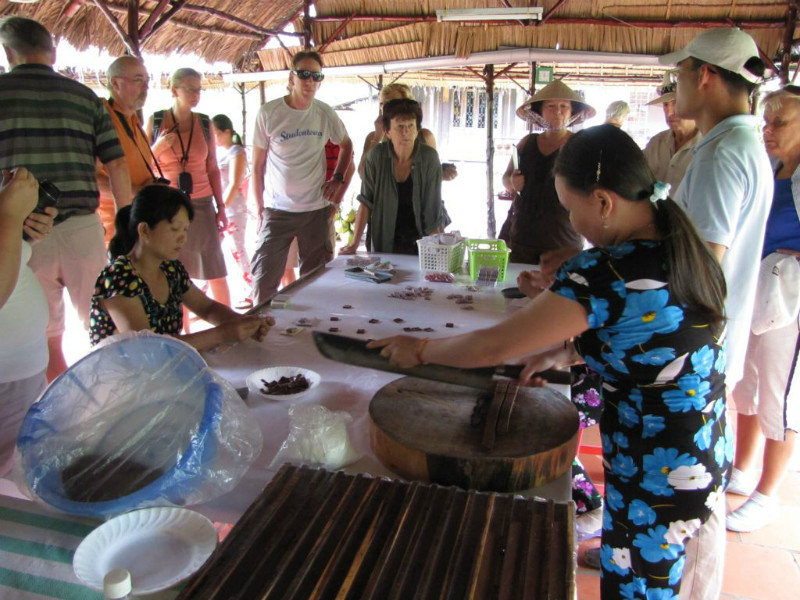 Tourists take a tour of Viet Fun Travel
Mekong Delta has made Vietnam an attractive destination for not only domestic tourists but also international tourists. If you want to watch the sunrise and whispering waves on a deserted island, if you love to learn about the customs, culture and people of this idyllic land, if you wish to see smiles mixed with salty sweat of the girl driving the boat on the floating market or simply wanting to understand the life of the people here and enjoy the "unique" and "weird" dishes sometimes somewhat "scary" , don't hesitate to take the daily Mekong Delta Tours. At that time, you will understand why Viet Fun Travel calls this place a very ordinary but extremely magical land.


Observe "the portrait of life" in Mekong Delta with Mekong Delta Tour
For tourists, "portrait of life" cannot be sketched with a pen like a painter, cannot be conveyed by lyrics like a musician but it is memories, experiences left in their mind after each trip. So far, there are so many works that "portray" the Mekong Delta life, but how can we feel this most honestly and accurately? "A picture is worth a thousand words", the best word-of-mouth recommendations can never beat one real experience. Therefore, if you want to know about the lively life in Cai Rang floating market, the wild look of Vam Ho bird sanctuary or the rustic charm of the Southern village in "the four sacred spirits" Long - Lan - Quy - Phung (Dragon - Lion - Turtle -Phoenix), let's join the Mekong Delta Tours. Especially, traveling to this special place, you will have a great chance to observe the Floating markets which absolutely will intrigue you.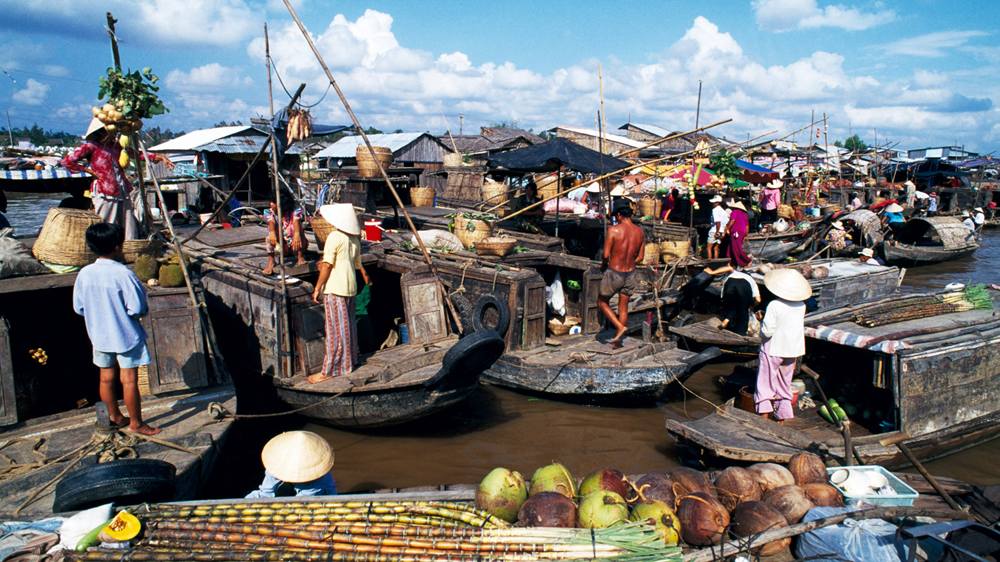 Cai Rang floating market
In Southern Vietnam, with a network of canals and rivers, people are attached to life on the river, so the floating market is a unique form of living of the locals here. It is the place where the locals of the Mekong River Delta trade and exchange goods. This place is not only a place to trade goods but also an interesting tourist attraction. Here are some famous floating markets that you can visit:
Cai Rang floating market, Can Tho
Cai Be floating market, Tien Giang
Nga Bay floating market, Hau Giang
Nga Nam floating market, Soc Trang
Floating market in Long Xuyen, An Giang


Mekong Delta specialties
The Mekong Delta is famous for its fruits, which includes all kinds of tropical fruits such as rambutan, mangosteen, durian, jackfruit, banana, mango, longan, orange, tangerine ...
Each province has its own kind of product. With the advantage of rivers and canals system, many specialties are provided, such as snakes, crocodiles, turtles, turtles, shrimp, fish, crabs, shackles ... and all kinds of birds.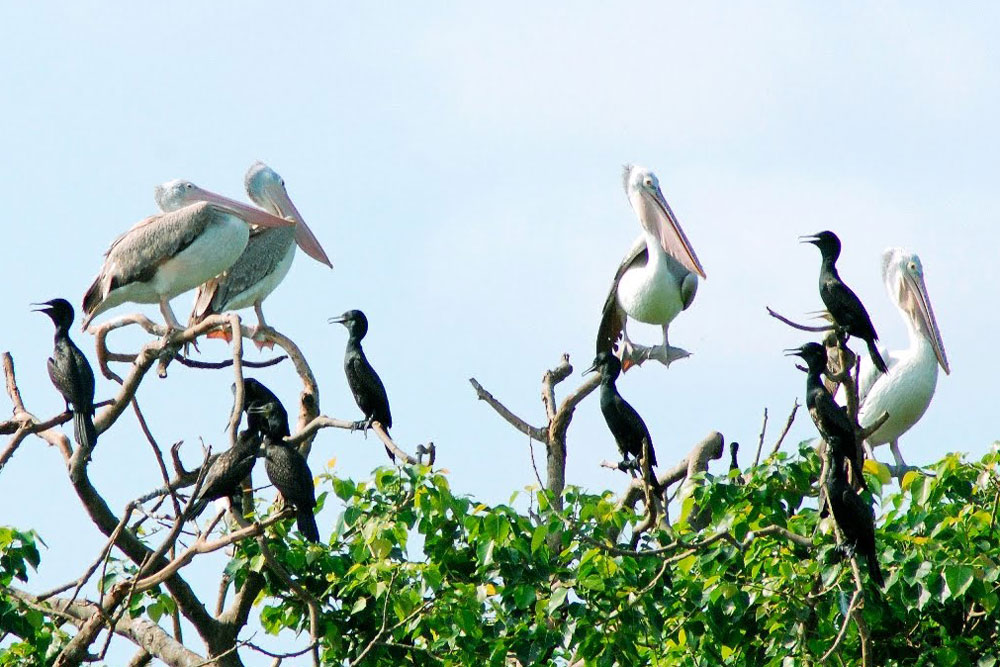 Bird garden in Bac Lieu

Mekong Delta tour is not only for discovering, contemplating or experiencing the beauty of nature and culture of local people, but also for enjoying the unique cuisine of this region. Some must-try dishes are:
Fish hot pot with Sesbania sesban
Fish paste hotpot
Grilled rat
Grilled snakehead fish
Fermented fish soup with vermicelli rice noodle Fish noodles
Vietnamese Fried Fish Vermicelli Noodle Soup


Immerse yourself into relaxing moments with the Mekong Delta Tour
It is not without cause that Mekong Delta travel has been popular, not without reason that this land has received many compliments from those who have even just visited it once. Those are the very unique and particular things of the gardens and rivers that are hard to find anywhere. Mekong Delta is not only a tourist destination but also a place to find moments to relax, relieve, and recharge your batteries. Many tours to Mekong Delta will help you temporarily escape from the noise and pollution of the city, to return to the peaceful countryside, where people live a very simple life, no stress, no competition, no noise. Visiting this land, you can try crossing the monkey bridge, catching fish, cycling around the village roads, or visiting the fruit gardens.
Fruit garden
Let's travel with Viet Fun Travel to
Mekong Delta
to see and listen first-hand to the wonderful things hidden in the most idyllic, unique things of the simple life of people there. Certainly, Mekong Delta tours will satisfy you, even if it is your first time; it will leave great memories in your mind even if you have only a few hours to visit.


Some daily Mekong Delta tours of Viet Fun Travel
On travelling to Mekong Delta, the most interesting image of this region is perhaps the immense river, the canal and the silhouette of the women in the village, wearing "ao ba ba" (traditional clothes) sailing the boat on the river. Mekong Delta has a lot of interesting things to explore so if you have the opportunity, don't hesitate to visit this place once! This trip will certainly satisfy you. Sign up to join the Daily Mekong Delta Tour to recognize how beautiful, and worthy this place is.
Here are some daily Mekong Delta tours:
Mekong Delta Tours 1 Day
Mekong Delta Tours 3 Days
Floating Market Tours
In Mekong Delta Tours - South Vietnam Tours, not can you also taste a charming cup of unsophisticated honey tea in a bee farm, enjoying the fresh air along the canal and wonderful water coconut tree landscape, but you also visit traditional handicraft villages , tropical fruits gardens and enjoy the typical folk music in Southern Vietnam. Especially, you will have a great opportunity to visit two largest floating markets in Mekong such as Cai Be floating market and Cai Rang floating market in Mekong Delta Tours. Furthermore, you can travel downs the canals and backwaters of the main Mekong Channel to visit catfish farm and Cham Tribal Village by motorboat in these tours. You can swim in a crystal-clear water or simply enjoy the sea breeze in a hammock and visit some attractive landscapes in Phu Quoc.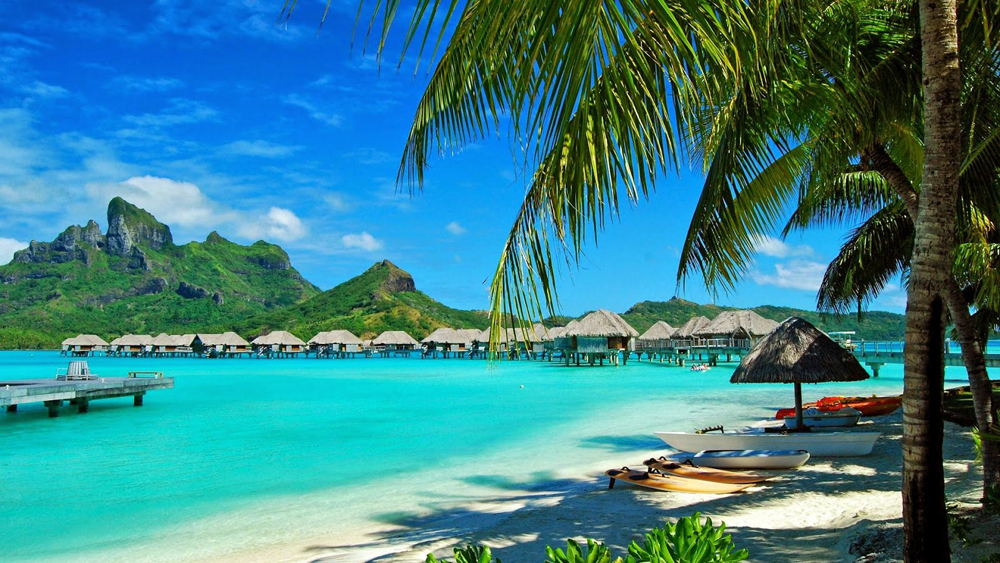 Phu Quoc island
Mekong Delta tours are group tour and private tour. With group tour is always available and guaranteed departure date from Ho Chi Minh City. Group is around 20 - 25 people.

There are many daily-departure Mekong Delta tours with extremely attractive itineraries waiting for you to discover. You can register for scheduled tours or we will design them according to your needs and preferences. If you need any specific advice on traveling tours in Mekong Delta or any other tourist destination in Vietnam, you can contact Viet Fun Travel Call Center 1900 6749 or 08 7300 6749. Our enthusiastic and professional consultants are always ready to answer all of your questions.

Now let's search Mekong Delta Tours list to find the suitable tour for you, your family, partners and your party with Viet Fun Travel.