Vung Tau Tours
+84 (0)28 7300 6749 - +84 (0) 909 759 479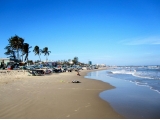 Location:

HCMC




7.30 am, We will depart from Viet Fun's office to Vung Tau city. 10.30 am, Arriving in Vung Tau and enjoying free time at Thuy Van beach (Back beach) – one of the nicest beaches in Vietnam with the shore runs for almost 10km, full with fine sands and white waves. Then, we have authentic V..

View Details >>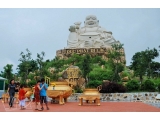 Location:

HCMC




DAY 1: SAI GON - VUNG TAU – HO MAY RESORT (LUNCH/ DINNER) 7.30am: Our tour guide will pick you up at the hotel and take you to Vung Tau – Ho May 2 Days 1 Night tour. On the way having brief to visit Dai Tung Lam Pagoda. 11.00am: Arrival on Vung Tau, having lunch and checking in the h..

View Details >>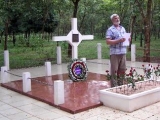 Location:

HCMC




Veteran tour of Vietnam - features: Australian and New Zealand war veterans are always welcome in our country. For our Vietnam military tours, we recognize the importance of understanding the significance of the operations that took place during the war. -We value in-depth knowledge of the variou..

View Details >>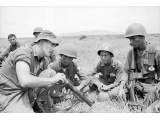 Location:

HCMC




DAY 1: ARRIVAL HO CHI MINH CITY Welcome to Ho Chi Minh City, we will meet and take you to your hotel and start Vietnam ANZAC 5 Days 4 Nights Day Tour, check-in and today is free at your leisure to rest or explore, discovering your own first impressions of Vietnam. Overnight in Ho Chi Minh City..

View Details >>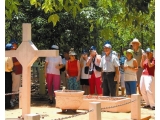 Location:

HCMC




DAY 1: SAI GON - VUNG TAU (LUNCH/ DINNER) 7.30am: Our tour guide will pick you up at the hotel and take you to Vung Tau tour– Long Tan 2 Days 1 Night. 10.00am: Arrival on Vung Tau, spending time walking along the beachside area and having relaxing on the Back Beach un..

View Details >>
Showing 1 to 5 of 5 (1 Pages)

Best tours in Vung Tau - Daily travel
Vung Tau has long been considered an attractive tourist destination, because of its natural beauty. Wherever you go in Vung Tau, you will be fascinated by the scenery of this place.


Visiting Vung Tau - The weekend habit of many tourists
Only more than 100km far away from the center of Ho Chi Minh City, with a 20km stretch of coastline, Vung Tau is one of the favorite tourist destinations. Coming to Vung Tau, you will have a peaceful and pleasant feeling with spacious and airy roads. Underneath is the blue sea, above is the big and small mountains, along with peaceful temples ... Therefore, Vung Tau has long been a favorite place and also known as the "weekend rendezvous" for many tourists. Understanding this, Viet Fun Travel has designed many daily Vung Tau tours to serve the needs of visitors.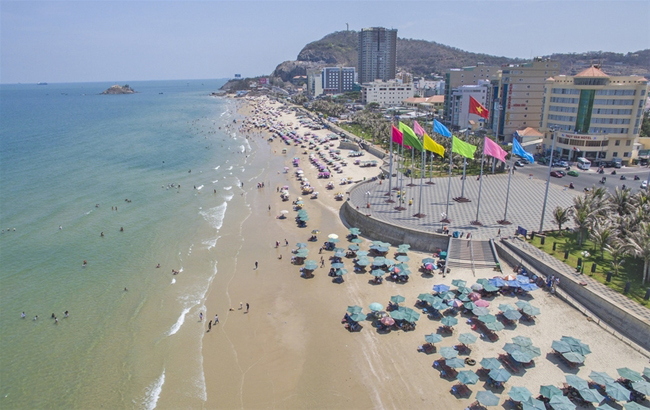 Back Beach Vung Tau
All tour routes have been thoroughly surveyed and put into the most reasonable schedule. You can choose one day
Vung Tau Tour
, Binh Chau Ho Coc Tour 1 day or 2 Days 1 Night Vung Tau - Long Hai - Phuoc Hai Tour depending on your own needs and preferences. If you want to explore Vung Tau on a different schedule, Viet Fun Travel is also willing to offer tailor-made tours to serve your needs. Viet Fun Travel believes that Vung Tau is definitely a destination that gives visitors interesting experiences.  
Destinations not to be missed when visiting Vung Tau
Vung Tau is a special destination. It has all types of terrain from coastal city to mountains and rivers; architectural works from churches, temples to historical sites, etc. Therefore, visiting here, you will never feel bored with the variety of destinations.
You can watch the beautiful sunrise and sunset at Front Beach (as known as Bai Tam Duong). Visitors can have fun with the waves at the most beautiful beaches in Vung Tau such as Bai Truoc (Front Beach), Bai Sau (Back Beach), Bai Dua, Bai Dau, Bai Vong Nguyet, Bai Thuy Tien ... in which Front Beach and Back Beach are the two most crowded places in Vung Tau.
Back Beach
Back Beach is famous for its beautiful coastline and gentle waves, with a lot of hotels and dining areas nearby. Therefore most tourists when traveling to Vung Tau are interested in Back Beach. Back Beach also has the famous Thuy Van Street with quite a number of popular and high-class hotels on this road.
Front Beach
The center of Vung Tau city is located in Front Beach where there are a lot of high-rise buildings and shopping centers. Tourists often choose beaches in Back Beach because Front Beach is more polluted due to the density of inhabitants and crowded tourists. However, Front Beach will be the ideal place for you to watch the sunset or take a walk.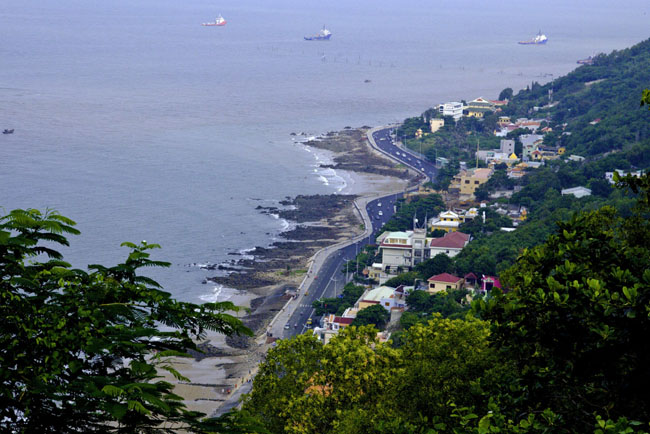 Besides the beaches in the city center, you can also visit Long Hai, Ho Coc – Ho Tram, Suoi O beach, Con Dao. In addition to beaches and delicious restaurants, Vung Tau has many other interesting attractions for you to explore such as:
Statue of Jesus Christ
, White Palace,
Ho May Cultural and Ecological Park,
Vung Tau Lighthouse, Museum of ancient weapons and many pagodas.
If you're interested in the wild and tranquil scenery, when traveling to Vung Tau, you can visit Ho Coc, Ho Tram or stop at the hot mineral spring - Binh Chau. Vung Tau also has the majestic Big Mountain, the mysterious Little Mountain, the Little Mountain also has a high lighthouse. There are many other interesting destinations in Vung Tau that will help your trip more interesting and particular.
Going on Vung Tau daily-departure tours by Viet Fun Travel, you will have the opportunity to learn and discover the tourist attractions we have just introduced above. If you have the opportunity, you to "watch" Vung Tau as a traveler to feel the beauty of this coastal city.  
Discover Vung Tau delicious dishes with Vung Tau tours
When taking the daily
Mui Ne Tour
,
Phu Quoc Tour
or any other Tour, visitors also want to enjoy delicacies, specialties or learn more about the culinary culture of those regions. With Vung Tau as well, visitors can try the famous delicacies in Vung Tau, which are popular such as banh can (banh khot), banh beo, stingray hotpot, fish salad, oyster porridge ...
Especially, coming to Vung Tau coastal city, visitors should explore the fresh "seafood world" through dishes such as grilled onion nails, blood cockles stir-fried with garlic, shrimps, steamed grouper. These seafood dishes are sold in many restaurants around the beaches. If tourists like a bit of popular feeling, they can buy seafood sold at the seaside and ask the people to process it on the spot and then enjoy it. In short, Vung Tau is the place for seafood lovers.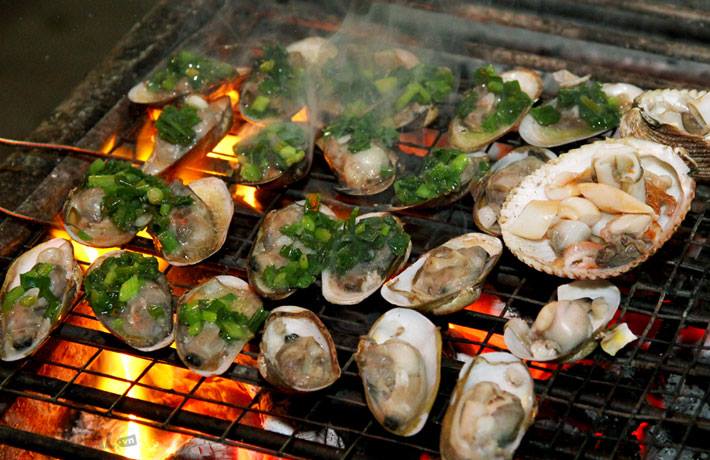 Joining interesting festivals with local peoples in Vung Tau
Every year, in Vung Tau, the local people hold traditional folk festivals, bearing imprints of culture and customs and beliefs of the coastal residents, attracting thousands of visitors to come and participate. Here are some famous festivals in Vung Tau:
Tran Temple Festival
: On August  20
th
of lunar calendar,
Tran Temple Festival
is held at Duc Thanh Tran Temple: No. 68 Ha Long, Ward 2, Vung Tau city.
Dinh Co Festival:
February 10 -12 of lunar calendar. Dinh Co is a monumental temple complex with traditional architecture, located near Long Hai beach of Ba Ria - Vung Tau province. Every time, the festival attracted tens of thousands of tourists to attend and enjoy the beautiful scenery here.
Nghinh Ong festival:
The festival is held in 3 days from August 16 to 18 of the lunar calendar. This is the biggest water festival of Vung Tau fishermen.
Dinh Than Thang Tam Festival: Every year the festival is held for 4 days, from February 17 till February 20 of lunar calendar. This is a festival to pray for peace, marking the ending and beginning of a fish-and -shrimp harvesting season.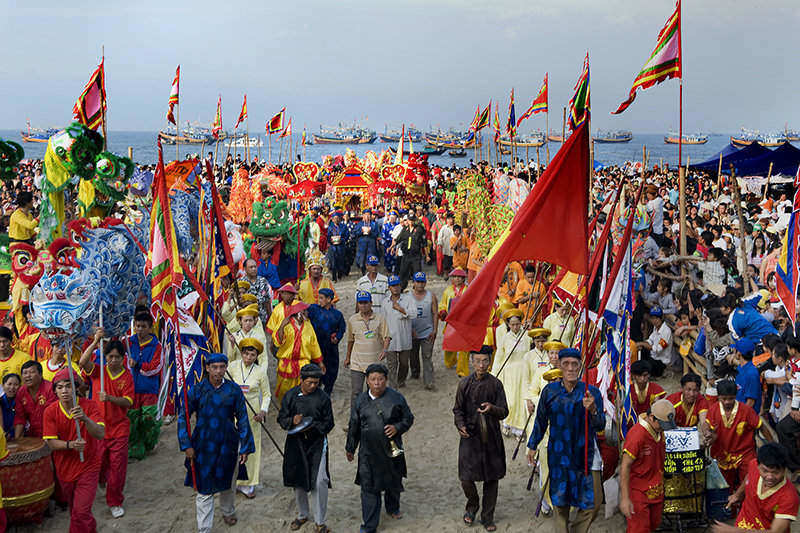 If you plan to visit Vung Tau in these time, don't miss these events cause it is very interesting and also a good chance to understand and explore customs, cultures and history of this popular tourist city.  
Enjoy your holidays in Vung Tau with daily tours by Viet Fun Travel
Vung Tau is about 100 km from Ho Chi Minh City. With the advantage of geographical location as well as the resources of the island, Vung Tau is a favorite destination for tourists. A lot of interesting things in Vung Tau are waiting for the footsteps of tourists to visit and experience. Right now, you can contact Viet Fun Travel to book the most unique and interesting Vung Tau tours every day. Here are the most popular Vung Tau tours of Viet Fun Travel:
Vung Tau Tour 1 Day
Tour Travel Long Tan - Nui Dat
Vietnam ANZAC Tour - Aussie & Kiwi
There are many Vung Tau tours that depart daily with rich and attractive itinerary waiting for visitors to explore. If you want to book Tour or need consult, please contact Viet Fun Travel at 1900 6749 or 028 7300 6759. If you want to book online, please visit website: www.vietfuntravel.com.vn by Viet Fun Travel. With only a few simple steps, you will choose for yourself the most pleasant Vung Tau Tour. Wish you a coming tour full of joys and experiences!