Mui Ne kitesurfing- Mui Ne is a great paradise for kitesurfing
Wed, 22/05/2019
1360 viewed
0 commented
Mui Ne is a paradise not only for kitesurfers but also for those who love long beaches with crystal-clear water, glowing sand, tropical fruits and fresh seafood. Kitesurfing has been introduced into Vietnam for more than 15 years and Mui Ne beach is the most convenient place to experience this kind of sport, thanks to its ideal wind conditions. Like surfing with additional vivid-colored kites, players will make use of the wind to surf on the waves or fly out of the water, doing aerobatics to create a strong feeling of being able to conquer nature. It is such a really amazing and fantastic sensation.

Why kitesurfing in Mui Ne?
Mui Ne - Phan Thiet boasts the windy beaches that are perfect for kitesurfing. Because the waves here are small, the long coastline lies along the soft, golden strips of sand, thus making kitesurfing experience in Mui Ne more complete. The warm gentle waves will welcome you right at the foot of the board and the big winds will lift you up along with the kites, giving you the feeling of freedom to fly. With these features, Mui Ne Beach is Asia's most popular kitesurfing destination. Some local centers offer short-term kitesurfing courses for beginners at an affordable cost.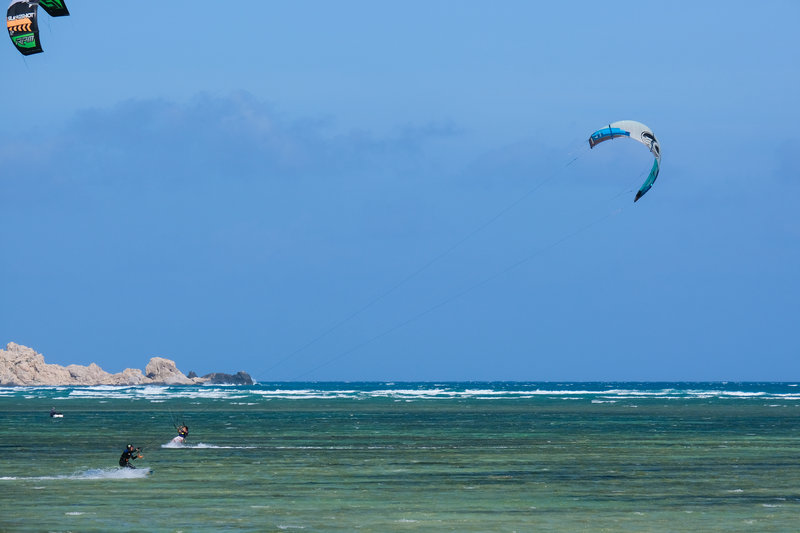 Mui Ne kitesurfing
Apart from Mui Ne kitesurf, Mui Ne has many attractive games such as rowing and water motorbikes. In Mui Ne, such popular activities as scuba diving and snorkeling are not available, but in those days when central Vietnam is suffered heavily from big storms and tropical rain, this city is still safe and dry. The climate in Mui Ne is unique because it is made up of sand hills and even in the rainy season (from June to September each year), the rain does not cause many inconveniences to local people and visitors. Phan Thiet is famous for its favorable weather all year round and the lowest average rainfall in the country. Accordingly, the average daily temperature usually fluctuates at an acceptable level of about 23-30
o
C.
For kite-surfers, Mui Ne comes into sight with a charming look and breath-taking scenery as you won't see any buildings or skyscrapers here. Local resorts are mainly one or two-story houses hidden in lush tropical gardens. Fishing villages still co-exist with tourist areas, so visitors can see the light of the fishing boats sparkling in the darkness of the ocean until dawn. In the daytime, colorful kites fill the sky and flow in the wind which creates a feeling of peace and tranquil and helps people to release stress amazingly.

Where to take kitesurfing lessons for beginners?
There are quite many kitesurfing training schools which are offered by almost resorts located in front beach of Mui Ne. Depending on each school, they charge different fees. The fee also relies on how many people register for training. It is apparently always cheaper for group but in general, the price is around
100$ to 300$
.
With more expensive courses, apart from kitesurfing, they also have training lessons about windsurfing and surfing. Thus, to get the best deal, we suggest that visitors should refer to several schools before registering.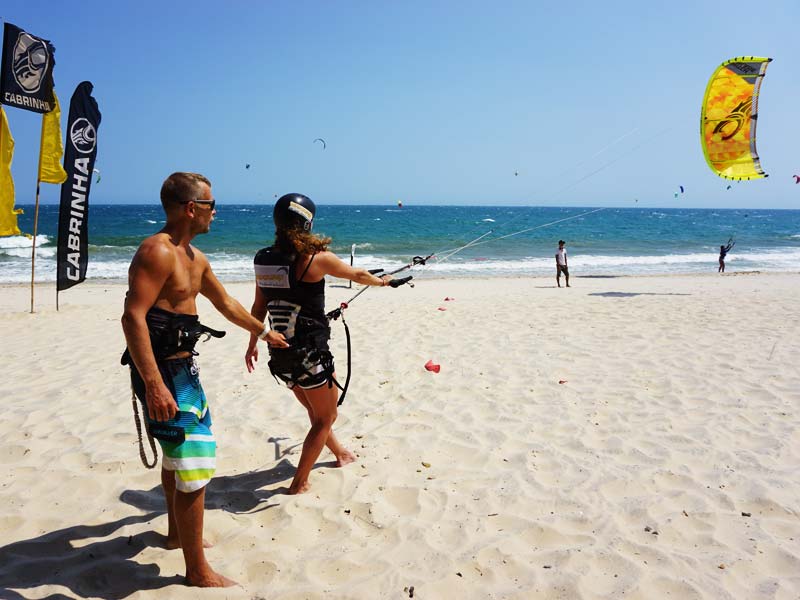 Mui Ne kitesurfing lession

What is the best time for Mui Ne kitesurf?
Recently, Mui Ne has become one of the paradises for water sports thanks to its warm year-round sea water, large beaches and beautiful sand hills. The sea water is warm but rarely quiet - the winds will cool you and bring big waves to the shore.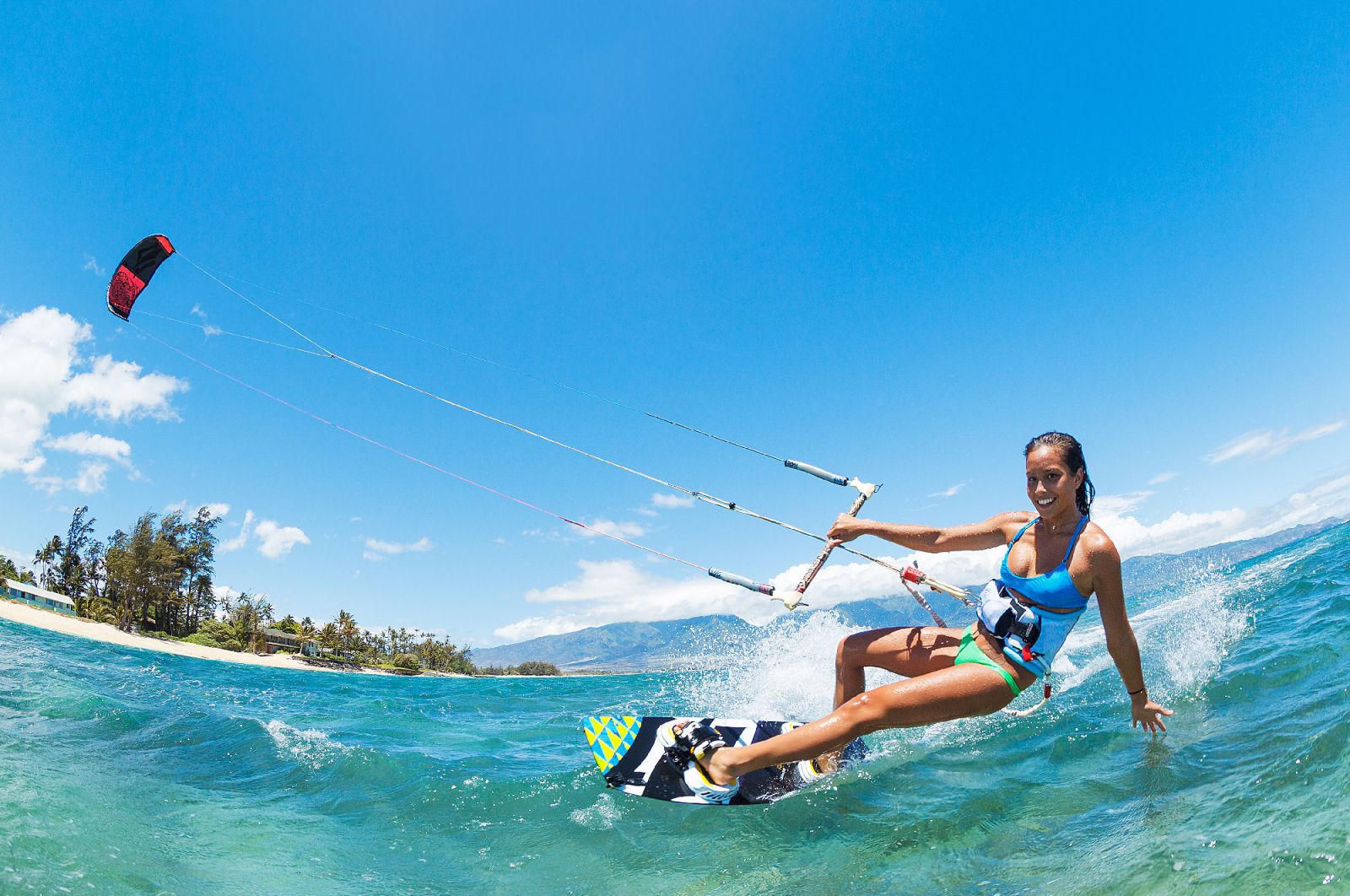 Awesome kitesurfing in August
Viet Fun Travel highly recommends visitors should come to Mui Ne around
August to December
. This is the ideal time for kitesurfing, but on rare occasions when the sea is calm, you can rent a large board and row slowly out to sea, or you can ride a motorbike on the water which absolutely brings you amazing and unforgettable experiences.
For experienced kite surfers, a strong and stable wind environment will be the best environment for them. For those who are inexperienced, but really want to try, Viet Fun Travel suggests that they should participate in kitesurfing training school with very affordable fee which is offered by dozens of kitesurfing schools in the area.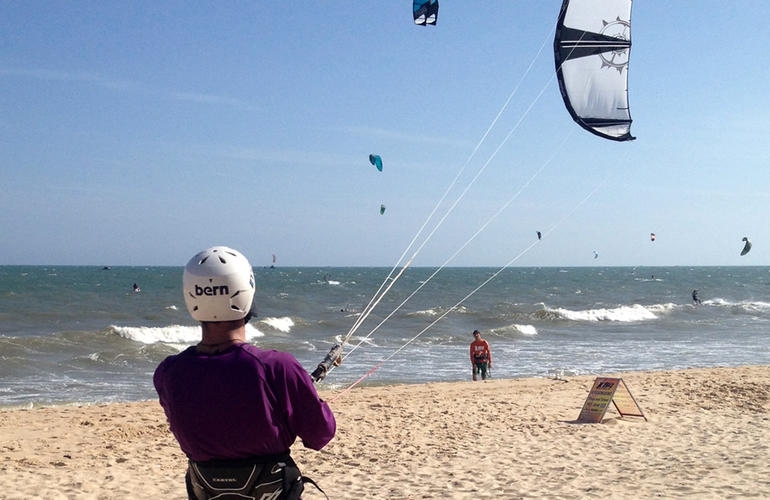 Although Mui Ne is considered the main destination for kite surfers, it still has everything you need for a beach vacation with many natural and historical attractions. Whether you want to wander on the beach, take an adventurous
trip on sand dunes
, rent luxurious villas or cheap guest houses, try some local specialties or Western dishes, get lost in late night dancing clubs or enjoy the peace with your family, Mui Ne has it all.
See more
Top things to do in Mui Ne
.
Moreover, Mui Ne is not too far away from Ho Chi Minh city (198km) so it is an ideal place for not only local people to take a retreat at the weekend or holidays but also for foreigners. You also can travel to Mui Ne at any time of the year due to the nice weather. If you have a chance to
visit Ho Chi Minh city
and you are a fan of beaches and kitesurfing, then Mui Ne is the place you should not miss.  Apart from beautiful beaches and paradise for kitesurfing, local people in Mui Ne are extremely friendly and helpful. If you are worried about being ripped off in this place, don't worry, the government control this issue strictly to comfort visitors as much as possible.  
Other news