Top 12 Things to Do in Ho Chi Minh City - Saigon Top Attractions
Wed, 05/10/2016
21514 viewed
0 commented
Ho Chi Minh City, or also called Saigon, is the largest city in Vietnam. Thanks to its lively vibe, a cosmopolitan population and a nice combination of shopping malls and markets, the city has started to have its secrets and beauty revealed to the world, becoming a good chance for a number of tourists to discover and experience. When it comes to Ho Chi Minh City, words like chaos, sleeplessness, energy, and activity seem to pop up your mind for a while, right? What to expect from a travel to Saigon? Enjoying street foods, sightseeing the whole scene from above, paying a visit to Notre Dame Cathedral, sipping a cup of morning coffee etc. should be added to your bucket list for sure. A noisy, busy but fascinating city does entice any visitor by its exotic charm as well as still-undiscovered sights. There is nothing greater than getting hands-on experience by
top 12 things to do in Ho Chi Minh City
that we are going to introduce below!
1. Cu Chi Tunnels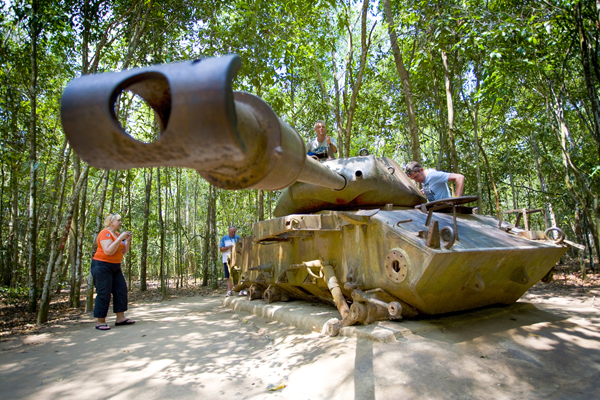 The best way to grasp the long and resounding history of Vietnam War is through
some tours to Cu Chi Tunnels
. 70km away from Northwest of Ho Chi Minh City, the tunnels are considered the underground community, with a total length of 250 km of tunnels and chambers. The complex of tunnels was dug by bare hands and simple tools in the 1940s, and then largely expanded in the 1960s during the combat. Despite all the bombings in their city, the Cu Chi locals and guerrillas were still able to continue their daily lives underneath the soil, where they ate, slept, healed sick, and even planned and launched surprising attacks during the 1968 Tet Offensive. At present, the complex consists of 2 primary display sites at Ben Dinh and Ben Duoc. While the Ben Duoc site includes part of the original tunnel system, the Ben Dinh site stands out as tunnel reconstructions. Cu Chi tunnels were preserved after the war and have been converted into an important war memorial complex.
Opening Hours: 7 AM to 5 PM every day 
Address: Phu Hiep Hamlet, Phu My Hung Commune, Cu Chi District, Ho Chi Minh City, Vietnam 
Read more...
2. Cao Dai Temple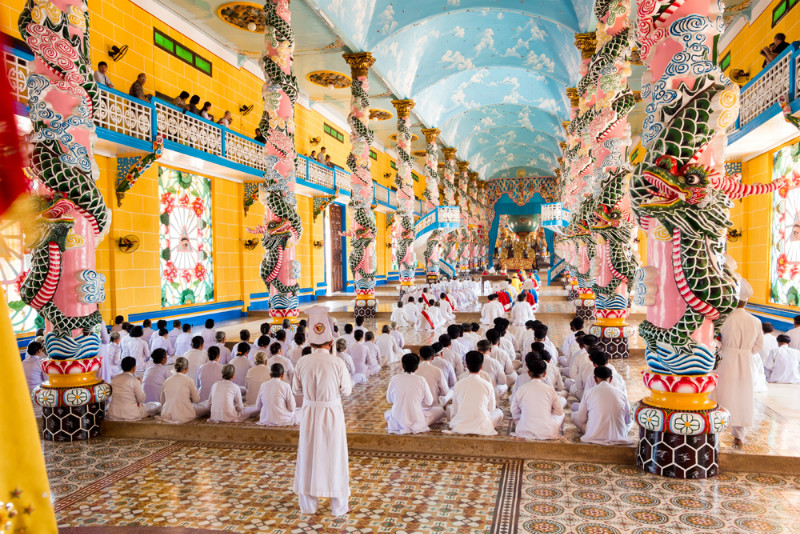 Saigon is an attracting city; and it is true. But, if you need a break physically, mentally and even spiritually from this city's chaotic pace during your stay, there are many trip options out of the city to choose from. 90km outside of Ho Chi Minh City, Tay Ninh is known as a typical Vietnamese provincial city. But, what makes its name outstanding and noted is indeed a spectacular temple, which is the headquarters of the Cao Daism – a religion founded in 1926 combining Christianity, Buddhism, Hinduism, Islam, Confucianism, Geniism, and Taoism. In general, most of the Cao Dai temples are prominent and easy to notice by their bright colors and carved ornamentation. Yet, Cao Dai Temple in Tay Ninh, or also called Holy See, is seemingly the most impressive one, built with a unique architectural style that truly reflects its blended traditions. This is our special
Cao Dai temple and Cu Chi tunnels tour 1 day
.
Opening Hours: Every day 
Address: Hoa Thanh District, Tay Ninh Province, Vietnam
Read more...
3. Independence Palace (Reunification Palace)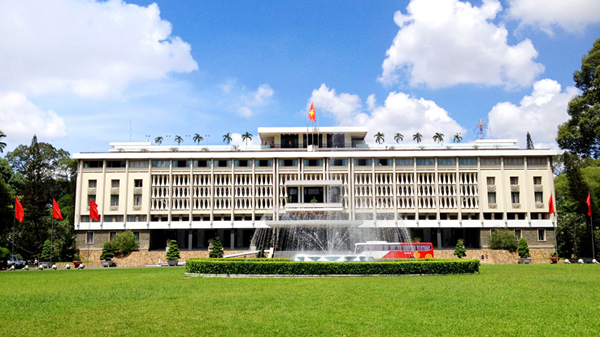 Independence Palace, or Reunification Palace, is thought as a special symbol of the victory, peace, and territorial integrity of Vietnam, which has stayed in the mind of
not only the locals but also the foreigners from generations to generations. Its historical significance helps the place become one of the most attractive sights for lots of the tourists who set foot to Ho Chi Minh City. Conceived as a replacement for Norodom Palace as well as designed by a talented architect, namely Ngo Viet Thu, the palace is vividly remembered as a marked end to the war. Though its design is noticeably a mixture of traditional ritual and modern architecture, what does mesmerize tourists is all of the historical events related to this building. Just spending a few minutes roaming around each room of the palace, visitors can be reminded of many important moments in the past. The pictures of historical wars seem to be lively presented in front of their eyes!
Check it now! 
Ho Chi Minh city tour 1 day include Independence Palace
.
Opening Hours: 8 AM to 11 AM and 1 PM to 4.30 PM every day
Address: 135 Nam Ky Khoi Nghia Street, District 1, Ho Chi Minh City, Vietnam
Read more...
4. Notre Dame Cathedral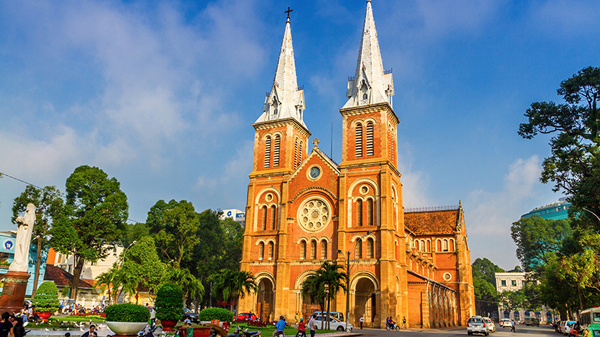 One of the top
things to do in Ho Chi Minh City
you should not ignore is to arrive in Notre Dame Cathedral – the most popular landmark and the core Cathedral of the city. Regardless of whatever religion you are now practicing, the Cathedral still becomes an alluring place to visit that you have no reason to say no. Mostly built and designed in French style, the twin towers of the red-brick Notre Dame Cathedral is where you can recharge lost energy and regain peace of mind. The bell's sound is powerful enough to leave you a strong impression while its exclusive bricks are the perfect idea for every stunning photo.
Opening Hours: 5.30 AM to 5 PM daily
Address: 1 Cong Xa Paris, Ben Nghe, District 1, Ho Chi Minh City, Vietnam
Read more...
5. Jade Emperor Pagoda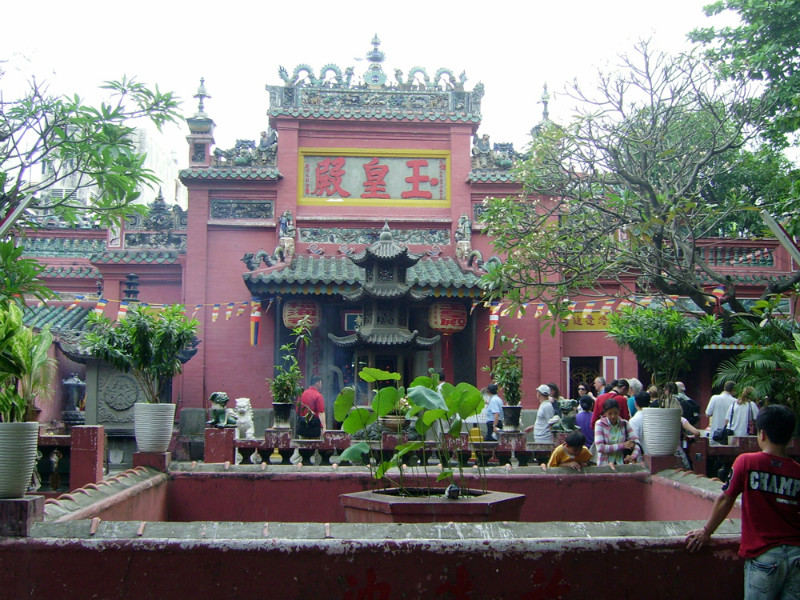 In his recent visit to Vietnam, the U.S President Obama was scheduled to drop by
Jade Emperor Pagoda
(chùa Ngọc Hoàng) at the heart of Ho Chi Minh City, for the purpose of paying tribute to and admiring the cultural traditions of the country. Originally built at the beginning of the 20th century for the Chinese community, the pagoda still functions as a place of worship for both Taoists and Buddhists. The Jade Emperor, the King of Heaven, or the supreme Taoist God is the one who makes a decision on who'll enter heaven and who'll be sent to hell. Inside the pagoda, it is easy to see a carving of the ruler himself, surrounded by worshipping figures. Among all the places of worship in Saigon, the pagoda is indeed worthy of your attention for sure.
Opening Hours: 8 AM to 5 PM daily
Address: 73 Mai Thi Luu Street, District 1, Ho Chi Minh City, Vietnam
Read more
6. Central Post Office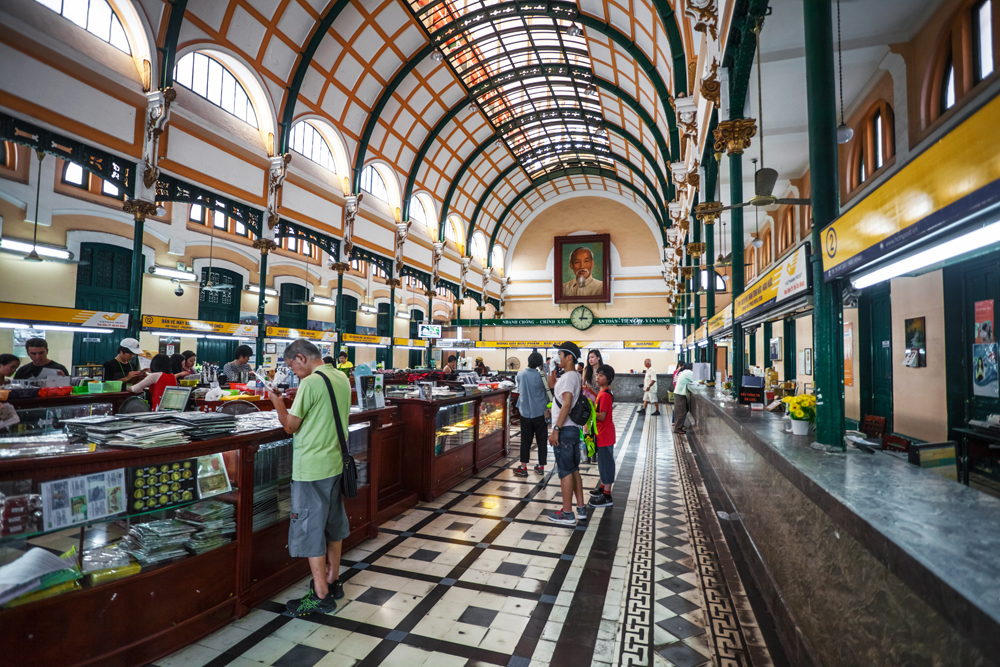 The Central Post Office has become a terrific feature of Ho Chi Minh City. Built between 1886 and 1891, the post office may be known as the biggest and busiest one around the country in general and Saigon in particular. What leave tourists from one admiration to another are the building's typical colonial French features through exterior and interior decorations. Entering the building, the first impression may be that you are standing in front of the European railway station. Currently, the post office contains many booths serving for guests with a system of modern and up-to-date telecommunication equipments. Although there are also other quality services, people often come to here to learn more about history and culture, rather than sending letters.
Opening Hours: 7 AM to 7 PM from Monday to Sunday
Address: 2 Cong Xa Paris, Ben Nghe, District 1, Ho Chi Minh City, Vietnam
Read more
7. Bitexco Financial Tower
Ranking among countless highlights of Ho Chi Minh City, it seems a pity for those, who love enjoying breathtaking views from above, to ignore Bitexco Financial Tower. With the height of 262 meters, the 68-storey tower is an ideal zone to see the whole scenery of the city from its Sky Deck. Inspired by the shape of the lotus – the traditional flower of Vietnam, Bitexco tower is truly a typical example for prominent design and innovation. Setting foot to here, guests are freely able to go shopping, enjoy drinking, spread eyes over the whole scene, etc. 
Opening Hours: 9.30 AM to 9.30 PM every day
Address: 2 Hai Trieu Street, District 1, Ho Chi Minh City, Vietnam
Read more...
8. Pham Ngu Lao Neighborhood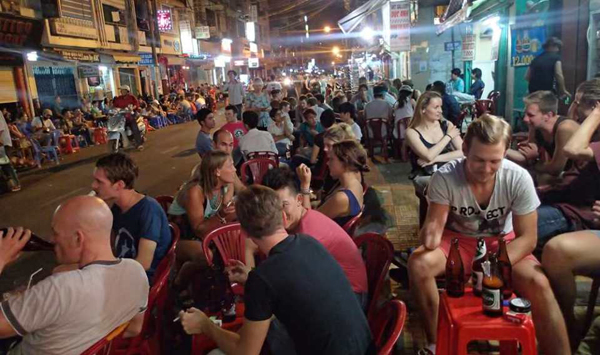 Pham Ngu Lao is sometimes known as the "backpacker area" or the "budget-travel district." Located around the street of the same name in District 1, it seems to be a convenient place to find cheap food, affordable accommodation, fun activities, lively nightlife, as well as to book tickets anywhere else. Unless you're just staying at one of the pricier hotels on your visit, you'll most likely stay in this neighborhood. Its sole purpose is often to cater to the Western expats/backpackers. Slightly similar to the famous Khao San Road in Bangkok, lots of the budget travelers mostly spend their time in this area. But, Pham Ngu Lao neighborhood isn't limited to low-budget tourists only. Its unique vibe also attracts people from everywhere, thanks to its very close proximity to other major landmarks around Saigon.
Opening Hours: Every day
Address: Pham Ngu Lao Street, District 1, Ho Chi Minh City, Vietnam
Read more...
9. Ben Thanh Market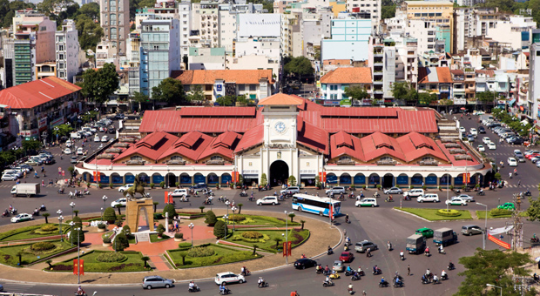 As a bustling market in both the daytime and nighttime, Ben Thanh Market is absolutely a great attraction of Saigon. Believe it or not, even though you have considered that shopping has become only the females' favorite, this market does change your mind as it will bring you an exhilarating experience. You can easily find male foreigners walking around and buying something for their beloved.
Ben Thanh Market
contains lots of the stalls selling a huge variety of different items, such as T-shirts, watches, sunglasses, jewelry and even souvenirs. The highlights of the market include the fresh fruit, vegetables and some kind of the cheapest street food in Saigon. Whether wandering around the market as group or alone, visitors still experience memorable moments. 
Opening Hours: 24 hours from Monday to Saturday
Address: Phan Boi Chau Street, District 1, Ho Chi Minh City, Vietnam
Read more...
10. War Remnants Museum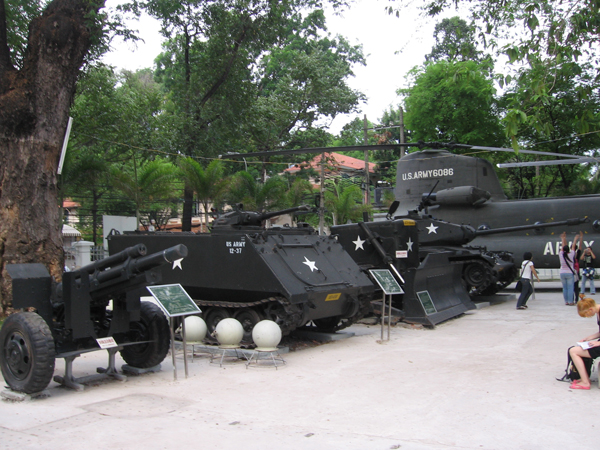 Established in September 4, 1975, the War Remnants Museum is one of the popular attractions in Ho Chi Minh City. The place mainly displays a collection of items about the American phase of the Vietnam War. It has since then undergone many changes and renovations. The museum has become a significant stopover for visitors who wish to see remnants of the war in person as well as understand Vietnamese from a different perspective. Exhibits here range from aircraft and tanks to paper, uniforms, and personal items. Further, an extensive collection of historical photographs is also on display. Thanks to its historical significances and tremendous contributions, War Remnants Museum does contribute to boosting the heroic history of the Vietnamese to international friends.
Opening Hours: 7.30 AM to 12 AM and 1.30 PM to 5 PM every day
Address: 28 Vo Van Tan Street, District 3, Ho Chi Minh City, Vietnam
Read more
11. Museum of Ho Chi Minh City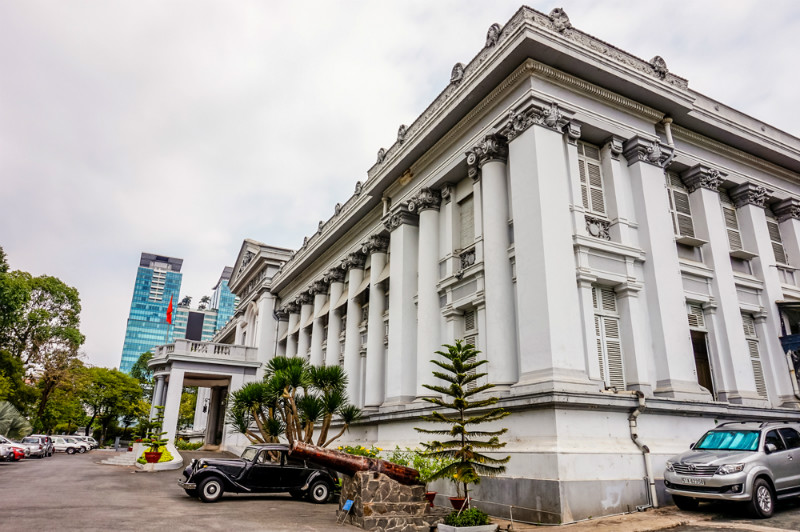 Museum of Ho Chi Minh City, or Revolutionary Museum, is seen as a historic destination that you should not overlook through your trip to Saigon. It was designed by a French architect and built between 1885 and 1890. This 100-year-old building of the Revolutionary Museum was formerly the residence of the Governor of Cochinchina, and then became the office of the Imperial Delegate of the King's special envoy. Arriving in the museum, tourists will surely have a chance to broaden their knowledge about the historical, heroic and heart-rending wars against the France and America in general and about Saigoneses in particular.
See more
top 9 museums in Ho Chi Minh City
.
Opening Hours: 8 AM to 5 PM from Monday to Sunday
Address: 65 Ly Tu Trong, District 1, Ho Chi Minh City, Vietnam
12. Saigon Zoo and Botanical Gardens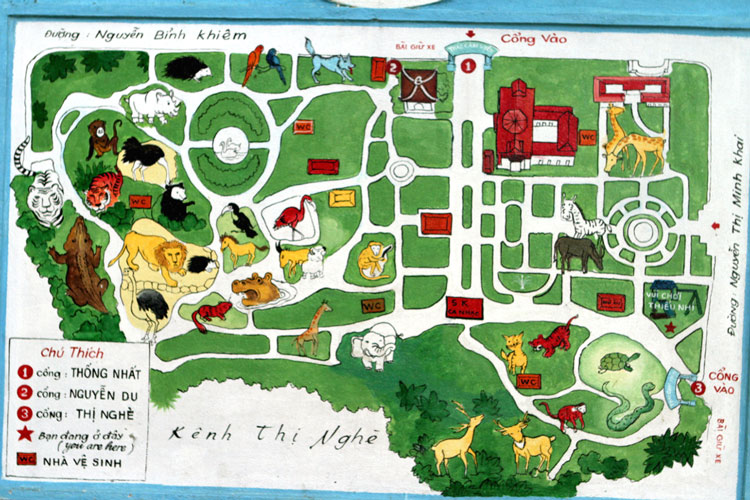 For those who desire to see exotic animals or simply enjoy a promenade through colorful gardens, then Saigon Zoo and Botanical Gardens become the "number 1" choice. Established in 1865, the place is considered the country's largest zoo and botanical garden, which is home to many different species of mammals, reptiles and birds, as well as dozens of rare orchids and ornamental plants. Along with feasting your eyes on special animals and plants, visitors are also allowed to relax with a peaceful picnic on the grass under the shady trees. But, don't forget to clean your picnic area by throwing wasting items into dustbin before leaving. It is also a good way to protect the environment!
Opening Hours: 7 AM to 6.30 PM from Monday to Sunday
Address: 2B Nguyen Binh Khiem Street, Ward Ben Nghe, District 1, Ho Chi Minh City, Vietnam
Read more
Other news