Sacred And Religious Sites In Hoi An
Wed, 29/05/2019
1712 viewed
0 commented
Hoi An is always one of the favorite destinations in Vietnam that has attracted a number of tourists in the world. For them, there is nothing greater than taking a boat trip on the river, watching the sunset, and strewing lanterns. The town is packed with spectacular historical buildings, pagodas, temples and street-side cafes. You can do anything here, from having a custom-made dress to drinking inexpensive beer. Moreover, it is also an ideal spot for a spiritual journey.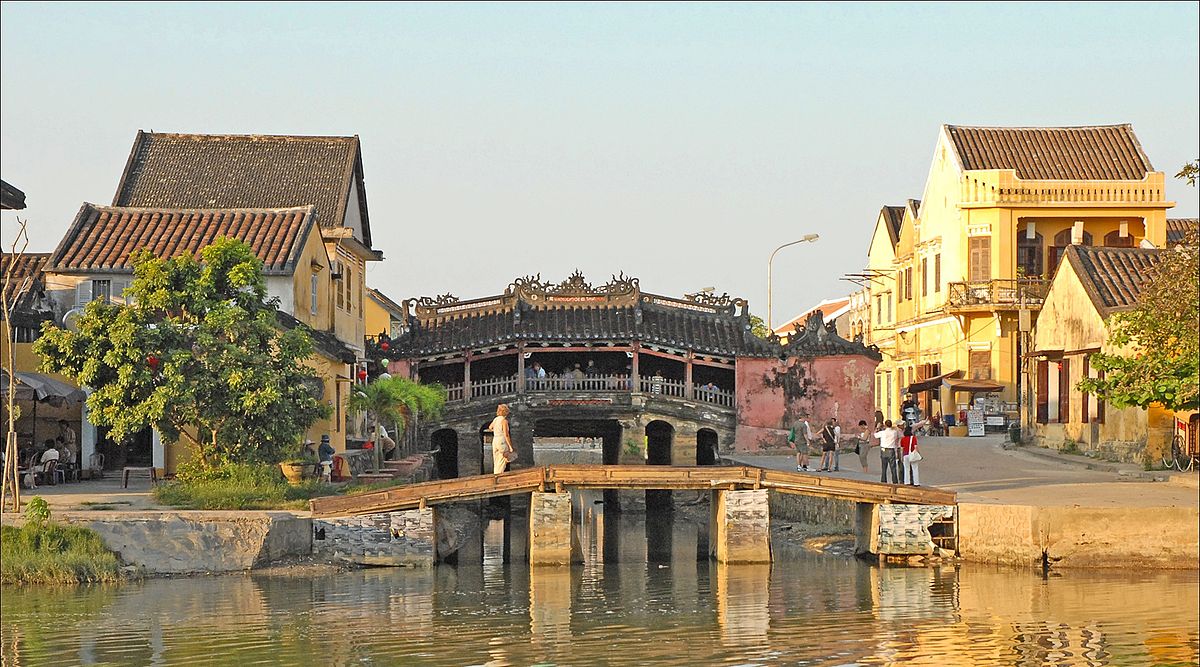 Japan bridge in Hoi An - image by Wikipedia
Regardless of whether you're curious about the incredible architectural creations, or just want to soak in the reverential vibe, then
sacred and religious sites in Hoi An
are always worth checking out. Today, let's spend time finding out why these holy places are often added to the tourists' itinerary.
Like Hoi An Ancient town?
Check best Hoi An tours now!

Quan Cong Temple
The Quan Cong Temple was named after a genius Chinese general who swept to victories during the Han Dynasty. He was also famous as a model of loyalty, prestige, and sincerity. The outstanding highlights of the temple here are a harmonious mix of colors (red, gold and green) as well as its exquisite artworks. Built in 1653, the temple has also undergone many reconstructions.  
In general, it contains 4 buildings, 2 blocks of houses in the East and West direction, 1 vestibule, and 1 large main hall. The architecture is exotically decorated with dragon and carp motifs. According to Chinese mythology, the carp is considered a symbol of patience. Stepping inside the hall, you find it easy to see a striking statue of
Quan Cong
on the central altar. On his left is a
Chau Thuong
statue – one of his best guardians, while a
Quan Binh
statue is on his right.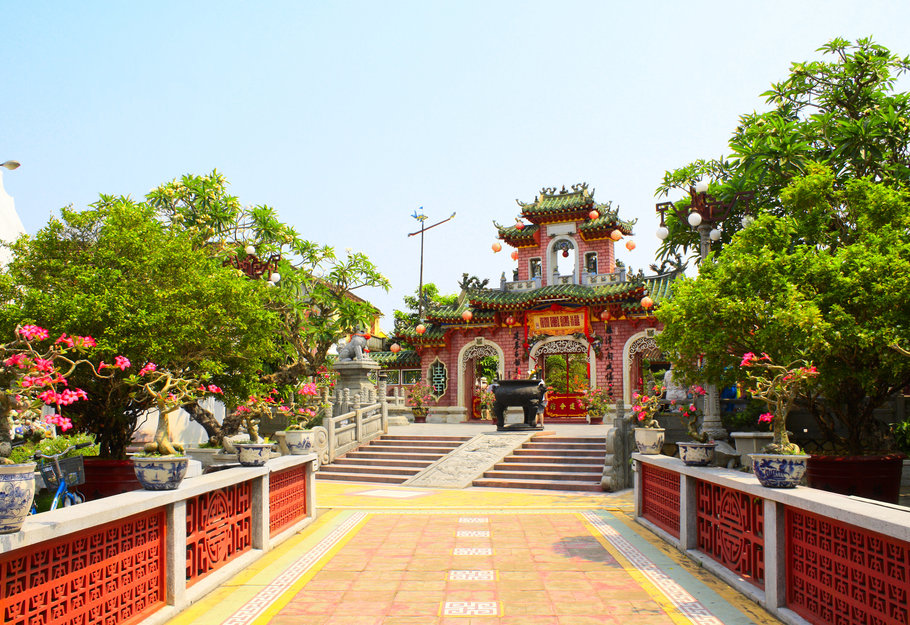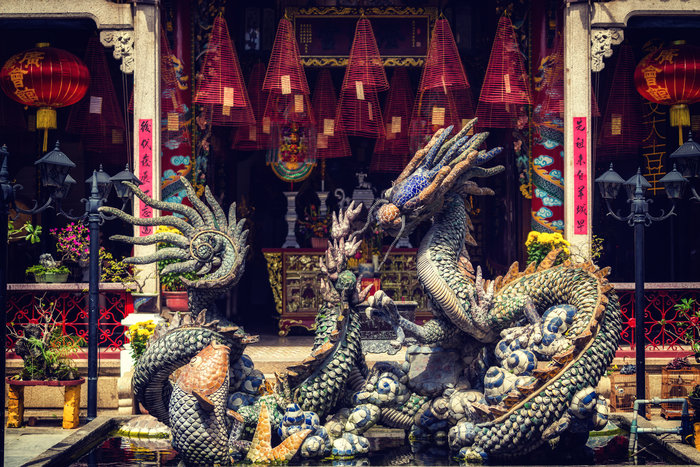 Thanks to the Ong Pagoda Festival, the temple usually becomes a center of pilgrimage twice per year. Make sure to check the calendar carefully if your visit coincides.  
Address: No. 24 Nguyen Hue Street, Hoi An City
Opening Hour: Every day
Entry ticket: Free
Hoi An Cathedral
Another holy site you should not miss when landing on somewhere near the city is Hoi An Cathedral. The imposing feature of this Catholic cathedral is that it was considered one of the first churches in Vietnam. Built in 1903, its main structure was reconstructed in 1964.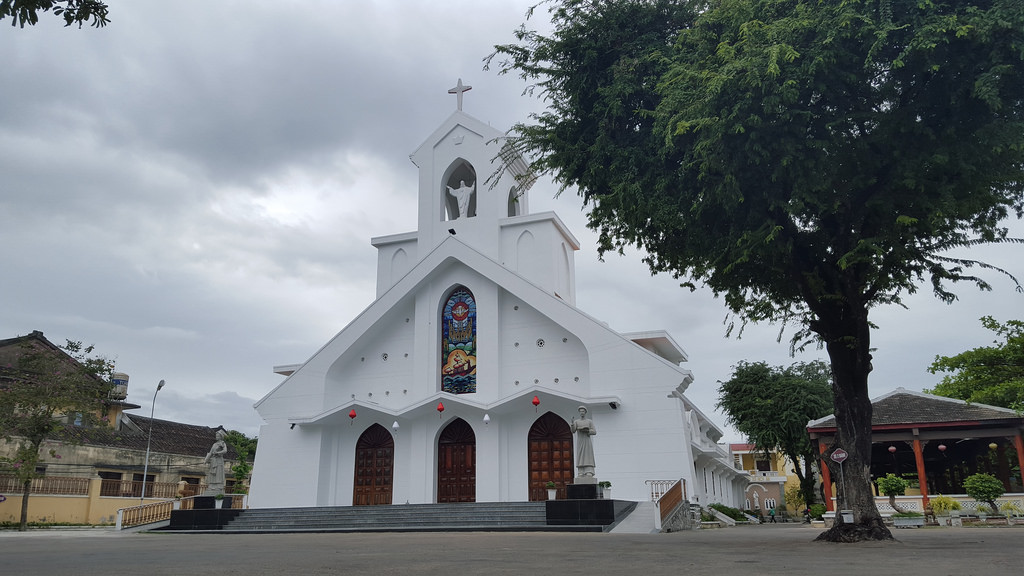 From a distance, it is easy to realize that this cathedral is very gorgeous and modern
Inside Hoi An cathedral - Image from nhathoconggiao.com
In general, English Mass is usually held at 4 PM every Sunday. So, make sure that you go early to have a seat to the outer pews when a series of fans are swinging. The reason is that the temperature in Hoi An is humid. After stepping inside, the Priest and a parishioner will bring you Mass books in English (if you are a foreign visitor). Don't forget to dress up appropriately before attending the Mass.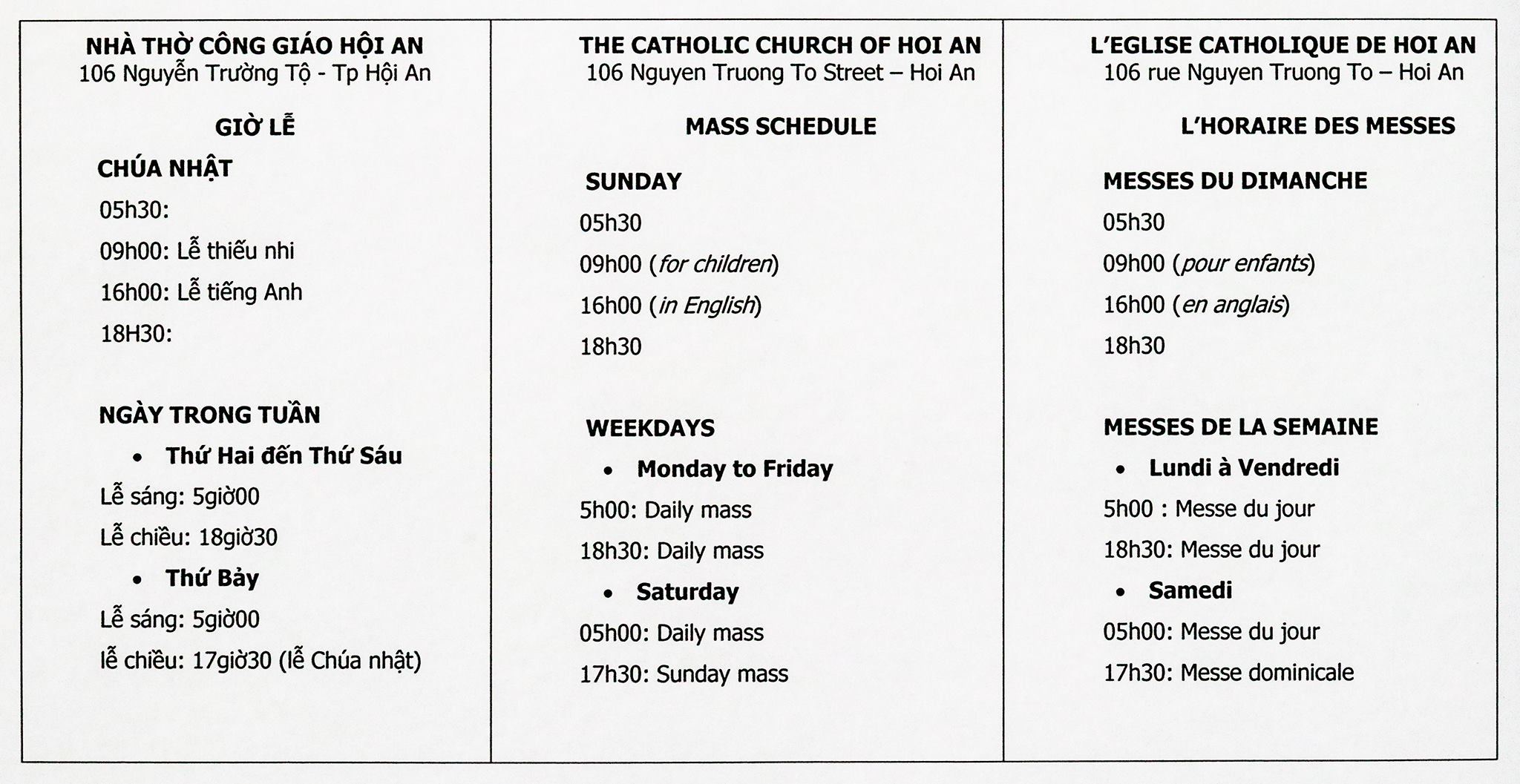 Image from hoianit.com
Address: No. 246 Ly Thuong Kiet Street, Hoi An City
Opening Hours: From Monday to Saturday: 5 AM to 5 PM; In Sunday: From 5.30 AM to 4 PM
Entry ticket: Free
Chuc Thanh Pagoda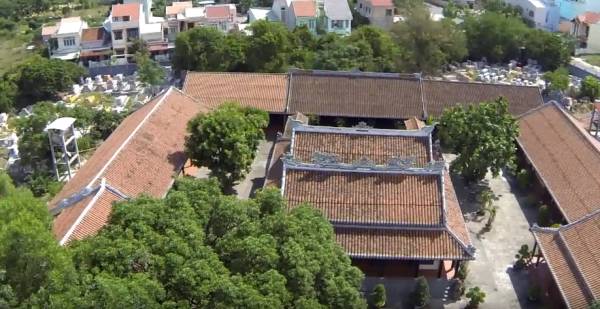 Chuc Thanh gets its name notable as the oldest and most respected Buddhist
pagoda in Hoi An
. It is a great combination of Chinese and Vietnamese architectural designs. Legend has it that the pagoda was set up by colonials from the North in 1454. However, the current structure was repaired and upgraded by Monk Minh Hai during the 17
th
and 18
th
centuries.  
Within the grounds, you will be amazed by lots of ritual objects, mural paintings, intricate animal carvings, lacquered pillars, etc. Plenty of old vestiges that date back to 2 centuries ago still exist at present, such as musical stones, brass bells, and wooden drum. On the whole, people visit here not only to pray and worship, but also to find peace in their souls and mind.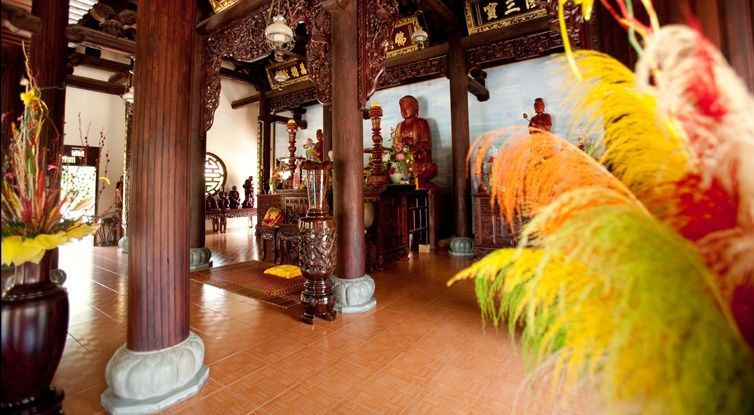 Address: Tan An, Hoi An
Opening Hours: Daily, from 6 AM to 6 PM
Entry ticket: Free
May be you like to check
Top 5 Famous Temples in Vietnam
Other news