Halong Bay Travel Guide - Top Things To Do
Thu, 20/04/2017
8818 viewed
1 commented
It is sure that a trip to the north of Vietnam is never complete without a visit to Halong Bay. Its inspirational beauty and stunning karsts make the bay one of the most popular destinations for both domestic and international travelers for decades.
Along with being added to the list of UNESCO's world heritage site, it is home to over 1600 islets, where their limestone have been worn down by the tropical downpours as well as topped by the lush jungle growth. While a few islands are so hollow that breathtaking caves have been created, other larger ones have their own lakes.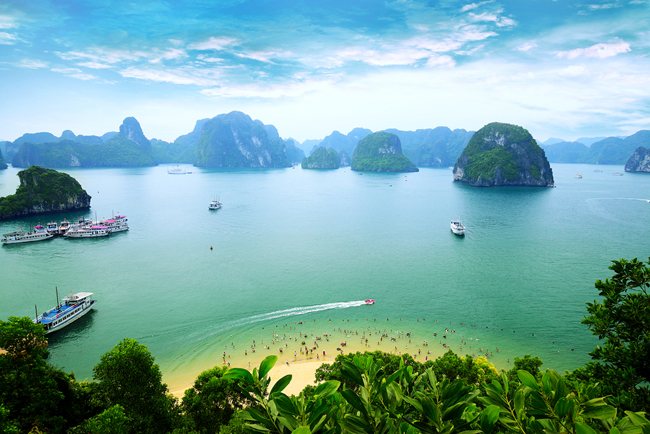 The bay also gets its name famous, thanks to a lot of legendary myths about the formation of Halong bay. The common one is about dragons that were sent here by gods to protect this S-shaped country from invaders. When trying best to defend Vietnam, the dragons began to spit jades and jewels to the sea, which then turned into the islands and islets. At that time, a solid protecting wall against these invaders was created. As a result, the name of Ha Long is also understood as "the Descending Dragon." Today, let's find out more about
Halong Travel Guide
here now!  
How to go to Halong Bay
Thanks to its popularity and modern access, getting to
Halong Bay
is much easier, which you can start from anywhere in Vietnam and other neighboring countries. Refer to details below:
By plane: From Ho Chi Minh City, Danang, and Nha Trang, you can book a flight to Hanoi or Hai Phong Airport, and then catch a taxi or car to the bay.
By car: This is considered the most popular way to reach Halong Bay by following Highway 18 that tends to pass by Bai Chay Road, Tuan Chau Island, and Hon Gai Bridge.
Other means: If you wish to enjoy a luxurious vacation, then traveling to Halong by helicopter is a nice idea. It takes around 2 hours and only accessible from Hanoi.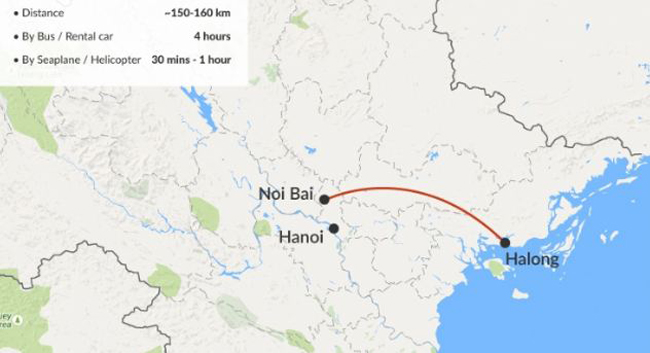 Hanoi to Halong Bay
Best Time to Visit
Best time to say hello to Halong is said to depend on your travel purpose and your own definition of an ideal trip. If the weather is your main concern, then from September to November and from March to May are indeed perfect for this trip. In case you are a budget traveler, then make sure to schedule your journey in the period of May and September. At that time, you are luckily able to hunt for a few great discounts on a cruise trip. But, keep yourself cautious as the risk of bad weather can even go up during the months of July and August
 (
see our tours to Halong Bay here
)
.   
Climate chart by backpackingasia.com
Top 15 things to do in Halong Bay

1. Spend a romantic night on a traditional junk
Halong bay wins tourists' heart by a number of junk boat cruises to select from. These are said to offer both day and overnight trips, with comparative prices. From the junk, it is quite possible to navigate some magnetic islands as well as reach concealed caves and less-visited bays by kayak. On board, you are able to enjoy freshly cooked spice squid (mực rang muối), chicken curry (cà ri gà) and drink cool cocktails on the polished top deck when the sun goes down. Boats have different sizes, such as 10-, 20-, or 24-cabin vessels. In case you would like to gain an intimate experience, then booking a private boat is a fine choice.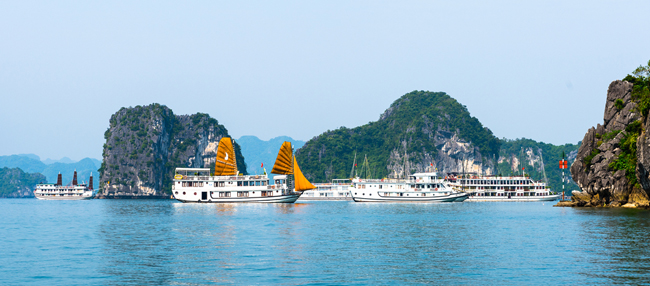 2. Go kayaking around the bay's islands
The serene water and exquisite islands of the bay make it totally perfect for going kayaking. This activity is done by many travelers once they spend a cruise here. For them, it is a wonderful opportunity to discover the Halong's beauty and essence by themselves. If you are not expert at kayaking, there is no need to worry. The reason is that the junk's crew is willing to provide you with detailed instructions.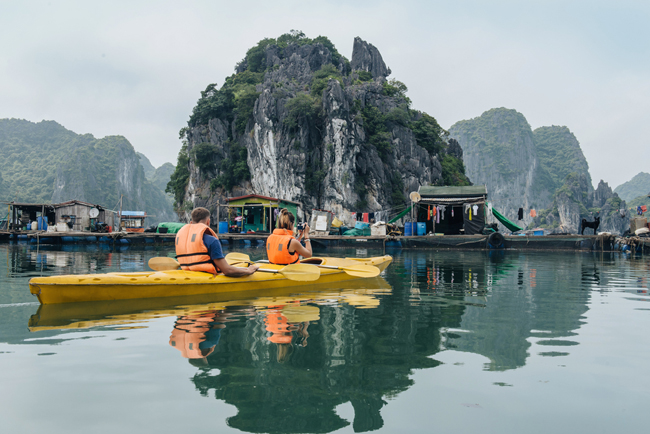 Kayaking among hundreds of islands here is really enthralling. Watching the limestone forms from a junk boat does not give a deep experience. So, let's sit in a kayak and gaze up at their high peaks.  
3. Visit a floating village
Halong Bay is well-known for not only limestone cliffs, spectacular caves, and stunning beaches, but also common floating villages. Some of the must-visit fishing villages are Ba Hang, Cua Van, Cong Dam, and Vung Vieng.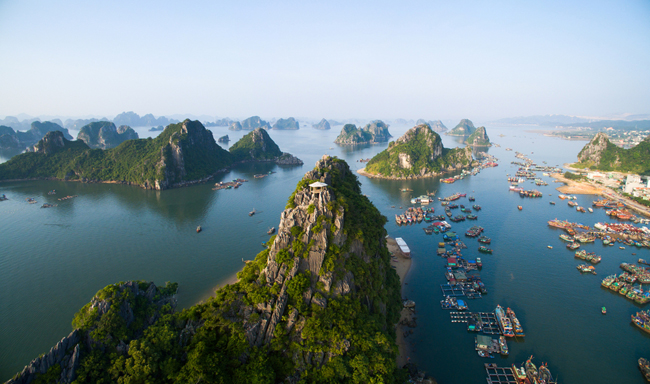 Cua Van fishing village
After dropping by one of these villages, you may indeed mingle with an authentic natural setting where blue sky and ocean, fresh and cool air, as well as picturesque seascape are beautifully vivid in front of your eyes. Besides, it is also a good occasion to broaden your knowledge and take hands-on photos about local culture and daily life. People here are very sociable, friendly, and enthusiastic. Just asking, and they are always ready to guide you how to spread a net, row a sampan, or even bait a hook. It is very great, right?  
4. Participate in a BBQ on beach
If traditional Vietnamese delicacies on a cruise trip are not tasty enough to tickle your taste bud, then a BBQ party in a unique way will surely make you inspired. Such BBQ party is often organized in reputable beaches on bay, like Soi Sim Beach, Ba Trai Dao Beach, and so on. Try imagining how romantic it is when you take a seat on a beach, spread your eyes over ocean's waves, listen to the soothing melody of birds, sample array of mouthwatering and grilled seafood, as well as share joy with other members. Without a doubt, you should not skip this chance of a lifetime!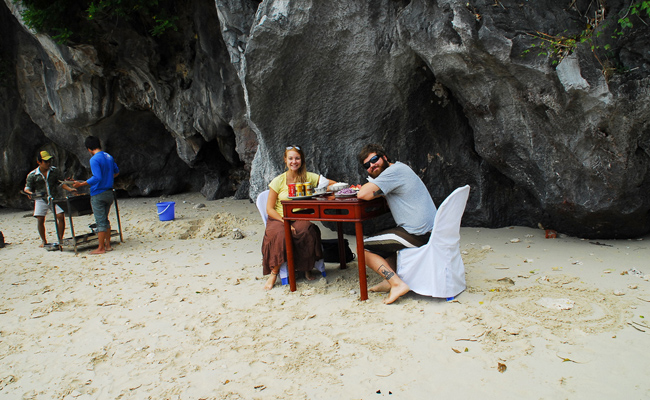 5. Do Tai Chi exercises
Indulging yourself to a Tai Chi morning class session is a perfect way to build up the sense of calm, keep fit, improve your health of mind, and start a new happy day in the Bay. In fact, Tai Chi is a gently physical exercise that flawlessly combines deep breathing and relaxation with easy and slow movements. Without complicate and fancy equipment, this kind of exercise is gently suitable for tourists of all ages.  
Make sure to wake up early and attend one of the Tai Chi classes between 6.30 AM and 7 AM on sundeck. At that time, a Tai-chi master will instruct you how to harmoniously control your breath, mind, and body while enjoying the fresh air. How fun it is!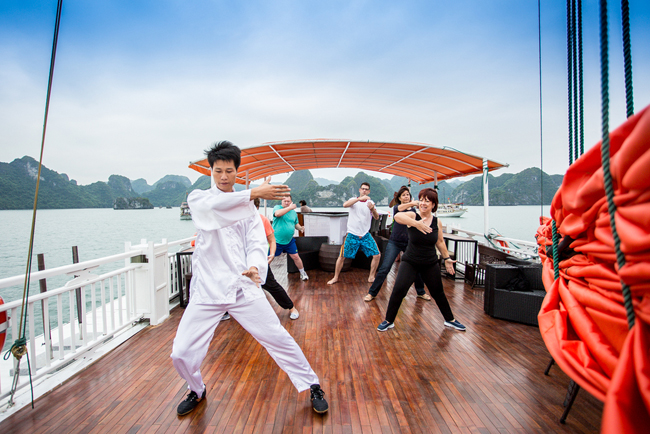 6. Go squid fishing at night
Squid fishing is indeed an engaging activity to spend your free time on the cruise after having a dinner. But, this activity is just done, depending on the weather. Typically, months from August to December is considered the best time for squid fishing since this is when you can luckily catch the big squid.  
Once the darkness totally covers the bay, you will be welcomed to the side of boats to engage in this activity. Fishing rods and racquets are essential tools that you can get after that. Then, a local fisherman will guide you how to fish a squid in the sea. Lucky or seasoned guests may catch more than 15 squids per night. And these squids will be used to cook dishes for them.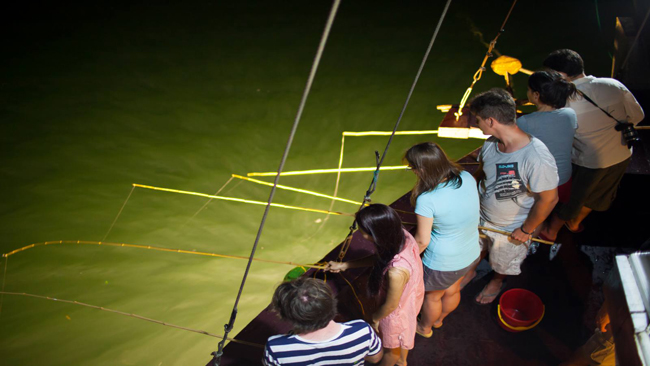 7. Attend a cooking class
Many cooking classes are held to help guests not only to try fine cuisine but also expand their knowledge about Vietnamese culinary culture. In general, a chef on the cruise will expertly show and guide you how to make traditional dishes or how to impeccably carve different kinds of fruits and vegetables. Some of you can be also invited to take part in an interesting competition to find who makes the dish fast. After the competition, don't mind sharing your achievement with other companions.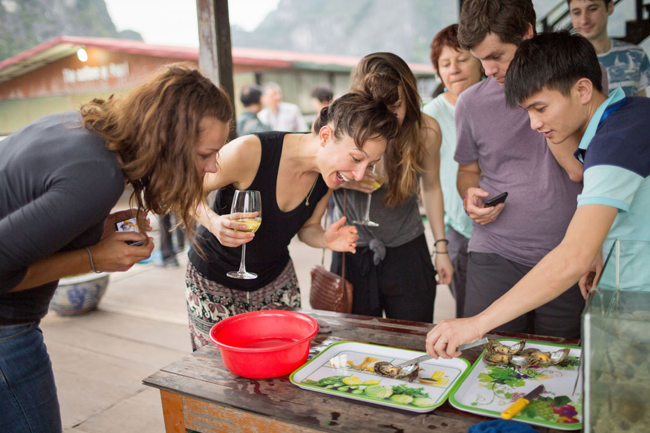 8. See the whole Halong Bay from helicopter/seaplane
As one of the
top things to do when you're in Halong Bay
, a view from helicopter/seaplane is truly a wonderful way to marvel at the beauty and grandeur of the bay. There are two convenient options for tourists to consider: By helicopter and by seaplane. 
In fact, traveling to the bay by helicopter is quite expensive. In general, it can cost about over $7.000 by MI-17 (about 24 people) and $13.000 by EC- 155 (about 12 people). But, the cost is often fixed, no matter how many people take part in. For that reason, it is a good idea to travel in a large team. The more guests, the lower the charges.
On the other hand, the second option is more favored by tourists since it can help them fully marvel at the bay from the above at affordable costs. Generally, it takes about 25 minute to witness all the highlights here, from the striking landscape of limestone pillars to appealing islands. What additionally makes people love a seaplane tour at the first sight is its seasonable prices. They just pay about $99 for each flight that is very cheap, in comparison with a helicopter tour.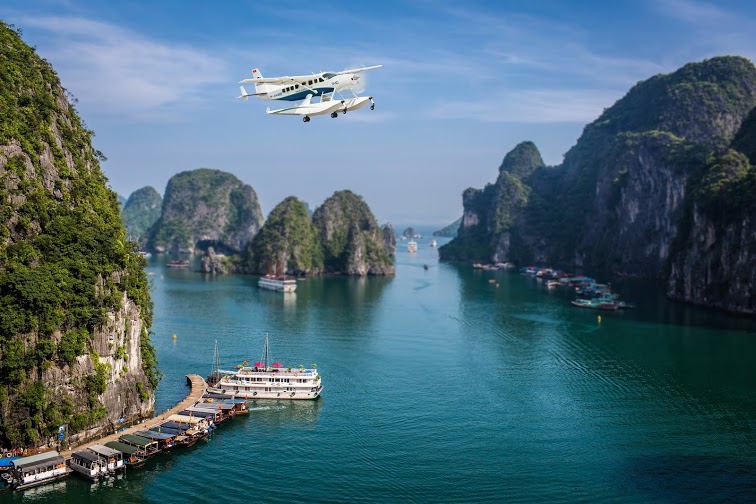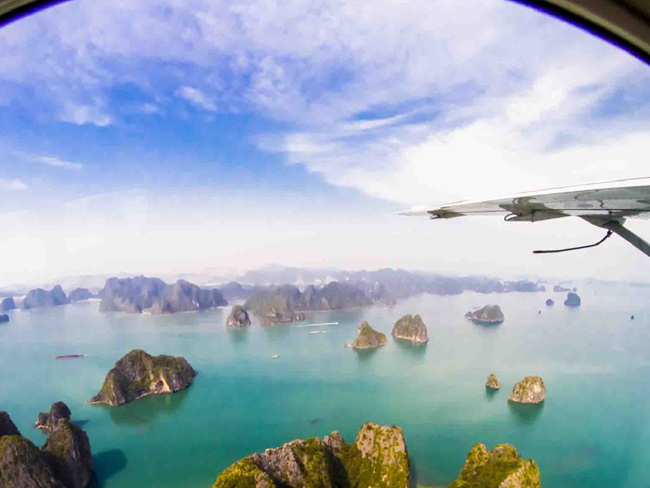 A tour from seaplanes.vn
9. Have a dinner in a cave 
Planning a trip to Halong Bay with your partner? Want to have the romantic set up to amaze his/her? Then dining in a stunning cave is an excellent choice. Several luxury cruises with 3 days and 2 nights offer this activity, such as Dragon Pearl Junk. The extra price is costly since it usually includes set-up fee, personnel, food, and hiring the cave. After stepping inside, you and your lover will be impressed by a thousand candles and rose petals. Sweet scenery, sparkling candles, and exotic dishes will certainly create a romantic space. Plenty tourists successfully proposed to their special ones within this sweet theme.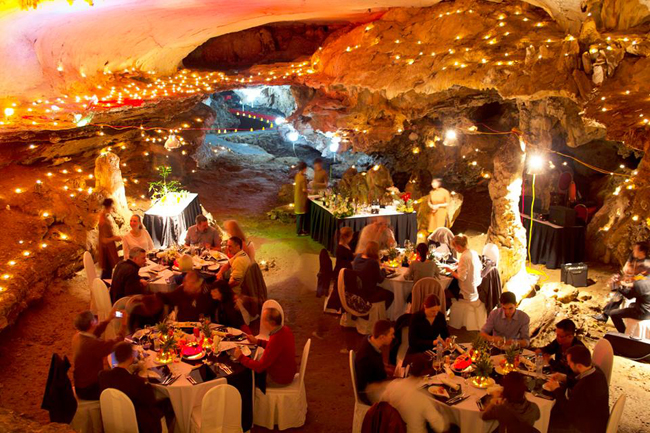 A dinner in Sung Sot cave
10. Go swimming 
The bay is favorably blessed with powdered beaches as well as clear and calm water. Hence, it is a stunning place for swimming. Visitors have an unlimited number of charming and beautiful beaches to chill out, such as Ba Trai Dao, Soi Sim, Ngoc Vung, Ti Top, etc. Most of these prominently feature idyllic sands and pure water so that you're totally able to indulge in the sandbank while contemplating the eye-catching scenery. Avoid going swimming in later autumn and winter as the water is cold.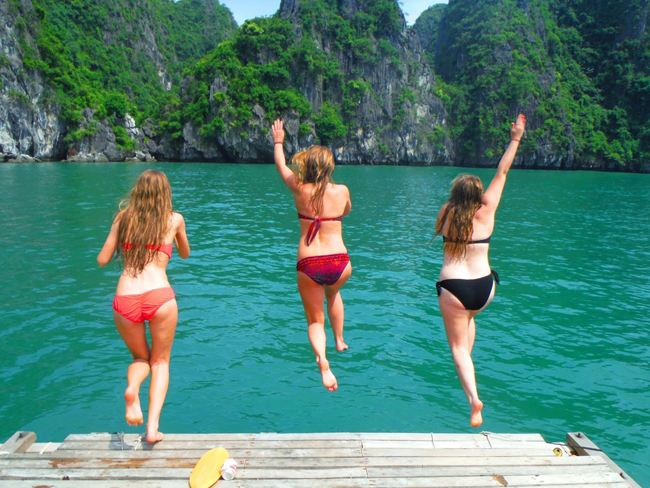 11. Riding a bicycle around 
Biking is one of the exciting outboard activities that gets much attention from tourists. In general, this activity is often included in an itinerary of 3 days 2 nights. Viet Hai Village – the "isolated oasis", belonging to Cat Ba National Park and located about 18 kilometers from Cat Ba Island, is usually the most popular area to organize cycling tours. Perfectly surrounded by high mountains, vast ocean, and thick jungles, Viet Hai village is absolutely separated with the outside world. Riding a bicycle around the village, you will have a chance to visit old houses, enjoy the freshly airy ambience, admire natural scene and take striking pictures of forest trees.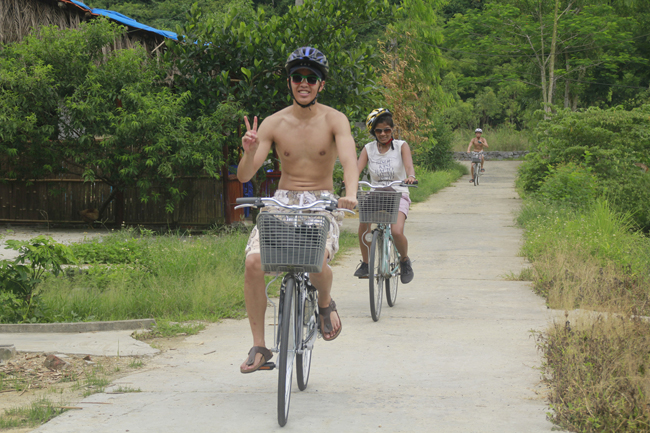 Biking in Viet Hai Village
12. Shopping in Halong 
One of the do-not-miss things for travelers in the bay is to go shopping. Through this activity, they can not only learn more about culture and society of Vietnam, but also bring back home a few lovely souvenirs for their family members and friends. Don't forget to head towards one of the most popular shopping areas, namely the night market in Bai Chay Town. There are plenty open air stalls inside the market, which sell many types of delicious seafood and traditional products, like ceramic tea sets, chopsticks, conical hats, and so forth.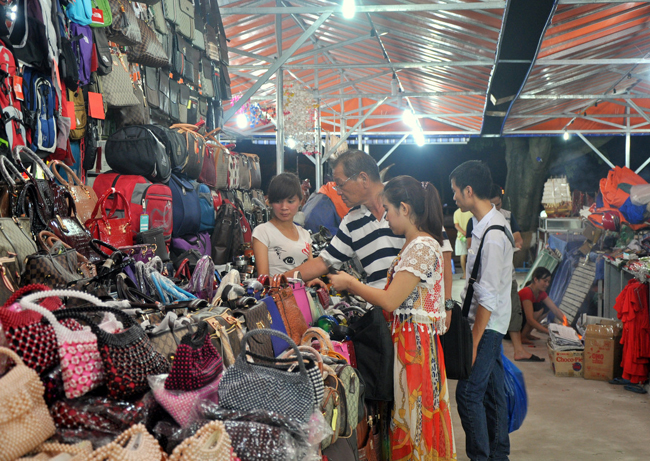 Bai Chay night market
It is great to know that sellers here are friendly, hospitable, and also expert in English speaking. That's why there is no need for tourists to worry about bargaining or asking questions. Foreigners may even have a nice chat with them about where to eat or where to visit.  
13. Contemplate sunrise and sunset on desk 
Halong Bay is trusted to become one of the most glorious sunsets in the world. Seeing the dawn and dusk on desk here has long fascinated both Vietnamese and Western guests. In sunset, the bay becomes very magical among the vast sea. Furthermore, colorful lights from the spectacular cruises reflected into the water also create an amazing vista. In sunrise, the bay just likes an impressive natural painting with early sun-shines that still hide after mountains.  
It is highly advised to have a seat on the long lounge chair of your cruise as well as enjoy the valuable moment with a camera on hand.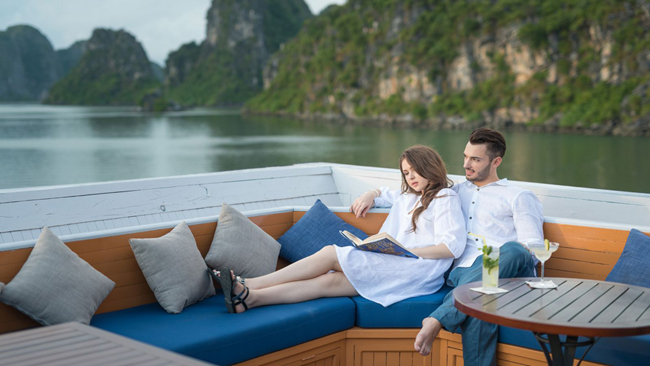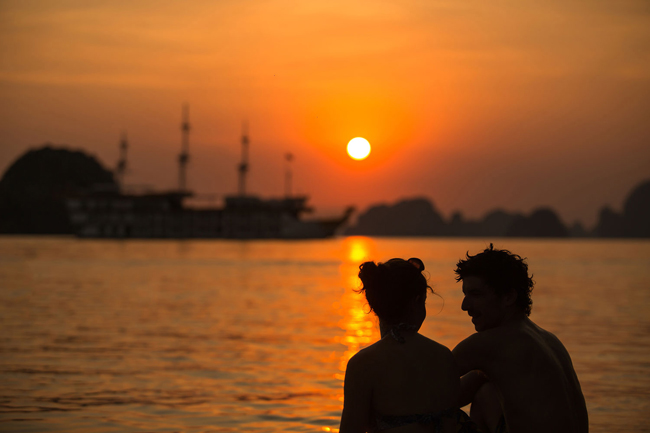 14. Enjoy scuba diving 
The bay also appeals to those who love scuba diving or snorkeling with its own diversity of coral reef and ecosystem, such as tropical evergreen bio-system, in addition to oceanic and sea shore bio-system. There are approximately 120 hectares of coral reefs with more than 100 species here.  
Where to visit for admiring the superb coral reef and various systems of sea creatures? Try some sea zones around Monkey Island, Co To Island, Cu Island, and Sen Island.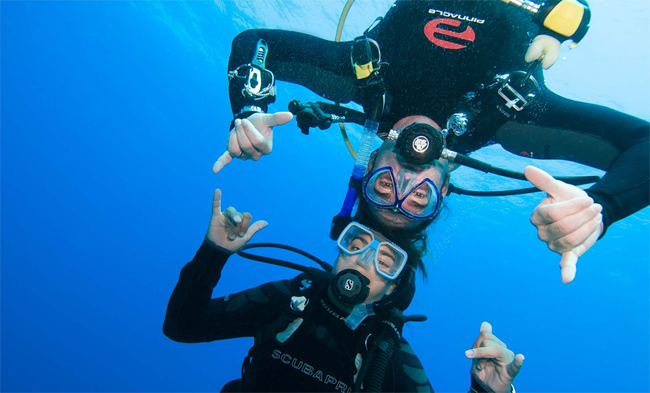 15. Climb rocks  
Adventurous travelers in Ha Long are very keen on exploring the whole cliffs by rock climbing. It is one type of outdoor and thrilling activity that helps them enjoy the original nature with beautiful 3000 limestone cliffs, rising from the water. Typically, Cat Ba Island is the most favorite spot wholly chosen to take their climbing by many tourists.  
People will challenge their bravery by reaching reach the summit of 30 meters. Of course, it is seriously recommended to make use of protect belts in some risky areas. Unlike climbing activity in the land, tourists are able to jump down to the sea to avoid other dangerous obstacles.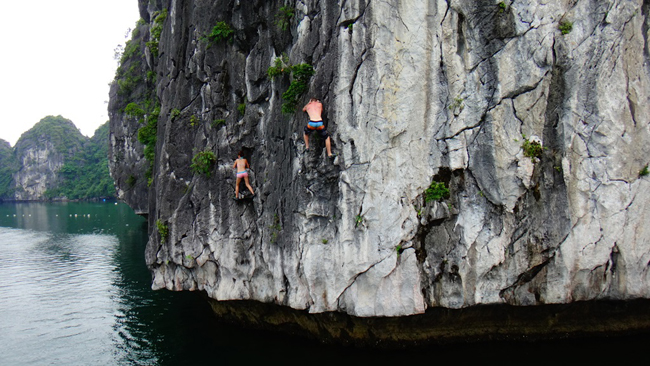 Best dishes
Halong Bay also draws visitors' attention by its fresh and delicious seafood. In general, dozens of quality restaurants can be found in Bai Chay Town. Those eateries mainly introduce to gourmets both Vietnamese and Chinese dishes with an attractive selection of fish, oysters, crabs, snails and shrimps. Even the pickiest tourists can find it satisfied with not only cooking styles, but also exotic flavor of each dish here.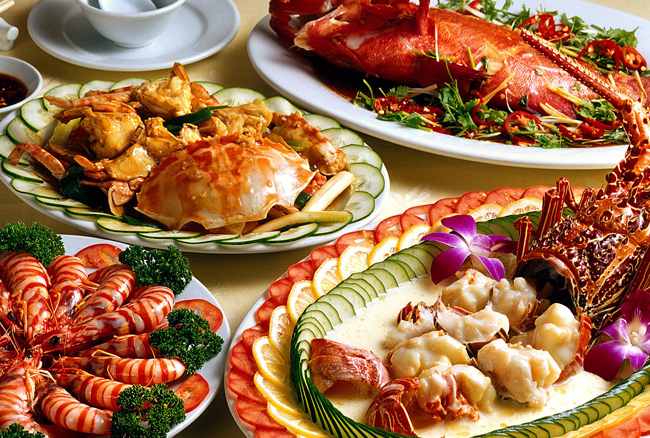 Some of the famous dishes you should try once  after visiting here include Halong Squid Pie (Chả mực Hạ Long), Peanut worm (Sá Sùng), Austriella corrugate (Ngán biển), Horseshoe crab (Sam biển), Snout Otter Clams, Sea snail, "Gat gu" cake, etc. Detail here 
Dishes and Drinks You Should Not Miss in Halong Bay
Other news