Hue Imperial City in Vietnam
Wed, 19/04/2017
4461 viewed
0 commented
Located in the north of Huong River, Hue Imperial City is not only the most important headquarters of Vietnamese in Nguyen Dynasty, but it is also a famous tourist attraction today. In 1993, UNESCO recognized Hue Imperial City as the World Heritage Site.

The Architectural Structure of Hue Imperial City
Situated on the north shoreline of romantic and attractive Huong River, the total land area is around 500 ha. This place includes two main parts, the Citadel City and Forbidden City. This is a Top 1 of
things to do in Hue City
.
The Citadel City and its whole structure were a chief area, so there was an extremely strict arrangement of the army inside. Although the constructors built a lot of projects different from sizes in the Citadel City, all of them lies in the natural space with many lakes, stone bridges, islands and old trees.
An outstanding point is that the gender, age, status discrimination was pretty clear. It was available in all social classes, from royalty, queen mother, prince or princess to civilians. It also contains the separate aisle. Each of them was only for each different gender such as males or females, or each position like civil or military mandarins.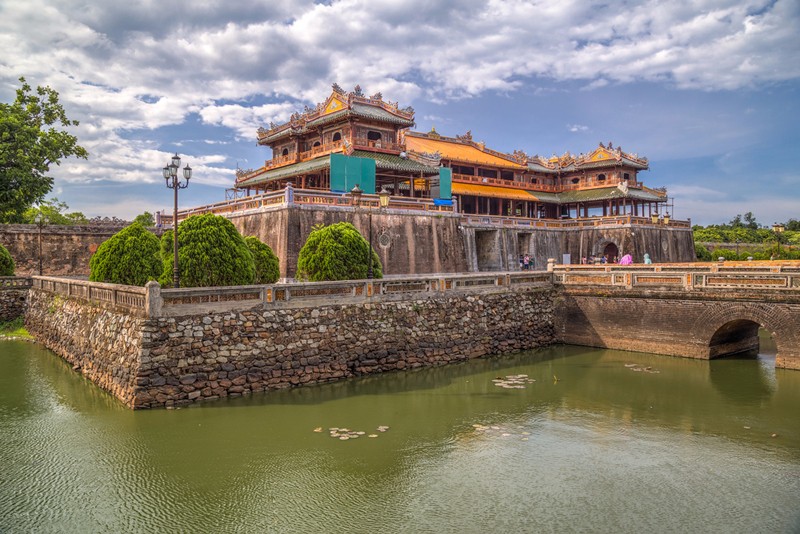 After experiencing dramatical changes during a long time, Hue Imperial City has maintained hundreds of architectural structures in the Citadel City. They even account for less than a half of the initial amount. However, as a precious national asset, they are the value of thousands of labors which has been accumulated for a long time. The Citadel City together with other UNESCO World Heritage Sites has gradually recovered its original beauty.
Some famous tourist attractions in Hue Imperial City
This place is extremely wide. Therefore, it is best for you to spend a whole day on discovering all beautiful places. However, in case you have not enough time, these following destinations in Hue Imperial City are the ones you should not ignore.

1. The Meridian Gate
Meridian Gate, known as the South Gate of Hue Imperial City, is the iconic symbol of the Citadel City and the feudal dynasty. It was constructed under the reign of Emperor Minh Mang, the second king of Nguyen Dynasty.
Meridian Gate was a great combination of both technology and structural development at that time. It is a masterpiece and the top structure of Hue Imperial, the majestic former kingdom, and feudal dynasty. However, beyond politics and time, Meridian Gate becomes Hue's representation and the great image in this romantic imperial city.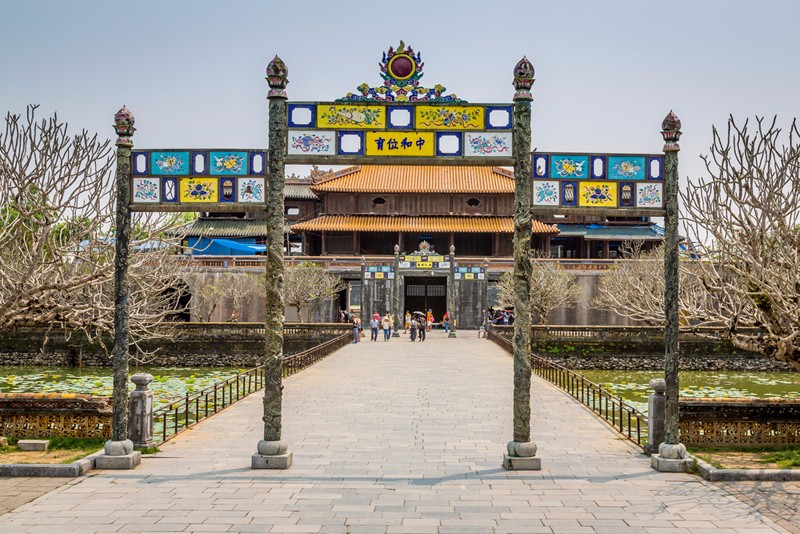 2. Thai Hoa Palace and Dai Trieu Nghi Yard
Thai Hoa Palace aimed at celebrating such important court rituals as coronations, king' s birthday, welcoming ambassadors and holding diplomatic rituals celebrated twice per month on the first and fifteenth day of lunar month. This was a powerful center of the Vietnamese feudal dynasties.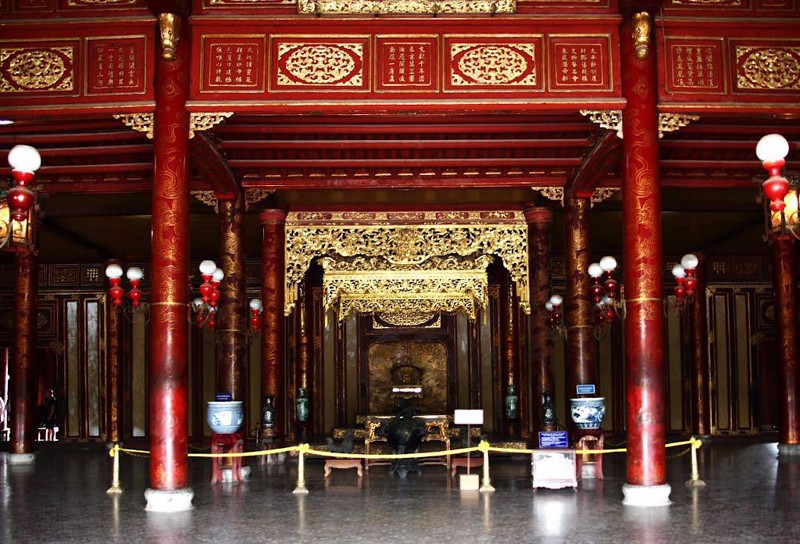 Thai Hoa Palace

3. The To Temple
The To Temple, also called The Mieu Temple, lies in the southwest corner inside the Citadel City. It is the temple of the emperors belonging to Nguyen Dynasties. It also aimed to sacrifice the deceased kings and their royalty family (including the Queen).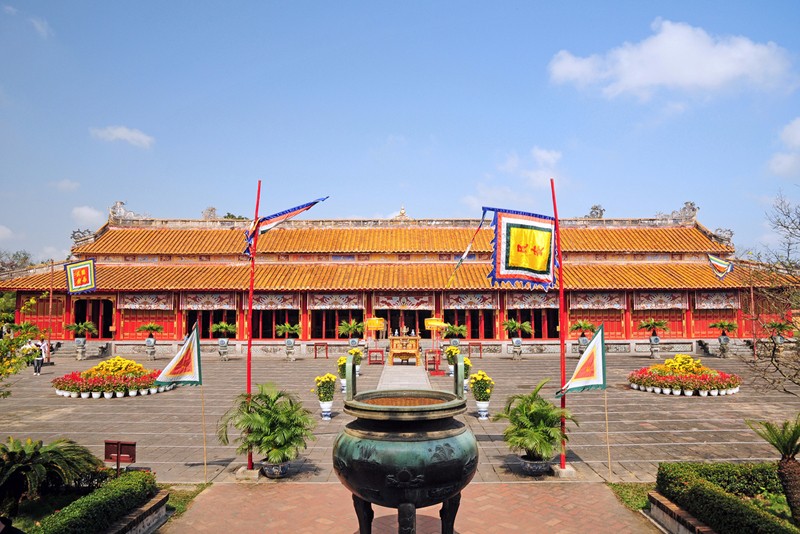 4. Hien Lam Pavilion
Constructed in 1821 and finished in 1822 in the worship area of Hue Imperial City, Hien Lam Pavilion is around 17 meters in height. It is the highest structure in this imperial city. Also, it is a graceful monument known as a memorial to Nguyen Dynasty's Emperors and people who devoted to great feats during the dynasty.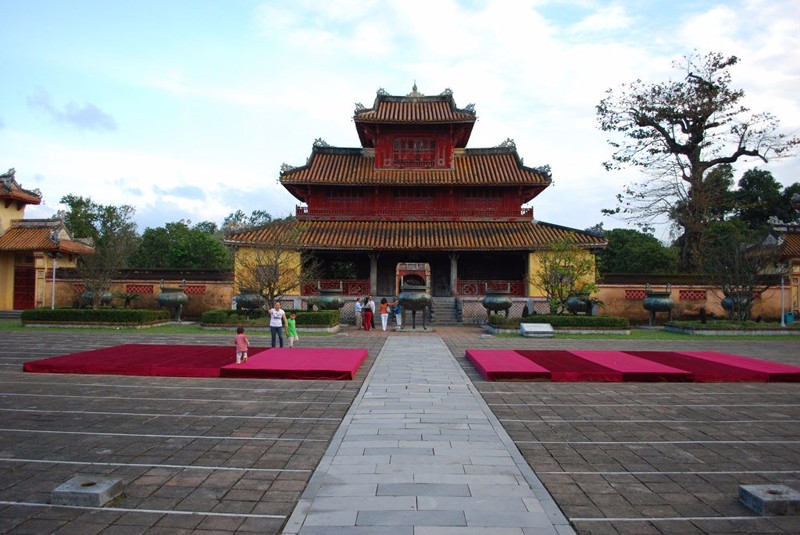 Tips for traveling to Hue Imperial City
When visiting Hue Imperial City, you should travel by cyclo in order to enjoy the peaceful and natural landscape of this place. Due to the wide area, you can get tired easily when walking for a long time.
The best time for traveling is the evening, since at this time; the weather is pretty cool, more comfortable and convenient for you to wander around.
Around Hue Imperial City and along the north bank of Huong River, there are numerous vendors offering traditional Hue food. It only takes you nearly 1USD per dish; you will totally enjoy the tasty and attractive dishes.
You can hire a motorbike which costs from 5USD to 10USD per day. It can be more convenient for you to go around and see beautiful landscapes.
There is an interesting way to get Hue from Da Nang. If you are a fan of backpacking travel, this must be your great choice (Da Nang is a wonderful city you can see more things to do in Da Nang). Just around 100 kilometers from Da Nang, riding motorbike brings you the perfect experience of crossing passes, seeing majestic mountains. One important thing to take note is that your motorbike needs to contain full of petroleum. You have to cross many passes in order to visit Hue City. For those who are not interested in riding on the pass, another way is catching a coach that crosses Hai Van Tunnel.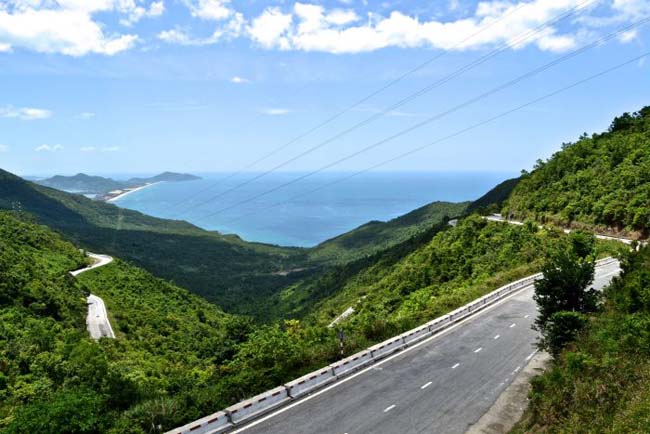 Hai Van pass
Other news