Top Famous Temples and Pagodas in Ho Chi Minh City (Saigon)
Mon, 31/10/2016
41131 viewed
0 commented
Asian countries get their names famed for fascinating history, colorful culture and religious beliefs. Their strong respect for their religion may be seen in the different tourist attractions. And this is especially true with Ho Chi Minh City. It's known as the hub of the great war as well as for having lots of architectural landmarks. But, much of Saigon is often dominated by an array of historic and magnificent temples and pagodas, which nicely combine to bring the whole city much beauty, character and heritage.
The
pagodas and temples around Ho Chi Minh City
are not only an impressive sight for tourists to visit, but also the religious centers for both Buddhists and Taoists to practice their beliefs. Further, these places also hold special ceremonies and festivals at certain times, which become a good chance for visitors to broaden their knowledge! If you find it hard to know where to start for the spiritual trip, let us lend you a hand by a synopsis of the
top famous temples and pagodas in Ho Chi Minh City
here!
1. Giac Lam Pagoda – The Oldest Pagoda In Saigon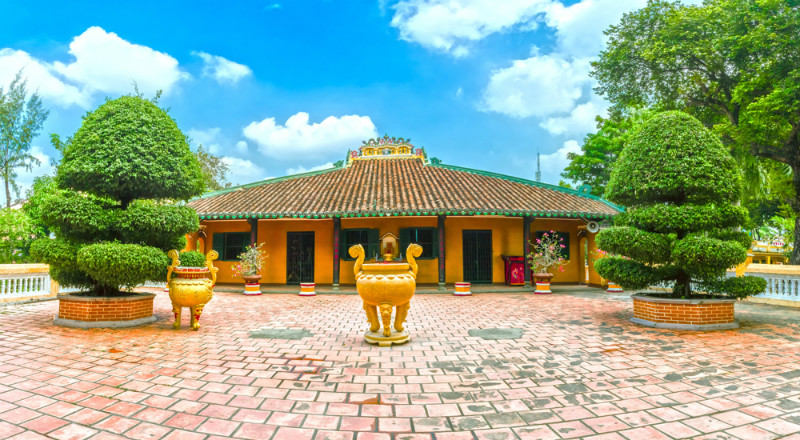 As the oldest pagoda in Ho Chi Minh City,
Giac Lam Pagoda
is also recognized by the Ministry of Culture and Information as the national historical and cultural relic. Its highlight focuses on the complex of towers built at the beginning of the 19th century. Unlike others, Giac Lam Pagoda was designed under the South Vietnam's architectural style. There were a total of 38 multi-sized towers, based on the combination of the architectural style of the ethnic minorities and light resemblances of both Western and Eastern architecture.
Today, it still maintains a number of valuable historical cultural and sculptural documents and items. On some special occasions, dozens of domestic and foreign tourists arrive in here to go sightseeing, spread their eyes over the pagoda's unique architecture, as well as burn the joss sticks to pray for every best wish. Read more about
Giac Lam Pagoda
.
Opening Hours: 5 AM to 12 PM and 2 AM to 8 PM every day 
Address: 565 Lac Long Quan Street, Ward 10, Tan Binh District, Ho Chi Minh City, Vietnam 
2. Vinh Nghiem Pagoda – The Tallest Stone Tower In Vietnam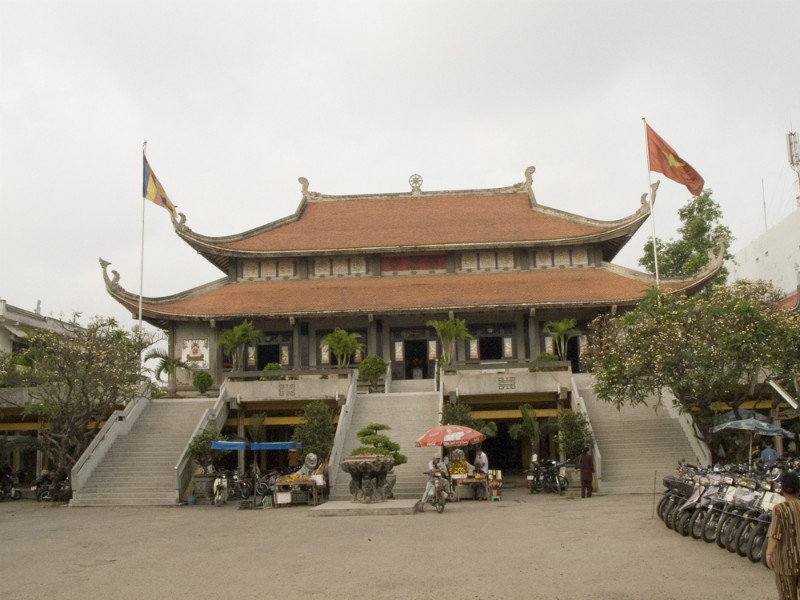 Vinh Nghiem Pagoda extremely boasts of a stone tower that is the highest one around the country. Inaugurated in late December 2003, this is the first 14-meter stone tower in the South built by lots of skilled craftsmen.
Thanks to being a recent monument, the pagoda inherits an endless source of inspiration from traditional Vietnamese structure and a modern touch of Japanese architectural style, which makes its more stable, spectacular, and majestic. That's why many people state that the pagoda is truly the peaceful combination of both ancient and modern elements.
Every lunar year, a countless number of people eagerly visit the pagoda to pray for luck and health. Lots of students also pray for their high scores in the next exams. 
Opening Hours: 6 AM to 8 PM every day 
Address: 339 Nam Ky Khoi Nghia Street, Ward 7, District 3, Ho Chi Minh City, Vietnam 
Read more!
3. Nam Thien Nhat Tru Pagoda – The Southern One Pillar Pagoda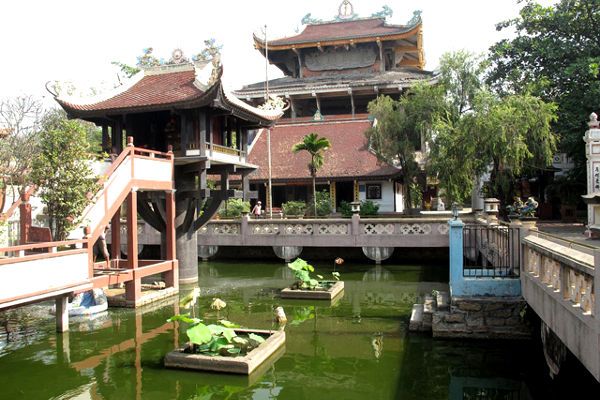 Built in 1958 by the monk, namely Thich Tri Dung,
Nam Thien Nhat Tru Pagoda
aims to be a landmark so that Buddhists in the South may arrive in to worship Buddha, recall their ancestors, as well as pray for a prosperous country. It was actually modeled on one pillar pagoda in the North, from truss, rafters, and roofs to even the pattern of layout. The only difference is building materials.
While One Pillar Pagoda in Hanoi was built from ironwood, Nam Thien Nhat Tru Pagoda was built from reinforced concrete. Looking from the main gate, it was established in the middle of the Dragon Eye (Long Nhãn) Lake. The lake is also beautified by the pink lotus blossom, which covers an area of over 600 square meters. Lots of travelers choose to visit the pagoda so as to admire the beauty of its solemn architecture as well as let their spirit relax with the wooden bell ringing.
Opening Hours: From Monday to Sunday 
Address: 100 Dang Van Bi Street, Binh Tho Ward, Thu Duc District, Ho Chi Minh City, Vietnam 
4. Jade Emperor Pagoda – The Ancient Pagoda With Chinese-Styled Design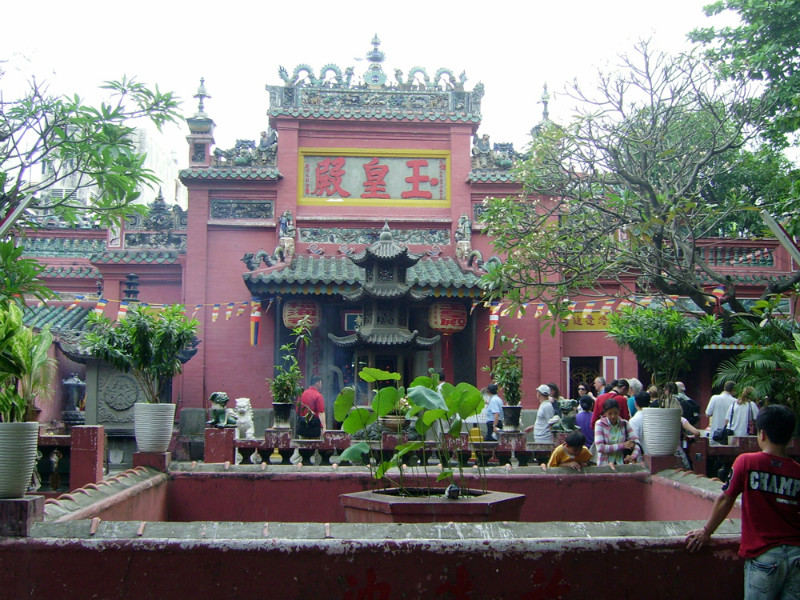 One of the most important shrines you should add to your bucket list is
Jade Emperor Pagoda (Ngoc Hoang Pagoda)
– the city's popular religious site. Built in 1892, the pagoda leaves a strong impression on tourists by a Chinese architectural style with colorful Yin-Yang roof and brick decoration. Though 100 statues in the pagoda made of cartridge papers are approximately 100 years old, they still look new and wonderful.
Emperor Jade Pagoda is indeed a living and working shrine in use by the locals who frequently come here to say prayers or make votive offerings of light candles, joss sticks and flowers. Due to the increased number of the worshippers, the place may become busy and feel a little cramped. Along with serving as a place for worship, it is also great for photograph lovers to have breathtaking shots, especially in the morning sunlight.
Read more about Jade Emperor Pagoda
.
Opening Hours: 8 AM to 5 PM daily
Address: 73 Mai Thi Luu Street, District 1, Ho Chi Minh City, Vietnam
5. Cao Dai Temple – The Holy Place For Caodaism Practitioners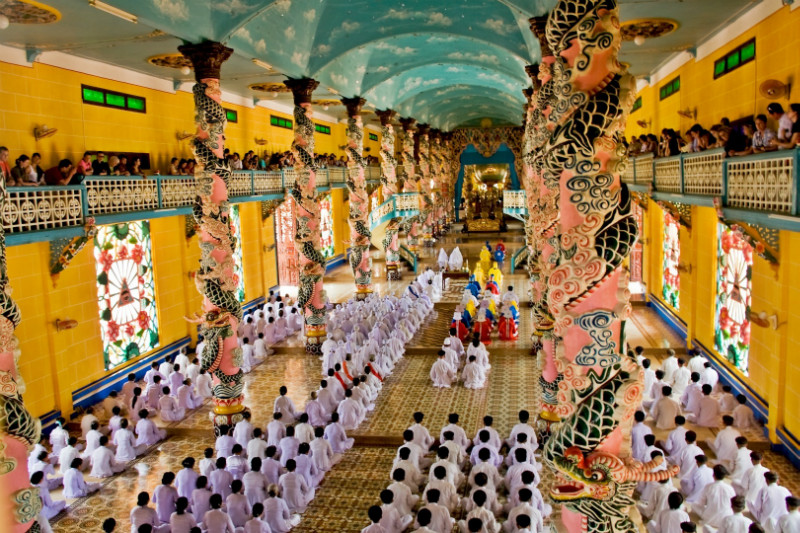 90km Northwest of Ho Chi Minh City and located in Tay Ninh Province, Cao Dai Temple or Holy See is known as the center of Cao Dai faith – an indigenous Vietnamese religion which does incorporate the teachings of Taoism, Confucianism, Buddhism, and some elements of Islam and Christianity. The architecture of the temple is a combination of a little pagoda, a little cathedral and a little mosque, making it more special and unique. Watching the prayer of Caodaists is one of the must-see highlights when visiting the temple.
At that time, lay followers are dressed in the long flowing robes of white color while priests must be dressed in yellow, blue or red flowing robes. Besides, bishops also have the Divine Eye embroidered on their headpieces. The 3 principal colors of Cao Dai are blue (for Taoism), yellow (for Buddhism), and red (for Christianity). They are all reflected in the temple itself and the worshippers' robes. During the divine worship, men will be seated on the right whilst women will be seated on the left with all of the devotees seated in the orderly rows. Click here to refer 
tour to Cao Dai
from Saigon.
Read more about Cao Dai Temple
.
Opening Hours: Daily
Address: Hoa Thanh District, Tay Ninh Province, Vietnam
6. Thien Hau Temple – The Most Stunning Chinese Temple In Saigon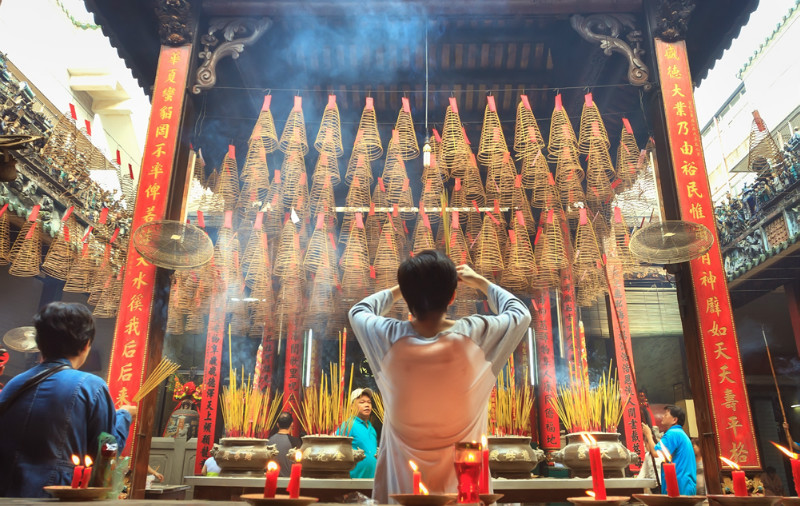 According to the historical documents, Thien Hau Temple was built by lots of the Chinese immigrants from Guangzhou. So, that's why it prominently features the main style of the Chinese. The temple is said to be dedicated to Thien Hau (or also known as Lady of the Sea or Mazu), who is the protector of sailors and fishermen in Chinese culture. In fact, the most popular and lovable part of the temple can only be seen in the outside of the altar. The roof is nicely decorated with small and fashioned porcelain figurines, which express themes from Chinese religion and legends.
In the courtyard, dozens of spiral incenses are also being hung on the ceiling, just like a typical ancient Chinese temple you might see elsewhere. Prayers are able to write their names on the red paper, wich is attached to each incense. There is a strong faith that their prayers and wishes would fly into the heaven followed by the incense smoke, and then be conveyed to the deity. 
Opening Hours: Every day 
Address: 710 Nguyen Trai Street, Ward 11, District 5, Ho Chi Minh City, Vietnam 
7. Mariamman Hindu Temple – The Prominent Indian Temple In Saigon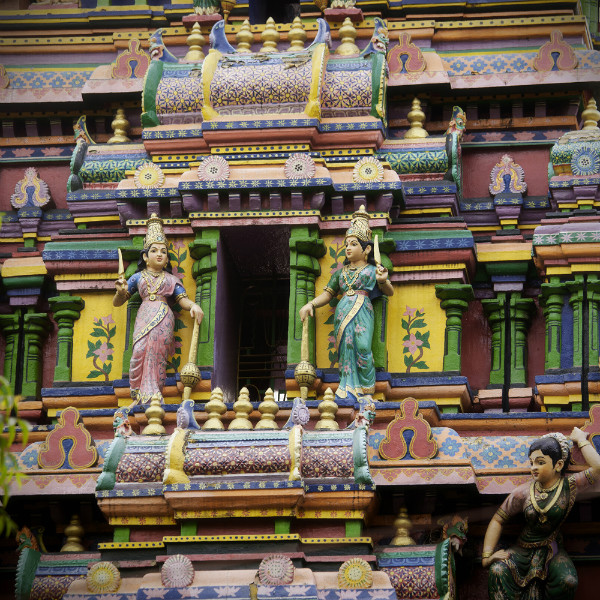 As the principal temple for many Hindus in Ho Chi Minh City, Mariamman Hindu Temple is dedicated to Mariamman – the God of fertile land, excellent crop, good heath, and happy life. Built in the late 19th century, the temple has been still well-maintained, thanks to the great assistance from the government.
In the heart of the temple, it is easy to realize a statue of the Goddess Mariamman surrounded by two Hindu guardian deities and two lingams. Worshippers often come here with offerings of joss sticks and flowers. There are also 2 magnificent towers on the roof adorned with Hindu gods, goddesses and lions. To show your respect, don't forget to remove your shoes before stepping up onto the inside temple.
Opening Hours: From Monday to Sunday
Address: 45 Truong Dinh Street, Ben Thanh Ward, District 1, Ho Chi Minh City, Vietnam 
Read more: 
https://vietfuntravel.com/blog/mariamman-hindu-temple-in-saigon.html
Other news