Mui Ne Nightlife – The Fun And Inspirational Discovery
Sat, 01/06/2019
1698 viewed
0 commented
Mui Ne gets its name noted for fishing villages, smiling locals, and the pace of life. If riding bicycles along the coast, seeing sunset and sunrise on board, and dining on exotic seafood with the waves in the background are what you are dreaming of, then there are reasons to think about the trip to this beach city. Furthermore, kitesurfing, windsurfing, and kite-flying are the most attractive summer activities for the beach lovers year-round. Over the years, this seaside retreat has also satisfied the guests with a number of resorts and guesthouses with different levels.
Wonder what to expect from
Mui Ne nightlife
? Then, you are now on the right path. Keep reading to get yourself updated with the highlights below.  

Go for a stroll around Phan Thiet Night Market
Open since 2016, Phan Thiet night market is one of the largest and most important nightlife spots for shopping hunters. Souvenirs, sand paintings, embroidery artworks, or even Cham handicrafts are so abundant and beautiful that you might stop yourself from buying everything to home.
Moreover, it is hard to ignore delicious cuisines and desserts here as well! Tuyen Quang fried rice pancakes are a typical example. What makes these pancakes stand out from the part is that they are fried on a special ceramic pot made by the Cham people. Flour is the only ingredient gourmets know about it. The rest of the ingredients are kept confidential. However, no one can deny their crunchy and aromatic flavor for sure.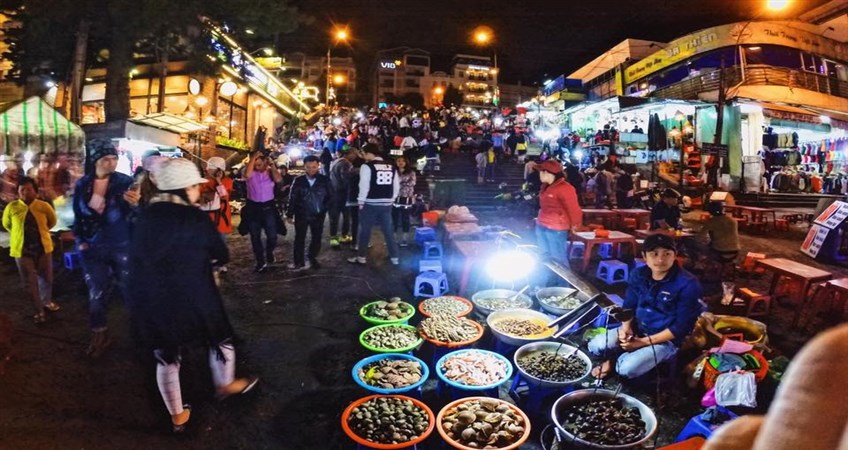 Image from Vivutravel
If you want to know more about the Cham culture, visit the market every Saturday night where the local art performances are held.  
Address: Nguyen Phuc Nguyen Street and Nguyen Gia Tu Streets, Phan Thiet
Opening hours: 5 PM – 10 PM
Immerse yourself in the vibrant live music at Joe's café
The must-do activity in
Mui Ne nightlife
is enjoying the world of music in a cozy café. And Joe's café is one of Viet Fun Travel's recommendations for an obvious reason. It is located at the street along the Ham Tien Beach, which is so convenient for those who like enjoying a cup of coffee as well as listening to the sounds of the waves.  At the first sight, you will be lured by its giant green canopies and grass roofs. There are many types of chairs for guests to choose from, such as dining tables, sofas, deck lounges, or even beach chairs. No matter what you visit the café in daylight or nightlight, you will not be limited to the fun and activities here, such as billiards, football, nice booze, swimming pool, a BBQ, a kid-playground, and so on. The plus is that each night is held with different singers and bands, which help visitors feel more and more excited!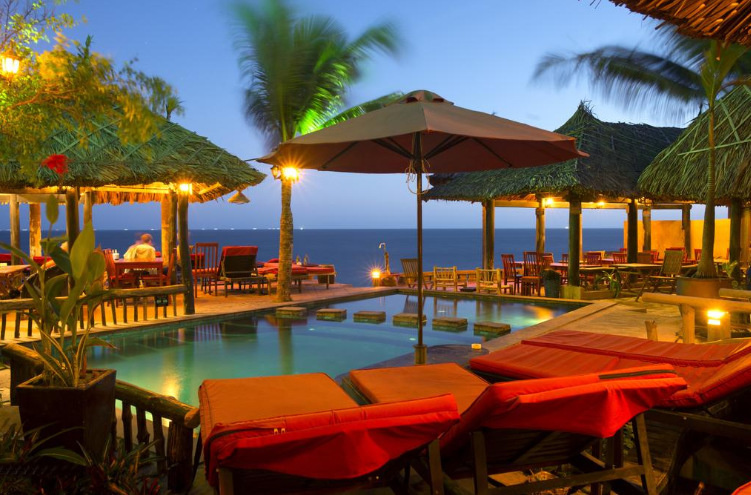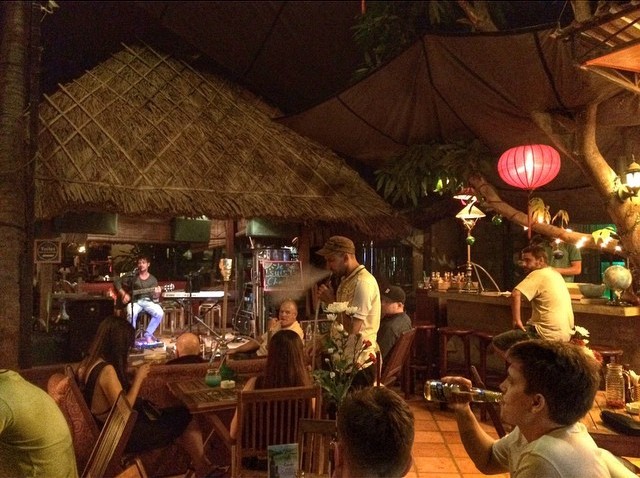 Image from booking.com
Address: 86 Nguyen Dinh Chieu Street, Phan Thiet
Opening hours: 7.30 AM till late
There are also other cozy and impressive drinking places to refer to if you stay out Mui Ne 2 or 3 nights, such as  
 Jibe's Beach Club – A Private Paradise
Address: 90 Nguyen Dinh Chieu Street, Phan Thiet
Opening hours: All day
Ratinger Löwe – Beer Lovers' Heaven
Address: 32 Nguyen Dinh Chieu Street, Phan Thiet
Opening hours: 12 PM 12AM
Snow Club
Address: 109 Nguyen Dinh Chieu Street, Phan Thiet
Opening hours: 10 am – 2 am
 Do you like Mui Ne? You should check 
Mui Ne tour 3 days
 to fully explore it.


Learn the local life via a night squid fishing trip
Want to enjoy something different and exhilarating? Then, a night squid-fishing tour can be a good choice. The most interesting thing is that tourists can catch and even cook their own food on beach. It's inspirational to get hands-on experience in the day-to-day lives of the local fishermen and enjoy the fresh air of the beach. In general, the tour package lasts at least 4 hours in which dinner and specialized equipment are also included (about VND700,000 per person).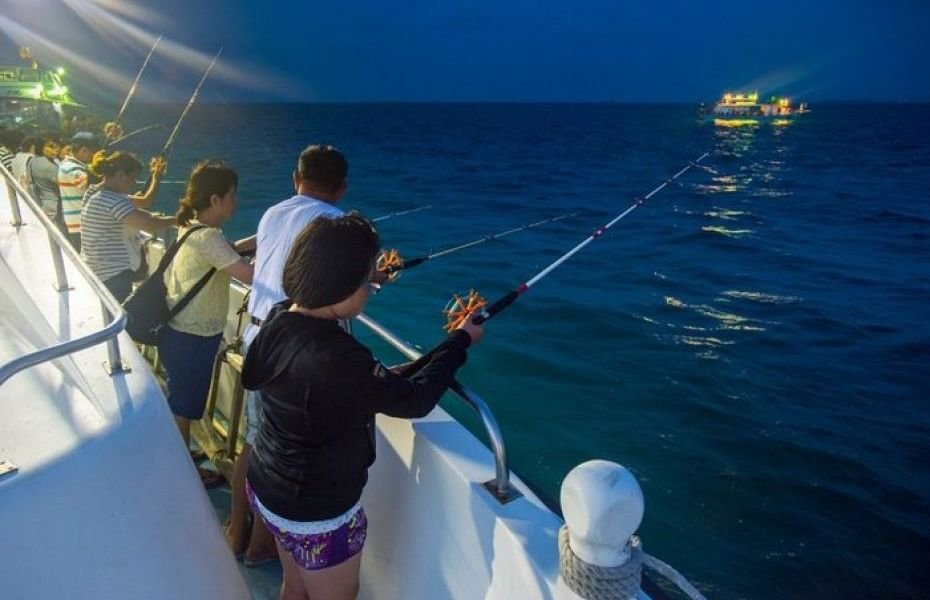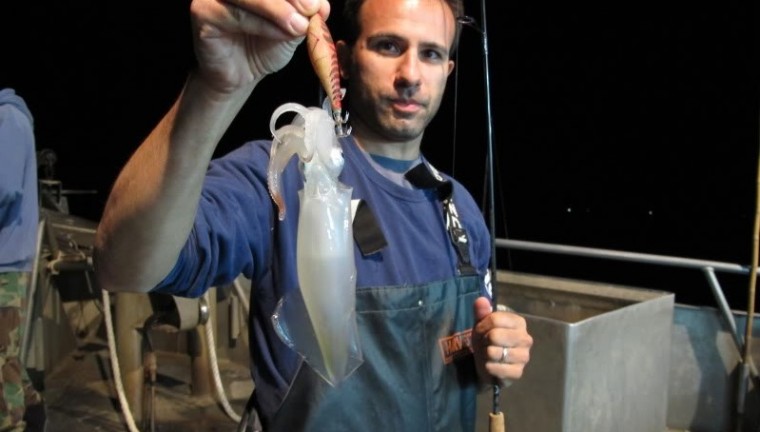 Image from Orange Travel
As a matter of fact, activities in
Mui Ne nightlife
are a bit limited in options, but triple in the fun, given that you know where to visit and how. Our above suggestions can be added to your bucket list for reference.
However, if the peace is what you aim to, then wandering along the beach and seeing how the locals live is interesting, too. Add depth and meaning to your trip in the way you like best!  
Other news