What are the Best Bars to Consider in Ho Chi Minh City?
Sat, 07/01/2017
7013 viewed
0 commented
Thanks to its rich culture, favorable condition, and exotic landscapes, Vietnam has become a perfect tourist destination for travelers to see and do. As the country's largest city, Saigon wows every visitor with its magnificent architecture, top-ranked attractions and
yummy street foods
.
Whether you say "Hello" to the city alone or in a group, its nightlife still guarantees you a great and joyful moment. When the night falls down, party lovers are freely able to rave in and have themselves immersed in the sexy dances, since Ho Chi Minh City has a buzzing nightlife scene with a wide range of colorful bars and clubs. But, due to so many options to choose from, you can feel overwhelmed about where to head first, right? Don't worry! We are out there to relieve your anxiety by offering
the best bars in Ho Chi Minh City
you should take into consideration for sure!  
Chill Sky Bar
Chill Sky Bar
gains its name famous for the panoramic views of the whole city and beyond while guests still sip on their cool cocktail. Located at the 26
th
floor of the AB Tower, the bar makes your eyebrows raised by its modern and glamorous vibe. Chill Sky Bar entices a number of both young local and expats who simply want to have their souls dipped in the breathtaking views and wonderful house music mixes. It is quite possible to expect professional service, staggering views, and flawlessly rendered cocktails. But, be mindful that there is a strict dress code policy here (No shorts and flip flops). That's why it is better to choose your best clothes before entering the bar.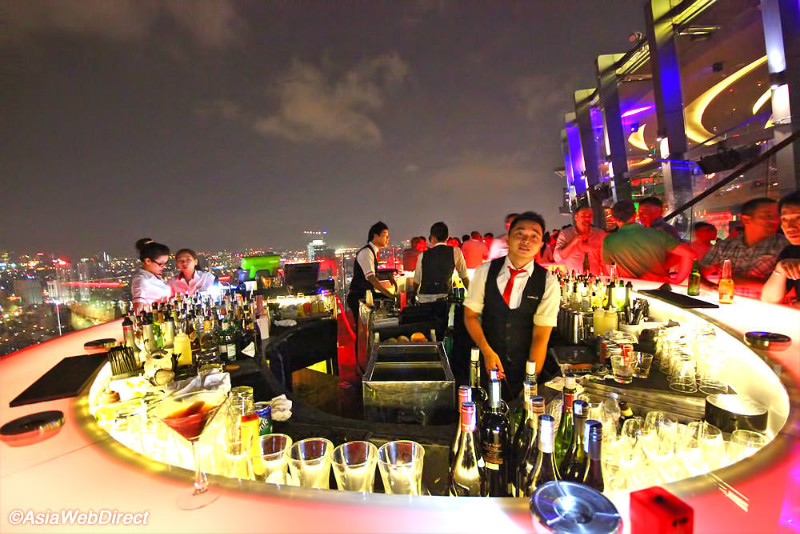 Inside the Chill Sky Bar, you can encounter both Vietnamese and Western guests. Everyone seems to be in a great mood since they are served by friendly staffs who treat them with quality service, just like they are celebrities. What's more, the drinks aren't cheap but they are made with great care. The stunning atmosphere of the place is highlighted by the bar's soft lighting and lounge house music, which create a comfortable viewing and pleasant experience.
Address: AB Tower, 76 Le Lai, Ben Thanh Ward, District 1, Ho Chi Minh City, Vietnam
Opening Hours: 5.30 PM to 2.30 AM, from Monday to Sunday
Blanchy's Tash
Although the name "Blanchy's Tash" sounds slightly obscure and hard-to-understand, this has not stopped such bar from becoming one of the most prominent and popular nightspots in the center of Ho Chi Minh City. The bar is a flawless spot for a mix of locals, expats, and tourists to relax and find something new. It is split into 3 open levels of space, including a sleek downstairs cocktail lounge, a modern restaurant on the 2
nd
floor, as well as an intimate rooftop space upstairs.
In general, drinks are awesomely mixed and offered at a reasonable price tag. Meanwhile, an eclectic music policy promises to make your satisfaction reach the highest notch with lively sounds and hot dances. The party lasts till late. And early starters have a chance to enjoy one of the best 3-hour-long happy hour offerings between 6 PM and 9 PM on weeknights. During this period, you may be allowed to gain an offer of "buy one get one."
Address: 95 Hai Ba Trung Street, Ben Nghe Ward, District 1, Ho Chi Minh City, Vietnam
Opening Hours:7 PM to 3 AM every day
Acoustic Bar
Designed as a
live music bar in Ho Chi Minh City
, Acoustic Bar is trusted to not only satisfy your favorite drink, but also stimulate your music perception. On the whole, the bar is a vibrant but small live music venue which prominently features a variety of talents from Saigon. It may get packed to the brim in a positive way after 10 PM. But, you may still look for some space to stand and feast your eyes on the performances. After getting guests' messages, a local band will be readily happy to play all of their requested hits. The artists generally perform 3 songs and then announce other artists. Residents, expats and musically minded travelers may also get an opportunity see different bands playing their instrument and versions of popular songs.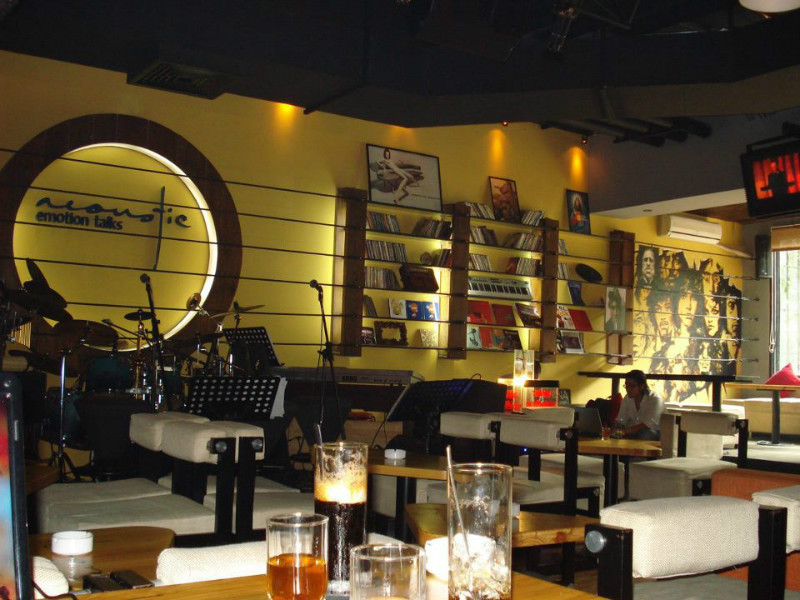 Depending on which artist is currently on stage, the music genres are diverse, ranging from soul-pop music to reggae & hip hop mix. The vibe of the Acoustic Bar is generally fun and hectic while the crowd is actively engaging (such as applauding, singing and dancing) with the artists. In a nutshell, it is indeed a laid-back place for those who want to freely express themselves at the weekend.  
Address: 6E1 Ngo Thoi Nhiem Street, Ward 7, District 3, Ho Chi Minh City, Vietnam
Opening Hours: 6 PM till midnight every day (9 PM for live music, except for Sunday)
Other news