The specialty dishes in Mekong Delta
Thu, 12/01/2017
7551 viewed
0 commented
When most of the cities in
Vietnam
tend to be hooked into the widely global supply chain, their culinary flavors are also becoming more homogenous. From hamburgers and pizzas to shopping in large supermarkets, diets of citizens have been gradually moving in line with the rest of the world. However, this trend has no impact on the Mekong Delta where people here still rely on local sources and make food on their own.
While wandering around one local market in the delta, you can find it easy to catch the image of rats, scorpions, snakes, etc. being sold everywhere. From fish noodle soup to flavorful bee worm salad, these are a lot of specialty foods in Mekong Delta that you shouldn't ignore while visiting this beautiful and peaceful region. Today, we are glad to share
top delicacies in Mekong Delta
with readers! Enjoy the list, whether you are a first-time or an experienced traveler!
Pia Cake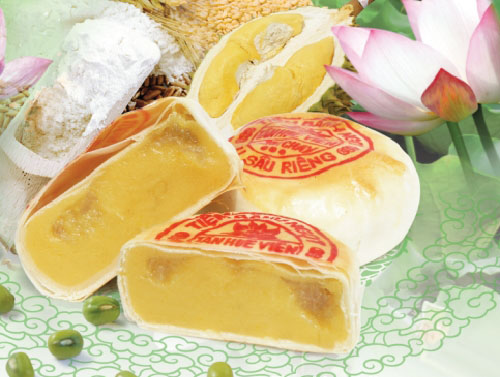 Pia cake gets its name famous as a specialty food in Soc Trang province, Mekong Delta. Thanks to its rich and sweet flavor, tourists easily want to eat more and more. While the cake's crust is made from both tapioca flour and wheat flour, its filling is made from sticky rice flour, mung bean paste, salted duck egg, and pork fat. Sometimes, you can feel the pure scent of durian. That is because durian is also added to make "cake with durian flavor."
As a gourmet, you should cut the Pia cake as 8 small pieces by using a sharp knife. It is best enjoyed with green tea. For most tourists, this is a nice gift to their family members and friends as convincing evidence that they traveled to
Mekong Delta
.
Elephant Ear Fish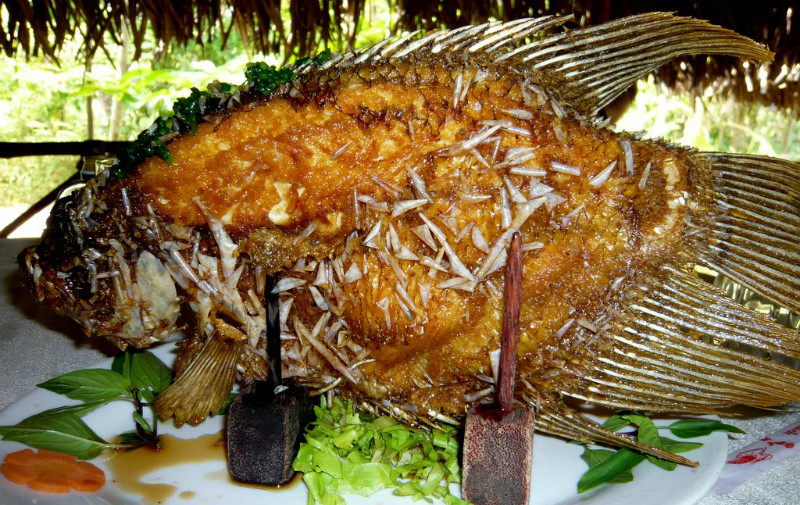 As a specialty dish in Mekong Delta, elephant-ear fish is always added to a list of many visitors who step into this region. Although its name sounds a bit weird because of its appearance which looks like an elephant ear, enjoying the fish can be a great experience. The dish is often found in many restaurants or kinds of homestay in the delta.
Of course, you are quite able to enjoy this dish in several restaurants in
Ho Chi Minh City
. But, to gain its true flavor and taste, it should be cooked in a traditional Mekong style. At that time, the chef will fry the whole fish to crispy perfection. Then, it will be cut into pieces and served upright. To get the most out of its flavor, you should roll a piece of fish, pickles, and vegetables in rice paper and then dip the roll in fish sauce, lemongrass and chili.
Coconut Candy
As one of the most common candies in the S-shaped country, coconut candy has its root from
Ben Tre Province
. When it comes to Ben Tre, the first thing that pops up in people's mind is the image of coconut trees. Coconuts are used in many different ways, from food, beverage to candy. On the whole, coconut candy is produced in a very simple way with basic ingredients, including coconut water, malt syrup, and sugar.
First of all, makers must extract the inside, and then grind & put it into a fabric pad to filter and obtain the coconut milk. Second, the coconut milk will be mixed with malt syrup, sugar, and water, and then boiled. Third, the producers have to steadily stir up the mixture until it solidifies. Next, the solidified coconut soup will be placed onto a frame, and then cut into small square shapes. The final procedure is to cover each piece with wax-paper. In some cases, they can add other fruit flavors or peanuts for diverse tastes. Of course, most of the trips to the Mekong Delta allow travelers to visit a coconut candy factory. This is a cool opportunity to learn more about ways to make coconut candy as well as gain a hands-on experience of tasting one at the factory.
If you have much more time, try to enrich your list of
top delicacies in the delta
by other must-eat foods, like freshwater crabs (Ba Khía), lotus plants, Hủ Tiếu, grilled meat rolls, and so forth. Such special dishes will help you understand and
enjoy unique cuisine in the Mekong Delta
, which tends to bring a rustic flavor of the locals' lives. The best way to get a better grip of their friendliness and kindness and mingle with their daily routines is to
enjoy Mekong Delta homestay experience
.
Other news