Vietnam travel guide for backpackers
Fri, 10/02/2017
5037 viewed
0 commented
We all had read about bad things in Vietnam that we could be stolen in the hotels and the people are very cold, ... I had just visited Vietnam last year, and after all, it doesn't disappoint me. If you are a tourist, you will find this place a paradise ... I started with a visit in Phu Quoc, although it is not cheap, super friendly people, nice beaches, and good cuisine would make up to the cost.
Undoubtedly, Vietnam is a country that suffered a lot after the war in the past. And the memory of the terrible war is still alive, we were delighted to discover more about the subject, which is really interesting, and above all to have a more objective look than that of typical Hollywood movies.  
Currently the country receives about 5 million tourists a year and the most visited places from south to north are the
Mekong Delta
, Ho Chi Minh, Dalat, the beaches of Nha Trang, Hoi An, Hue (World Heritage Site, 1993), Hanoi, Ha Long Bay (World Heritage Site, 1994) and the Sapa Mountains. In our trip, we have been able to know two sides of Vietnam
Known and Westernized Vietnam, which has an important tourist infrastructure and enjoys a wide range of accommodation, transportation, travel agencies and a population totally geared to tourism that makes you feel literally drowned.
Little-known rural Vietnam, far from the tourist fever, more difficult and costly access, with a friendly and extremely sociable population.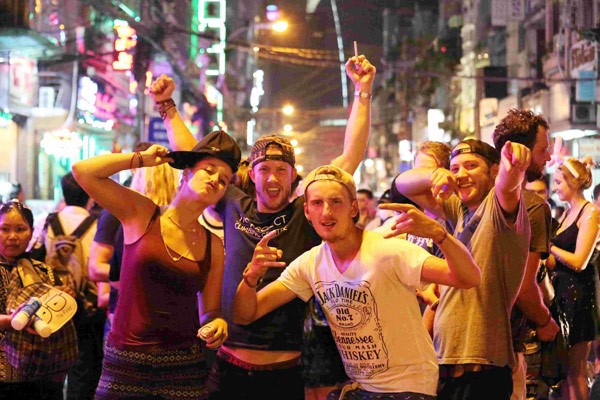 Perhaps we expected more from the gastronomy, but a backpacker can have little choice. If you are a food lover, visit Hoi An, Vietnam's gastronomic capital, with different dishes from the whole country!
Here is my complete travel guide to Vietnam for backpackers with experience gaining from my
Vietnam trip
. Visa, currency, when to go, travel, how much it costs, what is the best and the worst, reference prices, transport and more!
VISA
From July 1, 2015 (and in theory until June 30, 2017), travelers in some country like Spain, for example, do not need a visa for Vietnam, provided that the stay is up to a maximum of 15 days (including arrival and departure day). For longer stays, a visa must be processed before visiting the country. There are 1 or 3-month visas with one or more entries. To process, you must follow one of these:
At the Embassy of Vietnam in your country, for both entries airport as ground crossings, the Visa fee is 45$, and it takes about 3 or 4 days. You need to fill out a form and submit a photo.
Some Vietnamese travel
agency who transacted online as  Vietfun Travel , Vietnam-visa or Vietnam-immigration, you can only buy tickets to the country by airports and prices are somewhat higher.
Another recommendation is NOT to leave your passport at the hotels. In most accommodation in Vietnam, you are required to leave your passport for the duration of your stay. But remember that it has a greater value if you are overcharged on a washing machine, or get an extra fee, ... It is best to leave a copy if they want to have something for the guarantee.
CURRENCY
The official currency of Vietnam is the Dong (VND). Be sure to check the updated exchange rate in advance. In Vietnam, there have been cases in which tourist got steal in hotel rooms. So, it is best to carry a lock and close the two rings of the backpack with the money well hidden inside. They do not usually touch visitors' technology and valuables.  
WHEN TO TRAVEL
The climate in Vietnam is somewhat different between the north and the south. In the south of the country, the climate is tropical whereas, in the mountains of the north, it has a more continental shelf. The monsoon season is from May to October during which there are rains throughout the country, and the temperature in the north are warm. Between November and April, the rains cease but in the mountain areas of the north (even in Hanoi), it is quite cold.
Security
Vietnam is a safe country, even though robberies have been detected in the cities of Saigon and Hanoi and the night train that makes the journey to/from Sa Pa. However, one must take the security measures that are taken in any travel.
Beware of traffic: it is said that the worst drivers in the world are Vietnamese, and the number of motorcycles is so huge (in Hanoi there are millions of motorcycles!) Move with four eyes if you rent a motorcycle and watch well when you cross a street in Hanoi or Saigon.
VACCINES
In Vietnam, there is a great risk of catching diseases like dengue and malaria. In the latter case, there is no need to worry too much because it is concentrated mainly in rural areas. The most tourist and urban areas are free of Malaria. However, take all precautions: put on a good mosquito repellent at all times, sleep every night with a mosquito net, avoid the hours of mosquito concentration (sunrise and sunset) and in areas like rivers, lakes, and wetlands, wear appropriate clothing.
The recommended vaccines are Hepatitis A and B, typhoid fever, Japanese encephalitis and tetanus and rabies (you probably already have them). At the nearest External Health Center, you will be given all the necessary information and also the vaccines and prophylaxis required.
BUDGET
The daily expenditure per person per day was 1 - 2.51 pound as in below calculation:
Accommodation: 5470000 Dongs (200 €) divided between 28 days (I spent two nights on buses). The expenditure was € 3.57 per person. It is much cheaper if you spend your night in a backpacking tent. My friend spent his entire trip in a tent. First, he was quite confused over which to choose but then he opt for a MOUNTAINSMITH MORRISON 2 PERSON 3 SEASON TENT after studying backpacking tent reviews on a website named Family Tent Center. This tent is only for 2 persons. The quality can not be denied and it only weights 5.3 pounds.
Food : 6567000 Dongs (241 €) divided into 30 days: € 4.02 per person.
Transport: 4030000 Dongs (150 €) divided into 30 days:  € 2.50 per person.
Activities: 3,100,000 Dongs (115 €) divided into 30 days: € 1.92 per person.
Others: 841,000 VND (30 €) divided into 30 days: € 0.50 per person.
PLUG
The plugs that can be found in Vietnam are of three types: the A with two flat pegs, type C - the European two round pegs, and the less frequent G with three square pegs. You can buy a universal adapter.
ITINERARY
My accommodations in Vietnam for 40 days include:
The island of Phu Quoc
Ho Chi Minh City (Saigon)
Mui Ne
Ho an
Hue
Ninh Binh
Hanoi
Halong Bay
Sapa
TRANSPORTATION
Transportation in Vietnam is fairly easy, although it is too much trafficked, especially in the vicinity of the big cities and within them, where it is a crazy thing. There is virtually a single tourist route from south to north, from Ho Cho Minh City to Hanoi (over 1,500 km), with different stops along the way. You can move in buses or a train, in this case, the reservations will have to be made some day in advance. Many agencies offer train reservation services, and there are open bus tickets. The Open Bus, which allow you to travel Vietnam has several stops with the same ticket but with different price depending on Your journey.
You can rent motorcycles in almost all hotels, and down the street, there are lots of men who sing every second the same song: "motorbike, motorbike!". It usually costs $ 4-5 per day, and you must return the full petrol tank or the same as you have been given. It is ideal to go your way without any travel agency, taxi or organized excursion. Of course, you should well beware of other drivers because they do not respect any signal or traffic lights.
Bikes can also be rented in all hotels and each span of the street. They cost about two dollars per day and are highly recommended in quiet cities like Hoi An. It will also be necessary to pedal with four eyes. Well, if they skip a red light, we too.  
WHAT TO EAT
Vietnam is an ideal destination for foodies. There are lots of different and healthy dishes, besides eating is very cheap. These are the delights that you should not fail to try:
Pho Bo is the national dish. It is a rice noodle soup with thin slices of beef. There is also Pho Ga in which beef is replaced by chicken. Each pho is different. The soup broth is super tasty and flavored, and you can "customize" your pho with fresh ingredients: cilantro, mint, lime, fish sauce, chili, soy ...
Bun Rieu is a noodle soup flavored with tomato and crab. Served with crab meatballs and fried tofu.
Bun cha Gio thit nuong is a kind of combination plate consisting of rice noodles, lettuce, the roll of minced pork, peanuts, shredded pork, and vegetables.
Cha Gio: a rice paper roll, usually stuffed with minced pork, mushrooms with rice noodles and vegetables and eaten fried).
Goi Cuon: In this case, the roll is not fried. Rice paper is raw and stuffed with vegetables, shrimp, and noodles. It is served at room temperature.
The city with more culinary personality is Hoi An, the gastronomic capital of Vietnam. It has some typical and tasty dishes that can only be tasted there. And best of all, you can accompany them with rods beers at 15 cents!
Cao Lau: a bowl of rice noodles with pork, bean sprouts, vegetables, and croutons with soy sauce. It is super typical of Hoi An. People say that you can only cook with the water from a well in this city ...
Won ton: it is fried rice paste stuffed with pork and the tomato sauce, peppers and onion
White rose: it is a kind of steamed ravioli and shrimp filling
THE BEST AND THE WORST
This is one of my favorite sections. Here I tell you the anecdotes of the trip, personal feelings of the place, things I love and hate in summary of my passage through Vietnam.
The best
The Phu Quoc seafood, we have eaten more grilled sepia there than in the past ten years.
Enjoy the Chinese New Year at HCMC, a unique experience!
The dunes of Mui Ne: the feeling of being in the Sahara surrounded by Vietnamese and two steps from the sea.
Stroll through Hoi An, a city with lots of atmospheres and beer at 15 cents!
Being able to see the continental hotel of HCMC where Tiziano Terzani spent his time in Vietnam.
The water puppet theater, we loved it!
Banh mi, the Vietnamese response to McDonald's, are some of the best burgers we've ever had! And the fried chicken mmm.
The birthday surprise I was expecting in Hue!
Halong Bay. That alone deserves the visit to this country. Incredible!
The Vietnamese national dish, Pho! The soup that you can find at all times and everywhere.
Traveling in night bus: comfortable and time-saving.
In general, I have to say that I have found myself more at ease in the south of the country where people are perhaps more open than in the north.  
Worst
Forget our backpacks with the important things in a taxi (two cameras, mp3, mobile ... lost).
Run out of camera battery during Chinese New Year week, when stores are CLOSED! So we spent a few days without a camera.
Lost the photos of Phu Quoc.
They stole our motorcycle, lol.
Fighting bad weather for three days in Ninh Binh: we had to give up visiting one of the best areas of Vietnam because of the rain.
Some men have a not-cool-attitude just to wear a uniform.
Is Vietnam worth it?
Certainly, although there are things that do not quite convince us at all, we can not deny the historical and cultural importance of this corner of Southeast Asia, and the fact that visiting Halong Bay alone justifies the trip.
We hope our travel guide to Vietnam for backpackers will be useful. For any doubt, question or curiosity do not hesitate to write us, and we will be happy to help you.
Other news