Rex Hotel's Rooftop Garden Bar in Saigon
Wed, 08/02/2017
5948 viewed
0 commented
Saigon at night is always gorgeous and vibrant. To get the most out of the night, nothing can beat a visit to a rooftop bar, where the panorama of the whole city is vivid and lively in front of your eyes. That's why you are highly encouraged to pamper yourself with a relaxing drink at the
Rex Hotel's Rooftop Garden Bar
after a long
tour of discovering Ho Chi Minh City
or after a hardworking day.
Located on the five storeys of the Rex Hotel, Nguyen Hue Street, District 1, Ho Chi Minh City, the Rooftop Garden Bar was even voted as "one of the top-ranked bars of South East Asia" in 1996 by Newsweek Magazine. Furthermore, it is also listed as "1000 must-see places before you die," by Patricia Schultz – an American journalist. For the citizens, the bar is also a flawless spot to organize wedding receptions and office parties.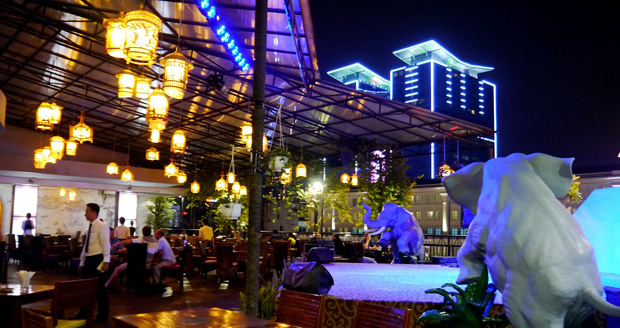 Although the city has recently developed a lot of more popular and beautiful rooftop bars, this bar has remained its essence, reputation and much of its old charm, thanks to its favorable central location, neon lights, bonsai trees, elephant statues, live music mostly every night, a wide range of beverage options, a lovely atmosphere and panoramic view over the bustling city.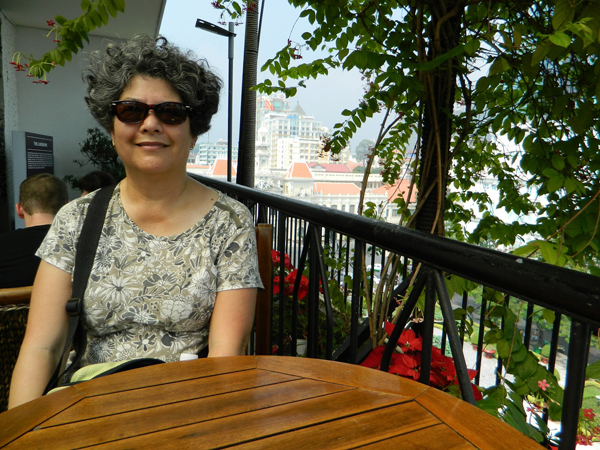 A number of guests are appealed to the
Rooftop Garden Bar
for a glimpse at the eye-catching interior of the famed Rex Hotel, which was served as headquarters of the American Forces Information Service and became a frequent hangout of U.S. military officers during the Vietnam War.
Due to an open-air atmosphere, the bar firstly wins visitors' heart by stunning views over some of the most picturesque streets in Saigon from the height, such as Le Loi Street, Nguyen Hue Street and so on. The best time to have yourself dipped in the ideal view and relaxing moments is to visit the bar at sunset.
In general, the unusual shape of the
Rooftop Garden Bar at Rex Hotel
also allows for a large stage as well as dance floor, which are perfect for nightly live entertainment that features a wide variety of both domestic and international bands. Along with cool cocktails, there are also plenty of drink specials and a countless number of all the most famous brands of beers and beverages. The list of drink is sizeable, with prices totally in line with other
rooftop bars in Saigon city
. Do not miss a happy hour from 4 PM to 8 PM where certain drinks are at a discount of 20%. Try to tickle your taste buds with an enormous selection of Vietnamese, Western, and Chinese dishes. Although dress is casual, no permission has been given for shorts and tank tops.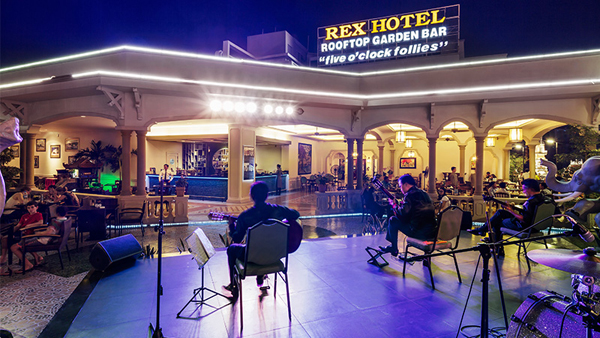 Before entering the bar, guests should park their motorbikes in the garage on Le Thanh Ton Street, which is opposite to the People's Committee Hall, with a flat-rate fee of about 10,000 VND. The bar is usually open 24/7 that makes it a wonderful choice for those who want to visit at any time of the day or night. Moreover, food and drinks are also available around the clock.
Don't hesitate to learn more about the
Rex Hotel's Rooftop Garden Bar
at its official website:
http://www.rexhotelvietnam.com/dining/rooftop-garden/
. The best way to know more information or make a table reservation is to call directly (84 8) 3829 2185.
Other news