The Best Parks and Zoos in Ho Chi Minh City
Wed, 16/11/2016
14706 viewed
0 commented
Ho Chi Minh City often stands out for its historical landmarks, hundred-years-old pagodas and temples, yummy street foods, sleepless nights, and so on! That's why the pace of the urban lifestyle seems to be faster and busier with bustling commercial areas and high-rise buildings. Thus, both locals and tourists are sometimes in need of a natural green and pleasant space where they are freely able to go for a stroll under shady trees or spread their eyes over many kinds of animals.
Parks and zoos are abundant around the city which will surely attract children and adults from the first sight. The more parks you pay a visit to, the more people you meet. These places are perfect not only for kids to hang out and gain memorable experiences, but also for adults to vividly recall their lovely childhood. Although times can have changed, there is still a need for this sense of community. Regardless of whether you plan to visit Saigon zoo and botanical gardens or Ho Chi Minh water park, spend time reading our brief view on the
top parks and zoos in Ho Chi Minh City
below!
Dam Sen Park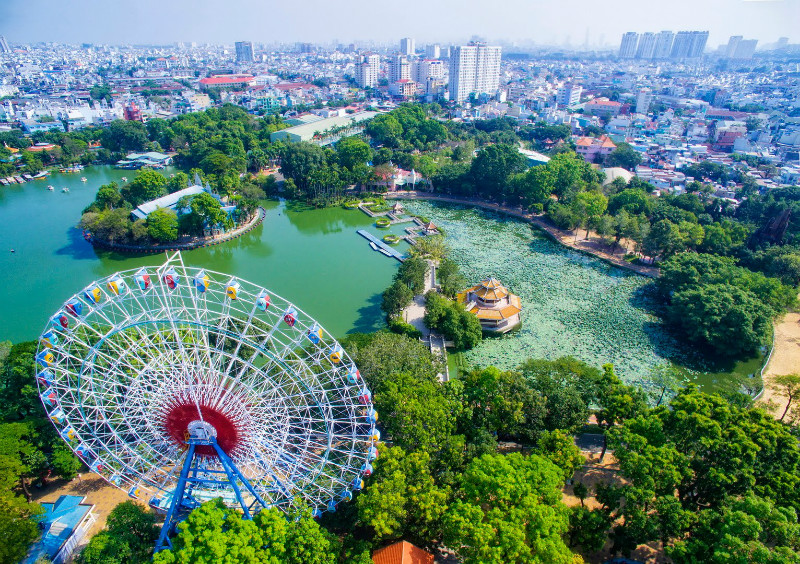 As a giant oasis in the suburbs of Saigon, Dam Sen Park becomes a faultless zone if you are traveling to Vietnam with family members, especially kids. Established in 1999, it has recently covered more than 50 ha on the large area of Lac Long Quan and Hoa Binh Street. This is indeed a fun-filled attraction for visitors of all ages to escape from the tropical heat. The park is divided into 2 specific areas, namely
Dam Sen Cultural Park
and
Dam Sen Water Park
. As the prominent water park Ho Chi Minh, guests' satisfaction will reach highest notch by a lot of aquatic games and activities, like water fountains, unique water slide experiences, water games, etc. Besides, Dam Sen Cultural Park is where you may wander around, enjoy natural landscape, and have yourself challenged with sensational games, such as discovery of virtual world, roller coaster, Ferris wheel with 60m high, haunted castle, and so on. The Park annually invests in new and modern games of the world.
Opening Hours: 7.30 AM to 6 PM every day
Address: 3 Hoa Binh Street, Ward 3, District 11, Ho Chi Minh City, Vietnam
Ticket Dam Sen Water Park: Admission is height (and nationality) based; under 0.8m free, 0,8-1,4m 90.000 VND others 140.000 VND (all in one)
Ticket Dam Sen Cultural Park: Admission is height (and nationality) based; under 1m free, 1-1,4m 100.000 VND others 180.000 VNĐ (all in one except for a few games note on the ticket)
Suoi Tien Park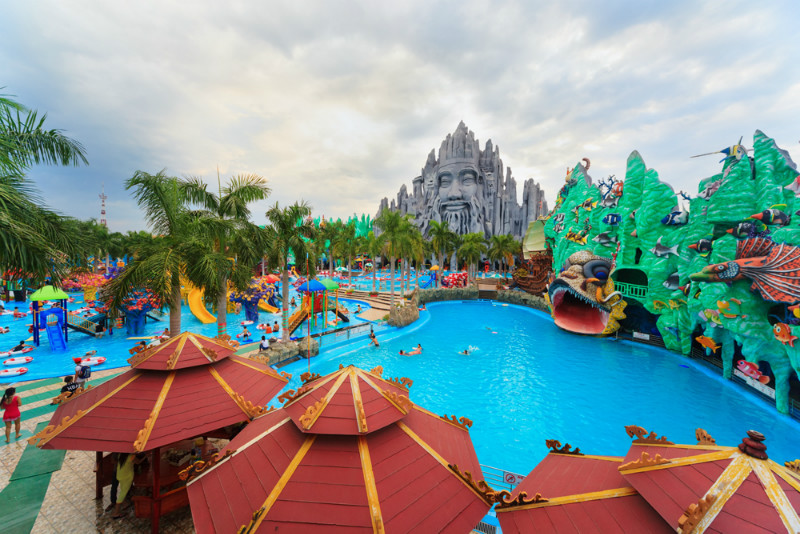 40 minutes away from Ho Chi Minh City, Suoi Tien is truly a special Buddha-themed park around the country. Further, the animism also works well for the park. The Dragon, Unicorn, Tortoise, and Phoenix have been chosen as its sacred animals. The name "Suoi Tien" or "Fairy Stream" has its root from a touching story about seven sacred girls who passed away and became fairies in this land. The land was then turned into a forestry farm before becoming the largest cultural theme park of Saigon. In addition to watching oriental architecture and learning more about legendary history of Vietnamese, this park also introduces countless types of games, from adventurous to scary and thrilling ones. Some typical examples include 4D Theatre, mystery of the forest, air bicycle, roller coaster, etc. No one, especially kids, will be disappointed when arriving in this recreational spot!
Opening Hours: 7 AM to 5 PM every day 
Address: 120 Hanoi Highway, Tan Phu Ward, District 9, Ho Chi Minh City, Vietnam
Entrance fee: 50.000 VNĐ for adult (a half for kids). Extra cost varies from 5.000 VNĐ to 60.000 VNĐ depending on each game.
Binh Quoi Tourist Village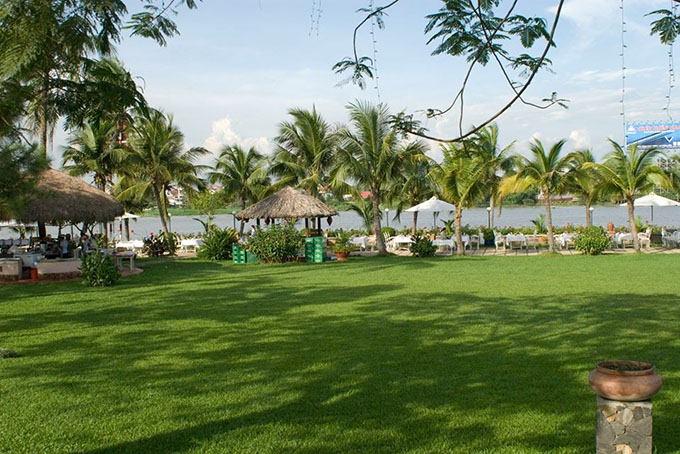 Binh Quoi is not just a park, but it is also a large and peaceful village covered by open space of flowers and trees, colorful lanterns scattered along the path, as well as marvelous lake glittering the light from these lanterns. The place is divided into two tourist branches, namely Binh Quoi 1 and Binh Quoi 2. With a total area of over 3.5 ha combined with fresh atmosphere, airy space, and ideal services, Binh Quoi Tourist Village will be a great day trip for those who want to stay close to nature from the crowded vibe of urban area. Not noisy as other parks, the zone looks like a vista that still retains the idyllic and rustic features of quiet villages in the South. So, it is not hard to deny the fact that discovering Binh Quoi village is one of the most pleasing things to do in Ho Chi Minh City for sure!
Opening Hours: 9 AM to 11 PM from Monday to Sunday 
Address: 48/10 Dien Bien Phu Street, Ward 22, Binh Thanh District, Ho Chi Minh City, Vietnam 
The Crescent Lake Park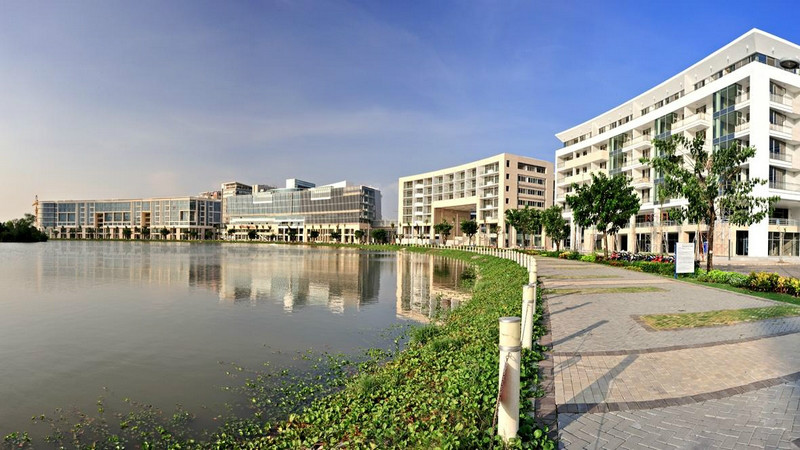 If you travel to Vietnam with your beloved partner or spouse, ignoring Ho Ban Nguyet Park, or Crescent Park seems to be a pity. During the daytime, the park is often less active and lively than the nighttime. But, this feature does make it one of the hottest places among the locals to roam around Crescent Mall and shopping area or to take wedding photos of a lifetime. At any given time during the day, it is easy to find some couples posing for portraits. But, night seems to be the most expecting moments. When the sun goes down and darkness falls, the park is likely to become much more active, colorful, and vigorous, but is still common as a romantic hangout. At that time, couples tend to go hand in hand and wallow in their sweet moment along the waterfront park, come across the Starlight Bridge, and mingle with the peace and quietness in this spot.
Opening Hours: Every day 
Address: Tan Phong, District 7, Ho Chi Minh City, Vietnam 
Gia Dinh Park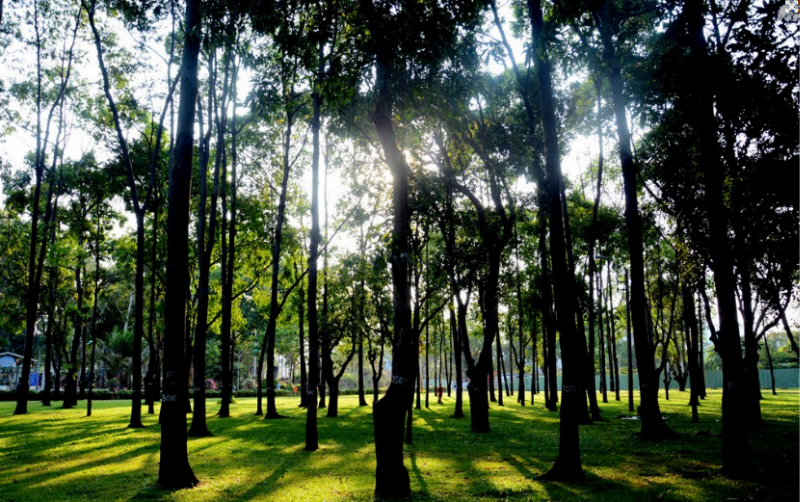 As the lungs of the city, Gia Dinh Park is relatively covered with large green area. It has 2 main branches, called Gia Dinh 1 and Gia Dinh 2. With a total area of 37 ha, it is considered the biggest park in Saigon, including natural landscapes and sub-zones for children to play movement games, ladder climbing adventure. Gia Dinh 1 is where you may gain a peace of mind, thanks to the foliage of trees and colorful flowers along the walkway. Gia Dinh 2 seems to be larger than the first branch, where a lot of funny activities are daily happening, like taking exercise, dancing, singing, going for a stroll around, etc. Sometimes, the place also holds a few special events and festivals for kids, i.e. Circus, Halloween, Christmas, and so on! Especially, there is no need to spend any fees when visiting this public park.
Opening Hours: From Monday to Sunday 
Address: Hoang Minh Giam Street, Ward 3, Go Vap District, Ho Chi Minh City, Vietnam 
Saigon Zoo and Botanical Gardens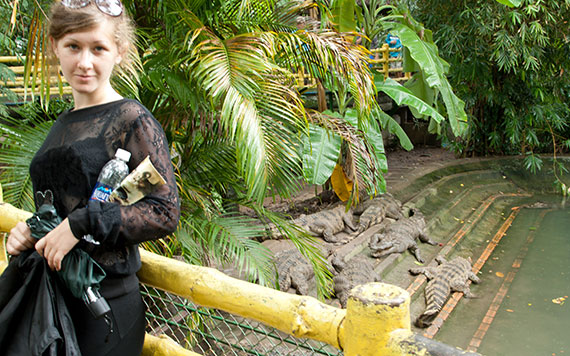 Ranked as one of the oldest zoos worldwide, Saigon Zoo and Botanical Gardens is a humble abode of more than 500 animals and 1,800 trees and plants. The spot does bring every visitor a close stay at the natural vegetation and wildlife species. The quiet space also separates from the hustle and bustle outside, making this Ho Chi Minh zoo a "serene oasis" within the chaotic vibe of the city. Setting for a relaxing picnic at weekends here is always a stunning idea. All sadness seems to be vaporized when you have an unforgettable moment with your loved ones, take a walk around the space of the zoo, and learn more about the world of nature and animals. 
Opening Hours: 7 AM to 6.30 PM from Monday to Sunday
Address: 2B Nguyen Binh Khiem Street, Ward Ben Nghe, District 1, Ho Chi Minh City, Vietnam
Ticket Price: 20.000 VNĐ ($1)
See detail about Saigon Zoo and Botanical Gardens
Thu Thiem Tunnel Park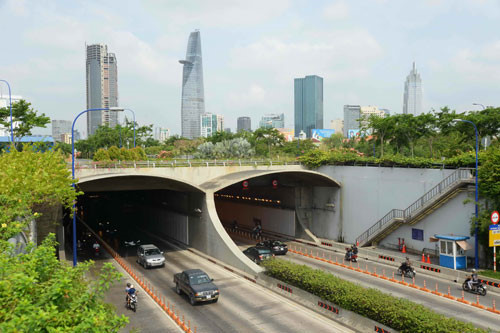 As an exquisite open space for both locals and tourists, the small park above the entrance to Thu Thiem Tunnel does give inspirational views over the Dragon Wharf, the riverbanks, and the high-rise Bitexco Financial Tower, especially at sunset. After a long day of hard work and study, Thu Thiem Tunnel Park becomes a great meeting place. Try imagining how wonderful and pleasant it is when you stand on the bridge, enjoy the cool breeze as well as watch the city lights twinkling at night. Young people are also able to relish street foods, ice cream and candy floss from the vendors while engaging in gossip. Thu Thiem Bridge is also a flawless spot where visitors can view firework performance in some special events or teenagers may selfie for unique shots. It is truly one of the meaningful experiences that travelers should not miss.
Opening Hours: Daily 
Address: District 2, Ho Chi Minh City, Vietnam 
Tao Đan Park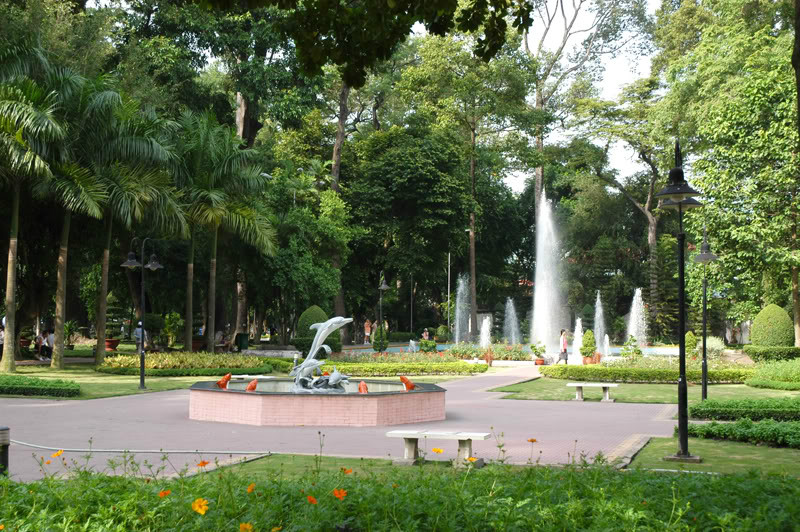 Covering about 10 ha, Tao Dan Park stands out as one of the most popular and tranquil spots, not only for Saigoneses, but also for tourists to Ho Chi Minh City. Immersing into the green park, you are easily able to enjoy fresh air and sense of the calm here. There are also lots of exciting activities around the park, like taking a promenade around, relaxing on the bench, joining in stretching exercises and tai chi, or even practicing belly dance. However, what does make Tao Dan Park prominent and stunning is the bird cafe where visitors may relish sweet songs from birds. Every morning, Saigon bird keepers with their beloved birds on cages will congregate at the cafe. And what is more interesting and attracting than sitting in a green space, sipping a cup of coffee and listening to bird songs, right?
Opening Hours: From Monday to Sunday 
Address: 55C Nguyen Thi Minh Khai Street, Ben Thanh Ward, District 1, Ho Chi Minh City, Vietnam 
Le Thi Rieng Park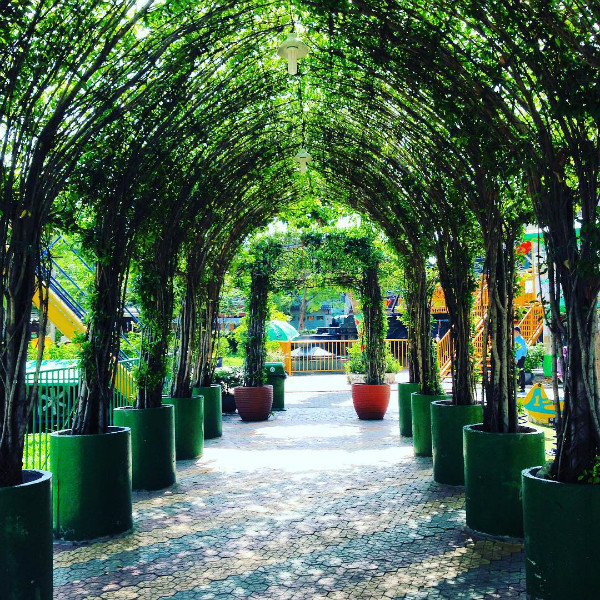 Another way to spend your peaceful trip is to arrive in Le Thi Rieng Park – one of the best parks in Ho Chi Minh City. Covered with green gardens, the park is a great spot for going for a stroll, rollerblading, badminton, chilling out and even fishing! During the daytime, it also entices groups of students to come to use the shaded terraces as open-air classrooms. At night, the part turns into a night market as well as mini-fair grounds. Street and junk foods are also available in front of the Le Thi Rieng Park, which help to satisfy your hunger any time. That's why it is indeed a good place to fill in time
Opening Hours: Daily
Address: 875 Cach Mang Thang Tam Street, Ward 15, District 10, Ho Chi Minh City, Vietnam 
30/4 Park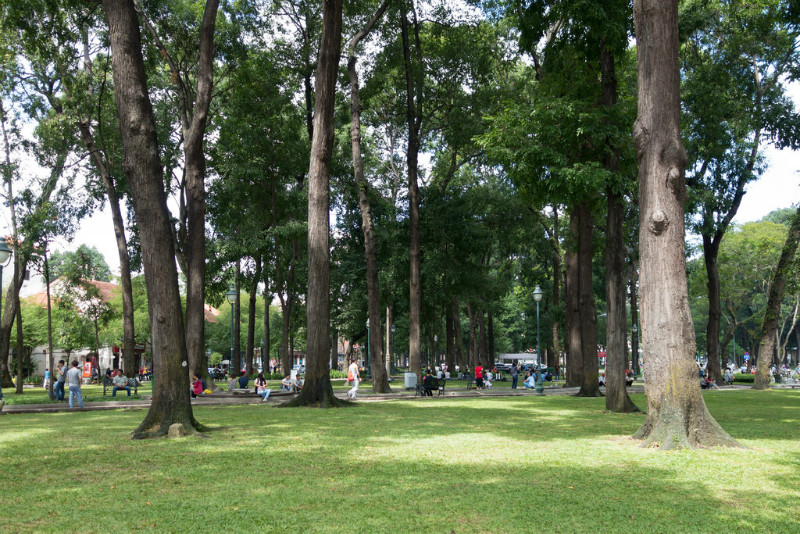 Situated between the city's
Notre Dame Cathedral
and the Independence Palace, what makes the 30/4 Park special and easy-to-remember is its name, which takes from Vietnam's Reunification Day (April 30th). The park has a large system of green trees, providing shade for visitors to chill out! Further, a fair number of park benches also give them a place to get off their feet as well as rest a bit after paying a visit to other locations, like the Notre Dame Cathedral, Independence Palace or Central Post Office. Maybe, the highlight of this park is a panorama of the locals enjoying street coffee, the students learning and even drawing, and the elders doing exercise. 
Opening Hours: Daily 
Address: Pasteur Street, Ben Nghe Ward, District 1, Ho Chi Minh City, Vietnam 
Other news