Top 7 Best Rooftop Bars in Ho Chi Minh City (Saigon)
Tue, 08/11/2016
31860 viewed
0 commented
Saigon, now called Ho Chi Minh city, is known as a city of youth, vibrancy and modernity. The city is most beautiful when the night comes, that's true. To perfectly enjoy a gorgeous and wonderful Saigon's nightlife, rooftop bar is a perfect choice. It can provide you with the best view from an airy and spacious space above. Especially, each type of rooftop bars at Saigon has their own unique styles and features, which will make your excitement and satisfaction reach the highest notch.
Here are the
top best 7 rooftop bars in
Ho Chi Minh City
that I think everyone coming to Saigon should take a look at. Although these places can have some high price, they are pleased you with great service and stylish ambience. I am sure that it's worth every penny you spend.
1. Chill sky bar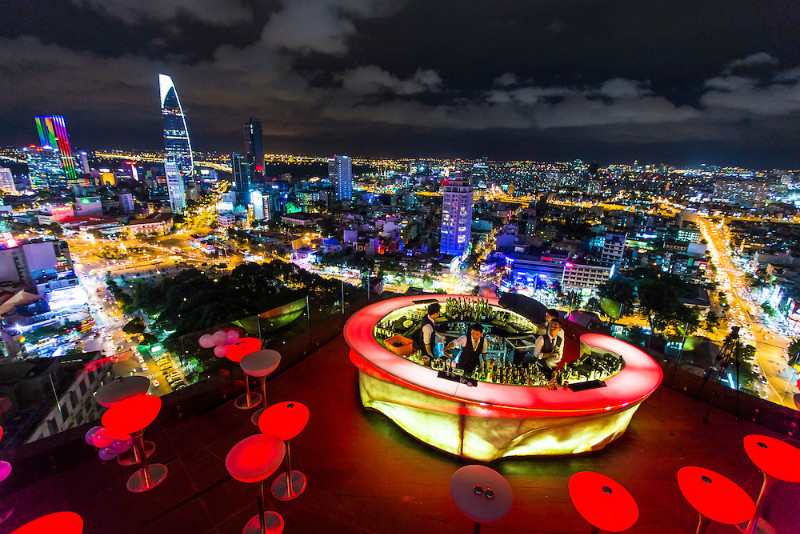 This is probably one of the few bars which has the most romantic and prime position in Saigon. The whole city looks vivid and colorful in front of your eyes when you stand in Chill Sky Bar that sits on the 25th floor of Saigon's AB Tower. It's hard to find any minus point of this bar because it is completely fine in all aspects, ranging from the food to the services. Everything is all lavish and perfect. The cocktails here have always been ranked as "10 quality points" by stylish customers. The bar also has cool and stylish DJs. The music they play is good and even a little mysterious, making you just want to dance and have yourself sunk into it.
Chill Sky is truly suitable for couples, friends, tourists who like coming here to enjoy great views and take photos. Please remember that before any arrival, you need to wear courteous clothes because the bar can refuse to serve you if you wore flip flops.
Opening Hours: Daily from 5.30 PM to 3 AM
Address: 76A Le Lai Rooftop of AB Tower, Ho Chi Minh City
Tel: +84 83 827 2372
See more: 
https://vietfuntravel.com/blog/chill-sky-bar-ho-chi-minh-city.html
2. Shri Restaurant and Lounge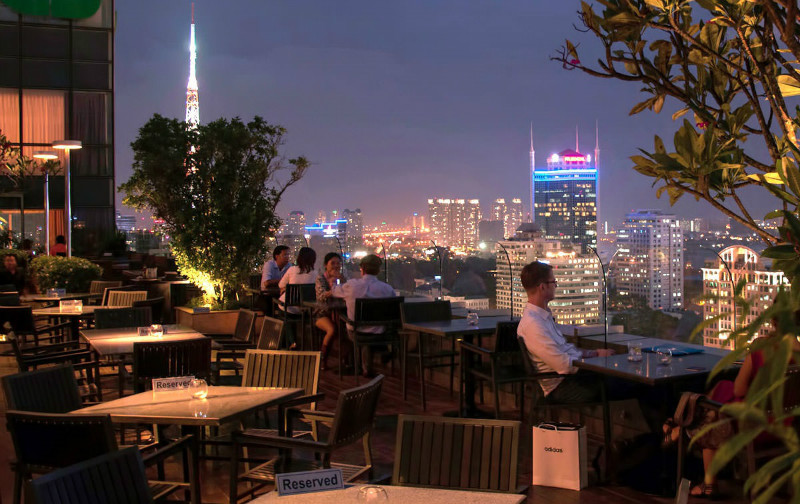 Built in 2009, Shri is listed as one of the first rooftop restaurants in Saigon. Even now, when there are many different rooftop bars in Saigon, Shri is still attractive with its own unique charm. It provides customers with a panoramic view of the city, especially the 1 District and 3 District.
With elegant and luxury design, Shri becomes an ideal place for friends, couples, or anyone who loves quiet and romantic space like this. And when visiting here, you can not ignore the plentiful and varied menu in a restaurant in which European cuisine in original style is highlighted. Although the price here is a little high, you will definitely not be disappointed. The staffs here are very nice, enthusiastic and always ready to serve guest with a great service.
Shri gets its name famous as one of the top firework sightseeing spots in the city. There is one more special thing as well: you can visit Des Arts Saigon Mgallery Collection through a transparent bridge crossing the 23
rd
floor – The Social Club and Pool Rooftop Bar of the building.
Opening Hours: Monday - Saturday from 10.30 PM to 12 AM,, Sunday from 4.30 PM to 12 AM
Address: Centec Tower, 72-74 Nguyen Thi Minh Khai Street, Ho Chi Minh City
Tel: +84 83 827 9631
See more: https://vietfuntravel.com/blog/shri-restaurant-and-lounge-rooftop-bar.html
3. OMG Rooftop Bar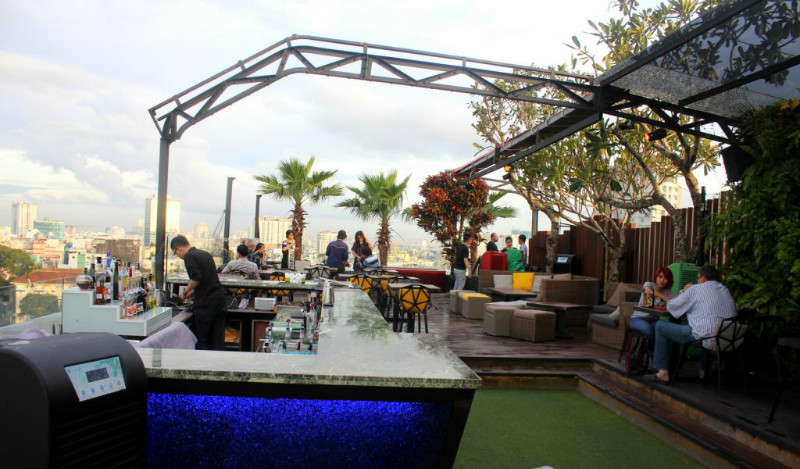 Not energetic like Chill Bar and monumental like Shri, OMG Rooftop is simply a place to admire Saigon's night. Located in the rooftop surrounded by Saigon crowded streets, OMG emerges like a jewel with a bar beautified by an Asian style in the 90s. It brings to you an interesting experience when contemplating the whole area around Ben Thanh market, which is very colorful and lively. OMG has soft and warm interior design in which the light is cleverly integrated. The bar also offers you a subtle, youthful and dynamic Saigon. The food and drink here is very good with a reasonable price.
Stepping inside OMG, chatting with friends or just sipping a glass of Virgin Plum Mojito is a smart choice. You can simply sit here and then enjoy the comfortable seating, cool breeze and an amazing view, of course. Staffs in the bar are very friendly and enthusiastic that will be always present when you call. That makes OMG little by little become a well-known rooftop bar in Saigon.
Opening Hours: Monday - Sunday, from 11 PM to 1 AM
Address:15-17-19 Nguyen An Ninh, Ben Thanh, Ho Chi Minh City
Tel: +8493 720 02 22
4. Eon Heli Bar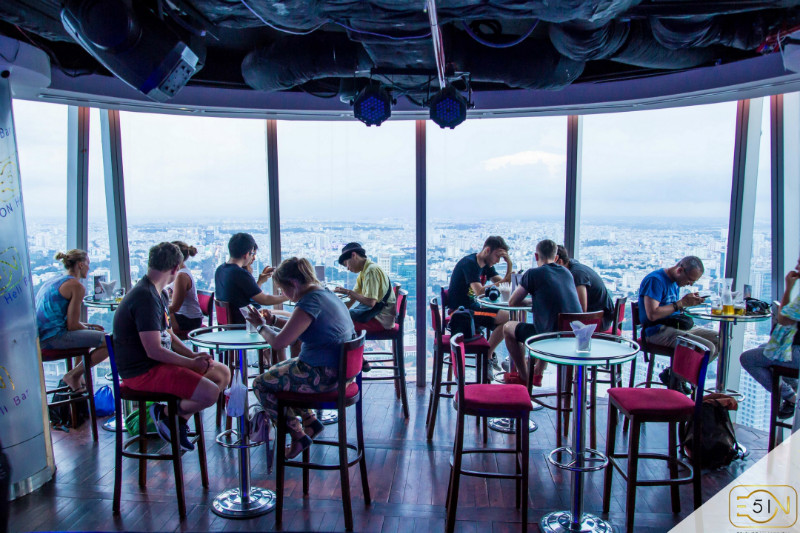 Almost from anywhere near Saigon center, you can see Eon Heli Bar – a bar with a unique name associated with the helipad of Bitexco Financial Tower. Located in the tallest building in Saigon, EON51, which literally means "the eyes from above," is not only a perfect place to admire the sunset with a cocktail, but also an ideal destination for a "let's rock" night with lively music performances, cool DJs, and creative drinks.
As twilight makes room for the night, the entire bar fills with soft light bulbs that allow customers to watch the stunning city with dreamy and gorgeous light just beneath their own feet. There are also dedicated areas for smokers and non-smokers so that guests can choose for their benefit. Thanks to the modern, creative design and spacious space, Heli bar is a good selection for raving party and lively activities. The price here is high. And the higher you climb, the more expensive the price is. However, it is really worth every penny you spend.
Opening Hours: Every day, from 10 PM to 2 AM
Address: 52nd Ffloor, Bitexco Financial Tower, 2 Hai Trieu, Ho Chi Minh City
Tel: +84 86 291 8751
See detail: 
https://vietfuntravel.com/blog/eon-heli-bar-saigon.html
5. Vuvuzela Rooftop Zen Plaza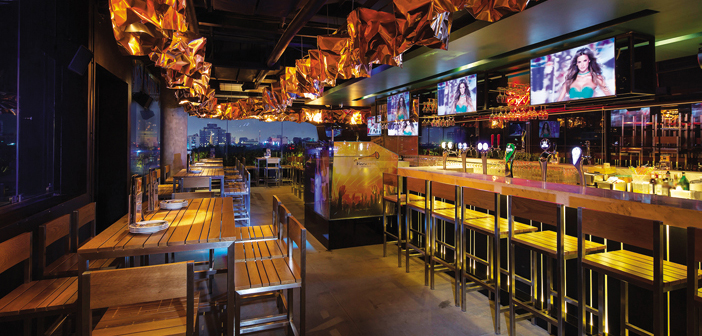 Vuvuzela is very well-known for Saigon youngsters. Situated in Zen Plaza shopping mall's rooftop, Vuvuzela has the best position that no beer clubs have ever had. The reason is that it lies at the center of the city, so taking advantage of its rooftop can bring customers novelty. With a bar style layout, Vuvuzela is large enough for a party with many members, and also suited to small groups in 3 to 5 people. This club has its own glamour by combining some cool activities with business, like interactive games, belly dance, and top DJ's performance.
At Vuvuzela, you can find almost any kind of beer you want, from Tiger and Bitburger (which are quite familiar) to Zamky (which is rarely heard) or many other kinds of beer from Belgium, Dutch. If you are a man who loves a party or just wants to relax from stress of work, this is indeed the right place for you. You may unleash your eyes and watch the shimmering and colorful scene of the city night as well.
Opening Hours: Monday – Friday, from 8.30 PM to 11 PM.  Saturday – Sunday, from 9 PM to 12 AM
Address: Rooftop Zen Plaza, 54 - 56 Nguyen Trai, Ben Thanh, Ho Chi Minh City
Tel: +848 3925 0339
6. Broma not a bar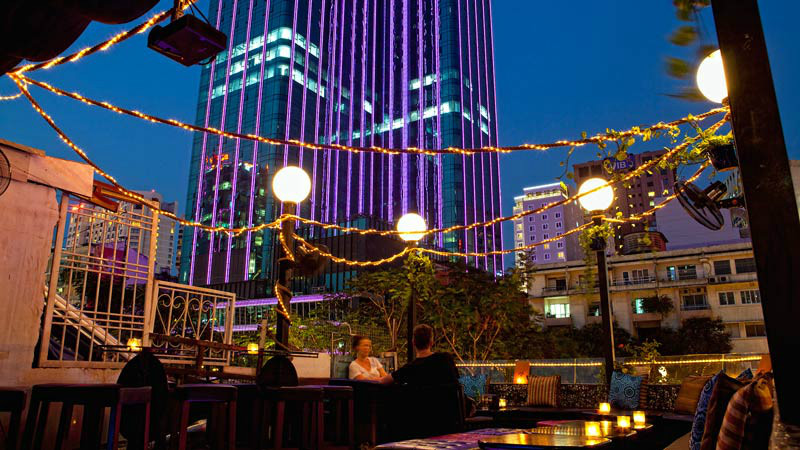 Humbly nestled in the 4
th
floor in a French-style building on Nguyen Hue Street, Broma is not a bar that has an advantage with height, like other rooftop bars. However, it owns a stunning view of the bustling streets of Saigon and Bitexco building. Especially when the sun goes down, the twinkling lights from the surrounding buildings help Broma become more shimmering and beautiful. The bar has a warm atmosphere and small space, which is very suitable for couples who're looking for a romantic and quiet place.
If you are a fan of Western cuisine, you will be happy to be here. Broma attracts tourists with various Western styles. Meals are not only tasty, but also very delicious. Music from bands always makes the open space of the bar vibrant and bustling. Guests here can also take sing and mingle with the atmosphere. However, it is better to sing really well. Otherwise, you will break the lively atmosphere here!
Opening Hours: Daily, from 5 PM to 2 AM
Address: 41 Nguyen Hue, Ben Nghe, Ho Chi Minh City
Tel: +84 83 823 6838
See some tours in this city
7. Glow Sky bar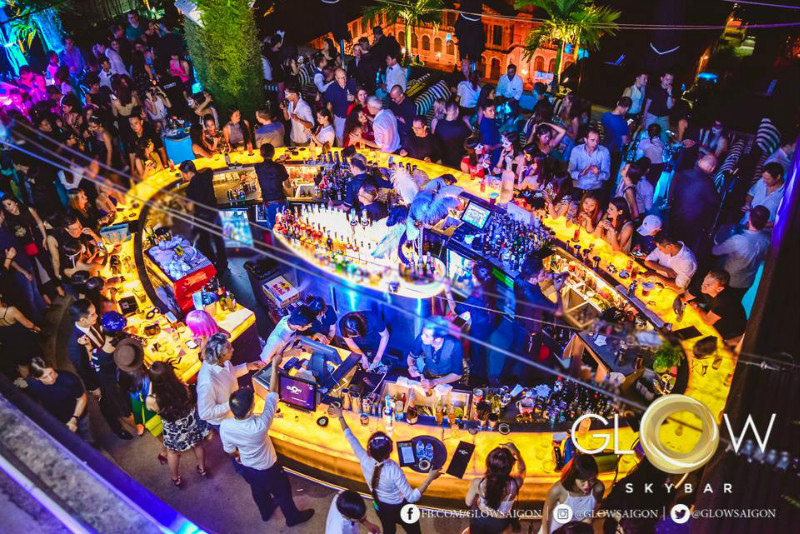 Situated at the top floor of the President Place building, Glow promises to bring you a wonderful experience of Saigon landscape at night. When the luxurious and impressive space of Glow makes you overwhelmed and excited as you step inside the bar, music and atmosphere will soon push your emotions to the maximum. This is a place for dynamic and vibrant parties with professional DJs and experienced bartenders. Designed with black and white furniture as well as plenty of tropical trees, the bar leaves your enthralled by its lively but still elegant and stylish theme. Being prepared by talented bartenders, the cocktails here have their own features and flavors. And these may satisfy even the prissiest customers.
Opening Hours: Every day, from 5.30 PM to 1.30 AM
Address: 93 Nguyen Du, Ben Nghe, Ho Chi Minh, Vietnam
Tel: +84 93 887 4569
Read detail: 
https://vietfuntravel.com/blog/glow-skybar-saigon.html
Other news