7 Most Famous Tombs You Should Visit When Coming To Hue
Sat, 22/04/2017
3531 viewed
2 commented
Nguyen Dynasty had 13 emperors. However, due to some reasons about economy and politics, there are only 7 monuments constructed. Today, all of them still maintain its unique architectural structure. Former people constructed most monuments in Hue City when the emperor was still reigning. Therefore, they are not the gloomy places. They keep the romantic landscapes with delicate and natural patterns and textures. The tombs are definitely a great place to visit among
things to do in Hue
.

Tomb of Gia Long
Imperial Tom of Gia Long has the circumference of 11000 meters. Constructed from 1814 to 1820, it lies in Thien Tho Mountainous Ensemble. It is the resting place of Emperor Gia Long (1762 - 1820), the first emperor of Nguyen Dynasty.
Situated along Huong River, it always keeps the cool air. This tomb is a great masterpiece which is a perfect combination between nature and architecture.
Tomb of Minh Mang
About 12 kilometers far from Hue city center, situated on Cam Khe Mountain near Bang Lang crossroad, Tomb of Minh Mang is the resting place of the second emperor of Nguyen Dynasty.
Built from 1840 to 1843, this 26-hecta monument is the huge structure including 40 construction projects different from size. They lie on a hill with large river and lake.
Tomb of Minh Mang contains a romantic and beautiful landscape. The slime of ages covers this place and keeps its original beauty. Therefore, it keeps the huge cultural, historic and architectural values. This is also one of the most famous destinations that attract many tourists.
Tomb of Thieu Tri
About 8 kilometers far from Hue City, Tomb of Thieu Tri is the structure that took the shortest time to finish building, in comparison to other emperor's tomb. It just lasted 10 months.
There are no walls surrounding around this tomb. After Emperor Thieu Tri's death, his successor, Emperor Tu Duc chose the place his father's tomb to be constructed in. The structure is a perfect combination and selection from architectural features of Gia Long's Tomb and Minh Mang's Tomb. It contains a peaceful landscape in the countryside with a vast paddy field and fruit gardens.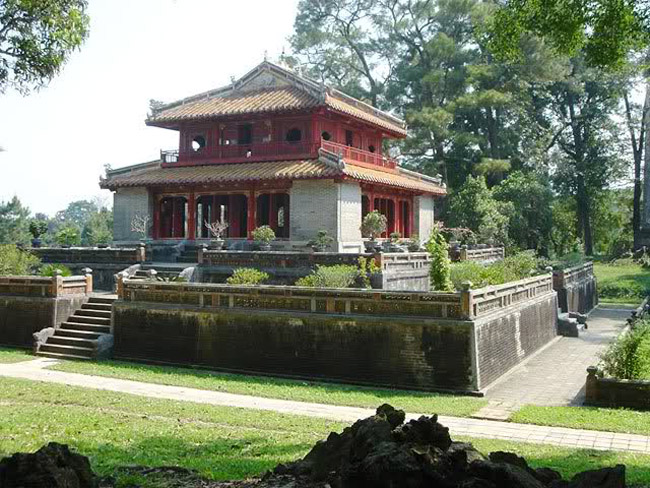 Tu Duc's Tomb
Constructed from 1864 to 1867, Tu Duc's Tomb, also called Khiem Lang, lies in a small valley in Thuy Xuan Village in Hue City. Its total area is about 475 ha. Nearly 50 construction projects in both Temple Area and Tomb Area contain the word "Khiem" in their own names. This tomb keeps the freestyle and flexible outlines which can totally express the characteristics of this romantic emperor.
Apart from the purpose of using as a resting place when Emperor Tu Duc died, this place is also his favorite place for relaxing, reading and composing. Therefore, the landscape of this tomb looks like a large park with a majestic lake and evergreen pines. Especially, to the left of Luong Khiem Palace, there is a theater called Minh Khiem. This is known as one of the most ancient theaters in Vietnam.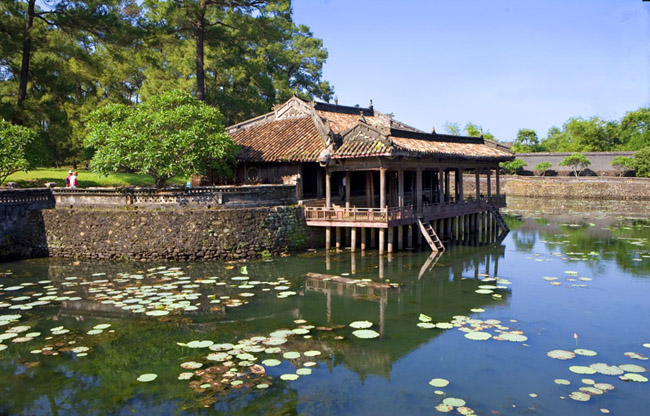 Imperial Tomb of Duc Duc
Buit in 1889, Imperial Tomb of Duc Duc is the resting place of 3 Nguyen Dynasty's Emperor, Duc Duc, Thanh Thai and Duy Tan.
In comparison to other tomb
s
of Nguyen Dynasty's Emperor, this place contains a simple and moderate architectural structure. It has the rectangular shape, while the total area is around 3445 square meters. Inside this place, there is not any rock statue like the other tombs.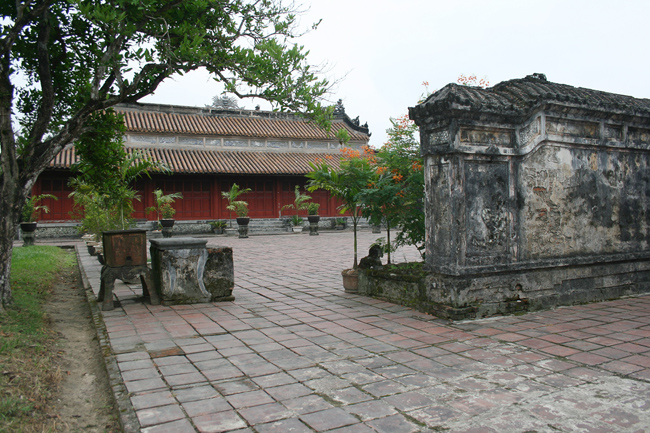 Tomb of Dong Khanh
Built during the reign of 4 different emperors, this place's construction lasts from 1888 to 1923. Tomb of Dong Khanh contains the traditional and classical design. The architectural style from West Europe strongly influenced on this construction.
Dong Khanh's Tomb is an important area which keeps many valuable lacquer products in Vietnam. They perfectly combine with many colorful windows. Almost architecture inside completely were Europeanized, from its main points, the way for decoration and construction material. However, Tomb of Dong Khanh can still protect the unspoiled and simple landscape in this place.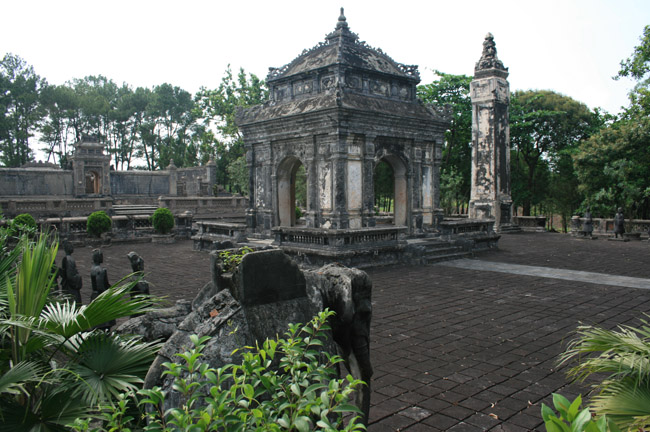 Tomb of Khai Dinh
This is the resting place of Emperor Khai Dinh, the twelfth emperor of Nguyen Dynasty. Around 10 kilometers to the southwest of Hue city center. This is the only architectural structure containing a perfect combination of both West and East culture.
Although its total area is not very large, people spent a lot of efforts and money on the building. It is prettily similar to other tomb's construction. Tomb of Khai Dinh was constructed within 10 years from 1920 to 1930.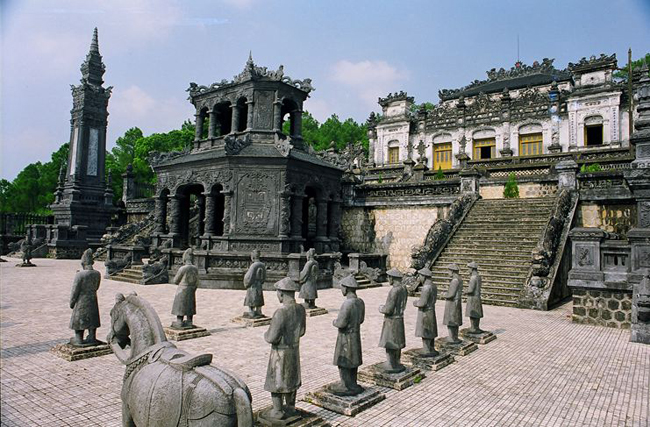 Note:
Most Nguyen Dynasty's tombs are far from each other and from Hue city center. Therefore, the best way for you to visit these great places is booking tourist tours. It definitely helps you save a large amount of money and time. All given destinations must be the great places for those who are interested in Nguyen Dynasty's history.
Other news