Top 20 Best places to visit in Vietnam
Tue, 25/04/2017
4682 viewed
0 commented
Many destinations in Vietnam such as Ha Noi capital, Mekong Delta, Hoi An, Ha Long Bay, Nha Trang, Vung Tau attract many people from all the corner of the world with their stunning landscape, unique culture and mouth-watering food. There are 20 best places to visit in Vietnam that international tourists prefer. Let's discover these beautiful destinations with
Viet Fun Travel
:

1. Da Lat
Da Lat's climate is cool all year round. Moreover, its scenery is also amazing with magical misty valleys; luxuriant, evergreen fir forests, and beautiful, colorful flowers. These were the reasons why the ancient Kings and nobles chose Da Lat for the purpose of rest and recreation.
Da Lat is located in Lam Vien plateau. Nowadays, this beautiful city is a paradise for those who want to escape the extremely hot climate of the Southern Vietnam.
Food in Da Lat is also a bonus for foodies with many delicious dishes such as grilled rice paper, hot soya milk, fresh vegetables and fruits, especially strawberries.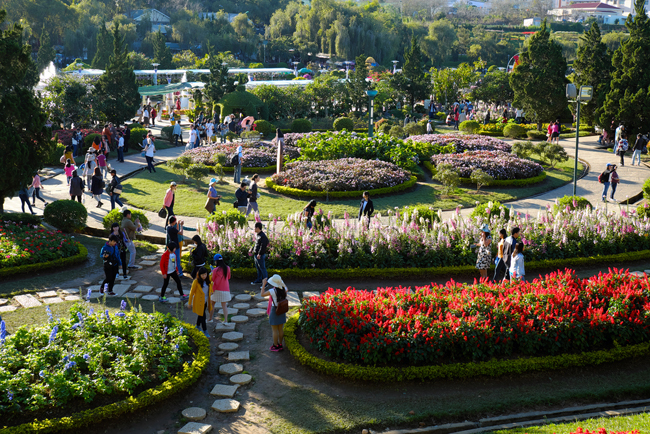 See more: Top things to do in Dalat

2. Ho Chi Minh City
Lying along the bank of Sai Gon River, in the past, Ho Chi Minh City is used to be called as "Sai Gon". Nowadays, it is the biggest city in Vietnam. To foreign travelers, the attraction of this city is the harmonious combination of traditional and modern beauty one as well as many exciting places of interest and dynamic life at nighttime.
Furthermore, the street foods of Ho Chi Minh City also have an undeniable attraction. When you pay a visit to this city - one of the most eventful cities in Vietnam, you can fill your stomach with many featured food zones such as Ben Thanh Night Market, Ha Ton Quyen Dimsum Street, Vinh Khanh snails Street, Nguyen Tri Phuong BBQ and Hotpot Street, and so on.
Some must-visit places in Ho Chi Minh City are Nguyen Hue Walking Street, Ben Thanh Market, Sai Gon Notre Dame Basilica, Central Post office, Starlight Bridge…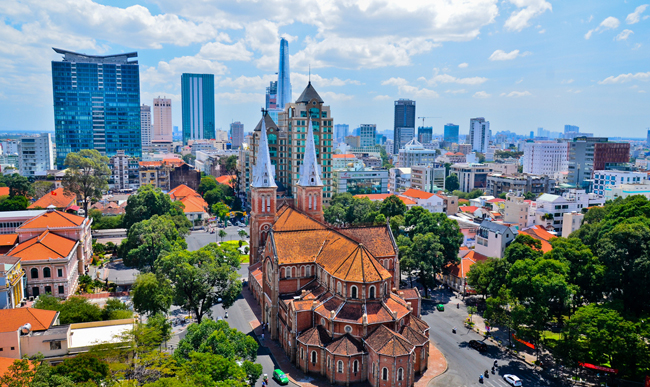 See more: Top things to do in Ho Chi Minh City
See more our Ho Chi Minh Tours

3. Mekong River Delta
Colorful floating markets, rich orchard grasses, infinitely spread rice fields, lovely peaceful villages, etc. All of them make Mekong River Delta become an ideal destination for international holidaymakers, who want to experience the idyllic life of Vietnamese people.
Floating markets are considered as the featured cultural custom of the water regions. Its advent depends on the demand of exchanging product as well as the living conditions of the residents.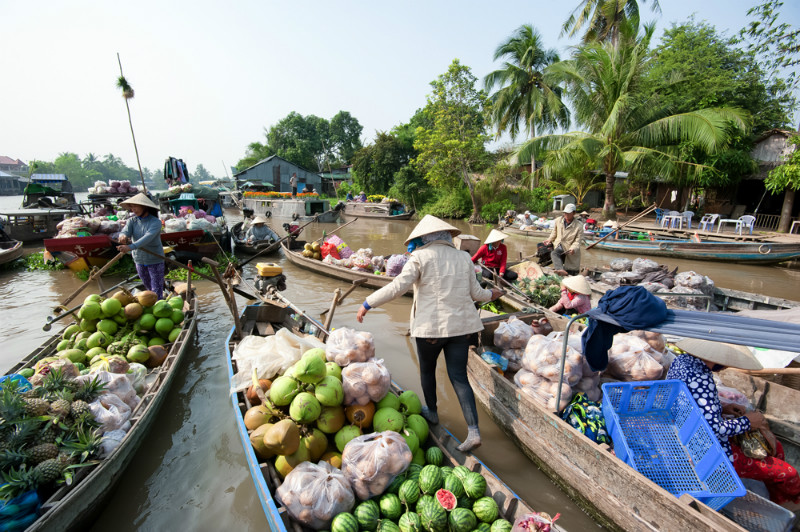 Differentiating from other floating markets in all the world, Mekong Delta Floating Markets still keep their rusticity and simplicity. You cannot leave the Mekong Delta without tasting some fresh fruits like durian, rambutan, grapefruit, and so on.
The images of full-of-product boats and the hospitable smiles of the local always have a strong impression on both the domestic and foreigner tourists.
See more: Top things to do in Mekong Delta
See our Mekong Delta tours here

4. Nha Trang
Located in one of the most beautiful sea bays of Asia and on the coastal line of Vietnam, Nha Trang is a famous relaxing destination for both domestic and foreigner tourist. Visitors are supposed to have a chance to enjoy their holiday completely with majestic mountain ranges, white sandy beach, and stunning islands.
The beaches in Nha Trang attract many people due to its variety of resorts and green trees. The Entertainment services and water parks also bring the excitement for travelers. Specialties in Nha Trang are seafood like lobster, tuna, etc and bird's nests.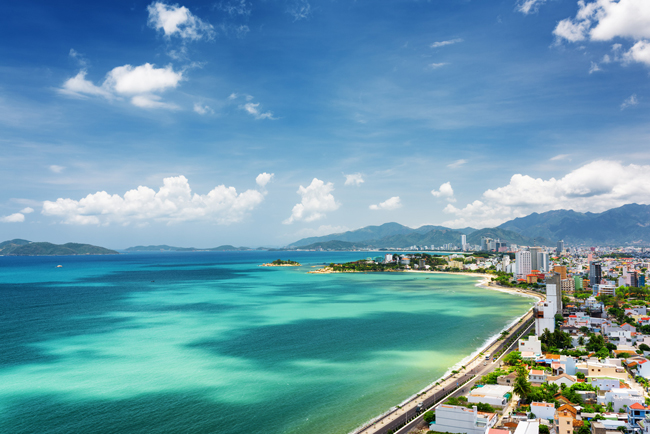 See more: Top things to do in Nha Trang
5. Sapa
Hemmed in by mountain ranges, terraced fields, and villages of ethnic people of the Northern highlands of Vietnam, Sapa is an uproarious town. From Sapa, visitors may either climb the Hoang Lien Son range or visit its surroundings. International tourists always interested in contemplating the beauty of terraced fields and waterfalls or experiencing the culture and cuisine, as well as enjoying the homestay tourism service with the local people.
It's a pity if you forget to enjoy the "Love Market" when paying a visit to Sapa. It is taken place on the Sunday of every week. Those who want to participate in this market usually prepare from the Saturday night. The happy, uproarious atmosphere is the feature of this Northwest land. Many couples come here to enjoy the melody of numerous instruments of the Mong, Dao people and the "flower blossom" dance of the Thai, Muong with tasty alcohol.
See more: Top things to do in Sapa
6. Hue
Located in the Central of Vietnam, Hue  - the old capital of Vietnam is not only a city with many green trees and peaceful, quiet atmosphere but also a little bit crowded and bustling.
This city still well reserves the mausoleums, temples, pagodas, and ancient garden-houses, which have existed for thousands of years. Hue's tourism is famous for not only the mausoleum of many Nguyen Kings, pagodas, churches, temples but also the beautiful natural landscapes. Hue royal court music is a World Cultural Heritage, therefore, on traveling to this dreamy city, you should not miss the chance to enjoy this.
The first impression when visiting Hue is the stillness, the peace, and the magical lovely nature. Hue is also famous for royal culinary like many kinds of sweet gruel, sour shrimp, and mussel rice. In Hue, you should visit Nguyen King Mausoleum Complex, Trang Tien bridge, Vi Da village, and Huong River.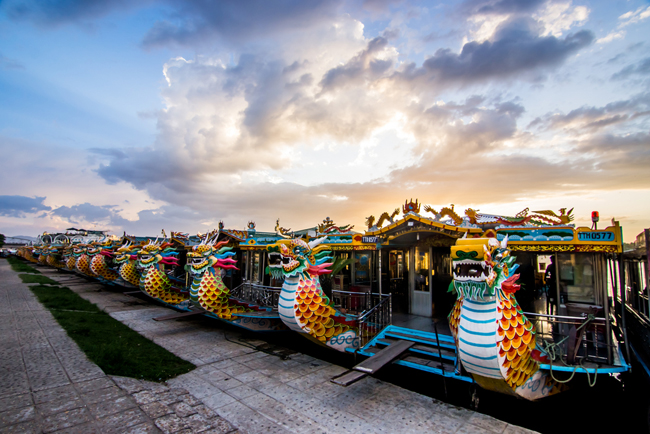 See more: Top things to do in 
Hue City
7. Hoi An
Featuring in the Central tourism paradise of Vietnam, Hoi An Ancient town is a simple and poetic picture. Regardless of day or night, Hoi An always consists of many unique beauties.
Besides the cultural value through the variety in architecture, Hoi An also remains the base of intangible cultural heritage. The attraction of Hoi An comes from the daily life of inhabitants with their cultural custom, folk forms of art, cultural festivals, magical nature and unique food. The must-taste dishes in Hoi An are chicken rice and bread.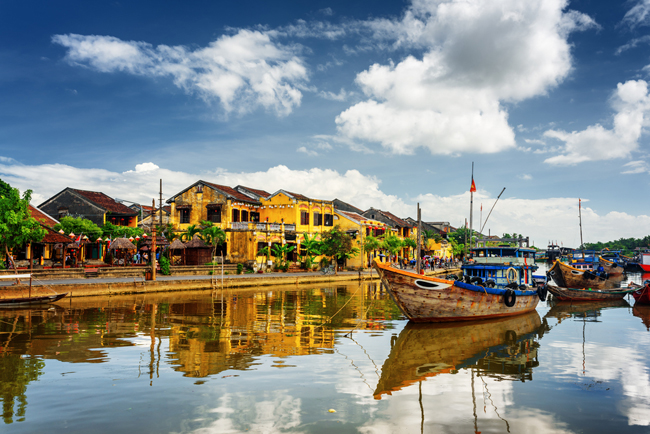 See more: Top things to do in 
Hoi An Ancient
8. Ha Noi
The bustling old quarters, the combination of classic and modern life, the unique foods, etc. all of them make Ha Noi become a favorite destination for international tourists. Ha Noi is beautiful all year round. Every season, the city has its own color and smell. However, all of them always have the featured peace and antiquity.
You can walk along the crowded old streets, visit many markets, enjoy a tasty coffee cup or delicious street food, and listen to the opera at The Opera House of Ha Noi.
The culinary of Ha Noi, especially in the Old Quarters, always attracts the visitors. You should enjoy the beef noodles, sour meatloaf, and so on.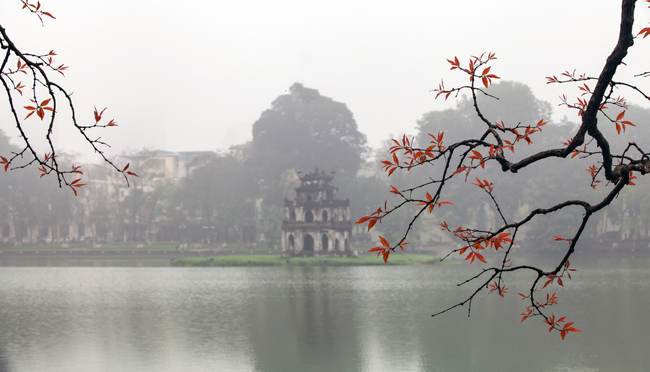 See more: Top things to do in Hanoi City

9. Ha Long Bay
Not only being the Natural Heritage of the World, but Ha Long Bay is also recognized as one of Seven New Natural Wonders of the world by 7 New Open World organization. Ha Long Bay looks like a giant water-color painting with the network of limstone outcrops in various shapes, which partly make a magical breath-taking spectacle.
Traveling to Ha Long bay, tourists are supposed to experience the feelings of losing away on the sea, enjoying the unique and magnificent beauty of the natural landscape.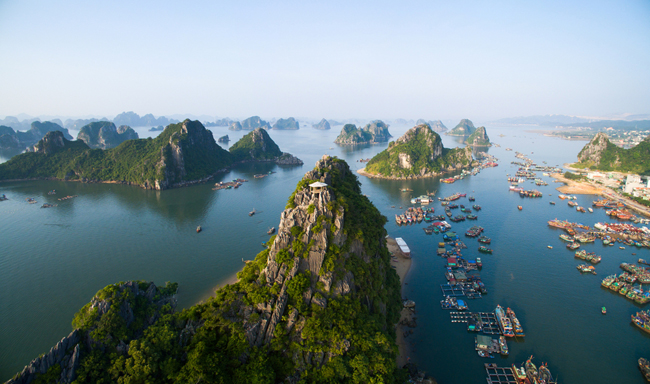 See more: Top things to do in Halong Bay
10. Phong Nha Cave – Ke Bang
Phong Nha– Ke Bang National Park was recognized as a World Natural Heritage by UNESCO in 2003. It was also proudly chosen to become the most beautiful cave in the world by the British Royal Cave Research Association according to 7 criteria:
Cave having large and high gate; the most beautiful sand strip and network of underground stone; the most beautiful underground river; the most magical and splendid network of rosin; high and dry caves; attracting and deep lakes; the longest stream.
Phong Nha Cave is an ideal choice for adventurous people. It is still explored by many scientists because a lot of secrets have not had reasonable answers yet.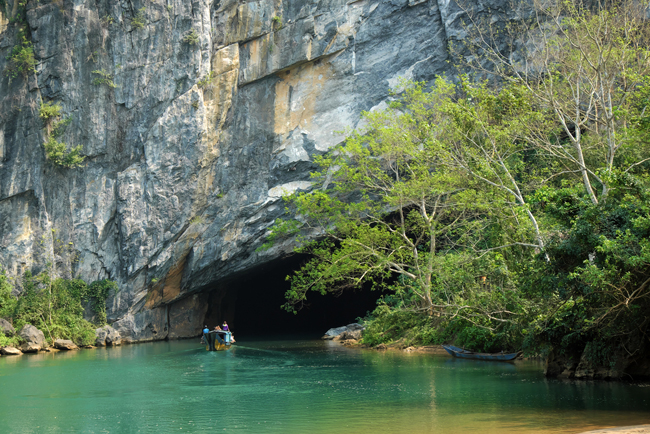 11. Phan Thiet
A region of the wind and golden sand dunes is the common thought of many people when mentioning  Phan Thiet. Unlimited calm blue beaches and large white sand dunes make Phan Thiet become a "nice poem" of nature and certainly, entice anyone who visited there.
The highlight of Phan Thiet culinary is seafood. Don't hesitate! Let's go and take a trip to one of the nicest beaches of Vietnam. Moreover, its deluxe resorts will be always ready for your family's holiday.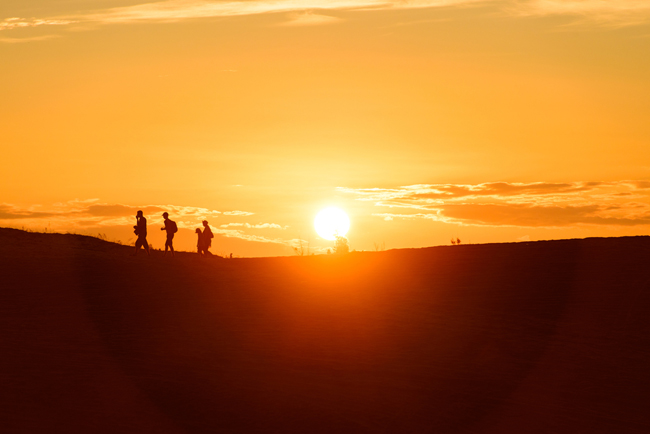 See more: Top things to do in Mui Ne
See more our Mui Ne tours here

12. Phu Quoc Island
Located in Kien Giang Province, the Gulf of Thailand, Phu Quoc Island has a pure beauty and a lot of deluxe resorts, which attract everyone to visit.
Phu Quoc Island has many nice and pure streams like Da Ban Stream, Tien Stream, Hang Stream. The most famous stream is Tranh, which is 15 kilometers in length, curve alongside the stone rapids, and loom under the magical green of mountain and forests.
It will be amazing if you enjoy the dawn at Ham Ninh in Phu Quoc. When the tide is low, huge sand beaches will appear. You may experience a great time of your life when walking on the sand with your bare foot and find hidden shells and snails.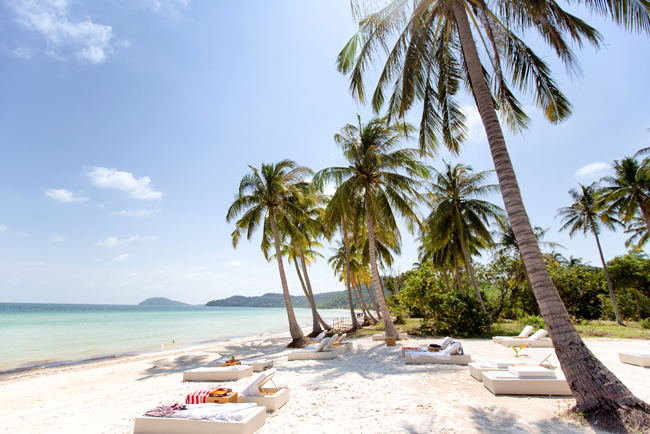 See more: Top things to do in Phu Quoc island

13. Con Dao (Con Island)
Con Dao is the archipelago located in the offshore of Ba Ria – Vung Tau Province. This is the biggest archipelago in the region and has 16 islands. The total area is more or less than 76 km
2
.
Con Dao, with its picturesque beauty, was chosen as one of most amazing islands by Business Insider. People are suggested to visit Con Dao at least one time in their life.
Con Dao is the mixture of the past and future. Among the magnificent nature and relics expressing the cruelty of people, Con Dao have been known as the place to grow the patient revolutionary spirit of many Vietnamese revolutionists in two historical revolutions of Vietnam.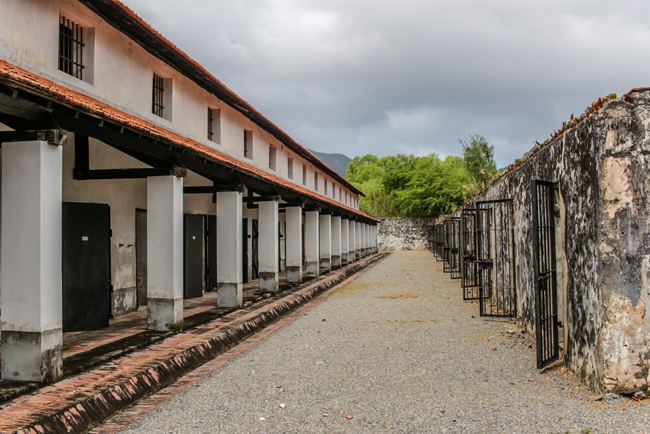 See more: Top things to do in
​ Con Dao island
14. Ba Na Hill, Da Nang
Located in the south of Central of Vietnam, Da Nang has mountains, deltas as well as seas. The famous places of interest in Da Nang for tourist include Ba Na tourism area, My Khe beach, and Fantasy Park indoor amusement park which is the biggest one of Asia. Moreover, My Khe beach of Da Nang was chosen as one of six most charming beaches in the world by Forbes.
Da Nang also has many spectacular landscapes such as Hai Van Pass, primitive forests at Son Tra peninsula and Ngu Hanh Son. Da Nang, especially, is hemmed in by 3 World Cultural Heritage:
Hue, Hoi An and Phong Nha – Ke Bang National Park
.
The firework festival which is held every year in Da Nang also attracts a huge number of travelers. In Da Nang, visitors are glamoured by a huge amount of food like Quang Noddle, Nam O fish salad rolls with boiled pork.  
See more: Top things to do in Da Nang
15. Phu Yen
Phu Yen is a central coastal province belonging to the South Central of Vietnam, which is about 1,160 kilometers from Ha Noi to the north, and 561 kilometers from Ho Chi Minh City to the south along the 1A national highway.
In Phu Yen, visitors have the opportunity to enjoy the harmonious natural landscape and the quietness of the land and the sea.
Phu Yen is known to be the first place to see the dawn of the day in Vietnam.
Ghenh Da Dia (or also known as Ganh Da Dia) is the must-see destination in Phu Yen. It has the unique and splendid beauty of Vietnam. The network of Bazan rock is also a magical giant beehive.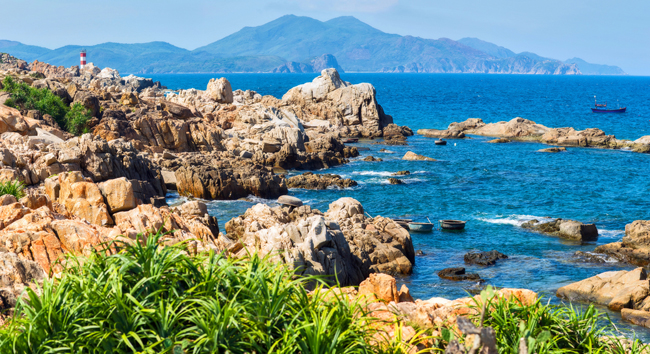 16. Trang An – Ninh Binh Scenic Landscape Complex
Located in the south margin of the Red River Delta, Trang An – Ninh Binh Scenic Landscape Complex, which was recognized as the World Natural and Cultural Heritage by UNESCO, consists of Trang An ecotourism area, Tam Coc – Bich Dong, Bai Dinh Pagoda, ancient capital Hoa Lu (Ninh Binh).
With ancient limestone ranges, beautiful valleys, caves, lakes, swamps, ecosystem, mangrove forests, Trang An – Bai Dinh attracts many travelers yearly.
Moreover, it is also a pagoda complex with many statues of Buddha, which are famous in all Asia, such as the hallway of Arhant Statues, and gold Buddha Statues.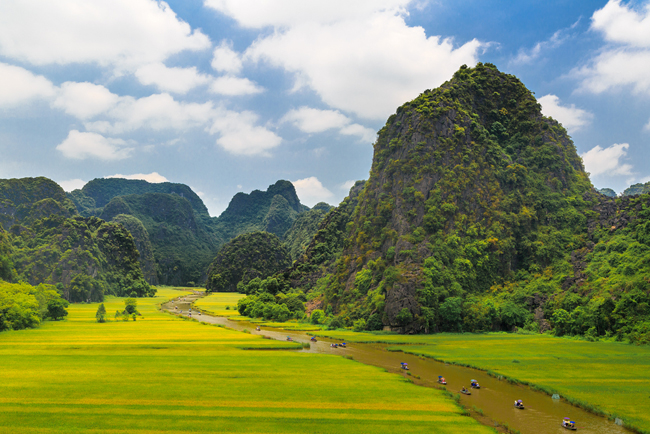 See our tours to Trang An - Tam Coc, Ninh Binh
17. Cat Tien National Park
Located in Dong Nai, about 150 kilometers to the east of Ho Chi Minh City, Cat Tien National Park is one of six biosphere reserves which were recognized by UNESCO. It is considered one of the most
famous
trekking places in Vietnam.
Cat Tien National Park is also a great ecotourism area of the Southeast region, which still keeps its naturalness. Moreover, this park has many rare and unique plants and animals listed in Vietnam Red Data List like Rhinoceros sondaicus, Asian elephant, etc,  as well as majestic landscapes, and many ancient cultural relics.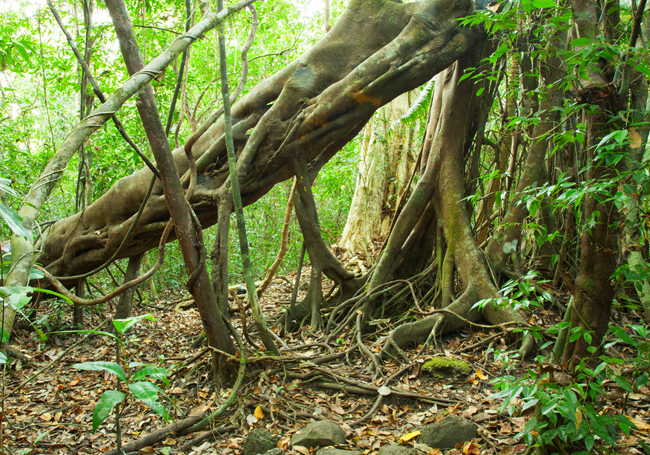 18. Ha Giang
Ha Giang, the far northern region of Vietnam, is famous for its majestic landscape. Each season, the area has its own beauty.
Ha Giang is known as a paradise with breathtaking terraced fields, stunning buckwheat flowers fields spreading unlimitedly from valleys to villages and unique age-old customs of the ethnic people with colorful handicrafts and handmade skirts.
Ha Giang is well-known for its impressive pass roads, magnificent flower blossom seasons, peaceful villages, and colorful love market.
Ha Giang is nice all year round, every season has its own differences. Although tourists have visited Ha Giang many times, on the season of white-dotted flowers, spread yellow paddy fields, or buckwheat flowers blossom fill all the plateau, tourists will certainly want to take a trip to Ha Giang one more time to enjoy this magnificent region.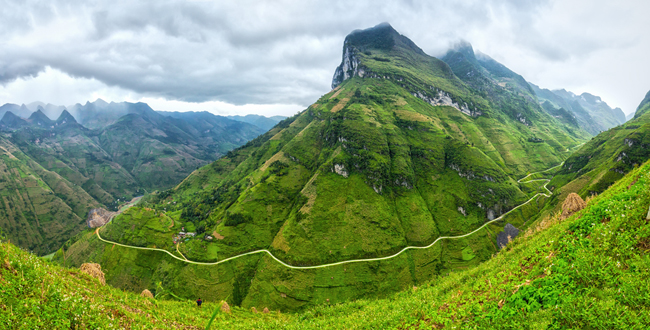 19. Ca Mau
Ca Mau, the southern point region of Vietnam, has the simplicity and unique beauty of the water area in Mekong River Delta. When coming here, you are supposed to wriggle within canals of mangrove forests
and
enjoy the fresh atmosphere of U Minh Ha forest with infinitely green melaleuca forests.
Ca Mau is the only place of Vietnam, where we can see the dawn at East Sea and sunset at the West Sea. In Ca Mau, you can visit Ca Mau floating market, Hon Khoai island, national forest U Minh Ha and don't forget to taste U Minh Ha honey.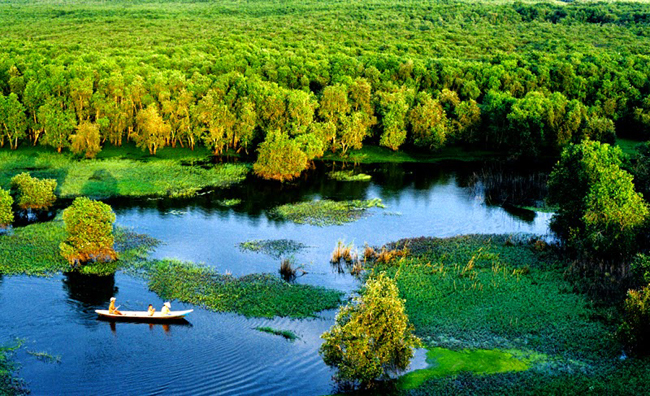 20. Ba Vi
Far from the central of Ha Noi capital about 50 kilometers to the west, Ba Vi National Park has been a popular destination for both domestic and foreign tourists for a long time, thanks to its cool and fresh climate.
Traveling to Ba Vi, travelers have a chance to experience the risk spiral trails which lead to the mountain. Ba Vi also has beautiful pure fresh streams, temple complex, glass houses with cactus, and old churches on the mountain.
The must-visit destination of Ba Vi is Ba Vi mount, which is named after one of four immortal Gods of Vietnamese people.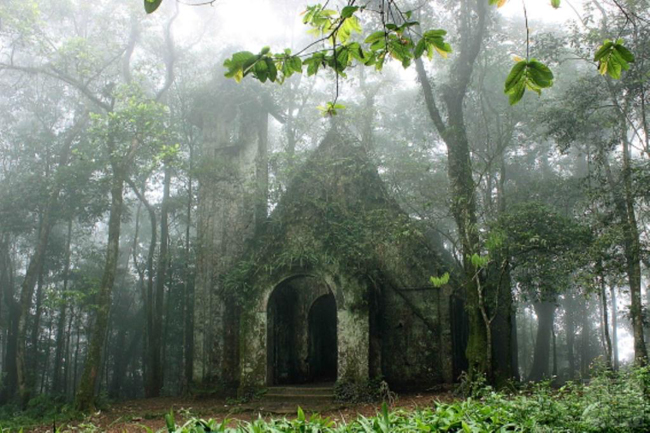 Final thoughts
With the tropical climate and many great destinations, Vietnam attracts millions of travelers every year. On paying a visit to this country, you can see the picturesque beauty of many dynamic cities as
Ho Chi Minh City, Da Nang, or Nha Trang
as well as rusticity of the countryside in the
Mekong River Delta
.
Sea tourism is also a highlight of Vietnam with various stunning beaches having bright sunshine and white sand such as
Phan Thiet or Phu Quoc
.
The Ecosystem and the biodiversity in many national parks like
Phong Nha – Ke Bang, Cuc Phuong, or Tram Chim
give a chance for tourists who prefer ecotourism.
Moreover, Vietnam culinary with numerous tasty dishes with the variety of food sources will create a strong impression to the holidaymakers. The cheaper expense is also a bonus of Vietnam.
So don't hesitate to take a trip to Vietnam and experience the time of your life in this beautiful South-east Asian country!
Other news