Top 5 places to visit in Vietnam you should not ignore
Wed, 28/12/2016
7515 viewed
0 commented
Vietnam has become one of the must-see attractions for many tourists around the world since it gets its name famous as a land of stunning sights and exotic tastes. Throughout this S-shaped country, each region does leave a strong impression on your mind. Along with pristine and charming beaches, picturesque natural landscapes and scenery, friendly locals or tasty street food, there are also many other convincing reasons for Vietnam tourism to be scored in the eyes of international visitors. The following are
top travel attractions in Vietnam
you should add to your bucket list.
Hanoi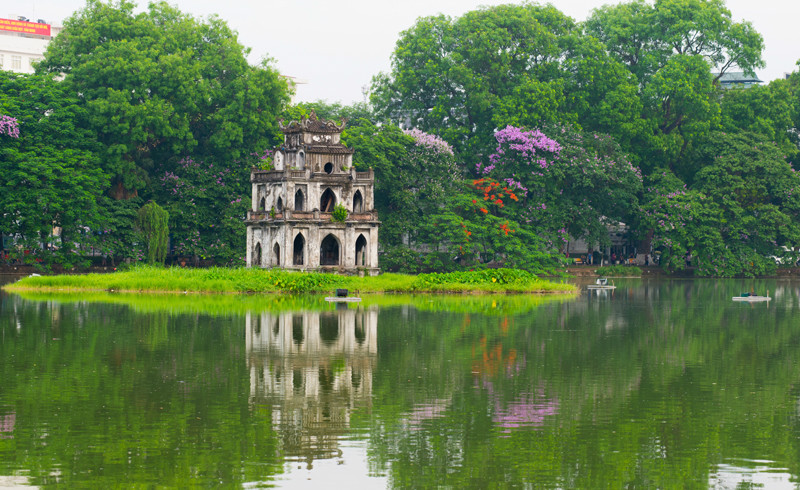 More peaceful and traditional than Ho Chi Minh City,
Hanoi capital becomes a wonderful spot for travelers
to go for a stroll around Hoan Kiem Lake or enjoy a cool Trang Tien ice cream. The capital city appeals to you from the first sight by its romantic and poetic vibe. Spend time visiting the Mausoleum of Ho Chi Minh, the Temple of Literature, Hanoi's Old Quarter and the Ethnology Museum. Don't forget to sample some unique and flavorful cuisine here, such as authentic Pho Hanoi, crispy rice-flour crepe, baguette and so on. Further, it seems a pity to ignore "egg coffee" – one of the world's best drinks.
Halong Bay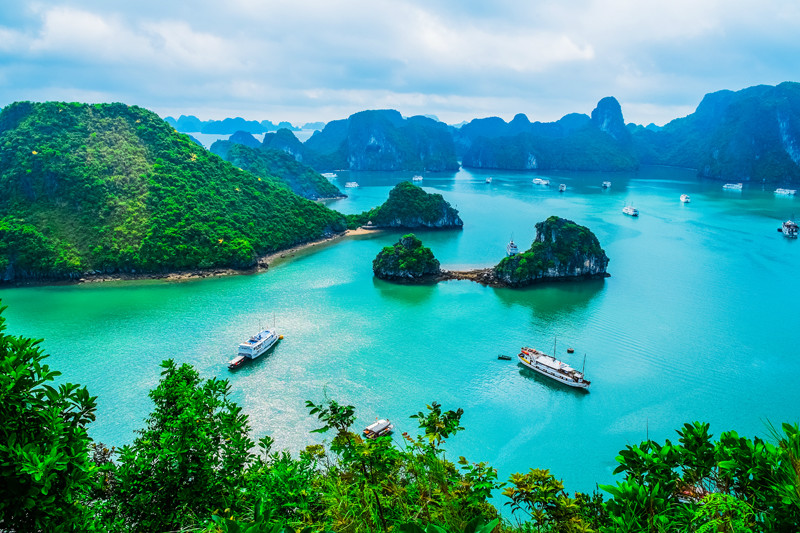 Recognized as an important UNESCO World Heritage site, Halong Bay is listed as one of the
top tourist attractions in Vietnam
. What makes the bay imposing and gorgeous is thousands of different islands. Each island is topped with luxuriant jungle vegetation that creates an eye-catching seascape of limestone pillars. Most visitors fall in love with taking a cruise on a traditional wooden boat to marvel at the Legendary Halong bay with many spectacular places, such as enormous caves, limestone, floating village and so on. For a bit adventurous trip, you may consider taking a kayak among lots of the karst outcrops or taking a cruise around lots of the jungle-covered islands. After all, it is an experience of a lifetime for sure.
Hoi An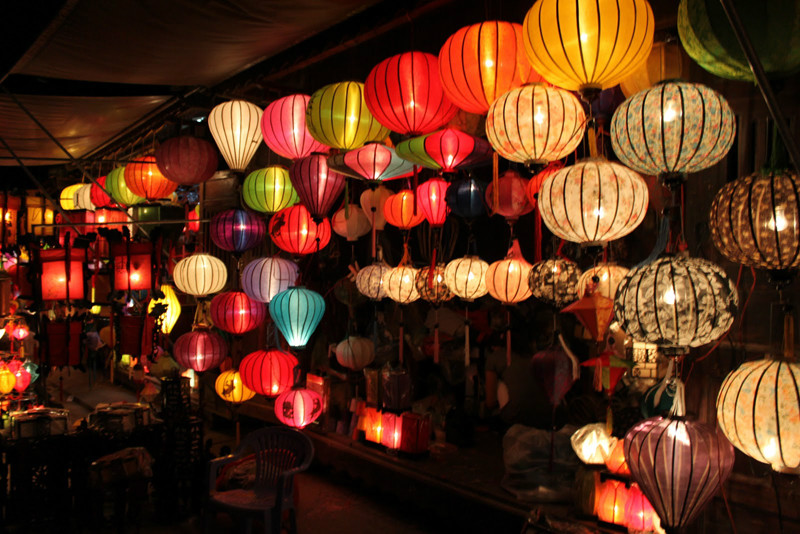 Another breathtaking UNESCO World Heritage site that gets much attention from both local and foreign tourists is
Hoi An ancient town
. About 30 kilometers from Danang City, the town wins an award for its well-preserved architectural heritage as well as old time atmosphere of an ancient village in the past. Wandering around and having yourself immersed in winding lanes of the atmospheric Old Town is one of the greatest ways to admire the combination of Chinese, Japanese and Vietnamese culture and architecture. Over centuries, Hoi An has been still respectful of its traditions, beliefs, folk festivals, and sophisticated culinary art. Remember to savor one of its distinctive specialties, called Cao Lau. 
Mekong Delta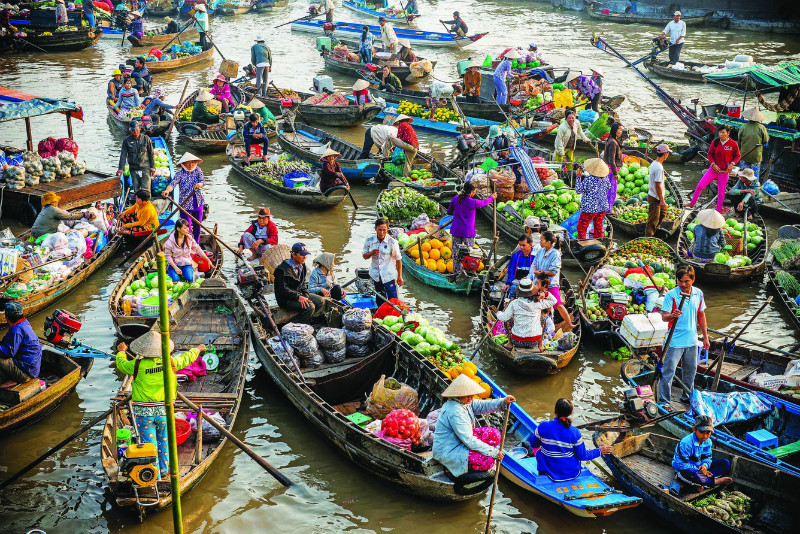 Situated in Southwestern Vietnam,
Mekong Delta
is named "The rice bowl of the country." It becomes an ideal destination for those who would like to find a tranquil environment and mingle with the simple life in the countryside. There is nothing better than taking a great boat trip down the river, where tourists will pass a lot of vivid floating markets, like
Cai Be floating market
and
Cai Rang floating market
. Along the way, it is also quite possible to see rice farmers and local traders doing their work. Picking up and sampling fruits directly from fruit gardens are other extraordinary experiences you certainly should not miss. See how this place is so amazing with
Viet Fun's tours
If having a chance to enjoy a homestay with a local family, you will be dazzled when the host treats you by everything they may see in their houses. Their warmness, kindness and sincere hospitability are what make tourists find it hard to leave. Pamper yourself with a cruise around the delta to enjoy grilled fish and drink a cool beverage while feasting your eyes on the sunset!
Ho Chi Minh City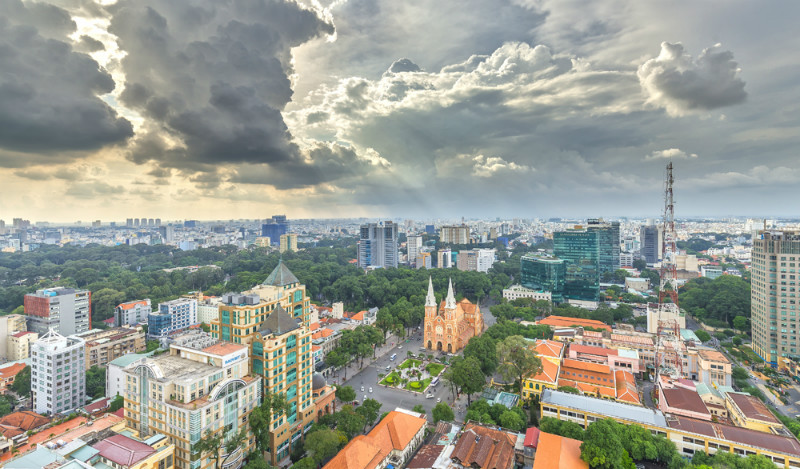 As the biggest city in Vietnam, Saigon satisfies visitors' travel need by a lot of interesting things to see, stunning places to visit, fun activities to do, and yummy foods to enjoy. What makes the city irresistible and glorious is its vitality. Its harmonious blend of historical traits, architectural buildings, and Western influences, which will be sometimes fascinating and at other times thrilling, does mesmerize a number of tourists in the first time. While in Saigon, make sure that you experience the wonderful life after night and savor the Vietnamese coffee culture.  
Some highlights in the city you should not overlook include the War Remnants Museum,
Cu Chi Tunnels, Bitexco Tower, Reunification Palace
, etc.  
Along with these above sites, there are also many
top travel attractions
you can explore in this S-shaped country. Based on your favorite, need and budget, you can choose to travel to
Vietnam a few days
or even one month. If you wish to stay close to nature at best, then Northwestern regions with a lot of untouched landscapes and terraced fields should be added to your itineraries. If you love a cruise through rivers and canals, there are no places greater than Western regions in Vietnam. To enjoy the modern and luxurious vibe, then head towards
Danang City
, Hanoi capital, or
Ho Chi Minh City
now!
Other news