Top 7 nice Coffee Shops in Ho Chi Minh City
Fri, 09/12/2016
10735 viewed
0 commented
Saigon wins an award for not only its grand museums, spectacular churches, and lively rooftop bars, but also its vibrant and eye-catching coffee shops where you can sit back and escape from the scorching heat. Vietnam is known as the second largest producer of coffee all over the world. Without a doubt, any visitors find it easy to spot one of the iconic café shops scattered throughout the city. Nevertheless, there are a few basic
things about coffee shops in Ho Chi Minh City
you probably need to know.
First of all, here is an ideal spot for citizens and visitors to relax. Though youngsters, especially office staffs, follow the trend in buying takeaway coffee, the majority of locals still love enjoying their free time sipping their drinks at shops. Secondly, people can spend time chatting, working, or even accommodating every kind of social meeting here. Regardless of whether they are simply having a gossip, a class or family reunion, a birthday party, a business meeting, a romantic date or even a holiday celebration, a well-decorated and beautiful coffee shop is always their top priority.
If you are a first-time traveler to Saigon and wish to check out which coffee shops to stop by for an impressive and memorable experience, let us please your curiosity by a list of
top 7 nice coffee shops in Ho Chi Minh City
here. These places will surely amaze you by their stunning interior design, wonderful view, free Wi-Fi, and
awesome drink and food
.
1. The Workshop – A Breathtaking Cafe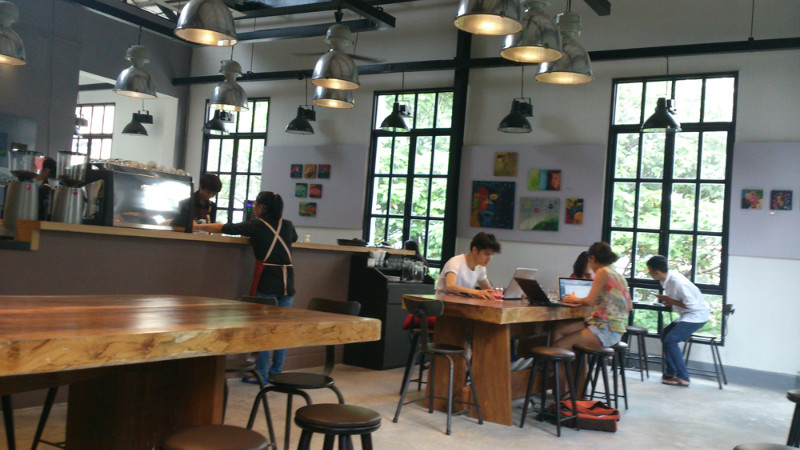 Located at the corner of Ngo Duc Ke Street, District 1, The Workshop gets much your attention at the first sight by its usual features – repurposed timber, polished concrete floors, as well as steel tables and chairs.
In addition, the whole setting is an open, breathtaking and colonial space with high ceilings which bring you a comfortable and pleasant feeling. Everything at The Workshop is flawlessly arranged to make sure that you fully appreciate your cup of coffee. Along with incredible drinks, here is also the best spot to satisfy your taste with some of the most famed Italian Pasta, i.e. Bolognese, Carbonara, and Spaghetti Aglio E Olio. Soft and soothing music playing in the background is perfect for those who drink alone or want to have peace in mind. What makes the shop outstanding and prominent from others is its coffee quality. Every barista can help you relish coffee with weird brewers, namely Syphon. Needless to say, it looks cool.
Address: 27 Ngo Duc Ke, District 1, Ho Chi Minh City, Vietnam
Opening Hours: 8:00 AM - 9:00 PM
Price Range: 20,000 VND - 80,000 VND
2. Du Mien Garden Coffee – Enjoy Drinks On A Tree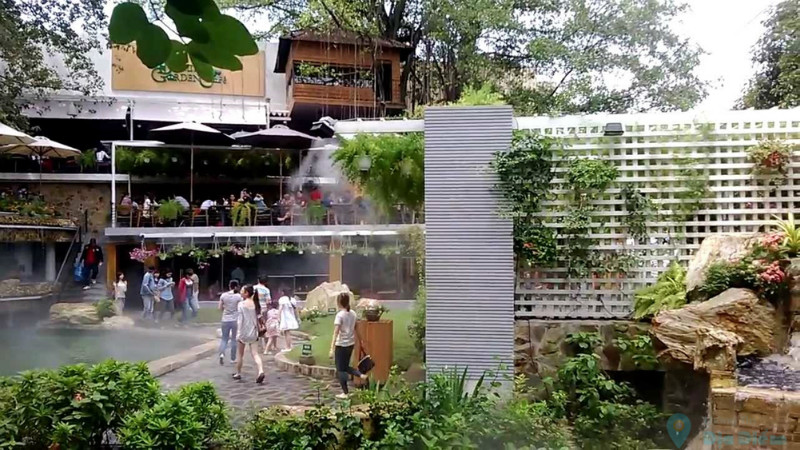 Du Mien Garden Coffee magnetizes every guest, thanks to its rustic but modern design. Plus, balconies in many different altitudes give you an enjoyable and stunning view. Further, green grassland, shade of trees along a crystal lake bring a sense of comfort and pleasure. Built from various sliced stones, the walls look very solid, impressive and striking. What makes people feel deeply relaxed is the open and inner space. Both footpaths and corners are spacious, giving way to every your step.
Whether you enter the shop with buddies, companions, colleagues, family members or even alone, there seems to be no sense of loss and imprisonment. Instead, glimmering of ideas and sudden inspirations are always sparked off in seconds. Inside, the place is beautified with unique wooden houses where you may sip a cup of coffee on trees. The menu here is diverse, including both drinks and meals, for wide options.
Address: 07 Phan Van Tri Street, Ward 10, Go Vap District, Ho Chi Minh City, Vietnam
Opening Hours: 7:00AM - 11:00 PM 
Price Range: 40,000 VND - 100,000 VND
3. M2C Café – A Modern And Classic Touch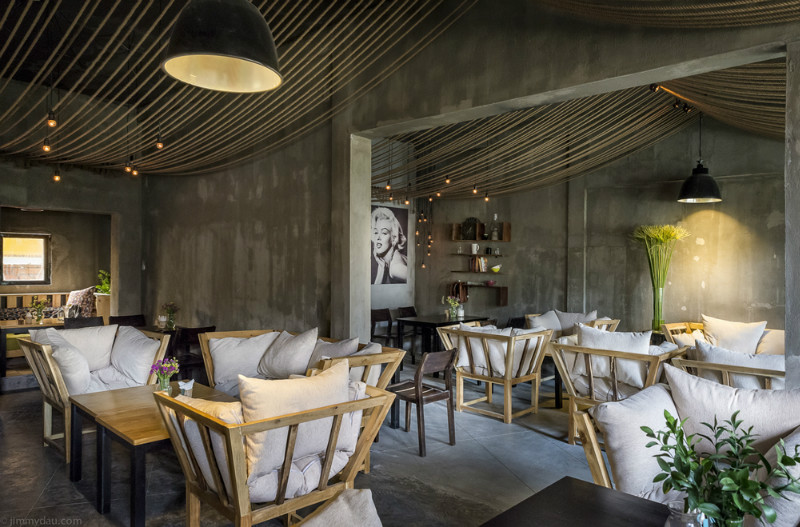 M2C can be translated as Modern Meet Culture. As its name suggests, the café shop is nicely filled with incredible contemporary art as well as light fixtures made from magazine pages. Ideally situated in one of the busiest and trendiest areas in the city, it leaves you from admiration to admiration by the harmonious combination of the modern taste and trend, which creates the faultless space for both locals and tourists every day.
Whether you visit M2C café for pleasure or business, for date or family gatherings, for gossips or just a private retreat away from the noisy city, here should be added to your bucket list. The soft music is great, while it is so spacious that the staffs will never mind if you hang out or sit for hours. The menus come with extensive drinks and awesome flavors, featuring anything you need in the hot-dry season. If the drinks do not still satisfy your sweet tooth, don't hesitate to pay attention to the array of desserts or traditional Vietnamese dishes with the affordable prices.
Address: 44B Ly Tu Trong Street, Ben Nghe Ward, District 1, Ho Chi Minh City, Vietnam
Opening Hours: 7:30 AM - 11:00 PM
Price Range: 40,000 VND - 80,000 VND
4. Mien Đong Thao Café – A Mini Dalat In The City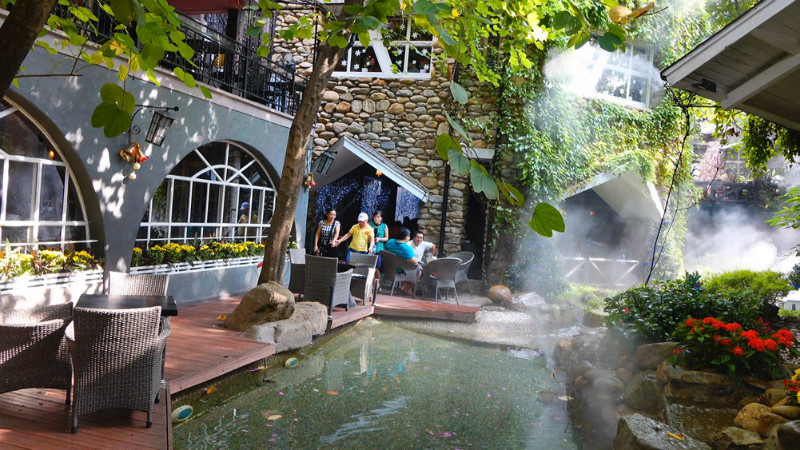 It is not easy to find this coffee shop since you must walk a long distance from the parking area. It is indeed a hidden charm in
Ho Chi Minh City
, seriously. You will be easily surprised by its magnetic decor. Lots of people also describe it as the mini Dalat in Saigon, thanks to its open space with many distinguishing areas, like outdoors, rooms equipped with air conditioners, or wooden houses painted by the chic cover. Drinks and cakes are delicious while a wide variety of high-quality meals and desserts are also served. Moreover, the staff members are helpful and polite. Many foreigners promise to visit this place next time they
travel to Saigon
.
Address: 21 Nguyen Trong Tuyen, Ward 8, Phu Nhuan District, Ho Chi Minh City, Vietnam
Opening Hours: 9:00AM - 10:30 PM
Price Range: 35,000 VND - 55,000 VND
5. ID Café – A Peaceful Place For Deep Relaxation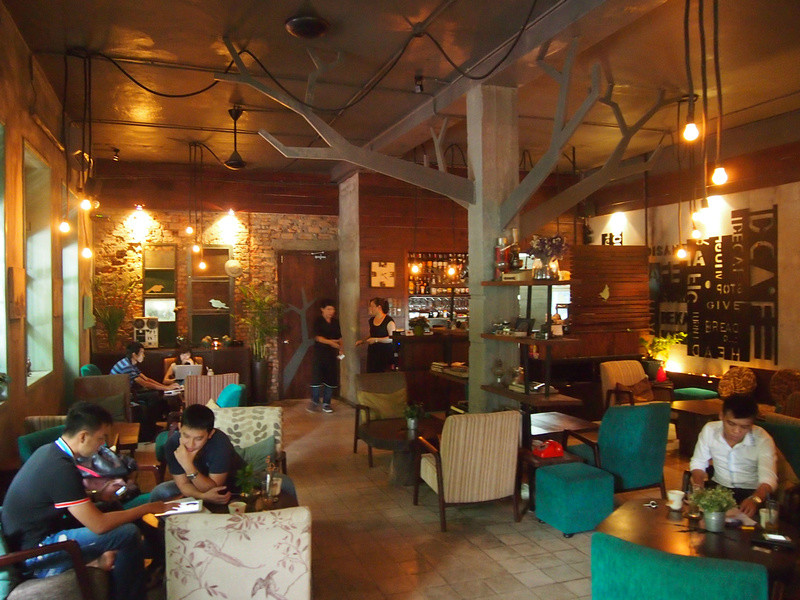 Next to Ben Thanh Market
, ID Cafe has no sign of busy or hectic vibe. Instead, it stands out as a silent point in Saigon. Various funky stencils, soft music ambiance, some warm lighting, along with many 70s-styled and comfy chairs help to create a relaxing and peaceful atmosphere, which does bring a respite from such the chaotic streets. In addition to the classic design,
ID Cafe
also serves a wide range of coffees, teas and foods at reasonable prices. In front of the shop is also decorated with a few seats on the sidewalk, where guests are able to sip their drink in a fresh atmosphere. If necessary, they may also choose to go upstairs to enjoy yummy meals.
Address: 34D Thu Khoa Huan Street, District 1, Ho Chi Minh City, Vietnam
Opening Hours: Every day
Price Range: 25,000 VND - 70,000 VND
6. Nến Cafe – The World of Candles For Romance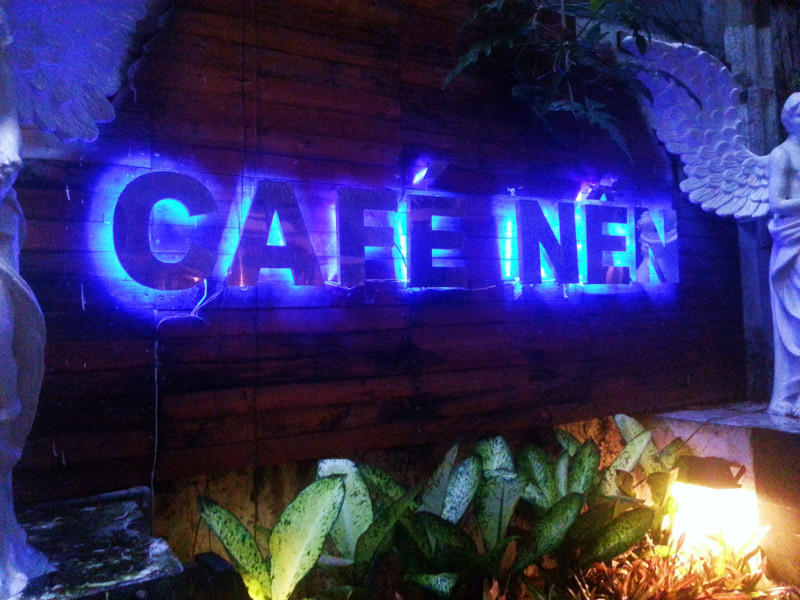 Nến is translated as candles in English. As its name suggests, it is easy to imagine that the coffee shop is lightened up and beautified with candles. Of course, there are also no electric lights there. Visitors seem to get lost in the wonderland of dream. Stepping in here makes you feel like that you are now living in a different world – a world of secrets, mysteries and candles.
It is highly advised to arrive in Nen Café at night to experience its essence at best. The space is open and large. Garden areas are created from small gardens and water flow. Comfortable tables and chairs help guest feel pleasant for sure. It's indeed the best place for those who would like to calm themselves after a long working day, or those who have dates, propose or confess their inner love. The drinks are diverse with affordable costs. 
Address: 92 Tran Huy Lieu Street, Ward 15, Phu Nhuan District, Ho Chi Minh City, Vietnam
Opening Hours: From Monday to Sunday
Price Range: 30,000 VND - 100,000 VND
May be you like: Check some
Saigon city tours
7. Somewhere Land, Madam Fatty Fat – A Unique And Impressive Decoration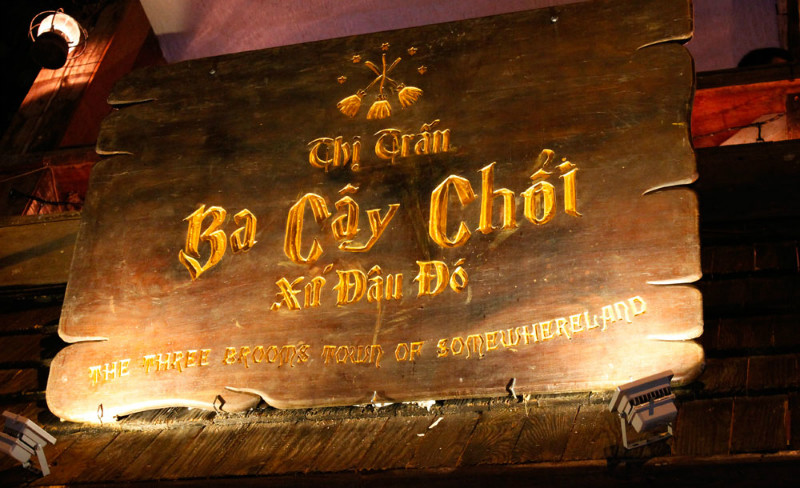 Suited to all loyal fans of Harry Potter, the world of Hogwarts seemed to escape from the page and found itself in Somewhere Land, Madam Fatty Fat Café. You never get bored here. The special thing is that drinks in the shop are all similarly named just like in the story. That's why visitors can feel like that they are characters in the story of Harry Potter. Don't miss a chance to join in the story and share something interesting with your friends. Beyond its doors are 3-themed floors that serve both drinks and meals. At first, the location was designed as a space for kids' birthday parties. But, it has recently also become common with teens and dreamers of all ages.
Address: 61 Ho Xuan Huong, Ward 6, District 3, Ho Chi Minh City, Vietnam
Opening Hours: 9:00AM - 10:00 PM
Price Range: 50,000 VND - 100,000 VND
Other news