Things you should know about Cai Rang Floating Market in Mekong Delta
Mon, 19/12/2016
11265 viewed
0 commented
How can you convince your friends that you are staying in Can Tho City without stopping by
Cai Rang floating market
? Floating markets which have been literally around for a long time become an integral part of the lives of the locals in the Southwest. Spending their most lifetimes on river, people from generation to generation here seem to get acquainted with living on floating boats, which are used not only as the houses but also as the place of trading agricultural products, goods, fruits, food, and even eating area. Tourists can find it hard to forget to panorama of kids reading book on the sampans while their parents trying to earn daily bread. Although their lives are not as flourishing as the lives on lands, they are still enthusiastic, friendly and keep a smiley face.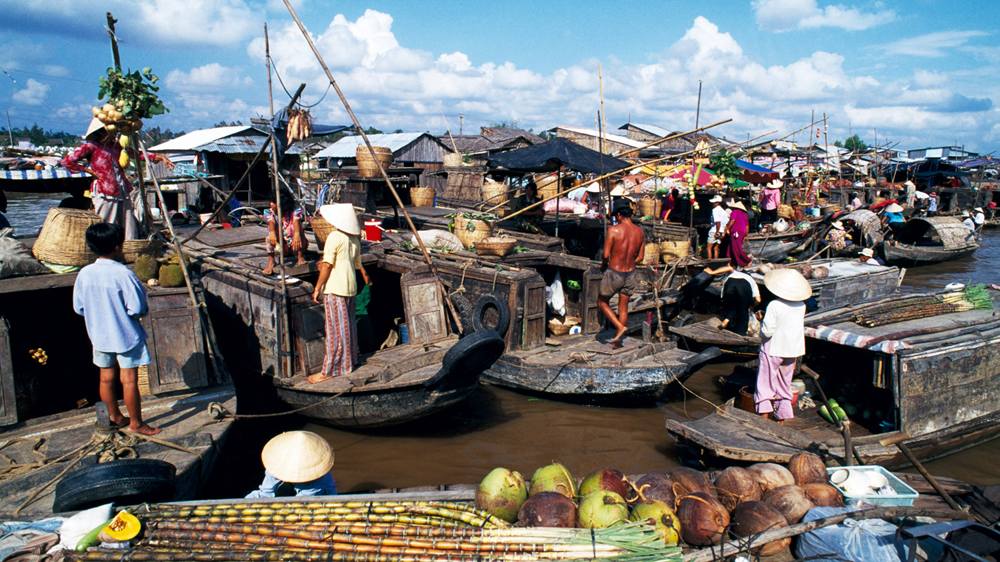 History of Cai Rang Market
The name of Cai Rang has existed for many years although its origin has been still shrouded in mystery. But, there are two fun stories around its name. Firstly, legend has it that when this place was being found, there was also the appearance of a big crocodile. As people saw its teeth being plugged into the river's bank, the land was accordingly named Cai Rang.
Secondly, in a book regarding language in the South of Vietnam, Mr. Vuong Hong Sen said that the name "Cai Rang" originated from the Khmer word, known as "Karan" – a daily molded clay stove. In the ancient time, Khmer people were good at making a lot of "Karan" and then sold them everywhere by boats. Since then, "Karan" was pronounced as Cai Rang by the locals because they sounded the same.  
So far, along with Cai Be, Tra On, Nga Nam and Nga Bay Floating Markets, Cai Rang has long been well-known and noticeable by both domestic and foreign travelers as one of
most 5 famous floating markets in the Mekong Delta
, Vietnam.
How do people spend their lives on Cai Rang Floating Market?
Cai Rang Floating Market is far approx 6 km away by road from the city center and approx 30 minutes from Ninh Kieu Pier by boat. The market was initially formed when there was no sign of road and transportation. 
From the early morning, a countless number of boats and sampans will gather here, making the whole area more lively and stunning than ever. While the large boats are full of farm products and specialties (such as vegetables, grapefruit, coconut, banana, watermelon, dragon fruit and so on), small ones mainly focus on selling
food
, coffee, snacks, noodle, soft drinks, etc. for breakfast. To help the visitors' satisfaction reach the highest notch, other useful services and products are also widely available, from selling mobile card, cosmetic, clothes to mending machine and so on. This helps you feel like that you are now surrounded by the markets on land.
Wallowing in the hectic atmosphere, you not only see the bustling vibe of the market, but also enhance your knowledge of how several generations live together on boats. Those boats become their "mobile houses" on the river, which contain animals, flower pots, TV, and more. Needless to say, all daily activities mostly take place on boats. On the late afternoon, children can study on deck while parents may prepare something to sell tomorrow. 
Buyers can find themselves really excited in catching products, which are even tossed by traders from other boats. If you feel hungry, don't hesitate to visit one of the small canoes and satisfy your stomach with a delicious bowl of
Pho
or Hu Tieu. With the special and distinguishing recipe, the flavor will leave a strong impression on your mouth.
Unique advertisement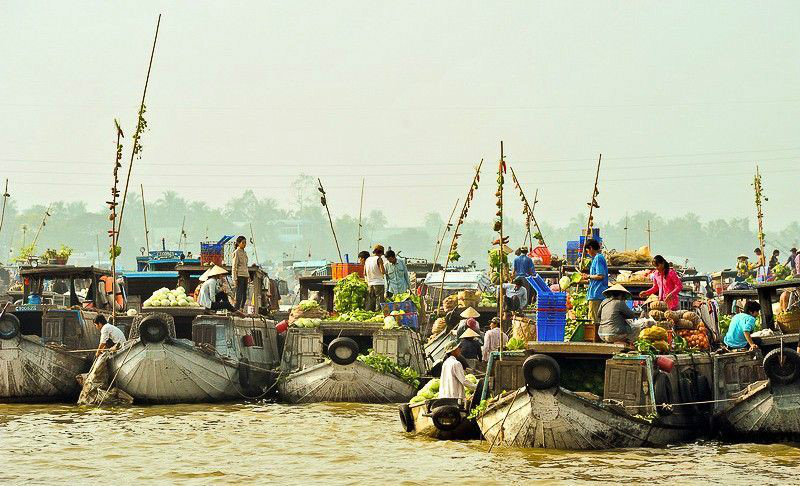 In the busy floating market, there is no need for the sellers to cry loudly. That's because their cries can get lost in the big noise of the boats' engines as well as swallowed in the largeness of the river. Instead, they choose the long pole as a brilliant tool for their advertisement. That means the sample of what they sell will be hung on the long upright pole for sale in every boat, so that visitors and buyers can easily notice their goods from the distance. So, don't waste your time in asking which boat sells bananas, for instance! Instead, what you must do is simply to look up carefully and find exactly which boat has the banana sample hung on the top of the pole.
Best time to set foot on Cai Rang Market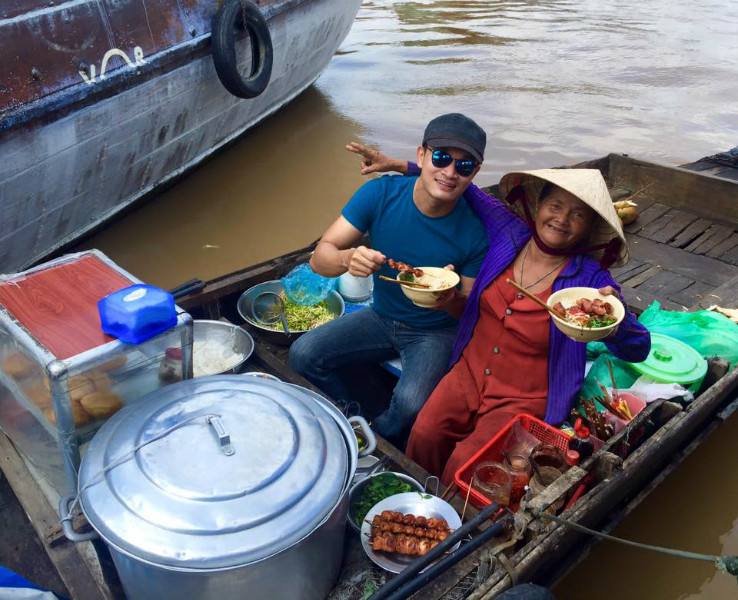 Cai Rang floating market is open and busy all day. However, it's liveliest and most animated from the dawn to 8 to 9 AM. But, you can wake up early and enjoy the most vibrant atmosphere of the market around 6 to 7 AM. There are two ways to mingle with the colorful life of locals on river. First, you may ask a local guide to instruct you by a small sampan. Second,
book a Mekong Delta floating market tour and enjoy your trip
. Remember to drop by the merchant ships and feast your taste with some seasonal fruits before buying. Just gain hands-on experience and share your feeling with your beloved ones after the trip.
Other news