Where to shop in Ho Chi Minh City - Saigon Best Places to Shop
Sat, 03/12/2016
7289 viewed
0 commented
Whether you believe it or not, shopping is an integral part of life. Try imagining that how you can eat without buying food and how can you buy the food while having nothing to wear out of the house? It is not hard to recognize that we need food to live, clothes to dress, vehicles to overcome the long distance, phones to communicate, beds to sleep, and so on! 
As the largest city throughout the country, Saigon also stands out as one of
the most attractive tourist destinations.
 Visitors are impressed by not only the hectic atmosphere, beautiful sceneries, spectacular architectures and yummy dishes, but also the bustling markets and shopping centers.
These shopping places do fascinate both residents and foreign guests from the first time of setting foot on the dynamic city. Here, goods come with many different colors and categories, ranging from domestic products to the most reputable brands all over the world, from normal items used in the daily life to even specialties in areas.
While local markets can satisfy shopping hunters' favorites, centers and malls are beautifully designed with eye-catching deco and expensive goods. All such factors will surely bring tourists exciting feeling when shopping in
Ho Chi Minh City
, or also known as the heaven of the shoppers. Your worry of "
Where to shop in Ho Chi Minh City
?" will be fulfilled if you spend time reading our review below! 
Local Markets and Shopping Streets
1. Ben Thanh Market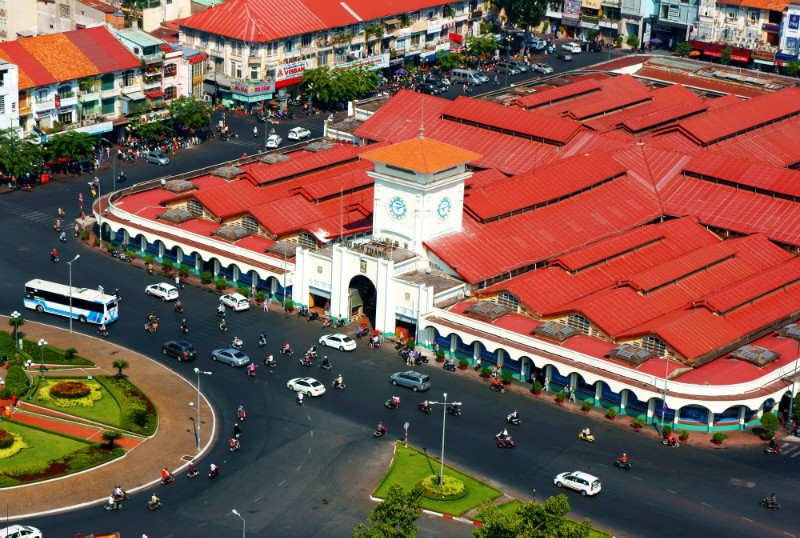 If you often go into the habit of shopping at magnificent malls and centers on a regular basis, why not to change your boring routine by exploring one of the Asian markets. Without a doubt, it is always an exhilarating experience for sure.
Ben Thanh Market in Ho Chi Minh City
is the must-see place you should not ignore. As a bustling market in both the sunrise and sunset, it is always hectic, noisy and busy with a countless number of both locals and foreigners going shopping here.
Stepping into the market, you may find everything with easy, from clothing, souvenirs, fabric to handicrafts, kitchen appliances and food stalls. It not only leaves a strong impression on you by its striking architecture, freedom to choose and buy anything you wish, but your heart is also won by enthusiastic and friendly sellers who're even good at many different languages. Don't be afraid to make a bargain with traders if you want to buy valuable items at affordable prices. 
Address: The roundabout at Le Loi and Le Lai Street, District 1, Ho Chi Minh City, Vietnam
Opening Hours: 24 hours from Monday to Saturday
2. Binh Tay Market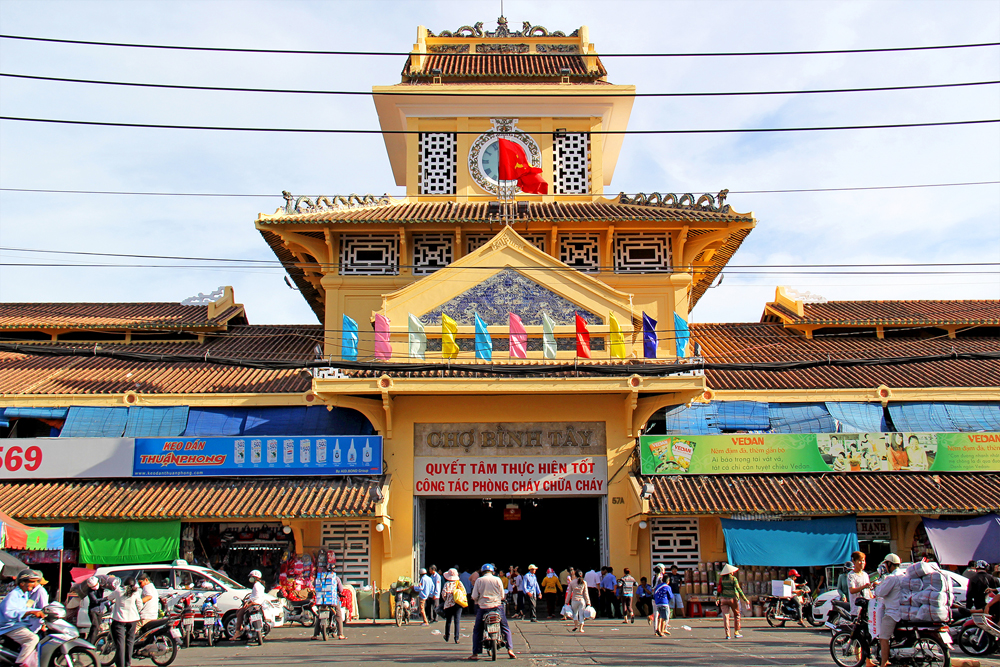 As the largest wholesale market in Saigon, Binh Tay Market gives you a chance to freely choose and purchase numerous items of favorite such as fabric, clothes, personal effect, etc. What makes it truly prominent is that it is an ideal spot of the trendiest and the most stylistic watches. It is quite possible to find a desirable watch with good quality or the one with amazing imitations. For those who fall in love with fashionable handbags or wallets, Binh Tay also turns into a great market for them to consider.
In recent days, the market tends to be chaotic, busy, crowded with both locals and tourists. Many visitors prefer shopping in Binh Tay, rather than Ben Thanh Market as goods are cheaper and sellers and more approachable. You are quite able to see sellers speaking Vietnamese to their buyers while speaking Chinese to their family members.
Address: 57A Thap Muoi Street, Ward 2, District 6, Ho Chi Minh City, Vietnam
Opening Hours: 6:00 AM - 7:00 PM
3. An Dong Market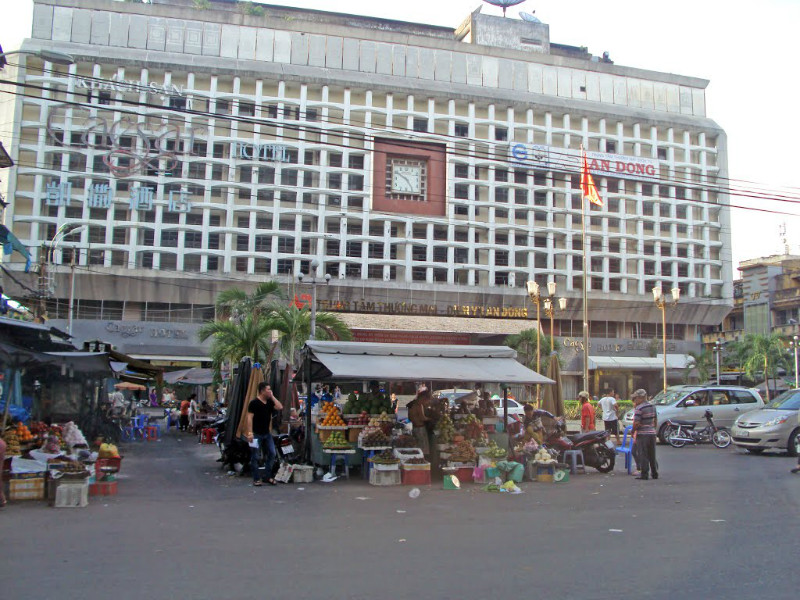 Located at the heart of the city, An Dong stands out as both the wholesale and retail market. From the exterior, it appears just like a typical traditional Saigon market that you can find everywhere. Nonetheless, once setting foot in the market, you will be dazzled by a wide range of goods, such as bags, clothes, shoes, accessories, foods, candies, fruits, flowers, handicrafts, commodities, etc. However, most of the traders tend to focus on selling fabrics, clothes, and shoes which come from Vietnam, Thailand, and China at wholesale. They often come with high quality so that it is not hard to understand why the prices are higher than other markets around the city.
Address: 34-36 An Duong Vuong Street, Ward 9, District 5, Ho Chi Minh City, Vietnam
Opening Hours: 7:00 AM - 6:00 PM
4. Shopping in fashion streets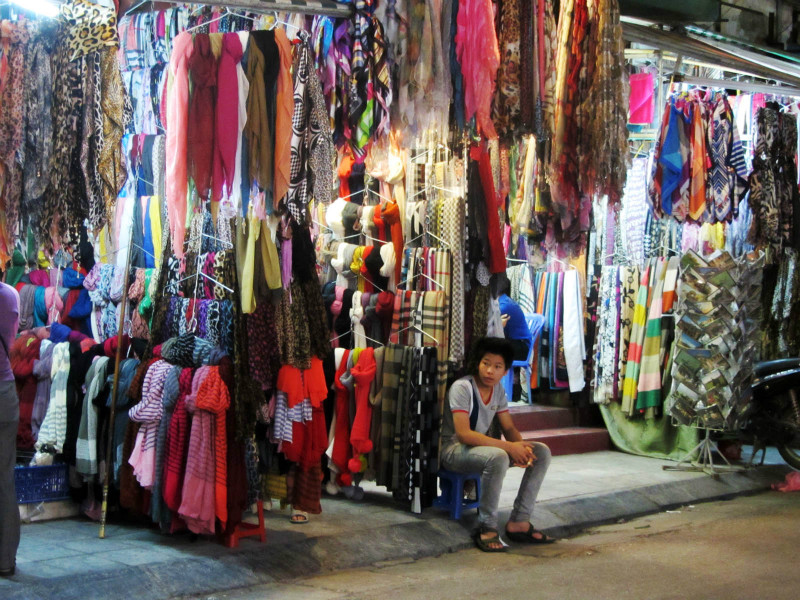 Hai Ba Trung, Nguyen Trai, and Le Van Sy are considered the most noticeable streets of
the fashion shops in Ho Chi Minh City
. Each street welcomes people of low- and high-classes to visit a series of big and small stores with famous brands. Going around these fashion streets by bike, your shopping hobby will be stirred by stunning clothes and lovely accessories. Do not hesitate to gift yourself the most satisfactory outfits. Along with such shopping streets, Saigon Square has also been terrific strength in shoes, clothes, handbags, wallets, ordinary and middle goods. That's why the center is always busy and crowed with countless people selling and buying. There is no need to bargain here as the prices are often fixed on the labels.
Address: Ho Chi Minh City, Vietnam
Opening Hours: Everyday
Luxurious Shopping Malls And Centers
1. Aeon Mall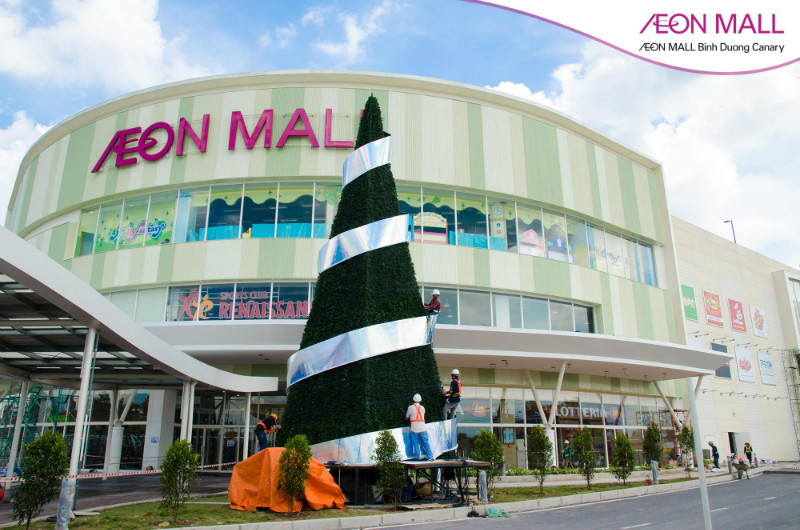 Aeon Mall is known as Japanese shopping center, with branches in Tan Phu District, Binh Tan District and Binh Duong Province. Proudly boasting of open shopping space and friendly and helpful employees, it always pleases the satisfaction of all visitors at the highest notch. In general, there are about 50,000 square meters of floor space as well as about 1,500 staffs selling products. For wealthy middle-class people, this is indeed their favorable shopping Mall. The 3-story building is considered the must-see shopping place with 5 big sections that surely cater to all the buyers' needs.
Coming here, shoppers' eyebrows will be certainly raised by a giant section displaying well-known fashion brands for both adults and kids, a section selling daily necessities, a section of beauty care services featuring with different products, an entertainment section for watching films or playing games, and the ground floor exhibiting 12,000 items for daily needs. 
Address 1: 30 Bo Bao Tan Thang, Sơn Kỳ Ward, Tân Phú District, Ho Chi Minh City, Vietnam
Address 2: No. 01 Road No. 17A, Quarter 11, Binh Tri Đong B Ward, Binh Tan District, Ho Chi Minh City, Vietnam
Address 3: No. 01, Binh Duong Boulevard, Binh Giao Quarter, Thuan Giao Ward, Thuan An Town, Binh Duong Province, Vietnam
Opening Hours: 9:00 AM - 10:00 PM
2. Vincom Center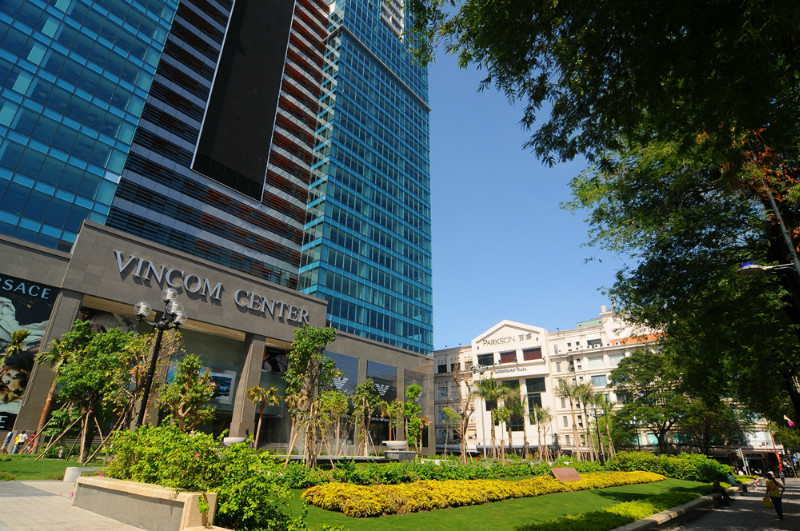 With over 250 shops, it is easy to understand why Vincom Center is one of the city's biggest shopping malls. The center has included 2 separate buildings, called Vincom A and Vincom B, next to each other. Such the buildings are grand and spectacular with many glass-covered floors. Of course, they easily stand out from the other skyscrapers in Saigon, thanks to their striking and magnetic exterior design.
Needless to say, Vincom Center becomes a shopping paradise for fashion hunters and shoppers who are always looking for the latest tendency of brand names, i.e. Jimmy Choo, Louis Vuitton, Armani, Mango, and more. Along with that, the center also gets its name famed for many well-known brands of other kinds, like beauty products, jewelry, shoes, and toys. A phenomenal range of foods with different flavors and cooking styles also satisfy your hunger at best. Vincom is not limited to going shopping only. Guests are always welcomed to enjoy the marvelous beautiful architecture here as well as save nice shots any time they want.
Address 1 for Vincom A: 171 Dong Khoi Street, District 1, Ho Chi Minh City, Vietnam
Address 2 for Vincom B: 72 Le Thanh Ton Street, District 1, Ho Chi Minh City, Vietnam
Opening Hours: 10:00 AM - 10:00 PM Every day
3. Crescent Mall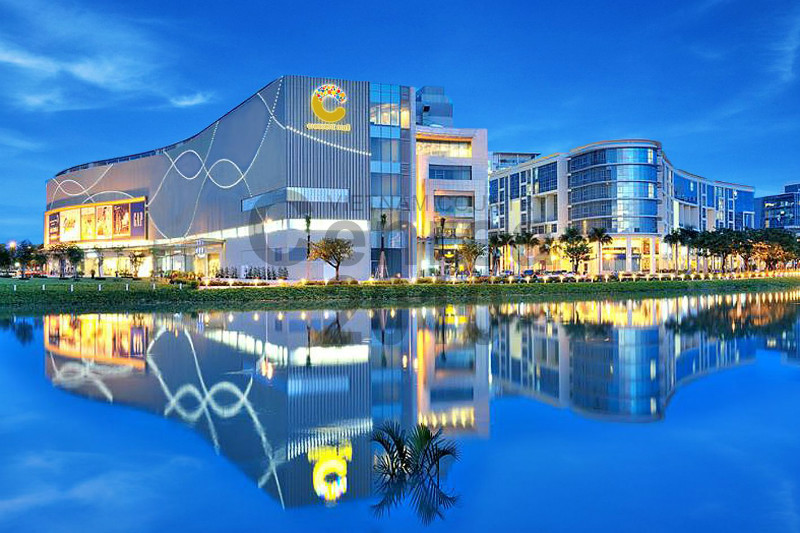 District 7 always entices tourists by its fresh air, green platform and peaceful but modern atmosphere. And Phu My Hung is the most highlighted part of this district – a Western styled area chosen to live by many expats. To meet their shopping need, Crescent Mall turns into a brilliant choice. At present, the Mall includes 134 retail shops spread throughout 5 spacious and awesome floors, along with 2 large basements and 1 parking area.
Just like Vincom Center, guests find it easy to see dozens of noted fashion brands here, from Tommy Hilfiger, Mango, Guess, Calvin Klein, to Diesel, ECCO, GAP, Bonia, etc. Crescent Mall is known as not only a shopping center, but also a wonderful recreation place for children and remarkable food court on the 5th floor of the mall. It is worth pointing out that a host of culture and music events are also held at the large concourse of the mall. Make sure that you don't miss these special events as it is a cool chance to enhance your knowledge and refresh yourself. In addition, many international brands are also displayed at the Crescent Mall with their new and impressive collections.
Address: Phu My Hung, 101 Ton Dat Tien Avenue, Tan Phu Ward, District 7, Ho Chi Minh City, Vietnam
Opening Hours: 10:00 AM - 10:00 PM
Other news