​10 Best Nightlife Experiences You Should Have In Ho Chi Minh City
Mon, 28/11/2016
18766 viewed
0 commented
Wonder how Ho Chi Minh City is after dark? Undoubtedly, when the sun goes down, it is time for Saigon to change its new dress: A new, colorful and lively dress! At that time, Saigoneses start finding their own pleasure, such as meeting buddies, eating and drinking, enjoying sweet moments with partners, going shopping etc., after a long day of working or studying. Known as a non-sleeping city, Saigon is where you're literally able to experience a wide variety of fun activities, from hectic to thrilling and from noisy to chatty. At night, the city is a little vibrant and little peaceful. These factors do nicely combine to make a special Ho Chi Minh City of Vietnam. Unlike Hanoi, this is surely a 24/7 party town. If you do not know where to start when the darkness falls, let us calm your clouded mind by
Ho Chi Minh City nightlife guide
here! There is one thing for certain that you will never be disappointed by the splendid atmosphere and amazing experiences that the city has offered.
Rooftop Bar
After a day of encountering the frenetic streets of Ho Chi Minh City, enjoying a well-deserved cocktail somewhere tends to rank as a top priority in the evening. The good news is that this city has a plethora of wonderful rooftop bars (
see top 7 rooftop bars in Saigon
). While some are highlighted by magnetic and luxurious decoration, others impress you with a little 21st century menus. Such rooftop bars are frequently accessed by young generation from far and near, thanks to not only the superb panoramic views of the city and beyond, but also the chance to savor delicious cocktails and wallow in the loud music. Regardless of whether you are in
Rex Hotel Rooftop Bar
or Level 23 Wine Bar Dong Khoi, they still cater to any style and mood of yours.
Nightclub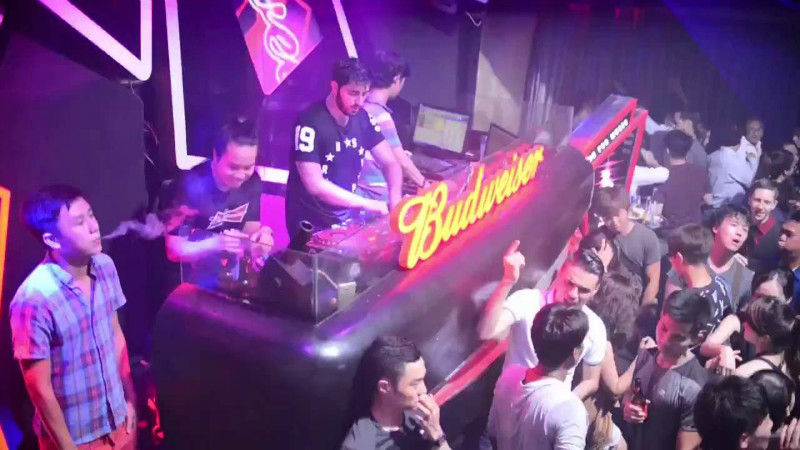 With lively atmosphere, an extensive list of drinks, and imposing DJ line-ups, nightclubs are great alternatives, which should be added to the
top list of nightlife activities in Saigon
. These places are often suited to young members who are fond of music, dances, and parties all night long. In general, the whole atmosphere in nightclubs is so exhilarating and sociable that it's totally easy to know and make friends with more people. Lush nightclub and ACE nightclub are the 2 common spots, which often open until sunrise. This definitely brings an unforgettable night out for every hard-core party lover. Prices are quite fairly whilst styles of music vary, depending on what the kind of evening you experiences.
See more top best nightclubs in Saigon
Pham Ngu Lao Area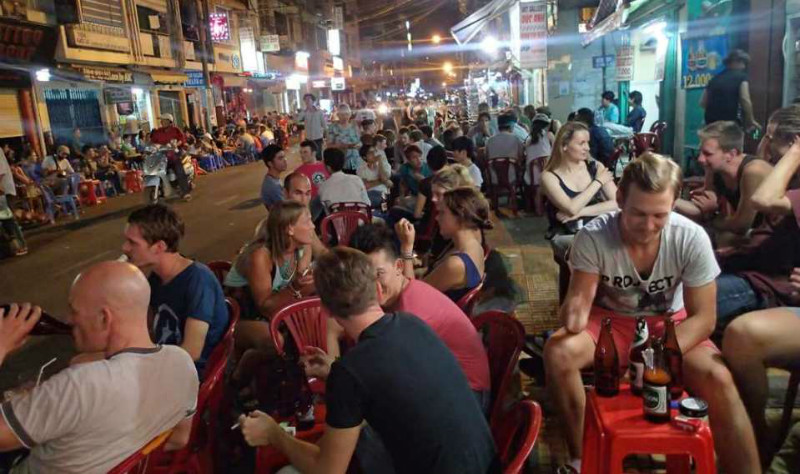 Located on Pham Ngu Lao Street, Pham Ngu Lao area gets its name famous and popular as the backpacker hub of the city, which welcomes a large number of locals and foreigners. When the brightness of the daytime is replaced by the darkness of the nighttime, the area becomes impressive and stunning, with dozens of Bia Hoi stalls, restaurants, vigorous bars and clubs, street food vendors, etc. It is not difficult to see foreign travelers sitting on the pavement and drinking beer with their friends in the hot days. Or they are able to have dinner in small but beautiful restaurant where a variety of Vietnamese traditional dishes and Western foods are served. Bars, pubs, and nightclubs are also a good choice since you can find inexpensive drinks and attractive promos here!
See more this place!
Ben Thanh Market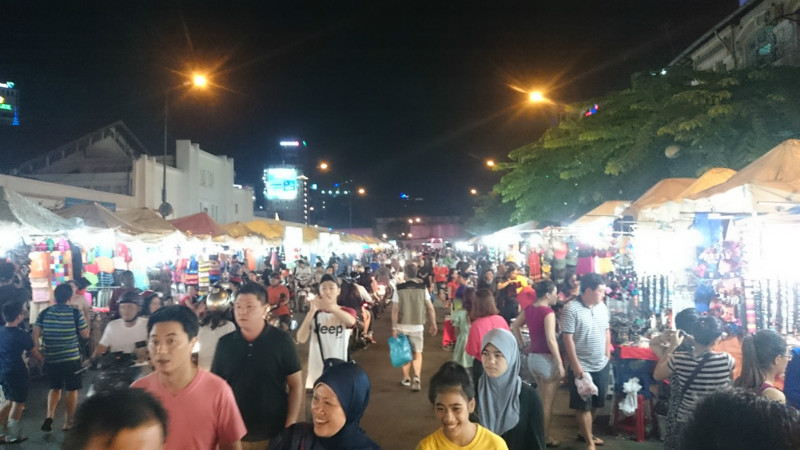 One of the popular spots to experience Saigon nightlife is to wander around Ben Thanh Market. Impeccably located in the heart of Ho Chi Minh City, it is said to give a panorama of the largest night market out of town. After dark, streets around the market will be full of stalls and booths.
What makes Ben Thanh night market alluring and irresistible is the bright light of stallholders and the fragrant smoke of street foods. Therefore, it is easy to understand why the place not only satisfies your shopping favorite with lots of the different goods, but also makes your hunger under control with a wide choice of meals and dishes. Stepping inside, you can find almost everything your heart wants, ranging from shirts, shoes, and purses to local handicrafts, lacquer art, framed paintings, nodding golden cats and key chains. Don't miss a chance to sample a wide selection of dried meats, local fruits, and fresh coffee.
See more info:
https://vietfuntravel.com/blog/ben-thanh-market.html
Saigon Opera House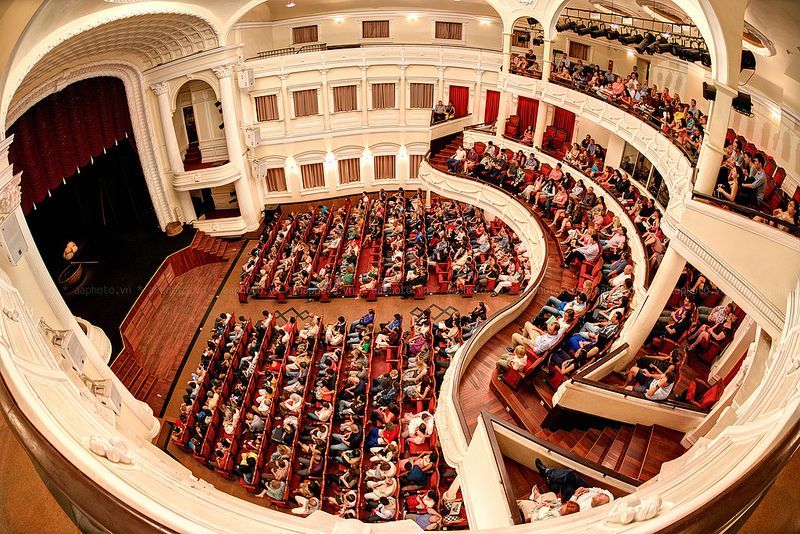 For many tourists having a trip to Ho Chi Minh City, a visit to Saigon Opera House is a must, especially when the sun goes down. Also known as Municipal Theater, the building has its convenient location at the center of the city. Constructed in 1898, it has been breathtakingly restored to its classical beauty in and out. From a far distance, the Opera House just looks like a magnificent gigantic city gate. Its stunning architecture is emphasized by crystal chandeliers, stone-carved ornaments and statues, and shiny granite floor; all materials were truly imported from France. Here is also seen as the central and municipal theater in the city, in which many theatrical and art performances are held. In addition, the building may be also used to organize high-profile events. Along with great shows, you may enjoy pleasant seats and fantastic acoustics in the hall. Going with friends, beloved or even alone is fine!
See more about Saigon Opera House
Street Food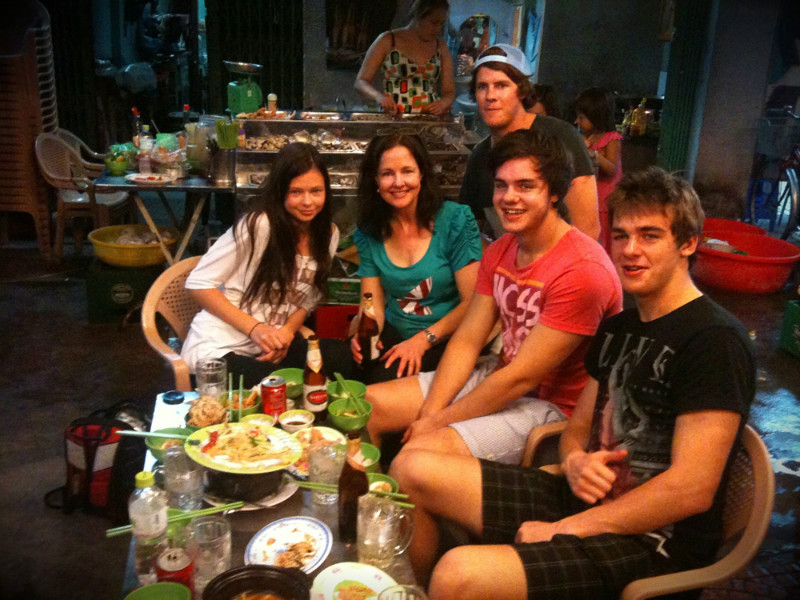 Ho Chi Minh stands out as a place in the world where you can enjoy tasty food on the streets. Just with $2 on hands, you are assured of not only hiding from tiredness and heat, but also savoring authentic specialties. Indeed, whenever you need to grab some foods to satisfy your appetite or your stomach, it is not hard to find some places. Many different kinds of foods are sold and served at any time and in anywhere. Every stall on the road has a uniquely Vietnamese dish, ranging from the savory soup, i.e. Pho, Bun, Hu Tieu to regional southern specialties, such as steamed rice cakes, Com Tam. Whatever you taste, the flavor still leaves an unforgettable feeling on your mouth. This paradise of street foods is so appealing that both foreigners and locals find it difficult to say NO.
Indochina Junk Dinner Cruise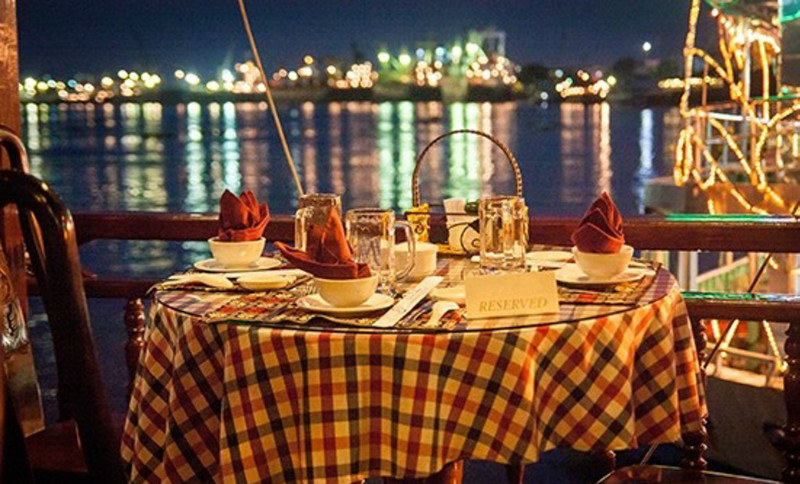 There is no denying the fact that
Ho Chi Minh City nightlife
can be prominently presented via Indochina Junk Dinner Cruise. If you desire to spend romantic minutes with your sweetheart for memorable dinner and enjoyable spectacle along the Saigon River, let Indochina Junk make your dream come true. On the cruise, you have an opportunity to savor delicious cuisine and immerse in soft and traditional music on the authentic boat. While on board, all you must do are to have yourself relaxed on the upper deck as well as spread your eyes over the bright lights of the city. The journeying routes are impressive, which will certainly catch your attention at the first time. So, are you ready to indulge yourself in a meaningful evening on the waterways?
Refer our Indochina Junk Dinner Cruise tours
.
Bitexco Financial Tower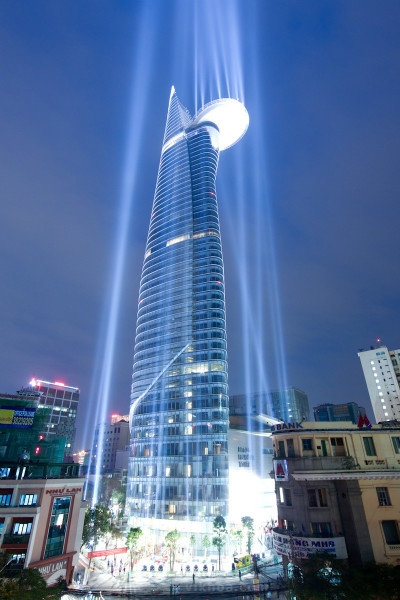 Bitexco Tower is known as the tallest building in Saigon with a total of 68 stories, enabling guests to take exquisite shots of the city from the above. Inside the tower, the Saigon Sky Deck will be the highest observatory platform, giving any visitor a panoramic view of the bewitching cityscape at the height of 178m. The glittering city at night will definitely leave a lasting impression of its vitality that you can find nowhere else. At that time, there is nothing more wonderful than enjoying a glass of cocktail, admiring the lightened boulevards crossing the river, having yourself wallowed in soft music, and watching the flow of tiny people underneath. The truth is that this highest building is similar to a lighthouse at night where the light comes from the top. Offering a complex of a shopping center, cinemas, rental offices, luxury restaurants, and coffee shops, Bitexco Financial Tower is surely the most iconic building around Ho Chi Minh City.
Nguyen Hue Walking Street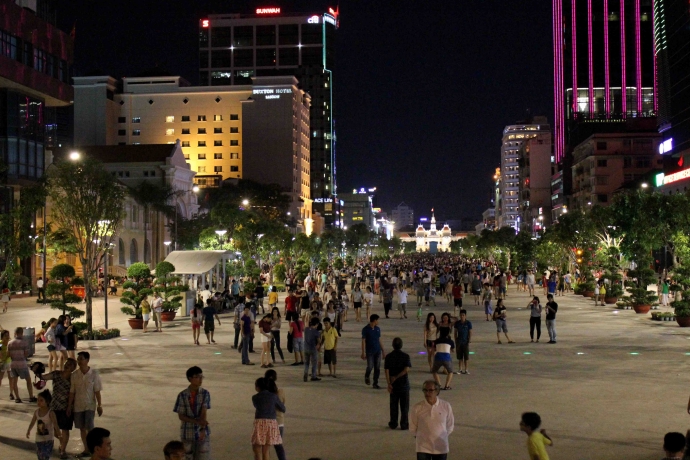 If you want to do what the locals often do, maybe Nguyen Hue Walking Street will be a brilliant idea. Originally, it was famed as Nguyen Hue Flower Street, and now becomes the first walking street of Saigon. This seems to be a new breath for both locals and foreigners to relax and experience something new. Along with becoming the gathering spot and flawless walking street, it is also chosen as a place for major events in the city. Nguyen Hue Street is usually busy every night, especially at weekend. On Saturdays and Sundays, the street is always full of people, from the elders to kids. Young people like gathering together here to chat, singing in group, walking with pets, or simply taking "selfie photos." For kids, this definitely a paradise for them to play and enjoy whatever they want. You can also find the elder simply roaming around to take exercise or having themselves loosened up at stone chairs. After all, Nguyen Hue Walking Street has truly become a hot venue enticing thousands of visitors. So, have you planned to escape the hot weather of Saigon by going for a stroll around the street yet?
Supermarket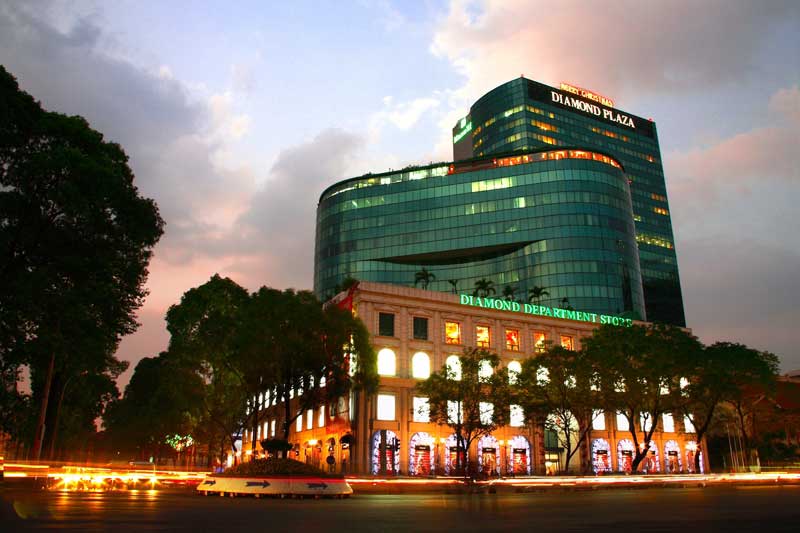 Supermarkets are easily found in Ho Chi Minh City. Whether you wish to buy something with fixed prices or simply want to know how different supermarkets in Saigon are, these places are always an awesome choice. The appearance and development of supermarkets aim to meet the demands of consumers who are in need of grocery early in the morning or late at night. The space of the supermarkets, like Diamond, Lotte, CitiMart, Crescent mall, Emart, etc. helps you feel comfortable and safe. Stepping inside these spots, you can find anything or enjoy your foods and drinks of favorite through an extensive menu. If feeling hungry, just picking and paying money, your stomach will temporarily be satisfied with the food items here. Don't worry about the prices as no one rips your money off!
After all, who says Saigon at night is really dull and boring?
Other news