How to get from Ho Chi Minh city to Phu Quoc?
Thu, 11/07/2019
2438 viewed
0 commented
The Mekong Delta is known as Vietnam's rice bowl. Dominated by the Mekong River and other tributaries, the surrounding lands are a waterworld where endless paddies and rivers are beautifully bordered by dense mangroves and palms. If a leisurely pace, wild idyllic beaches, and rusticity are what you aim for the next travel, then exploring Phu Quoc is a good idea.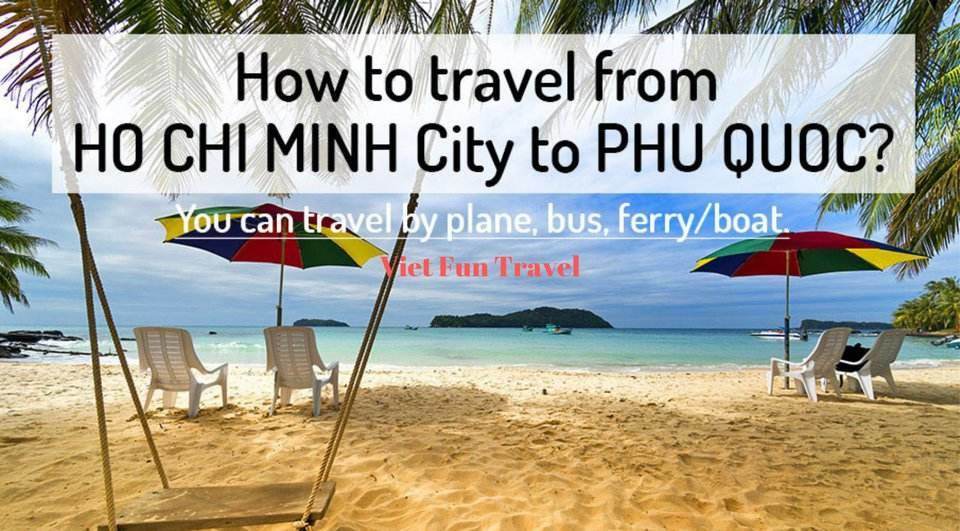 Unsure
how to get from Ho Chi Minh City to Phu Quoc
? It is important to know that there are many ways to reach this destination. And defining your best way will surely help to enjoy a smoothing vacation.  
Get from Ho Chi Minh City to Phu Quoc by bus with a ferry
The way from Ho Chi Minh City to Phu Quoc can be reached by a sleeping bus and a speedboat. You can take a bus to Ha Tien Town/Rach Gia City, which are in Kien Giang Province. From here, it is then easy to access Phu Quoc Island by a ferry.  
Ho Chi Minh City – Ha Tien
Travel time from Sai Gon to Ha Tien Town is about 7 to 8 hours. The process is easy and simple as you only go to the Bus Station, pick a time, buy a ticket and be ready for the trip. Travelers are advised to purchase tickets online or offline in advance during holidays or weekends. The best time for the departure is about 10 PM or 11 PM so that you can arrive the bus station in Ha tien at 5 AM or 6 AM before hoping on the speedboat.  
Ho Chi Minh City – Rach Gia
Travel time from
Sai Gon
to Rach Gia City is about 7 to 8 hours. It is interesting to know that there is always a bus available every 30 minutes. You can book a ticket any time because no reservation is required. What you just do is to enjoy the wheeling sleep different from the deep sleep at home. Like the first route, we highly recommend you to depart at 10 PM or 11 PM so that you can get to Rach Gia City at 5 AM or 6 AM.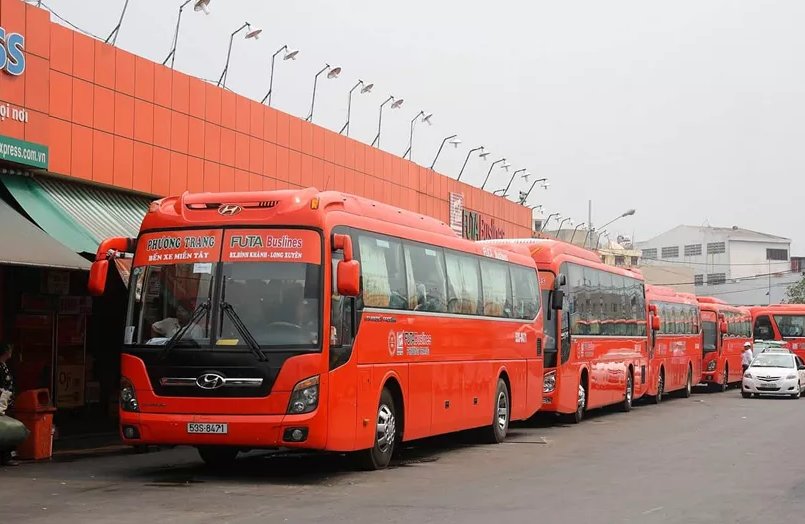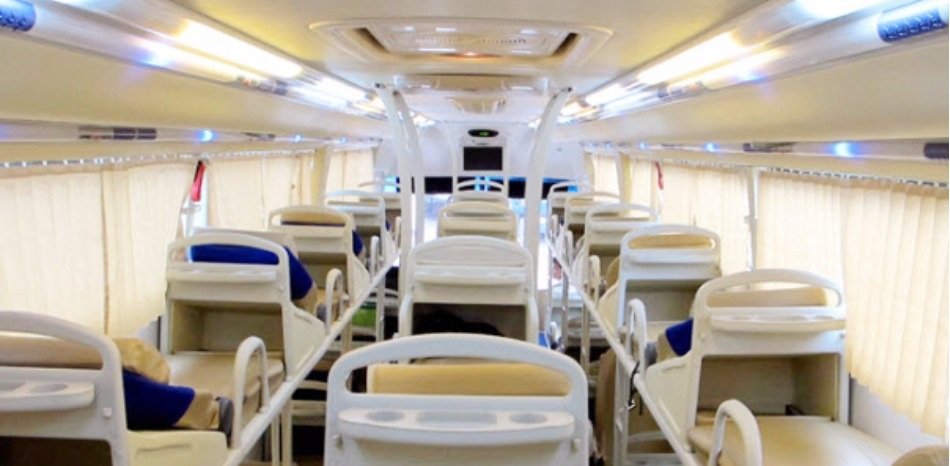 The following are some prestigious bus companies you can book a ticket:  
Address 1: 231 Le Hong Phong St., Ward 4, District 5, HCMC
Address 2: 395 -397 Kinh Duong Vuong St., An Lac Ward, Binh Tan Dist., HCMC  
Address: 395 -397 Kinh Duong Vuong St., An Lac Ward, Binh Tan Dist., HCMC.  
Ha Tien/Rach Gia – Phu Quoc
The Mekong Delta ↔ Phu Quoc ferry route is delevloping. Fast boats and car ferries to Phu Quoc usually sail from mainland ports (Ha Tien and Rach Gia). From these ports, you continue travelling on a high speed ferry, which takes 3 hours. There are multiple ferries daily departing to Phu Quoc, such as Superdong, Phu Quoc Express, Thanh Thoi, Seabus, etc. Among them, Superdong is the most popular and prestigious speedboat which is widely chosen by a number of passengers.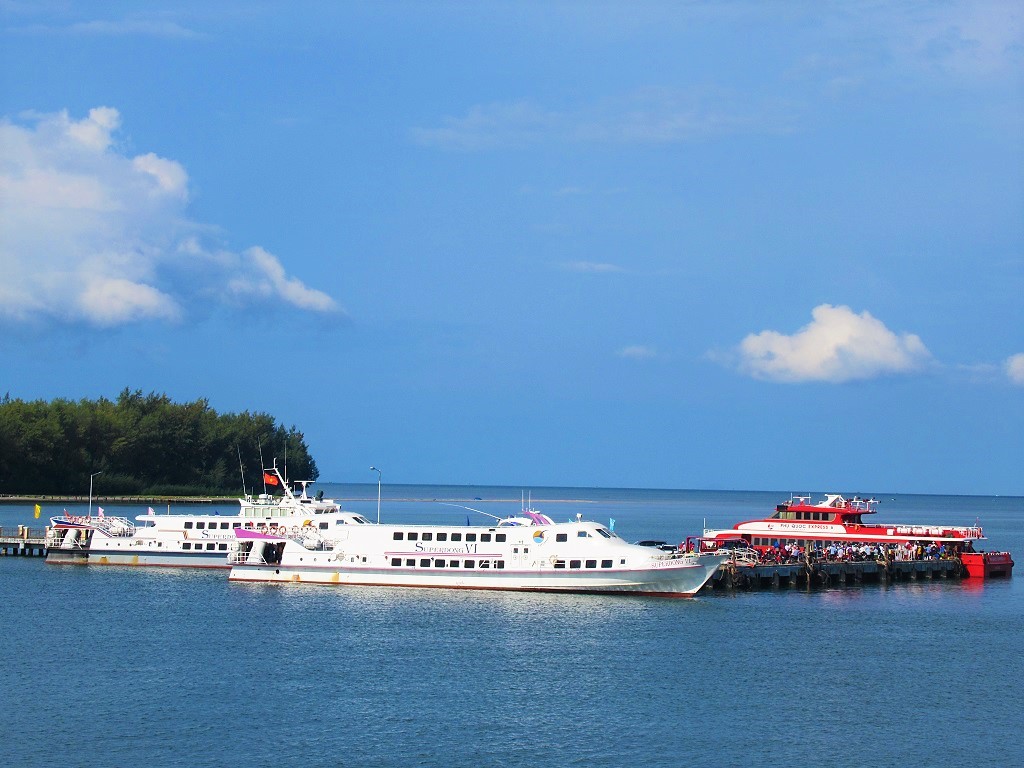 Get from Ho Chi Minh City to Phu Quoc by plane
For the families and honeymooners, their favorite means to Phu Quoc is by taking a flight. At present, Vietnam Airlines and Vietjet Air operate daily planes departing for the island. For Vietnam Airlines flights, the ticket cost starts at $50 one way, lasting from 45 to 70 minutes. No overnight flights are available, because all flights depart daytime. From Duong Dong Airport, it takes only 2 kilomerters to Phu Quoc Island (by foot or by taxi).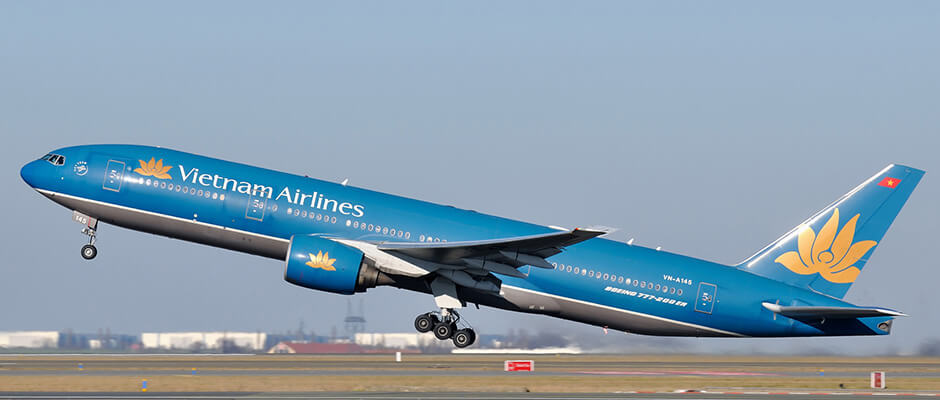 If you are in a tight budget, then Vietjet Air can be a great choice. The ticket costs are cheaper (about $40) than the one of Vietnam Airlines. But, you get what you pay for. Get your mind ready for delayed flights or paying extra for your luggages for this option.  
Get from Ho Chi Minh City to Phu Quoc by a private car
If you make a trip to Phu Quoc with families or friends, another fast and comformtable way is to booking a private car or taking a taxi beforehand. Of course, the cost for this service can be high, but you travel in group, so the fee can be shared. The travel time can take about 8 hours. After visiting Ha Tien Pier, you must buy a ferry ticket to get Phu Quoc Island. The advantage of this option is that there is no need to wait in a queue and you can get start any time at the day.  
Get from Ho Chi Minh City to Phu Quoc by a tour
This choice is really suitable for those who are not confident about a solo trip to Phu Quoc. For certain, your question about "How to get from Ho Chi Minh City to Phu Quoc?" can be ideally fulfilled since the tour guide can do all for you. Get your mind open to many interesting and attractive tours,
like Phu Quoc Tour from Saigon
: 
Phu Quoc 4 Days 3 Nights, Mekong Delta - Phu Quoc Tour 5 Days 4 Nights from Saigon, South & East of Phu Quoc Tour with Snorkeling 3 Days 2 Nights
, etc.
Other news