​Top 7 Things to Do in Dong Thap Province
Tue, 02/07/2019
2979 viewed
0 commented
Dong Thap is partly a wetland of the Mekong Delta. This wetland area spreads over three provinces of Long An,
Tien Giang
and Dong Thap, in which Long An accounts for more than half. Dong Thap Muoi area has Lang Sen wetland conservation area, Tram Chim national park and many attractive tourist destinations that are rich in Southern characteristics.
Coming to Dong Thap, you not only have the opportunity to admire the beauty of the peaceful canals, the vast fields of fragrant rice and lotus ponds but also enjoy the countless delicious dishes of the
Mekong Delta
countryside. Dong Thap region is an ideal place for those who want to escape from the bustling town and enjoy a peaceful and idyllic rural life.
Let's discover more about this splendid land with Viet Fun Travel.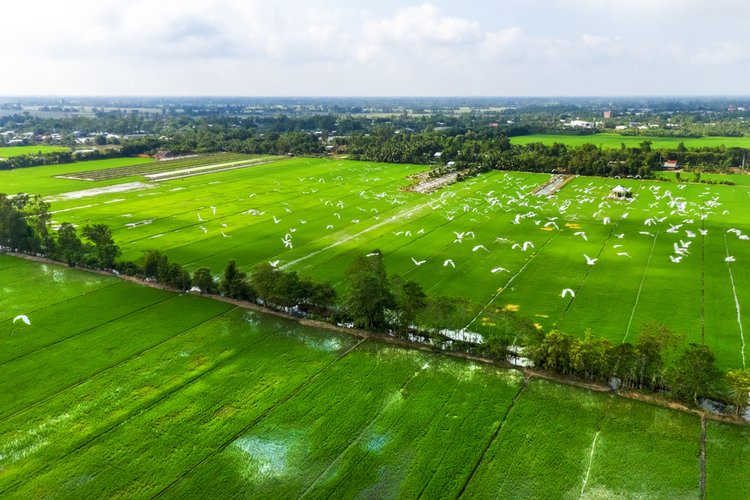 When is the best time to visit Dong Thap?
It will be very interesting if you come to Dong Thap around October to December (from September to November of the lunar calendar) to experience the floating season in Dong Thap. If you want to hunt photos, you should go to Dong Thap in the lotus season in August or the Lunar New Year to take pictures of Sa Dec flower village and Lai Vung pink mandarin garden and admire the scene of each flock of cranes rushing to fly back their nest when the sun sets.  
Where to go in Dong Thap?
The land of Dong Thap Muoi in the past was wild and dangerous with rough and rugged terrains covered by lush reeds, canes, lotus,…. This is also the kingdom of wild animals like snakes, turtles, mice, birds, crabs, crocodiles, etc. Today, travelling to Dong Thap means you are returning to Mother Nature who blesses you with cool and fresh air, fertile rice fields, and countless famous places of interest throughout the region.  
Phuoc Kien Pagoda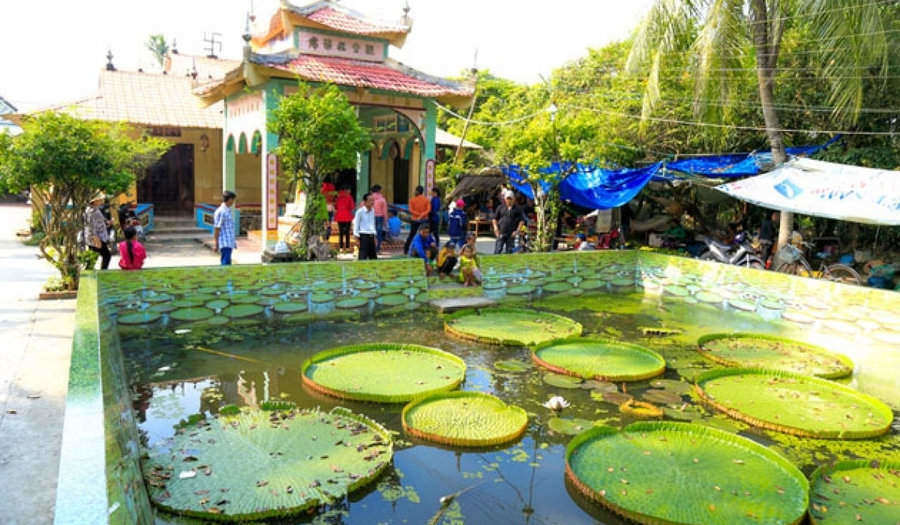 Phuoc Kien Pagoda (also known as Lotus Pagoda) is located in Hoa Tan commune, Chau Thanh district. Inside the temple, people grow a kind of lotus that features giant leaves. These leaves can have a diameter of 1.5 to 2 m, with thick and large veins, and 4-5 cm high edges that make the leaves look like a giant green plate. Especially, a leave can withstand the weight of an adult up to 70kg.  
Sa Dec Flower Village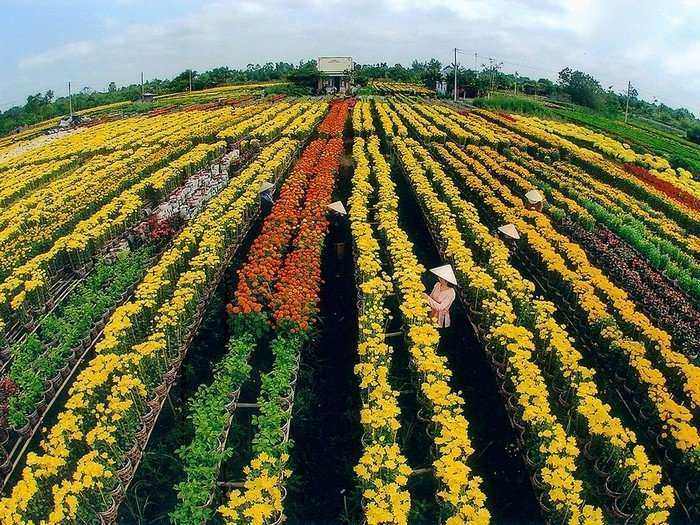 Sa Dec Flower Village is located in Tan Qui Dong Commune, Sa Dec City, and is accreted every year by Tien River. Being more than 100 years old, the village is a place specializing in planting and supplying flowers, ornamental plants, bon sai for domestic and foreign areas, especially on the occasion of the New Year and local festivals.

Kien An Cung Pagoda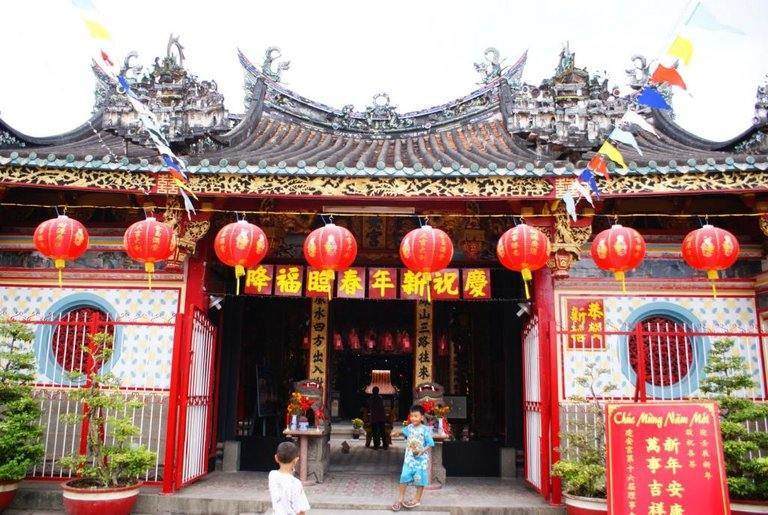 Kien An Cung Pagoda is located in the center of Sa Dec city. The pagoda was built in 1924 by a group of Chinese people in Fujian Province. Every year, the temple has two sacrificial holidays: February 22 and August 22 of lunar calendar. Every 3 years, local people will pray for dead people and for the peace of the nation.

Xeo Quyt relic area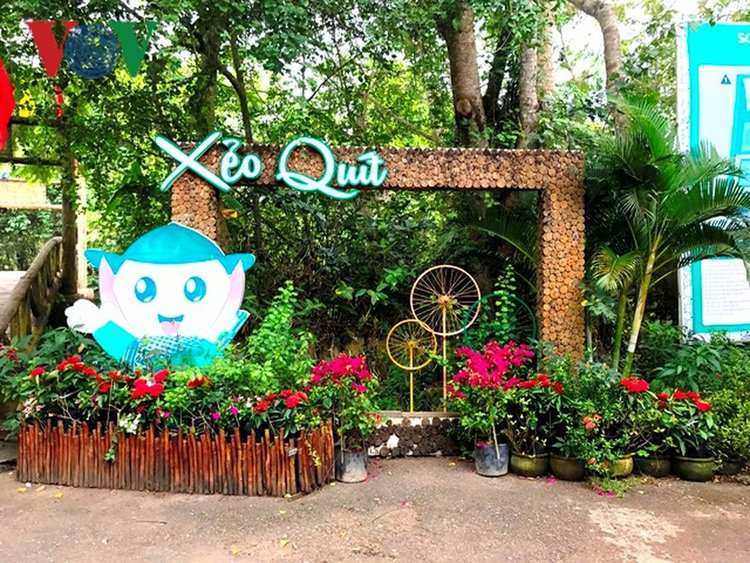 This is a military base from 1960 to 1965 of Dong Thap provincial party committee in Vietnam War. You will surely enjoy the pleasure of sailing on small creeks to explore this land.

Nguyen Sinh Sac relic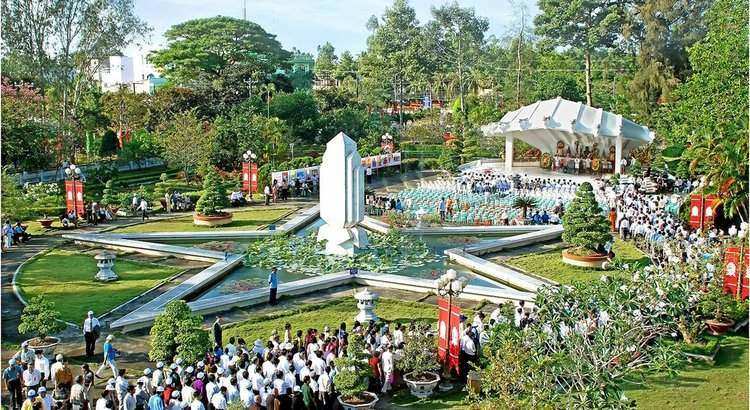 Nguyen Sinh Sac relic is located in Cao Lanh City and is divided into 2 main areas (one area includes the grave and memorial house, the other includes stilt house and Uncle Ho fish pond). This is the place to express gratitude towards the father of President Ho Chi Minh. Every year on October 27th of the lunar calendar, people and tourists gather to celebrate the ceremony in a solemn atmosphere as if it is a big local festival.  
Tram Chim national park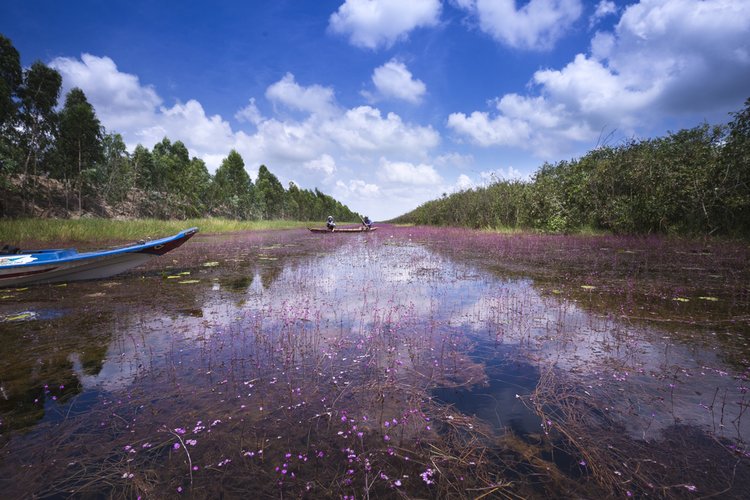 Tram Chim National Park is a prominent ecotourism site of Dong Thap in the territory of 7 communes of Tam Nong district, Dong Thap province. With an area of over 7,000 hectares with stunning landscapes, vast waterways, thousands of melaleuca forests and rich flora and fauna (more than 130 different species); Tram Chim is recognized as the 4th Ramsar site in Vietnam and 2,000th in the world.  
Dam Sen Thap Muoi (Lotus Fields in Thap Muoi)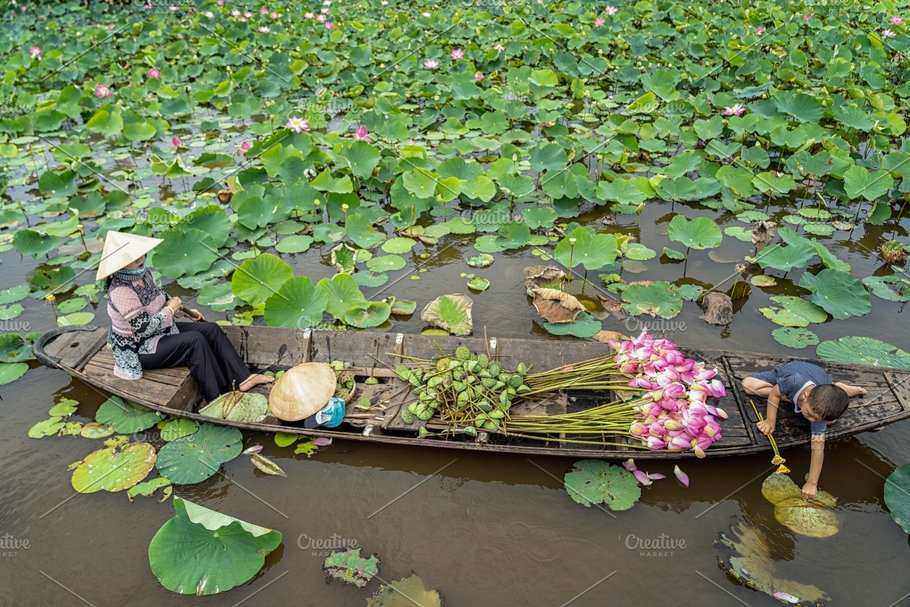 Just having been exploited for about a year, this destination has attracted many tourists to come and visit. Dong Sen is located in My Hoa commune, Thap Muoi district, 40 km away from Cao Lanh city, visitors come here to enjoy the soothing atmosphere, try themselves in the costume of a three-piece dress and "non la" (palm-leaf conical hat). In addition, visitors can enjoy dishes made from lotus such as: lotus sweet soup, lotus steamed rice, lotus chicken salad, fish grilled with lotus leaf...  
What special festivals take place in Dong Thap?
Dong Thap has 3 typical local festivals, the biggest one is Go Thap festival that is held on March 16 and the November 16 of lunar calendar in Tan Kieu commune, Thap Muoi district to commemorate Ba Chua Xu.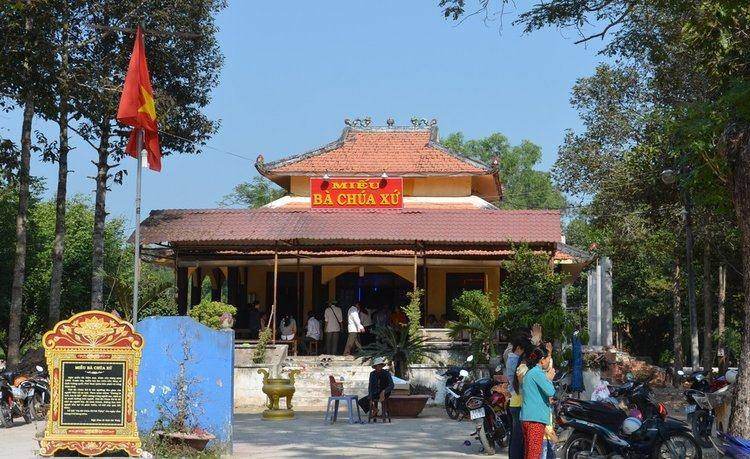 Ba Chua Xu festival
In addition, in the fourth lunar month, there are 2 festivals. One is Dinh Yen Communal House Festival, in Dinh Yen Commune, Lap Vo District, held on April 16 of lunar calendar to commemorate Mr. Pham Van An, the first person to reclaim wasteland and set up the village. The other is Tan Phu Trung communal house, in Tan Phu Trung commune, Chau Thanh district, which is held on April 16-17 of the lunar calendar to respect the village's tutelary god.  
What to eat in Dong Thap?
The dishes you should try include eel cooked with ant eggs, Sa Dec rice noodles, dishes from linh fish and cork flower, Cao Lanh rats, Thap Muoi lotus, steamed lotus seeds, bird, etc. Among those specialties, there is one dish you must try once in life: grilled snakehead fish rolled in lotus leaf.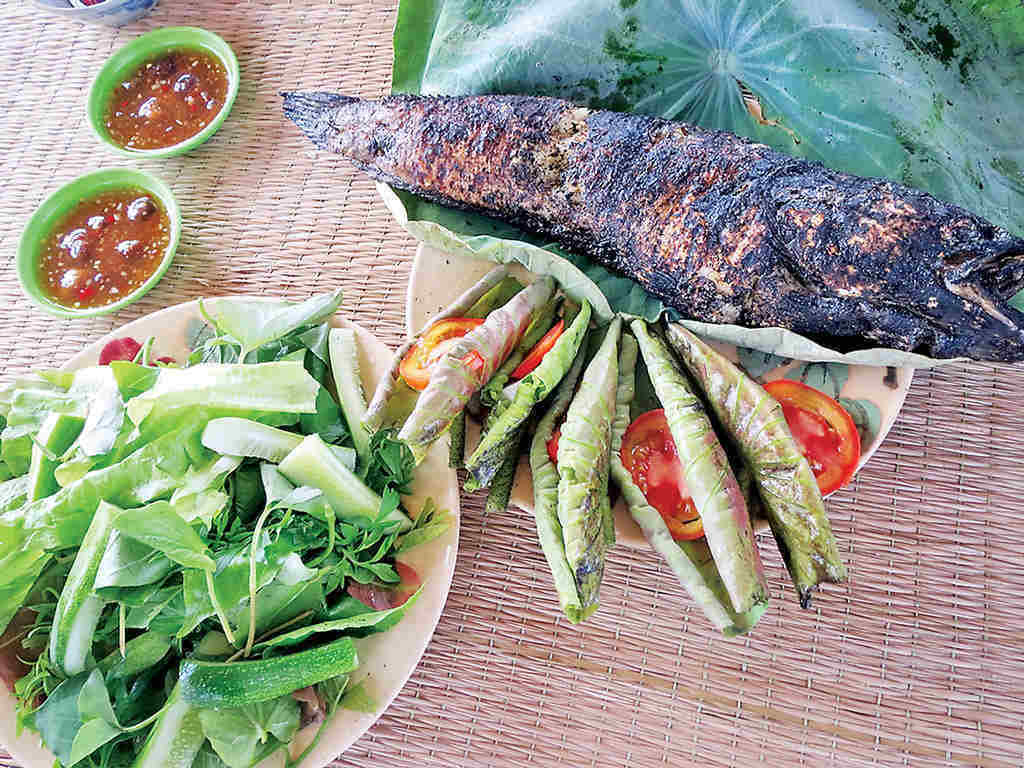 Visitors to Dong Thap can never forget the acrid taste of young lotus leaves when eating with grilled snakehead fish. The tamarind sauce is both sweet and sour, with a little spicy flavor to enhance the taste of the dish. The price of a grilled snakehead ranges from VND 130,000 to VND 150,000 and is sold at such tourist sites as Tram Chim, Gao Giong, Xeo Quyt, Dong Sen Thap Muoi.  
What souvenirs or gifts to buy in Dong Thap?
Sa Giang prawn cakes, Nhi Sen tea, Lai Vung nem, Lai Vung pink tangerine, Hoa Loc mango, Chau Thanh longan are light and typical gifts in Dong Thap that you can buy for your family and friends.  
Things to note
Above are some tips to travel Dong Thap in 2019. Hope it will help you have a meaningful and joyful tour to Dong Thap. If you arrive at the time of the flood season in the West (September - November of the lunar calendar), you should bring an umbrella, light warm clothes and rain gear. Bring mosquito repellent and insect repellent medication, necessary medicines. Don't forget to bring a tent, sleeping bag, jacket if you want to camp.
If you have any additional questions, don't hesitate to contact
Viet Fun travel
for more support!
Other news