Things to do in Soc Trang Province– A Guide for Newbies
Fri, 05/07/2019
2633 viewed
0 commented
Whether you are a backpacker or a travel lover, if exploring off-the-beaten-path journeys and trying local foods are what you're fond of, then head to Soc Trang now!
Just like other provinces, like Tra Vinh,
Tien Giang
,
Vinh Long
,
Ben Tre
,
Hau Giang
, etc, Soc Trang is located in Mekong Delta River. But, the province makes its name interesting and special apart from others, which becomes a big magnet for both domestic and foreign tourists to come. So why don't you add this destination in your list of must-go places to Vietnam once in a lifetime?
To get yourself well-informed about the place before travelling, this topic of
things to do in Soc Trang
may become useful. Keep reading now!  
A brief snapshot of Soc Trang
Soc Trang province is about 231 kilometers South of Ho Chi Minh City as well as 60 kilometers Southeast of Can Tho City. Coming from "Srok Kh'leang" – a Khmer name – Soc Trang means "a place where silver is stored." Believe it or not, the destination is mainly home to the Khmer people. That's why there is a cultural interference between the Chinese-Kinh-Khmer locals. You can see Khmer cultural characteristics everywhere, especially at the Khmer pagodas.
Like other provinces in
Mekong Delta
, there are 2 distinguish seasons in Soc Trang: including the wet season (May – November) and the dry season (December – April). In order to avoid unexpected rains, we advise you to visit Soc Trang in the dry season.
With the harmony of Khmer and Kinh cultures, you can be amazed at what the place has to offer. Coming here, along with visiting the pagodas and temples and join in the unique festivals, visitors also have the opportunity to enjoy Khmer specialties and even fresh fruits in the gardens. As a result, your inspiration to exploring the new destination will be stimulated for sure.  
Best things to do in Soc Trang

#1: Enjoy your spirit trip by visiting famous pagodas
The highlight in this province is pagodas. That's why visiting pagodas should be added to the list of
top things to do in Soc Trang
. These pagodas were mainly built under the influence of Khmer culture. So, they are outstanding with the unique Khmer designs and scrupulous attention. Some recommendations we want to introduce you are Bat Pagoda, Khleang Pagoda, Clay Pagoda, and Chén Kiểu Pagoda.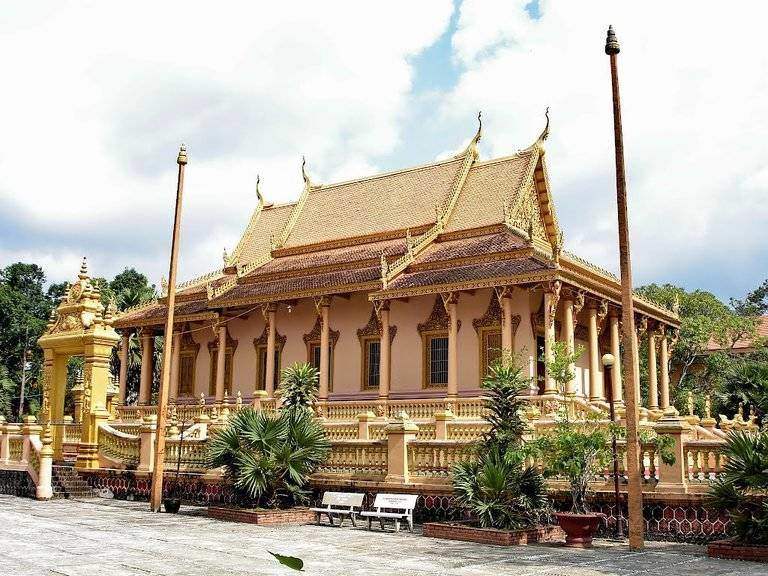 Khleang Pagoda
Bat Pagoda is considered the most well-known one in Soc Trang. What makes its name widespread to people is that the pagoda is where many bats live and stay. You can see them hanging their body under the roofs or even on the trees. In addition to Bat pagoda, visitor also share their interest in Khleang pagoda – one of the oldest pagodas in Soc Trang.
Moreover, the name of the Clay Pagoda says all what you want to know. It is noted for the clay Buddhist statues and dragon sculptures. Finally, Chén Kiểu Pagoda – another popular one – is where your eyebrows will be raised by its China sophisticated design.

#2: Stay close to nature by landing on Tan Long Stork Garden
If you are still imagining how the Mekong Delta landscape looks like, then Tan Long Stork Garden, located in Long Binh Commune, Nga Nam District, Soc Trang Province, will not disappoint you for any reason.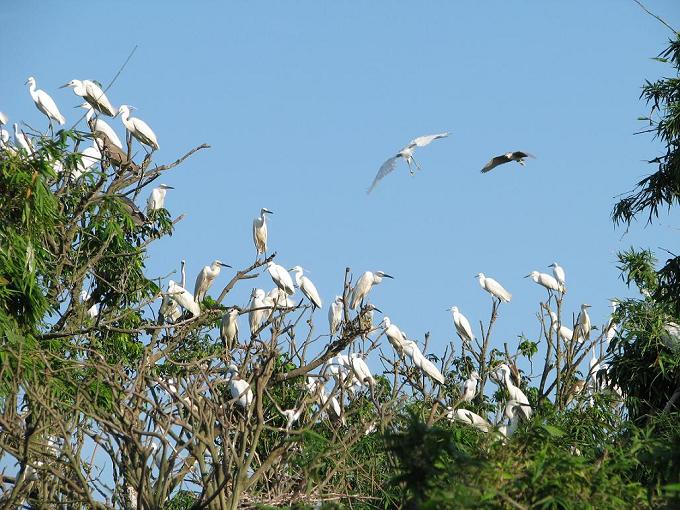 Tan Long Stork Garden
The fascinating fact is that the garden is managed and preserved by a local man, namely Huynh Van Muoi. You can view many species of birds and storks living in harmony here, such as white stork, buffalo stork, chicken stork, gongs, etc.
In addition to the bird-watching activities, it a big pity to skip enjoying a variety of rustic specialties in Soc Trang and listening to the traditional music performance. How meaningful it is!

#3: Learn the outstanding characteristic of Mekong Delta through Nga Nam Floating Market
Along with
Cai Rang floating market
– the largest one in the Mekong Delta, Nga Nam market in is also worth mentioning in the list of
top things to do in Soc Trang
. Interestingly, its location makes the market special and unique since it is the convergent point of 5 rivers flowing into 5 directions (Ca Mau, Phung Hien, Thanh Tri, Vinh Quoi and Long My). That's why it's not hard to understand why the market is called Nga Nam (Ngã Năm).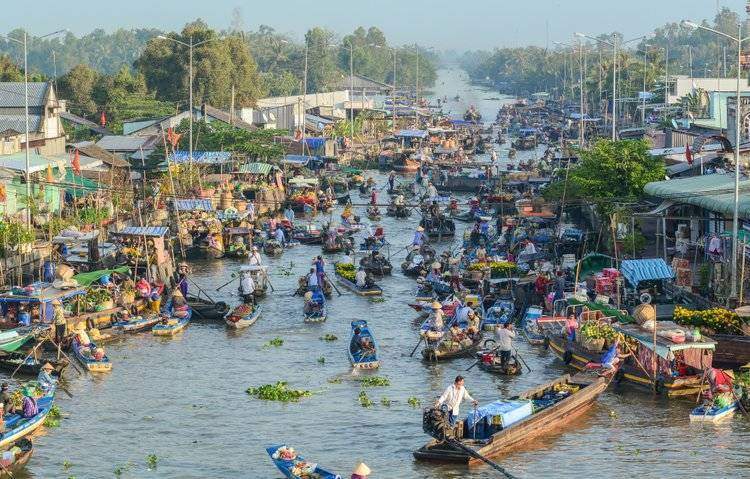 Nga Nam Floating Market in Soc Trang
To enjoy Nga Nam floating market at the fullest, you are advised to come here early in the morning, when the sun starts rising and locals are ready for busy trading. Everything can be found here, from meat, rice, fresh fruits to even TV and electronic goods. See more
floating market tours in Mekong Delta at here
.

#4: Mingle with the cultural activities by the participation in Ok Om Bok festival
If you travel to Soc Trang around October or November, you can have a chance to partake in Ok Om Bok festival – one of the 3 biggest festivals among the Khmer community. Annually held in the tenth full moon in Vietnamese Lunar calendar, the festival is about worshipping the moon and praying for abundant harvest.
On this occasion, the highlight revolves around Ghe Ngo boat race. As a special kind of timber boats, these are in the shape of Nagar snake – a Khmer's sacred object. There are 30 groups of men and 10 groups of women attending in the race. The winning team will be awarded with special prize, in addition to the enthusiastic and great cheers from the crowds along the riverbanks.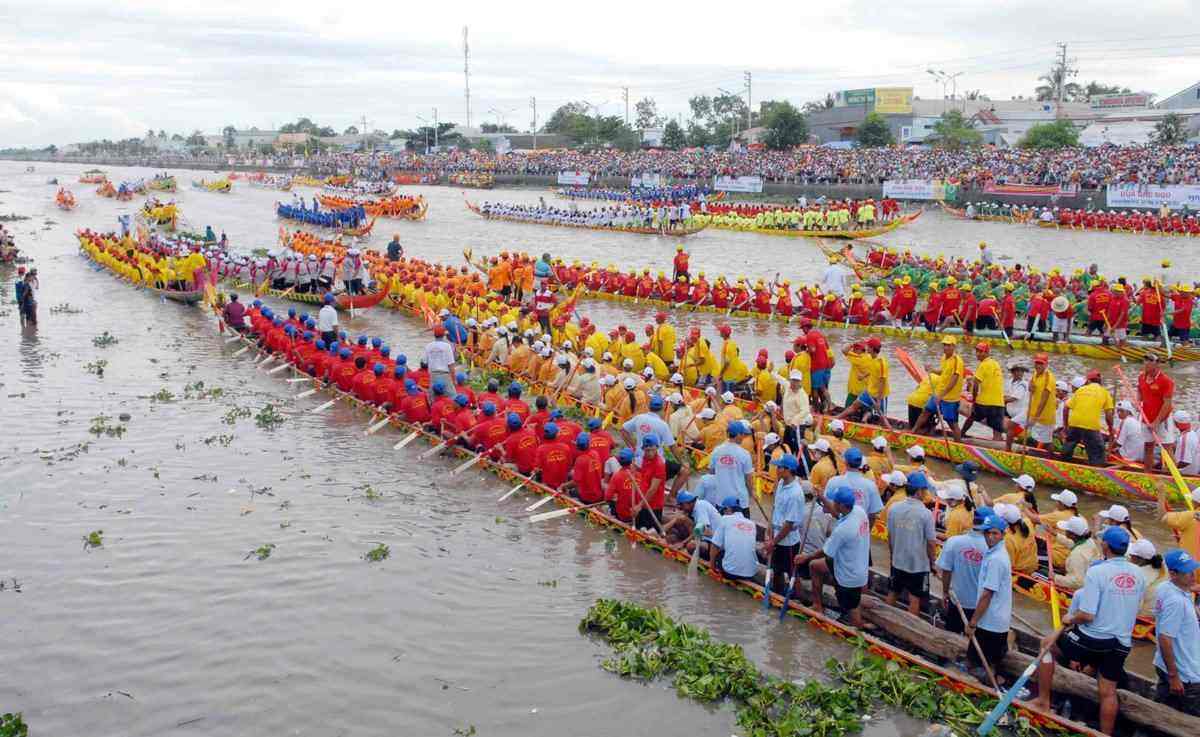 Other exciting activities in the event include exhibitions of the artistic works, performance of the ethnic music and dance, and workshops on the agricultural development.

#5: Tickle your taste bud with Soc Trang cuisine
Things to do in Soc Trang
are surely incomplete without enjoying specialties in this province. Soc Trang gains fame for several typical foods, especially Nuoc Leo Rice Noddle Soup (Bún Nước Lèo) and Pia cake. Nuoc Leo Rice Noddle Soup is the culinary combination of Khmer, Vietnam and China. While the noodle is made of materials in Vietnamese, the ingredients come from Khmer and the broth is learnt from Chinese. Its delicious taste and exotic seasoning will satisfy your flavor in any case.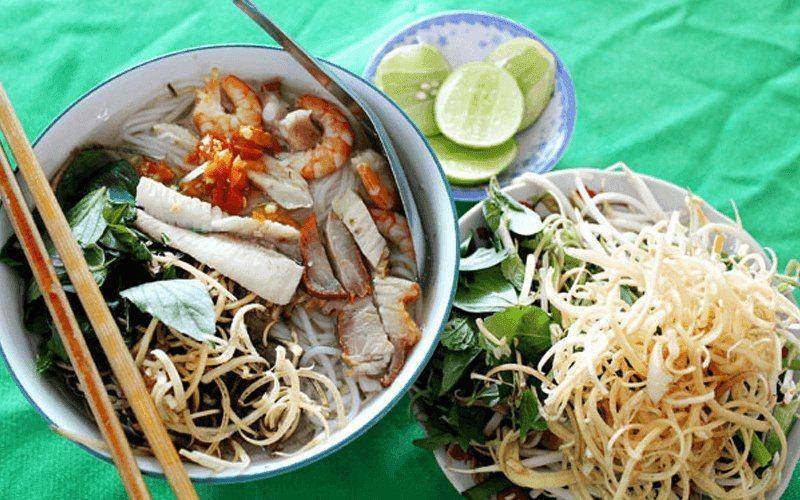 Nuoc Leo Rice Noddle Soup
If you are wondering what to buy for your beloved ones at home, then Pia Cake is always a great idea. It has a taste with an aroma of durian fruit whilst the salted duck eggs have the greasy and buttery flavor. Although you can find the cake around Sai Gon, it cannot win the original Pia cake in Soc Trang.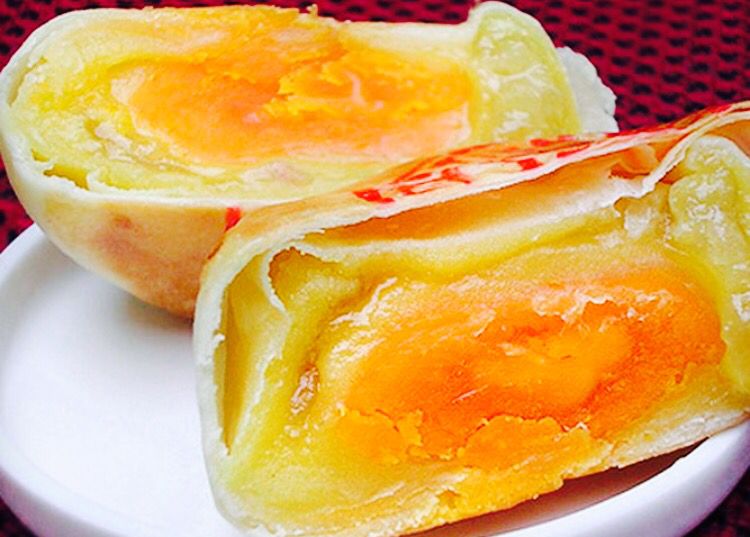 In brief, there is no denying the truth that each destination in Viet Nam certainly brings you different experiences and discoveries. At that time, let's add this province to your travel list. There are many
things to do in Soc Trang
that ensure your joyful and meaningful trip. Come and explore because this place always welcomes you with great warm and hospitability!
Other news