How to get from Mekong Delta to Phnom Penh?
Fri, 19/07/2019
3220 viewed
0 commented
Phnom Penh is widely noted as the city of monumental architecture hugely characterized by the Khmer community. Since Cambodia surely shares a border with Vietnam, there is no amaze that travelling from Ho Chi Minh City to the capital of Cambodia is easy.
So, how to get from Mekong Delta to Phnom Penh?
It is important to keep in mind that there are a few cities in and the Mekong Delta, like Vinh Long, Cao Lanh, My Tho, Soc Trang, Can Tho, and Chau Doc. From Saigon, you must research and define which cities in the Mekong Delta you want to visit. And if you would like to make it across the Cambodian border, then Chau Doc will be your last stop. From here, the route to Phnom Penh can be accseed with a speedboat. Keep reading to know more!    
Get from Mekong Delta to Phnom Penh By Airplane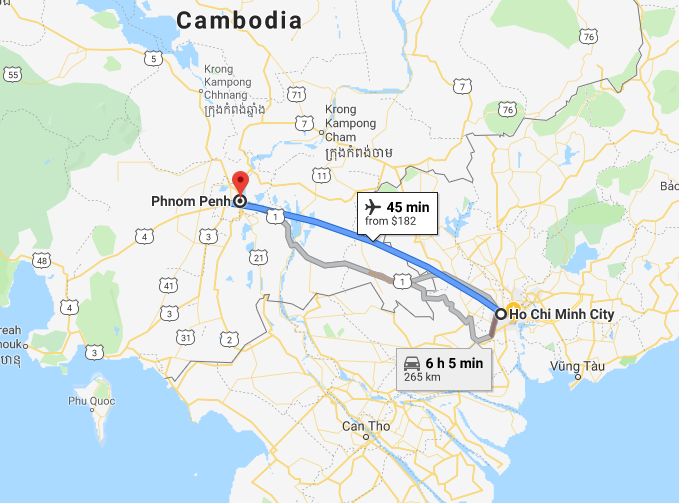 If you start from any city in Mekong, it is highly advised to take a bus to Ho Chi Minh City and then book a flight from Tan Son Nhat International Airport in the city to Phnom Penh Airport in Cambodia. There is no denying the fact that this is the fastest, the most convenient and comfortable way to get Cambodia from Saigon (about 45 minutes for the distance of 213 kilometers). In general, flights available include Vietnam Airlines, Qatar Airways, and Angkor Air.  
You can book a ticket directly at booking offices of Vietnam Airline in Sai Gon or through websites online. The return flight tickets are often cheap, which cost about $200.  
Get from Mekong Delta to Phnom Penh By Bus
Buses to Phnom Penh are available in Ho Chi Minh City as this is the country's largest city. So, from any place in Mekong Delta, we advise you to take a bus to the city so that the route from Mekong Delta to Phnom Penh will be easier and more flexible. Phnom Penh is actually about 230 kilometers from Saigon. And getting to Cambodia by bus is usually the cheapest option, even though you can still enjoy confortable bucket seats, armrests, air-conditioned, and a bottle of water.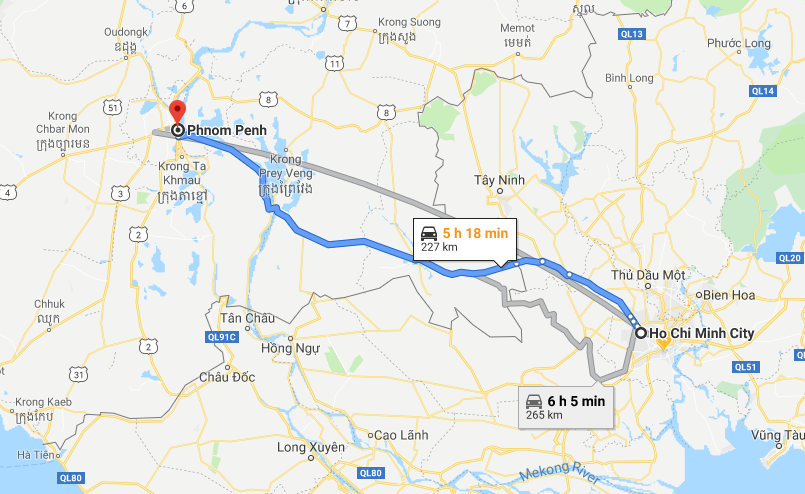 A trip generally takes around 6 - 7 hours, including passing the border crossing, namely Moc Bai on the Vietnamese side, and namely Bavet on the Cambodian side. Some of the worth-considering bus companies that you can refer to include Mai Linh, Sapaco Kumho. The bus ticket costs are different, but you can pay something around $6 ~ $12, based on the service quality of each bus company.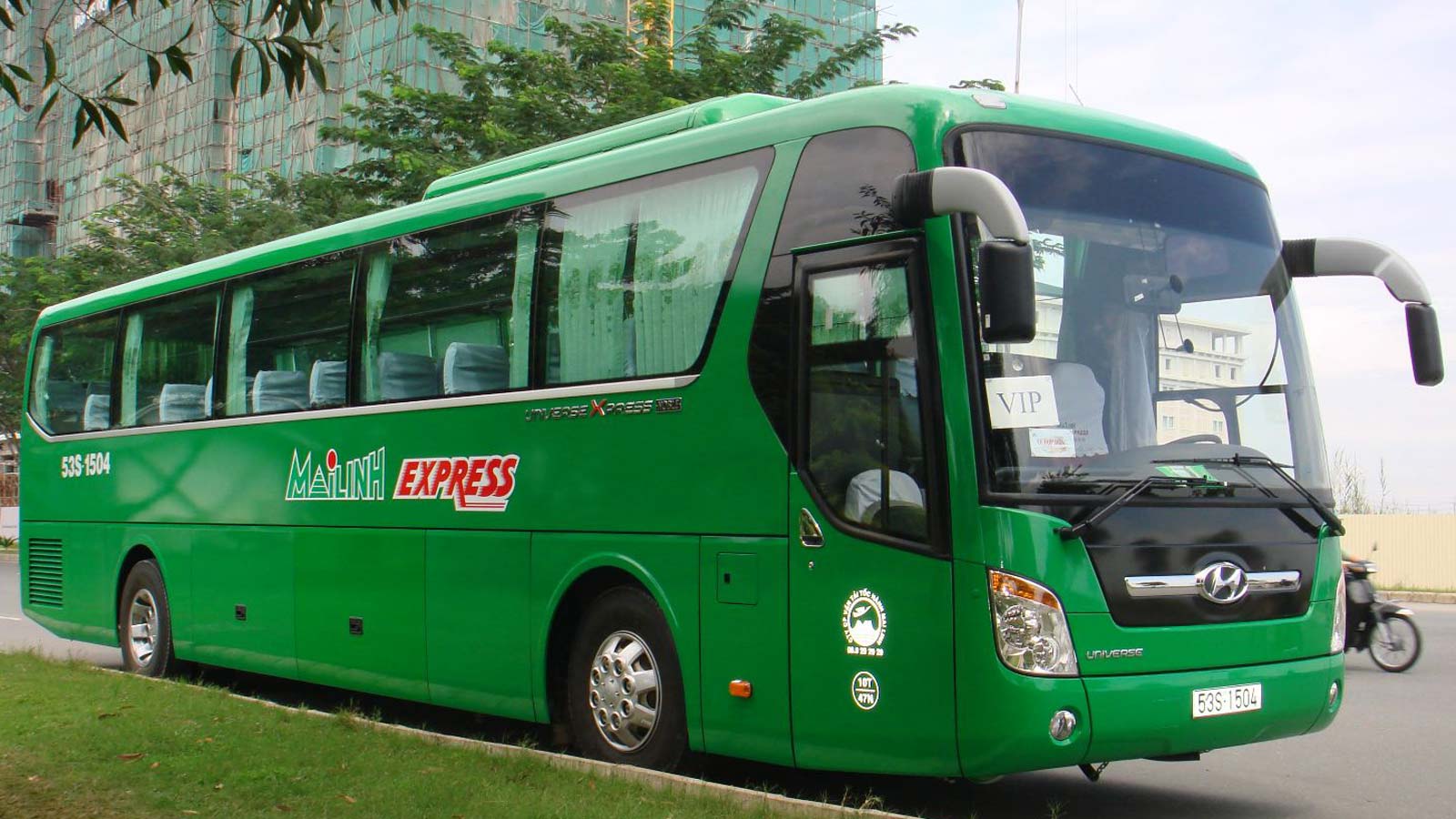 Address: 32 Nguyen Cu Trinh Street, Pham Ngu Lao Ward, District 1, HCMC.  
Address 1: 500 Nguyen Dinh Chieu Street, Ward 3, District 3, HCMC.
Address 2: 325 Pham Ngu Lao Street, District 1, HCMC.  
Address: 305 Pham Ngu Lao Street, District 1, HCMC.    
Get from Mekong Delta to Phnom Penh By Boat
As mentioned above, if you want to travel to Phnom Penh from Mekong Delta, Chau Doc should be your last stop, no matter where you travel in the area. From Chau Doc, you will get a speedboat to Phnom Penh, making the trip a unique experience. Don't hesitate to check with a travel agent about what is included in this speedboat trip.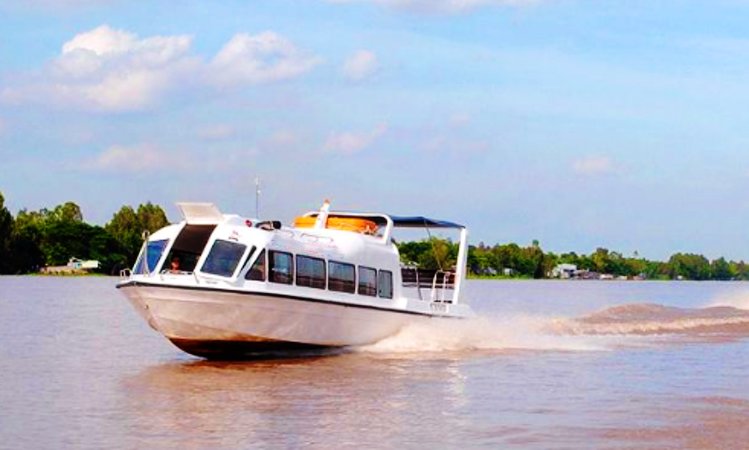 In fact, the typical package includes a bus trip from your hotel in Chau Doc, and then a boat 4-hour journey on the river. You will land on Phnom Penh in the early afternoon. The cost for this means is approximately $19 ~ $50. There are many types of boats for you to choose from, such as decent boats, simple boats, luxury boats, etc. Depending on your budget level, you can be free to select the most comfortable service.    
Get from Mekong Delta to Phnom Penh By Cruise
In order to stay close to nature and learn more about the river life, there is nothing greater than a cruise trip via Mekong River – the interesting way to discover the beauty of both Vietnam and Cambodia.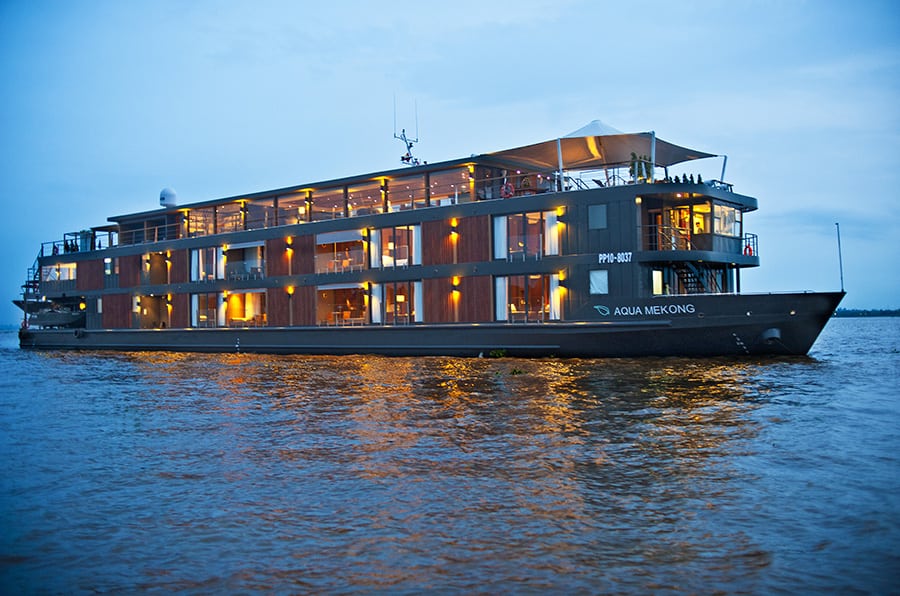 On the cruise, your eyebrows will be rasied by a cultural contrast between the bustling delta in Vietnam and the peace of Cambodia. Furthermore, passengers also have an opportunity to travel from Ho Chi Minh City's busy French colonial port through the vast delta, learn more about the local living on Tien Giang, Dong Thap, Vinh Long, Can Tho, An Giang provinces, and continue the trip to Phnom Penh, Cambodia. Like boats, there are many luxury Mekong Cruise options, such as Aqua Mekong, Jayavarman, The Jahan, Pandaw, Indochine, etc.  
Get from Mekong Delta to Phnom Penh By a Tour
Let the tour guides do all for you. Of course, the itinerary surely includes
how to get from Mekong Delta to Phnom Penh
. To be honest, this is the easiest and fastest way for travelers with group to enjoy their vacation without worrying what to prepare. Some popular recommendations are
Mekong Delta Tour to Cambodia 3 Days
, which starts from Cai Be to Phnom Penh,
Mekong Delta - Cambodia 2 Days 1 Night Tour,
which starts from My Tho to Phnompenh, and so on.
Other news