Sa Dec Flower Village- a favorite tourist attraction for flower lovers
Tue, 16/07/2019
2789 viewed
0 commented
Sa Dec flower village is located in Tan Qui Dong commune, Sa Dec, Dong Thap, on the bank of Tien river. This area is year round windy, with fertile alluvial and full of sunshine, and is the land of hundreds of flower specie.

The origin of the name " Sa Dec Flower Village, Dong Thap"
In the last days of the year when everyone is busy with year-end work and preparation for the Lunar New Year holiday, a place about 140 km away from Saigon is hurriedly waiting for the day of flowers to bloom. This place is called Sa Dec flower village or also known as Tan Quy Dong flower village.
Legend has it that in the past, there was Psardek, the daughter of a landlord named Thac, who fell in love with a poor man. Opposing this love affair, her father sent a man to tie the boy and throw him into the river. Psardek was so upset that she went to live in a monastery.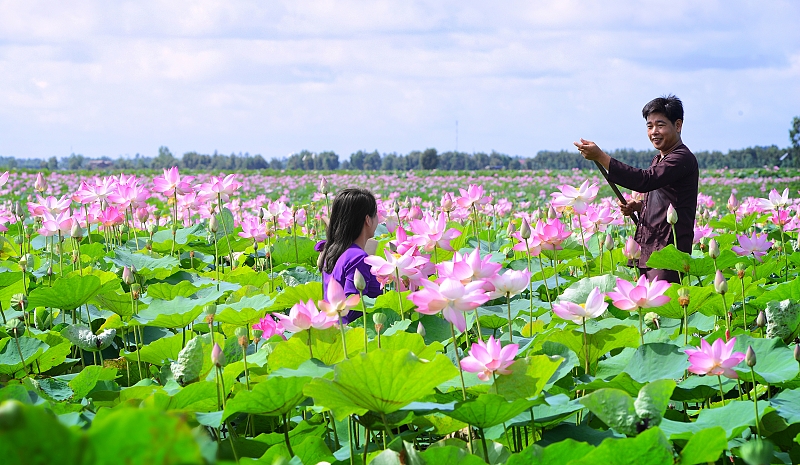 Later, when her father died, she used her family's assets to do charity work, improve roads, and build markets. Since then people called the market and this area Psardek, gradually that name becomes Sa Dec.
Coming to Sa Dec flower village in its full bloom around the lunar new year, you will admire the breathtaking scenery here with hundreds of blooming flowers, just like they are dyeing the whole village with vivid colors.

What is the best time to visit Sa Dec Flower Village?
According to the annual calendar, December of the lunar calendar is the time when flowers in Sa Dec are in full bloom. At this time, Sa Dec village is the most beautiful and vibrant because it's in the main harvest season of the year.
You should travel to Sa Dec at the beginning of December of the lunar calendar and by December 23, because after that the flowers are harvested and transferred to Saigon to serve the demand for Tet flowers.

Things to do when visiting here
Coming to Sa Dec to visit Sa Dec Flower Village you can see the flowers there, take pictures, buy flowers from local people. To make the best out of your trip to Sa Dec Flower Village, you should combine it with other tourist spots of Dong Thap.
Visiting Sa Dec Flower Village:
You can go sightseeing around the village, visit the garden houses to buy flowers, admire the scenery, take photos. Beside flowers, there are also ornamental plants which feature unique and spectacular shapes, some even are more than a hundred years old. They are all taken care well by the skillful hands of artisans here to create sophisticated and unique designs.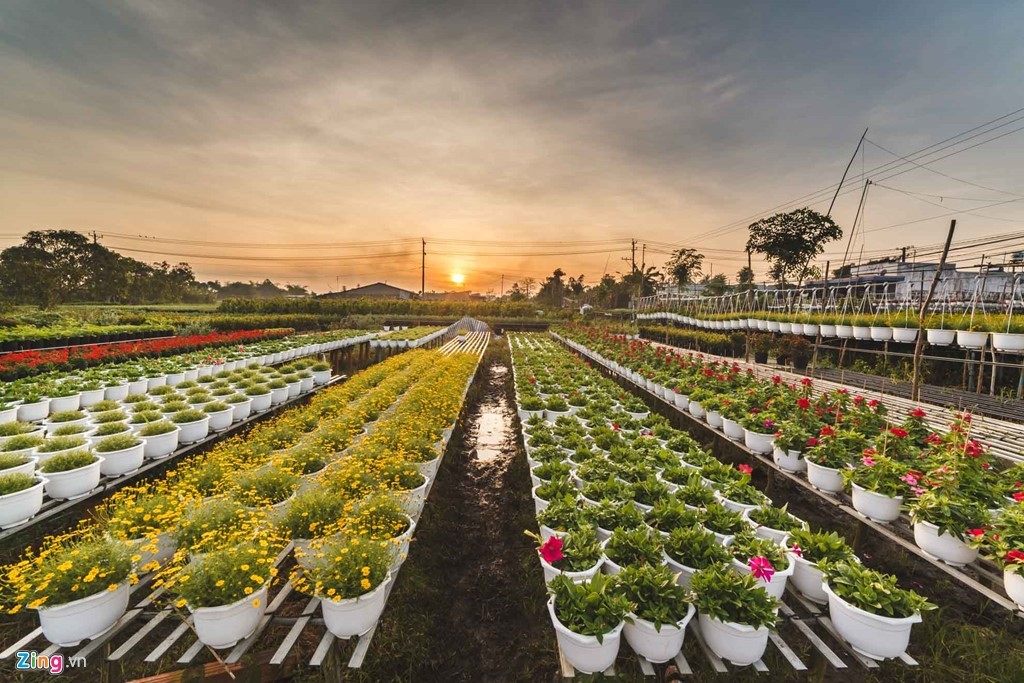 Sa Dec flower village in spring -
Image by Zing.vn
From the experience of the garden owners here, the flowers in Sa Dec village begin to bloom in vivid colors from December 15 to December 20 (lunar calendar). So if you want to see flowers, you should come around this time. Especially, from the 17th to the 19th, more than 20 households with facade will organize a competition to decorate flowers around the house, tourists should come to visit, vote and take photos.
Visit Huynh Thuy Le Ancient House:
Huynh Thuy Le Ancient House is located at 225A, Nguyen Hue Street, Ward 2, Sa Dec City. The house was built in 1895 by Mr. Huynh Thuan (Huynh Thuy Le's father) and restored in 1917. This house features a unique architecture and decoration, which reflects the East-West architecture style.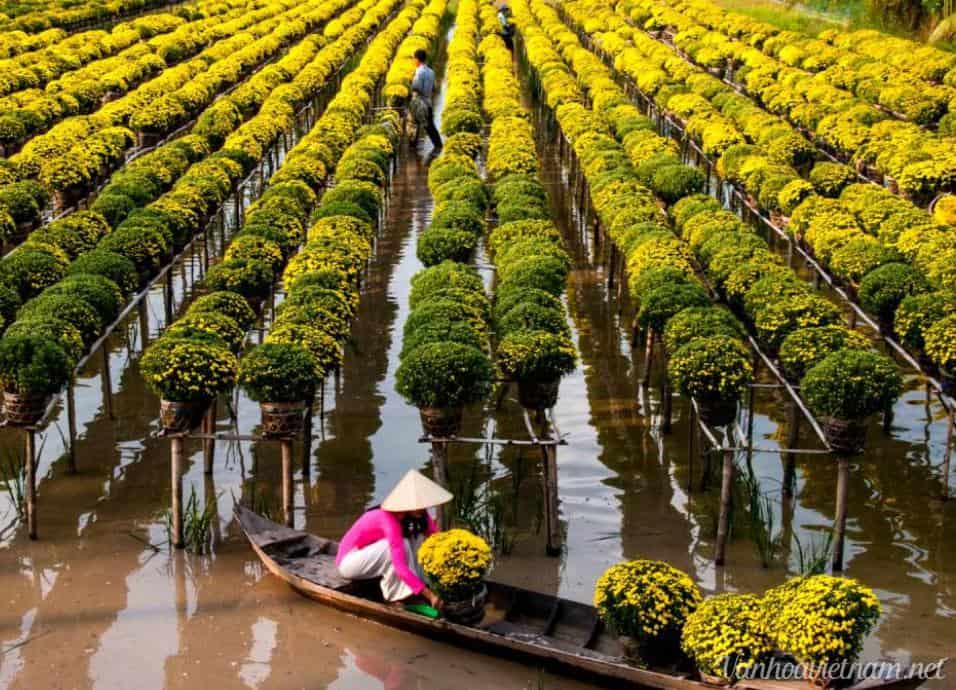 Image by Vanhoavietnam.net
Visit Kim Hue Pagoda:
Kim Hue Pagoda is the largest pagoda in Sa Dec, also known as Bong pagoda, located at 41/2, cluster 2, ward I, Sa Dec town,
Dong Thap province
. From the years 1920 to 1945, this place was once a training center for monks throughout the 6 western provinces.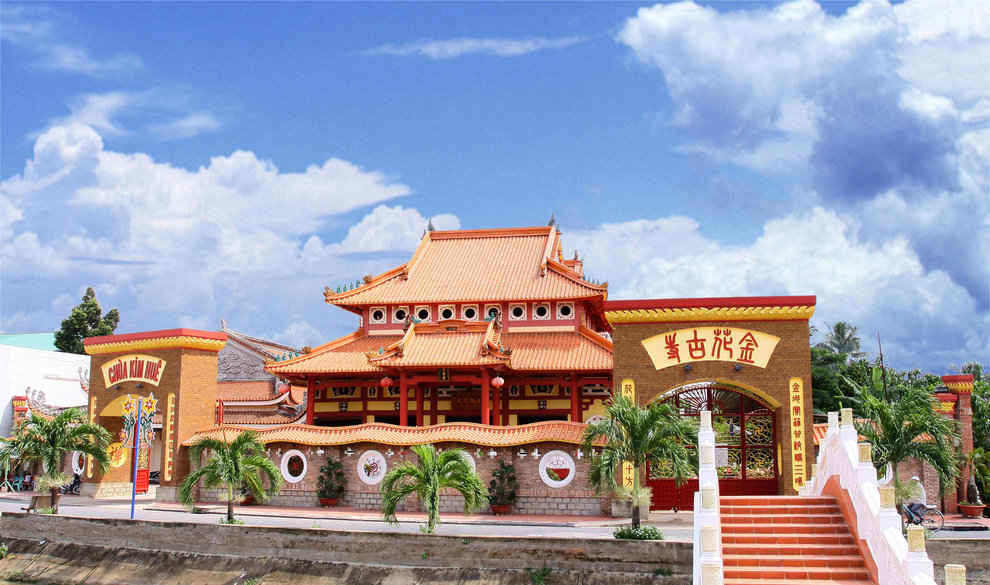 Visit other famous tourist spots of Dong Thap:
After visiting Sa Dec Flower Village, you can travel to other famous tourist spots such as the relic area of Nguyen Sinh Sac, martyrs station, Go Thap relic area, Kien An Cung ancient architectural relics, Tam Nong Tram Chim national park, Xeo Quit base area, fruit orchards of Cao Lanh, Chau Thanh, Lai Vung, Thanh Hung, ancient houses...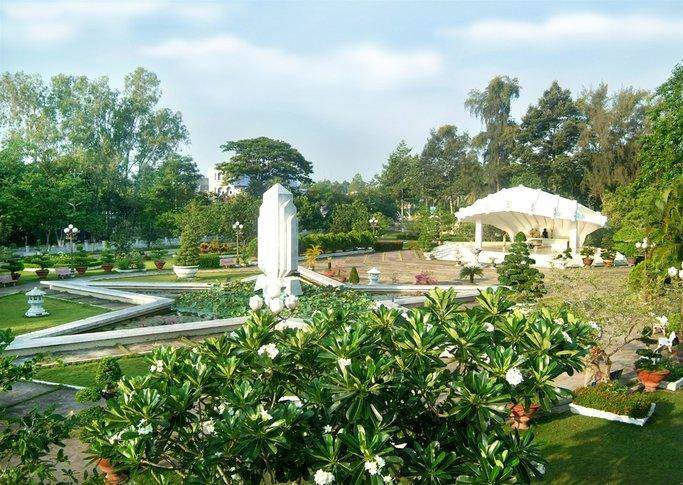 What to eat in Sa Dec flower village?
Coming to Sa Dec, you should never miss the famous Sa Dec noodle. Dong Thap is also the capital of western cuisine, so don't hesitate to try the famous delicacies of the west here.
Some famous restaurants in Sa Dec to try Sa Dec noodle (hu tieu):
- Hu tieu Ba Sam: 188 Tran Hung Dao, Ward 1, Sa Dec City, Dong Thap.
- Vegetarian Noodle Be Nam: 27 Au Co, Ward 2, Sa Dec City.
- Hu tieu Chi Dau: Hamlet 1, Tran Hung Dao, Ward 1, Sa Dec.
- Hu tieu Ong Tu: 246 Tran Phu, An Hoa, Sa Dec.
- Hu tieu, banh uot: 228 Tran Phu, An Hoa, Sa Dec.
- Minh Ky Noodle Shop: 125 Hoang Dieu, Khom 1, Ward 1, Sa Dec.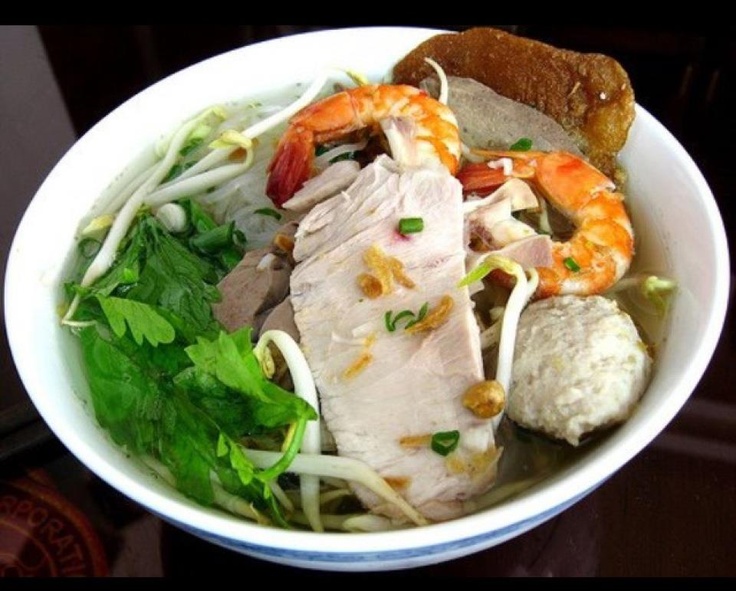 Along the banks of the Sa Dec river, there are many famous restaurants that serve delicious specialties in Sa Dec, including crab hotpot, grilled snakehead fish with young lotus leaves, and the dishes from linh fish and dien dien flower, Cao Lanh rats, Thap Muoi lotus, steamed lotus seeds, bird meat ...
Specialties are bought as gifts: Lai Vung tangerine, Pink lotus wine, Chau Thanh longan, Sa Giang prawn cake, Lai Vung nem ...
Above are the tips to visit, explore, travel and take photos at Sa Dec flower village. You can come here on the weekend and return at the end of the day. If you want to go to Lai Vung Tangerine garden, you can take the train and spend the night there.
Other news