The charm of Folk Music in Mekong Delta
Fri, 12/07/2019
2052 viewed
0 commented
When coming to the southern Vietnam, it's the poetic landscapes, peaceful atmosphere, and local's friendliness attracting the tourist.
What's more?  
There is still one special thing that no one should miss once traveling to southern provinces: that's Don ca tai tu, a very popular kind of
folk music in Mekong Delta
. It makes a great contribution to tourism in every local area.  
So, what is Don ca tai tu? Find out now!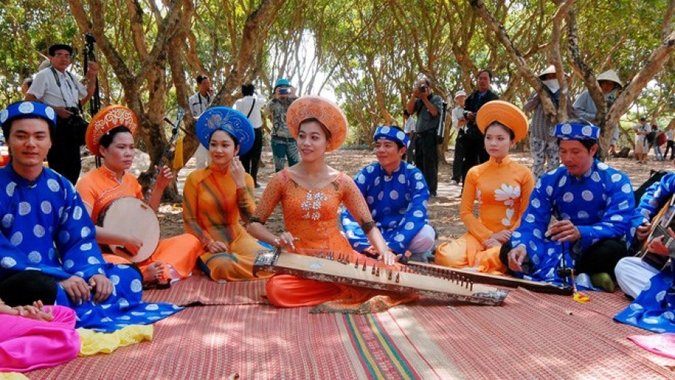 A brief look at Don ca tai tu
Appeared since the late 19
th
century, Don ca tai tu has soon become a specialty of the people in the southern Vietnam. Due to its deep root in the cultural and spiritual life to the community, this unique folk art was proudly listed as the Intangible Cultural Heritage of Humanity by UNESCO in 2013.  
Compared to other forms of art in Vietnam, Don ca tai tu is only popular among the southerners though it's widely known across the country. Originated from Hue Royal Refined Music, it has changed much when going to Mekong Delta to be in accord with people living here. Considered as the amateur music, Don ca tai tu is not usually played by professional musicians; actually, anyone can perform this folk music anywhere and at any time…from the old to the young, the male to the female, and the rich to the poor.  
The southern Vietnam is the agricultural land; thus, not surprisingly when the majority of people playing Don ca tai tu are farmers. While working hard on large fields, they enjoy singing – that's why they often gather into small groups to perform this
folk music in Mekong Delta
whenever having spare time as a pleasure.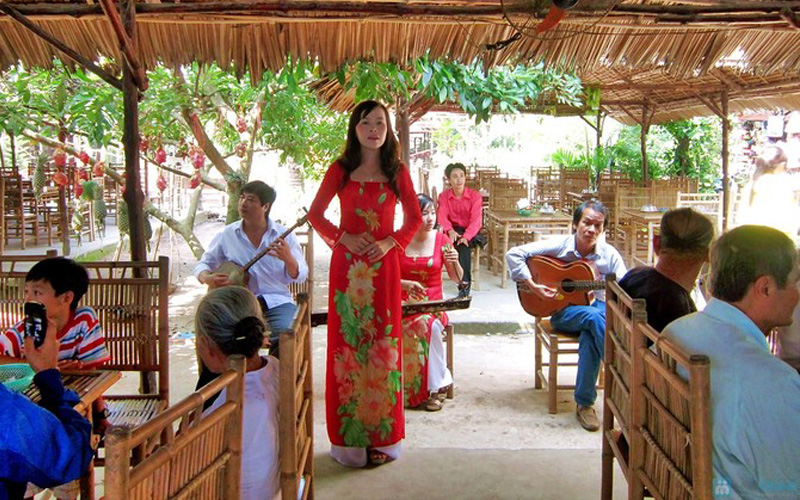 A Folk music show in Tien Giang from Viet Fun Travel's tour  
Why Don ca tai tu is seen as an indispensable part of the southerners' spiritual activity?  
Its music and songs tell stories about a farmer's simple, honest, and liberal life and their region. Extremely popular, this musical art is a string connecting different generations in southern families. It is commonly performed at rituals, wedding, festivals, death anniversary, and other celebrations.  
Exploring the culture heritage of the southerners
All the performances with the folk music
use a repertoire based on 72 classical songs and 20 principal songs for improvisation as well as variation. When playing Don ca tai tu, there are some crucial instruments like the bamboo flute, the moon-shaped lute, and the two-stringed fiddle. Musicians also add the sound of guitar and violin to the performance with this folk music for more characteristics.  
A group of Don ca tai tu requires the participation of:  
Master instrumentalists – Good at playing different kinds of instruments and knowledgeable at all the songs
Master vocalists – Understanding the repertoire comprehensively and enabling to teach distinctive vocal techniques in Don ca tai tu, aside from singing
Master lyricists – Capable of improvising and composing new song texts
Regular musicians and singers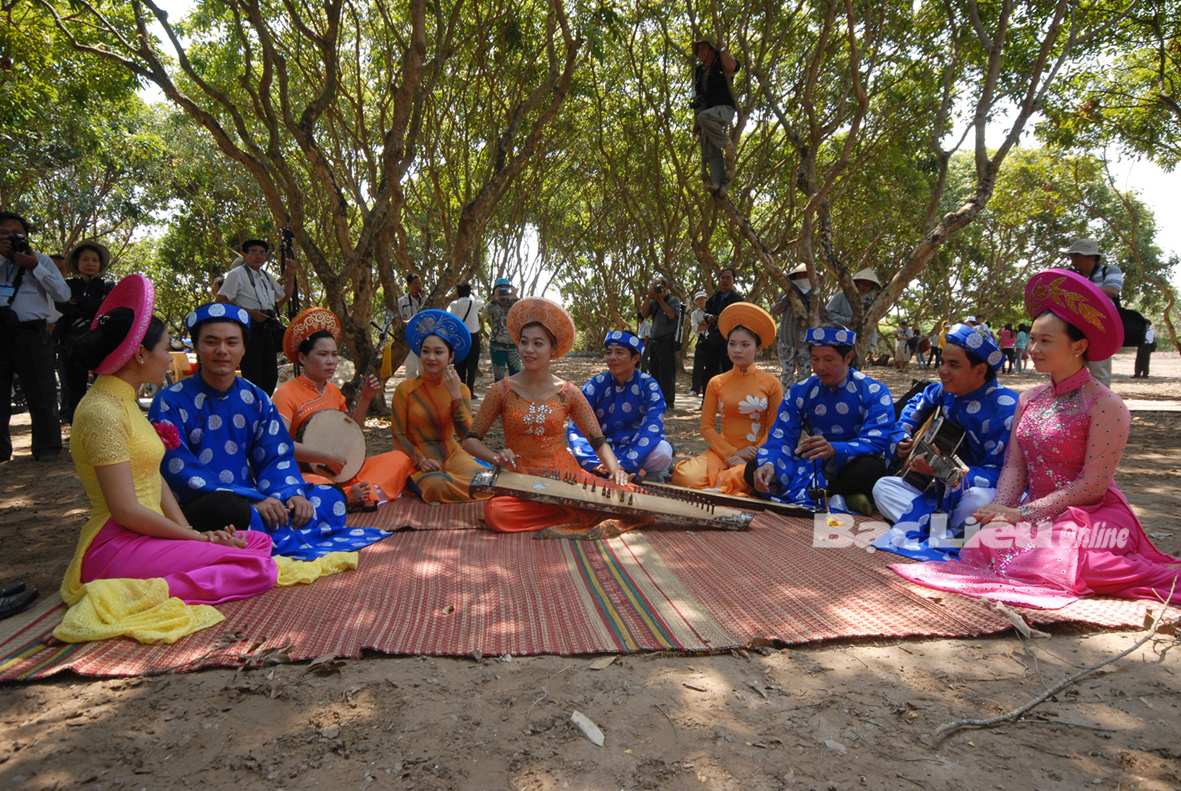 Interestingly, even audiences can practice together with the members, lend them hands in creating new song texts, and give comments.  
Compared to other folk music forms, Don ca tai tu has a strong vitality – not only domestic visitors but also foreign tourists feel impressed with this music art because of its unique, friendly, rustic characteristics.  
Finding ideal places to enjoy Don ca tai tu
If you have no idea where offers this one-of-a-kind art, then Viet Fun Travel is always ready for recommendations.  
The first option is definitely a journey to Bac Lieu Province: Don ca tai tu developed strongly here since this is the hometown of Cao Van Lau, the late musician who was behind a very famous song "Da co Hoai Lang" – a symbolic heritage of Don ca tai tu in not only Bac Lieu but also Mekong Delta Vietnam.  
Next, we're going to take you to My Tho and Ben Tre for a sightseeing trip. Within one day, you'll get chances to visit lots of top attractions and also check out the very popular folk music while sitting in a fruit orchard. In case you have more than 3 days, then don't miss out the My Tho – Can Tho – Chau Doc tour in which you can explore much more points of interest including widening your knowledge about Don ca tai tu.  
If you start from Ha Noi, then we also suggest the 5-day Mekong Delta – Phu Quoc tour which will bring you back to the nature and a peaceful life you always crave for.  
Nowadays, over 2,500 folk music clubs, groups and families are active in 21 provinces of the southern Vietnam. So, just travel to any province of the south, you'll certainly gain an unforgettable experience with the folk music. Never ignore the occasion to feel the soul of this cultural heritage!  
Contact
Viet Fun Travel
from today for a memorable trip in Mekong Delta.
Other news