Travel to Mekong Delta or Hoi An. Where one should you choose?
Sat, 20/07/2019
2225 viewed
0 commented
Vietnam is famous for being among the most beautiful Southeast Asian countries with many magnificent landscapes stretching from North to South. Not inferior to other Western countries, Vietnam is still a tourist destination that attracts many international visitors every year. It is true to say that the best scenic spot in Vietnam is also one of the pride to show off to international friends. In addition to the familiar images such as the majestic mountains, gigantic waterfalls pouring down from above to splatter into white foam, ... the country of Vietnamese people still have many other beautiful scenes. 2 of the most attractive tourist destinations that draw a huge number of tourists every year are the Mekong Delta and Hoi An.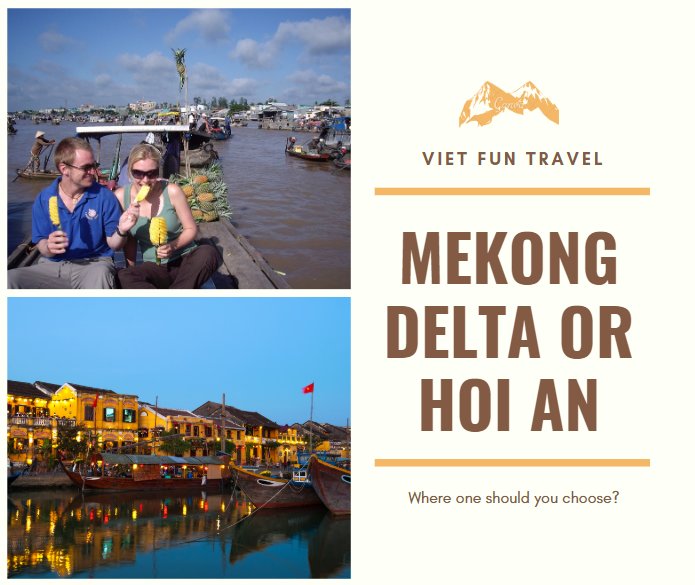 But what if you do not have much time to travel to both places, what if you are possible to pick only one: Mekong Delta or Hoi An? Don't worry, in this article, Viet Fun Travel would like to introduce to you the most special and outstanding features of these 2 places so that you can quickly plan to visit, discover and help you make an easy choice.  
Mekong Delta - Memorable rural life experiences
When it
comes to Mekong Delta
, thanks to its temperate climate, the delta is very fertile and blessed with many precious produce. Therefore, this land is a fertile alluvial region, with fresh fruit year-round. And that is the reason why Mekong Delta or the Southwest region is the favorite tourist destination.
The charming natural landscape, the gentle, naive and hospitable people are things that have made Western tourism more and more popular among tourists all over the world who always look for opportunities to visit and explore.  
Interesting experience: Rowing boat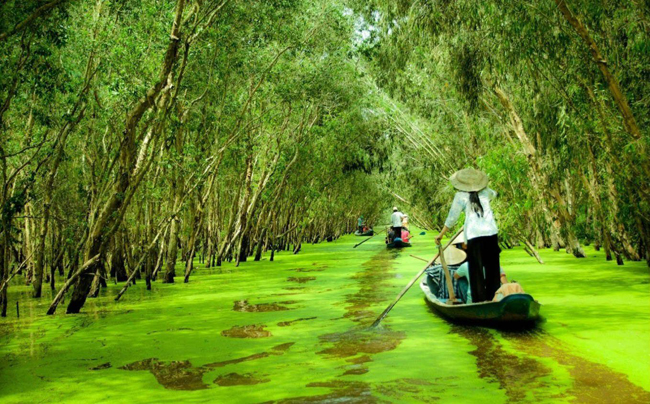 What is the most interesting activity you should try when visiting Mekong Delta? You should never say no to rowing boat here. While tourists in other regions rarely have the opportunity to sit on boats to travel, people in the West travel mainly by canoe and boat. The water terrain has formed traveling-by-boat culture of the people in the Southwest.  
Visit fruit gardens and listen to don ca tai tu
Next, when talking about the West, fruit garden is a place where every tourist wants to have a chance to explore. Tourists traveling to the West can visit fruit gardens, pick ripe fruits right on the branches to enjoy on the spot or choose the delicious fruits to buy as gifts. We are sure this activity will give you an unforgettable experience.
Also, you should never miss experiencing the art of don ca tai tu (Southern folk song). This is a traditional art form that shows the cultural beauty of the Western people.  
Amazing Homestay in Mekong Delta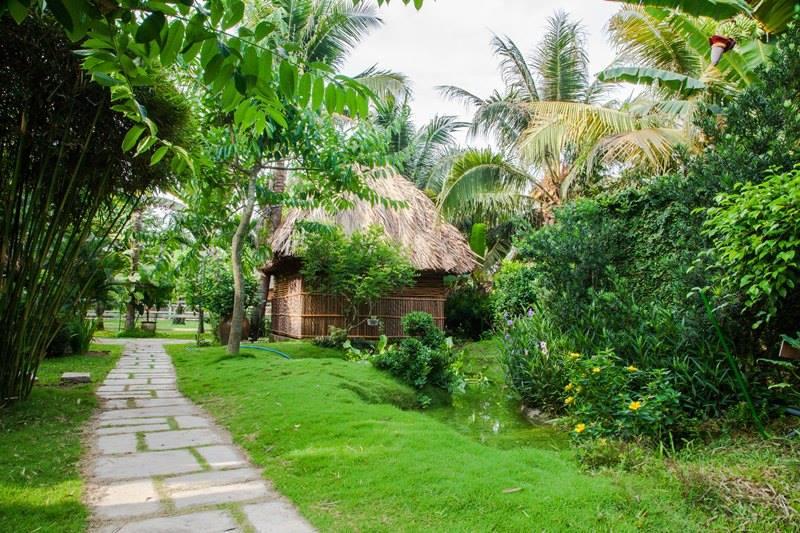 One of the other interesting activities is to join the daily work of local people, prepare meals with them (in a homestay), go to the fields to catch fish, snails and pick vegetables. You will feel like returning to nature, living in harmony with nature and falling in love with the people here. Viet Fun Travel believes that the Cuu Long River and the sincerity of people in the Southwest region will forever be in the memories of visitors after coming here.  
Hoi An Ancient Town - Vietnam's special ancient town in modern times
Hoi An is one of the most unique old towns in Vietnam that still exists. There are no skyscrapers, no heavy traffic, no flashing signs, but Hoi An is still attractive and appealing to tourists.
Smart Travel Asia has voted Hoi An as one of the 10 most attractive tourist cities in Asia. As for many tourists,
Hoi An
is a special city compared with
many other cities in Vietnam
. Hoi An is the only ancient town still retaining the old features, the "soul" of Vietnam's urban in the middle of modern times.
Coming to Hoi An is not only to discover a UNESCO-recognized cultural heritage, but also to "find the silence" of life. The moss-roofed houses, the tranquil small roads, the sound of pedestrian stalls harmonizing with pedestrian's footsteps ..., all those things create a peaceful and romantic Hoi An picture. And, on the romantic Hoai River, these and many other factors have made a nostalgic Hoi An. Here, visitors suddenly feel like all their burdens are lifted, and all their worries vanish into thin air. And, thus, visitors can find "silence" in their own way.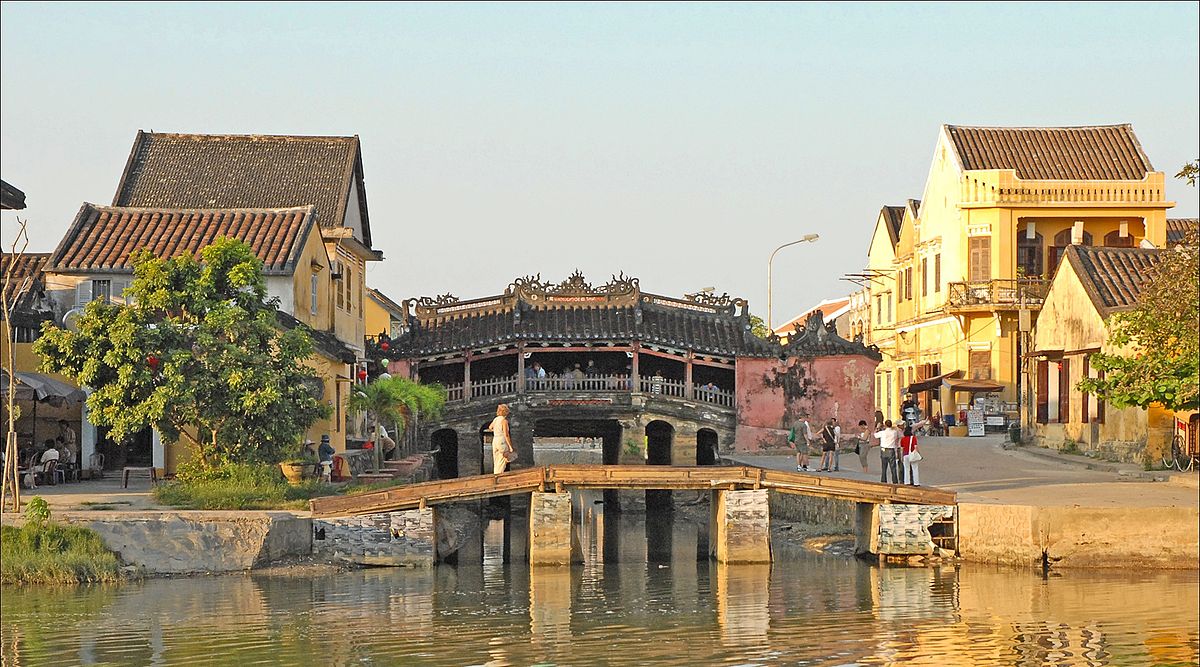 Coming to Hoi An, you not only go on a sightseeing tour, but also have the opportunity to experience many interesting things. It is not only about looking back at the ancient architectural marvels through ancient works, it is not only about observing the everyday life of the people passing by calmly and slowly but also putting yourself into the position of the local people, living their daily lives.
Hoi An is an old town that originates beautiful, poetic and rustic photographs that evoke many emotions. A trip to Hoi An is the best and quickest way to travel back to the past, watching the urban street of Vietnam a long time ago. Remember to buy some soft light of lanterns and the tranquility of the old town after your trip to Hoi An.
Mekong Delta Or Hoi An
Every land has its own beauty and interesting activities. If you love ancient times and like to walk in the "street without lights" in modern times and understand the history, go for Hoi An. But if you want to experience the rustic, simple life of people living on the river, rowing boats, visiting the floating market, catching fish, living with the people, let's head for Mekong Delta.
Viet Fun Travel
is sure that even if you travel to Mekong Delta Or Hoi an, you will have memorable and wonderful memories and experiences. If you have any questions about traveling in these 2 regions, please contact us by commenting below, we will advise you as soon as possible.
Other news